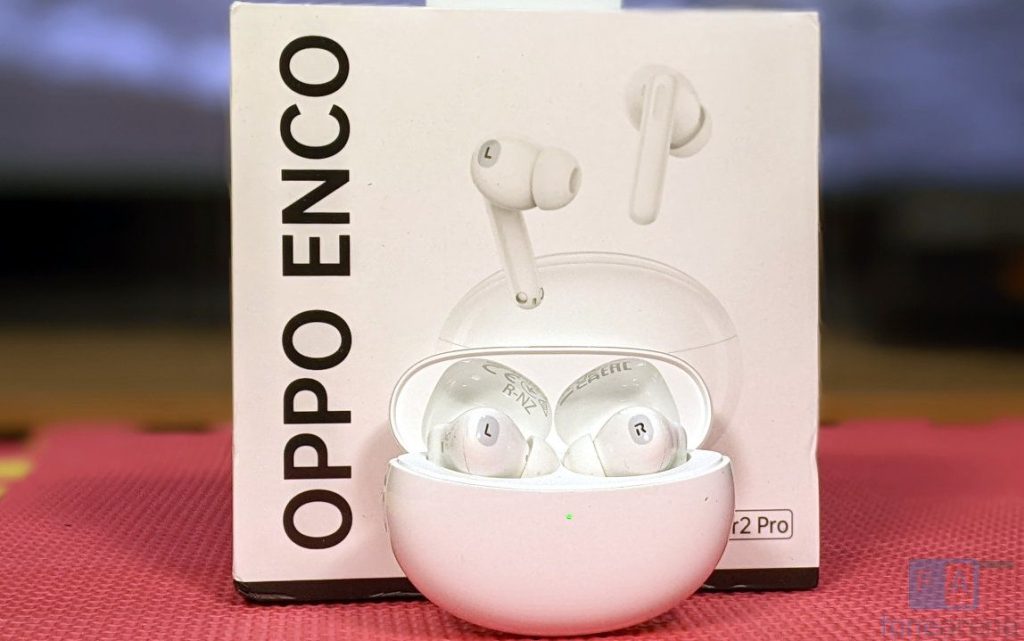 OPPO launched its latest budget ANC true wireless earbuds — the OPPO Enco Air2 Pro in India earlier this month. This has a 12.4mm dynamic drivers, has 94ms low latency game mode, and comes with Bluetooth 5.2 with AAC audio codec. So, are these good TWS earbuds in range? Let us find out in this review.
Box Contents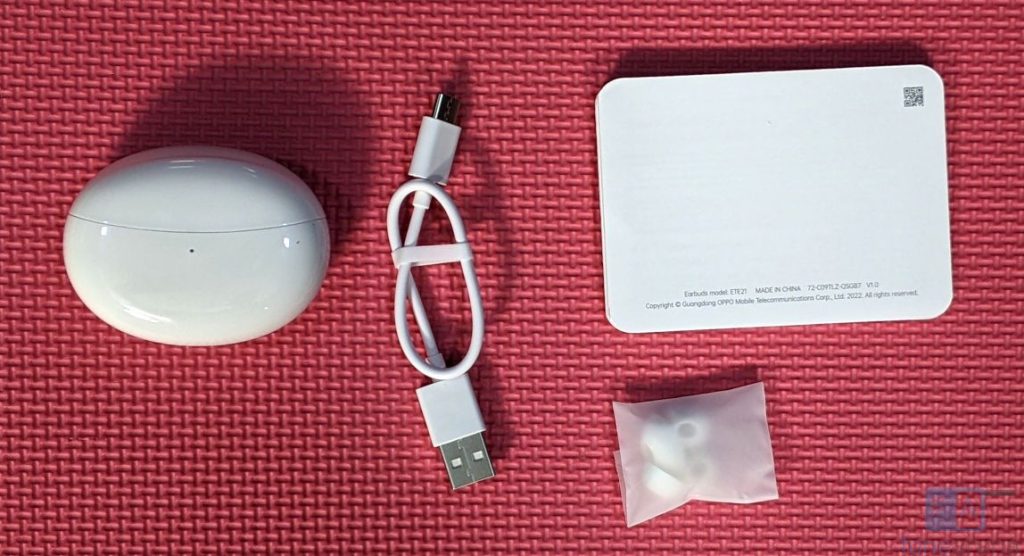 OPPO Enco Air2 Pro in White colour
Ear tips in Small and Large sizes (Medium pre-installed)
USB Type-C cable
User guide and warranty information
Starting with the design, the headset comes in a round charging case with a refractive design that looks like transparent on the top, and it fits in your pocket. You can see the charge indicator on the front. The case that is made of plastic is shiny, attracts fingerprints and is prone to scratches. The white version gets dirty easily, so I would prefer the Gray colour. The charging case measures 66.84 x 51.45 x 25.04mm and weighs just 42.8grams.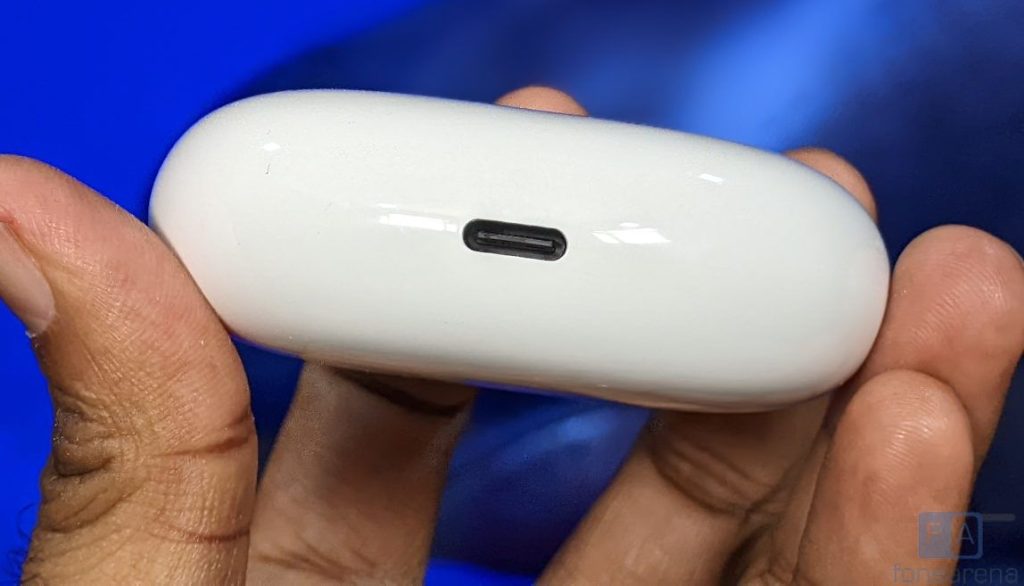 The USB Type-C port is on the bottom. It doesn't have a function button.
The headset has a plastic finish that is shiny, which is prone to fingerprints and scratches. These feature an in-ear design and also come with medium-sized ear tips pre-installed. You can change to bundled Large or Small sized ear tips if you wish. There is an Optical Sensor for Wear Detection so that it can automatically pause the audio when you remove it from your ears and play when you put it back.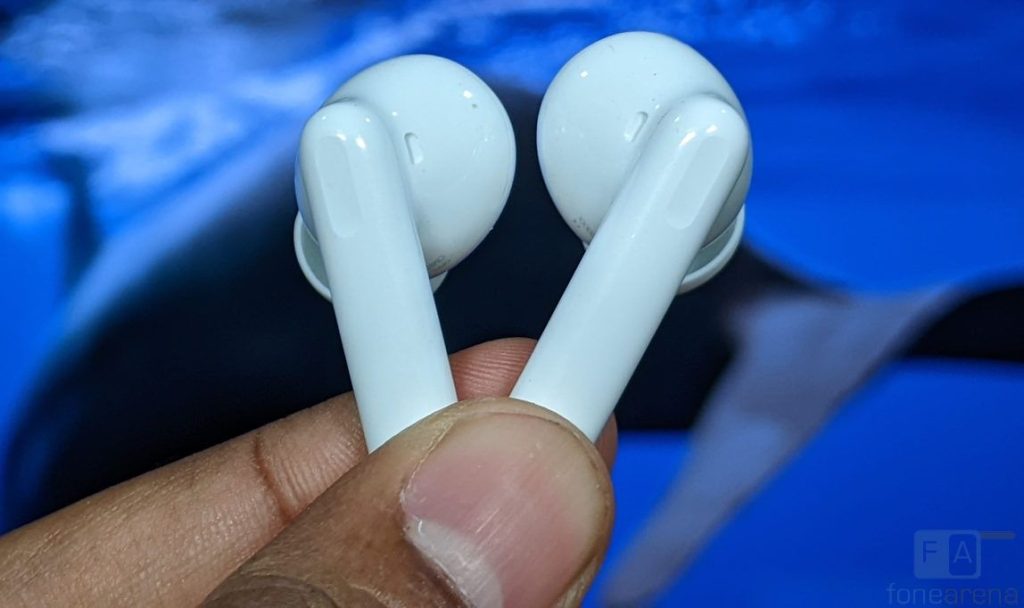 There is 1 feedforward and 1 feedback microphone for noise cancellation on the back. On the back, there is a touch-sensitive area on the outer surface, to control play/pause, open Google Assistant, attend or disconnect calls and volume control. Overall, the headset and the case have a decent build, except for the glossy finish.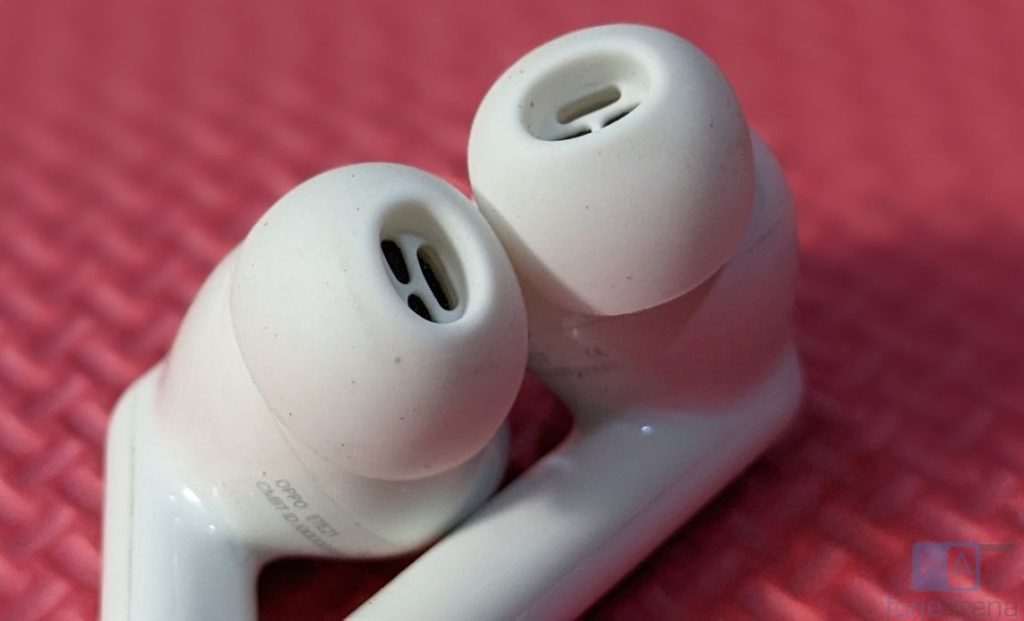 The earbuds fit your ears perfectly so that they don't fall off your ears easily, even when running or cycling. The earphones also have IP54 water dust and resistance rating to prevent splash, rain, and sweat in everyday use scenarios. However, the case is not water-resistant.
Connectivity, Pairing, and Controls
The Enco Air2 Pro supports Bluetooth 5.2 with AAC high quality audio  codec. Since the case doesn't have a button for pairing, you need to take your earbuds out of the charging case and touch and hold on both earbuds for 4 seconds. Now open the Bluetooth settings on the phone, and it shows up as OPPO Enco Air2 Pro, and you can connect to it. It shows the the battery capacity of the buds and the case, if you have a ColorOS-based phone. OPPO calls it Pop-Open Open-Up Flash Connect.
The headset has Smart wear detection that can sense when they're in the ear and automatically pause the music when taken out and resume when you put back. This also brings dual-device connection that lets you connect to two devices at the same time, and the switch happens seamlessly. You can switch devices with a long press of 4 seconds. You can also double tap any bud to take a photo when you open the camera app, but it requires a OPPO phone running ColorOS 11.3+.
It doesn't have Google fast pair support. Since the phone pairs with the headset, you don't need the case to reconnect it.
The touch controls are easy to access.
Function
Left earphone (L)
Right earphone (R)
Pause/Play
Single Tap
Next track or hang up/reject the phone
Double tap
Voice Assistance
Triple Tap
Volume up/down or switch between devices
Long Hold for 4 second
Switch between ANC and Transparency Mode
Short Hold for 1 second
You can customize the controls from the settings in the Hey Melody app on Android or iOS. This works without a separate app in OPPO phones running ColorOS 11 or later. Double-tap and triple tap controls can be customized. The triple tap is set to enable game mode by default.
Audio Quality,  Call Performance and Noise Cancellation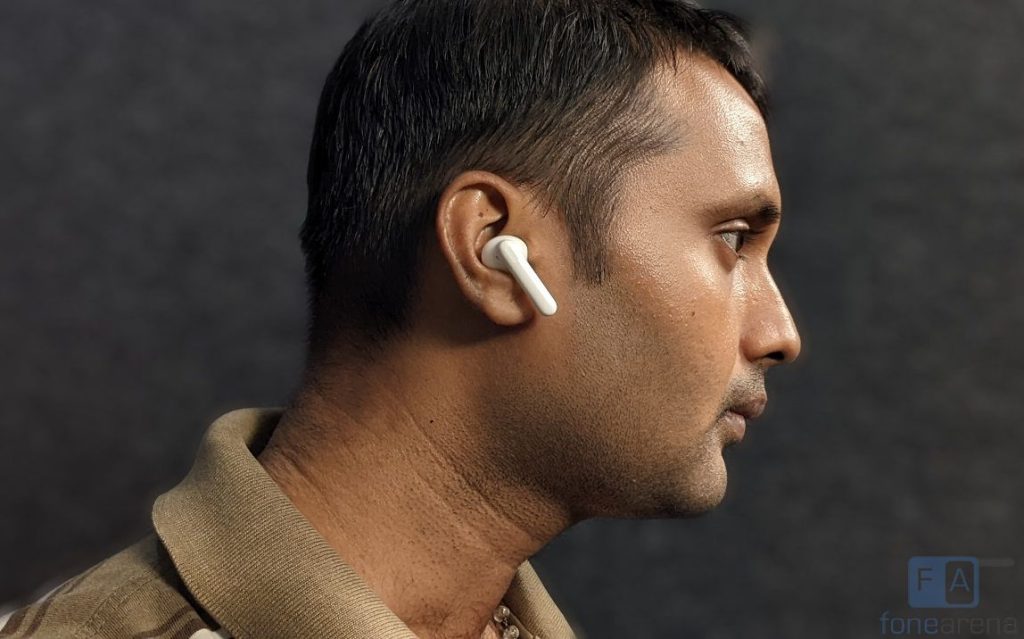 The Enco Buds Air 2 Pro packs a 12.4mm titanium-coated diaphragm driver and has a custom-made large rear chamber that promises deeper bass and an overall balanced sound.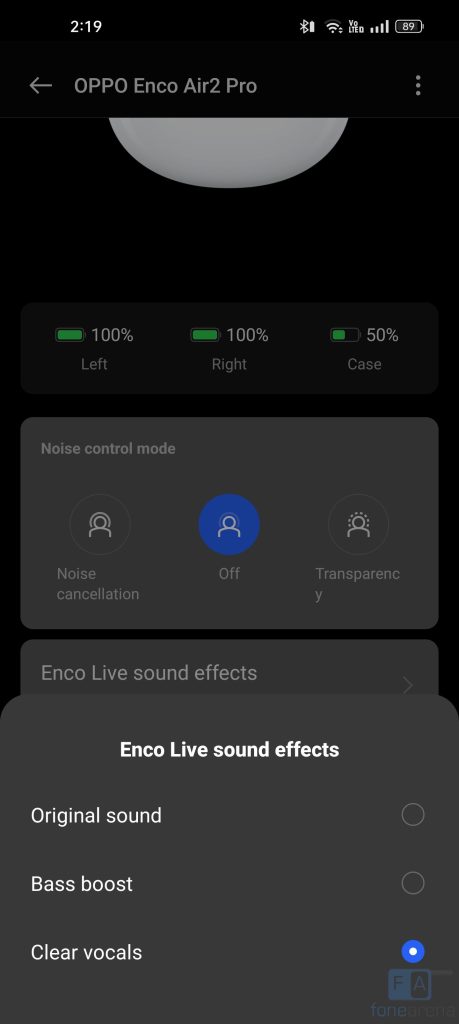 In addition to Original sound, there is Bass Boost mode that offers an enhanced bass experience. Clear vocals are suitable for podcasts. With the AAC enabled, audio quality is good with clear vocals and good amount of bass, thanks to the 12.4mm driver that handles high, middle and low frequencies well.
The low-latency gaming mode is useful when gaming since it reduces the latency to 94ms, but the cheaper Buds Air2 has 80ms low latency.
The earbuds offer a good amount of noise isolation, and dual microphones help when it comes to voice clarity during calls. The earphones also reduce the background noise to a certain extent that helps in a crowded or noisy environment and wind when you are travelling, thanks to its AI noise-cancelling algorithm. For the price it's good, but when you are in a loud environment such as heavy traffic, it doesn't work well.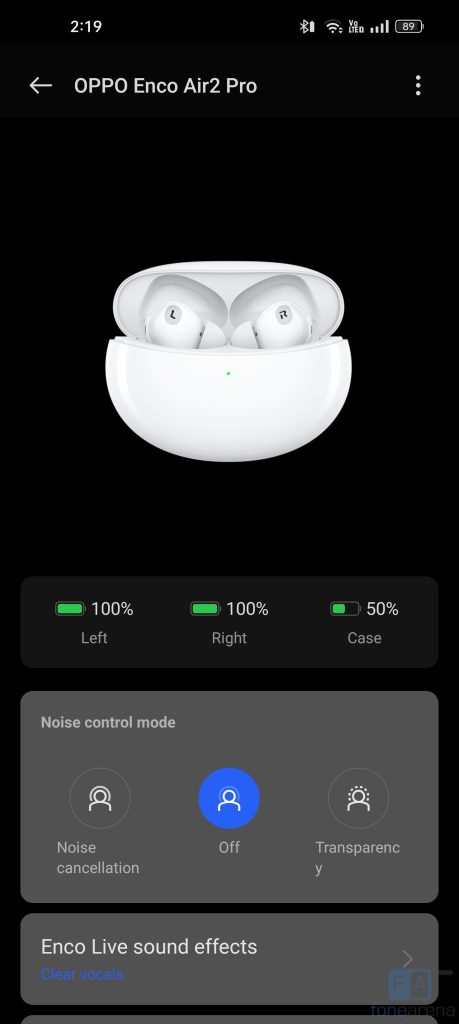 Regarding the Noise cancellation, the Active Noise Cancellation (ANC) blocks the ambient sound up to 25db. For the price, it does a good job, but the realme Buds Air 3 at a slightly higher price tag offers 42dB noise cancellation. The transparency mode works well.
Battery Life
The earbuds with a 43mAh battery promise up to 7 hours of standalone battery life without ANC and 5 hours with ANC enabled in 50% volume. During my use with AAC, I got about 4 and half hours with mixed use of with and without ANC in about 50% volume, so it is good.  It also has fast charging support. The company says that you get 2 hours of playback on 10 minutes of charge (earbuds and charging case combined). This is very useful when you need a quick charge.
With the 440mAh charging case, it promises up to 28 hours of total battery life without ANC and 20 hours of total battery life with noise cancellation enabled, which is slightly less compared to realme Buds Air3. The green light in the case indicates that the battery is full, it turns yellow when it is medium and when it turns red, it is low. You can also see the charge left in the case in the Bluetooth settings itself in ColorOS phones and in Heymelody app in other phones when the earbuds are placed in the case. Charging the case fully with the buds take about 2 hours, and charging the earbuds fully takes about one and half hours. The charging case doesn't have wireless charging.
Conclusion
Overall, OPPO Enco Buds Air2 is a feature-packed true wireless earbuds with active noise cancellation (ANC) you can get for a price of Rs. 3499. It offers good audio quality, up to 25db noise cancellation which is enough for most, comes with customizable controls including volume controls, and the battery life is good as well. It is available from OPPO online store and mainline retail outlets.
Pros
Good audio quality with AAC support
Good ANC up to 25db
Low-latency gaming mode
Good battery life with fast charging
Cons
Glossy case and buds
No aptX