LG Electronics, India's leading consumer durable brand, extended their water purifier line-up with the launch of the company's first UF+UV water purifier on World Water Day. Water purifiers made by LG remove heavy metals from the water, so customers can drink it with confidence, said the company.
The water purifier is equipped with best-in-class technology that effectively eliminates dissolved solids that are not apparent to the naked eye in normal water. It guarantees that the water is not only pure but also free of hazardous toxins, making life better. The use of cutting-edge ultrafiltration technology ensures that no water is completely wasted.
The purifier has a brand-new post carbon filter, an advanced technique that uses electrostatic absorption to remove viruses from water. Virus Clean+ and UF filtration work together to get rid of 99% of viruses.
The new water purifier is intended to filter water in seven stages, removing seven heavy metals that can cause significant waterborne diseases, including Mercury, Lead, Arsenic, Cadmium, Iron, Chromium, and Copper. To solve this problem, the purifier, with the help of the HMR (Heavy Metal Removal) filter, makes sure that safe drinking water is available as nature intended. Ultra filtration has no effect on the water's TDS, culminating in zero water waste.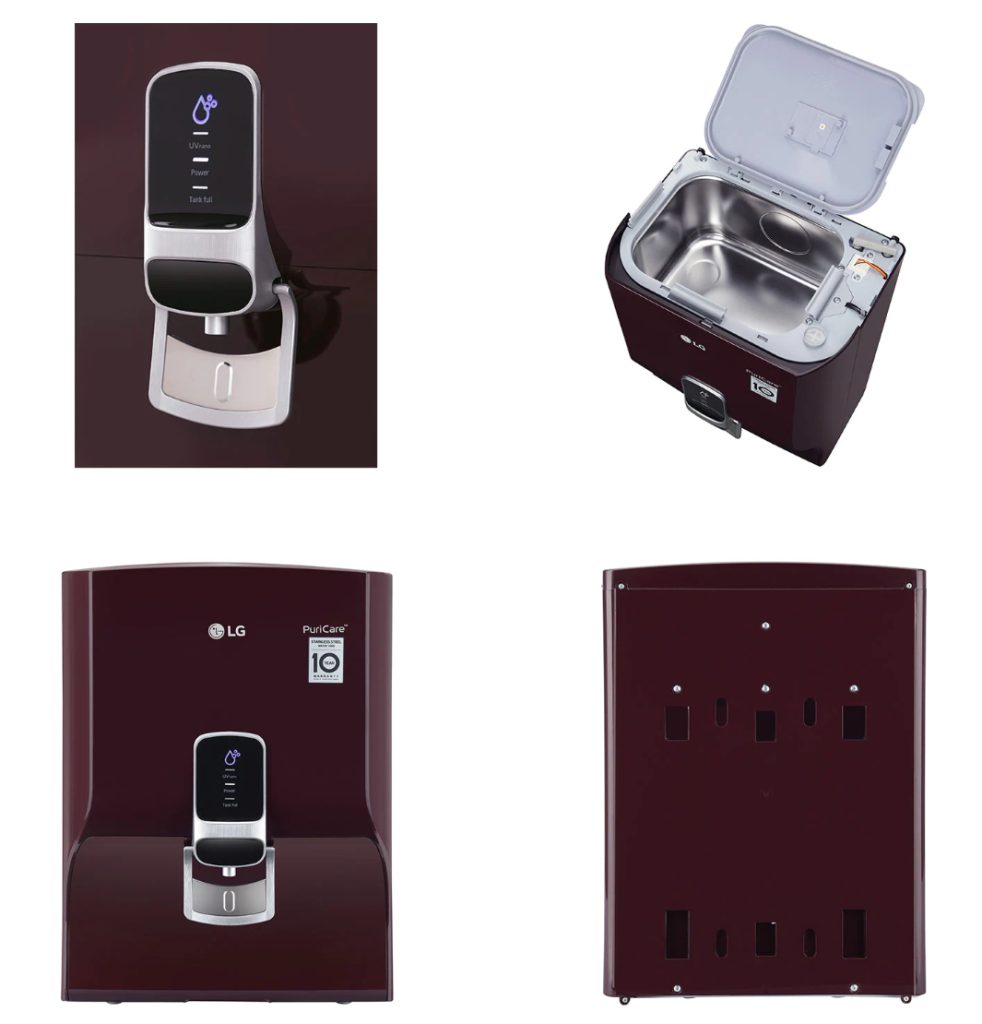 LG UF+UV Water Purifier (WW120NNC) Specifications
Available in Crimson Red color
Capacity (Litre): 8L
Installation Type: Wall Mount
Power Rating: 20W
Features: Filter Change, UV, Tank Full, Power and RO+UV Indicators
Gross weight : 10.4Kg
Product (W x H x D) mm: 365 x 506 x 283
Filters: Outside Sediment, Sedi+HMR Carbon, Ultra Filtration and Virus Clean+
Dual Protection Stainless Steel Tank: Yes
Purified Water Temperature: Room Temperature
Digital Sterilizing care: Yes
Filtration Process: 7 Multi Stages
STS Tank warranty: Yes with 10yrs
Pricing and Availability
LG's UF+UV Water Purifier is priced at INR 20299. LG is offering a complimentary premium service once a year, as well as a one-time filter replacement with digital sterilization worth INR 1400, applicable for one year from the date of purchase. It is available from retail stores, and should be available online as well.
Commenting on the launch, VP-Home Appliances & Air Conditioners, Deepak Bansal, said:
At LG Electronics we are constantly observing consumer behavior & offering solutions that enhances their experience. In 2022, we are launching slew of products equipped with advance features for better performance, style & comfort. We are confident that our customers will appreciate latest LG UV+UF Water Purifier that ensures safe drinking water for their entire family.
Anuj Ayodhyawasi, Business Head Small Appliances, LG Electronics India, commented on the launch, stating:
The latest LG UF+UV Water Purifier eliminates seven Heavy Metals and other impurities from the regular water through its 7-stage filtration. The stainless-steel storage tank ensures that our consumers get the healthy glass of water every time. Committed to sustainable living, new Water Purifier innovative ultrafiltration technology ensures zero wastage of water.