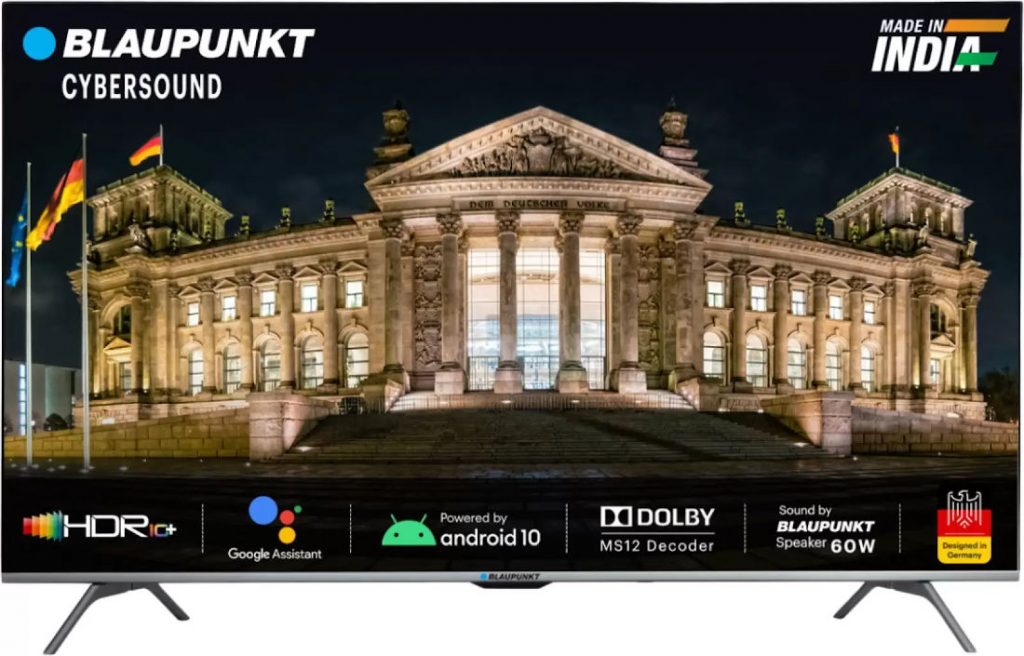 Flipkart will kick off its Jingle Days Sale starting from Christmas, 25th December till 29th December 2021. As a part of the sale, Flipkart will be offering up to 30% on Blaupunkt Smart TVs covering the range from 32-inches to 65-inches and on other TV brands.
It will offer an additional 30% discount on their first order and further customers can avail of a 28% discount with a GST invoice. Customers with SBI credit cards would be able to instantly avail of a discount of 10% and an exchange value of up to Rs 11,000 for old TV models.
The budget TVs in the catalogue include Blaupunkt Cyber sound 32-inch priced at Rs 13,499 which is an HD-ready screen that supports 40W speaker output and has 2 speakers. The 42-inch Full-HD model with 40W speaker output is available at Rs. 20,999.
The third model, 43-inch Ultra-HD model with bezel-less design, 50W speaker output is available at Rs. 27,999, Big screen 50-inch Ultra-HD model with 60W speaker is priced at Rs. 34,999. The 55-inch Ultra-HD model is priced at Rs. 39,999. 65-inch Ultra-HD for Rs 54,999 has 60W speaker output, Dolby Atmos, 4 speakers.
Commenting on this announcement, Avneet Singh Marwah, CEO at SPPL, India brand licensee of Blaupunkt, said:
Indeed it was a challenging year for all of us, but amidst all the adversaries our determination didn't shatter away and from the first day of our launch of the products in India, we have witnessed an upward trajectory on the operational front amid all the turmoil. We have decided to end this year on a happy note

We have come to a decision that we'll be passing some of the benefits as a Xmas gift to our customers through our strategic partnership with Flipkart and its vast network of the supply chain. Our endeavors will be to reach every household and provide our user a premium experience within a range that won't hurt their pockets.