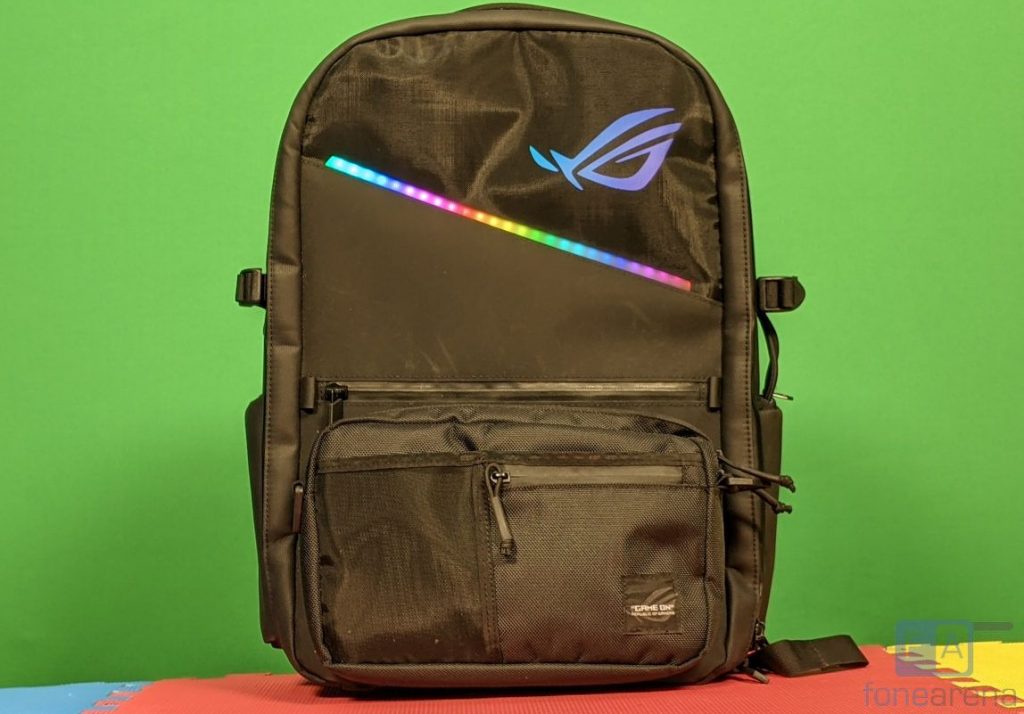 ROG brand from ASUS is not only popular for its laptops and gaming phones, it is also popular for its accessories. It recently launched its gaming backpacks in India. One of it is its ROG Ranger BP3703G, the company's top-end gaming backpack with Aura RGB lighting. The 20L backpack lets you carry a 17″ laptop, plus all your essential gaming gear and travel kit, easily. Let us dive into the review to find out what it has to offer.

Materials, Aesthetic and Exterior Components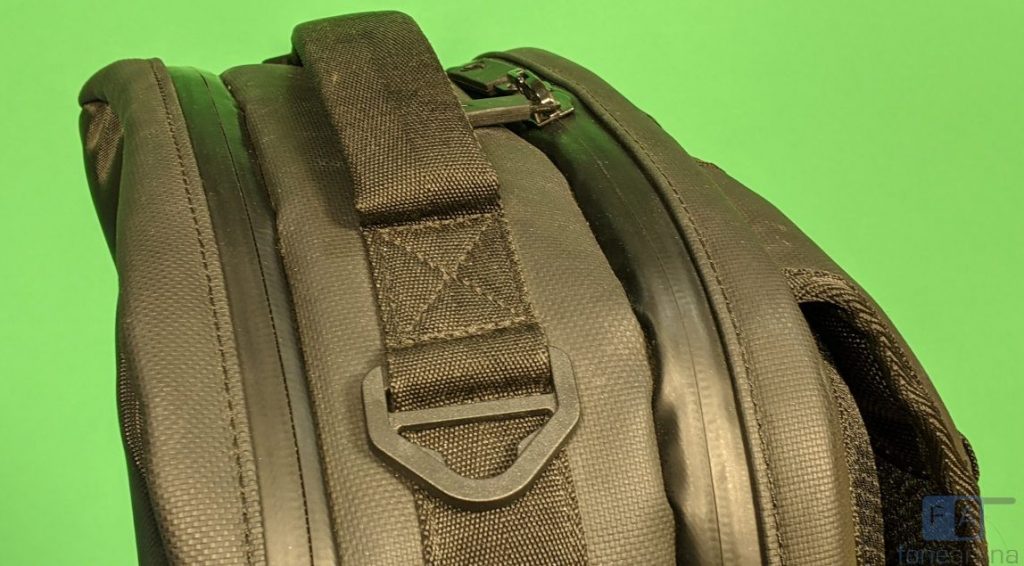 Starting with the exterior, the backpack is made of 1680D Polyester weave that is water-repellent and scratch-resistant, and it also has a water-repellent zip. The company says that it has passed a dripping water test in order to ensure its water resistance.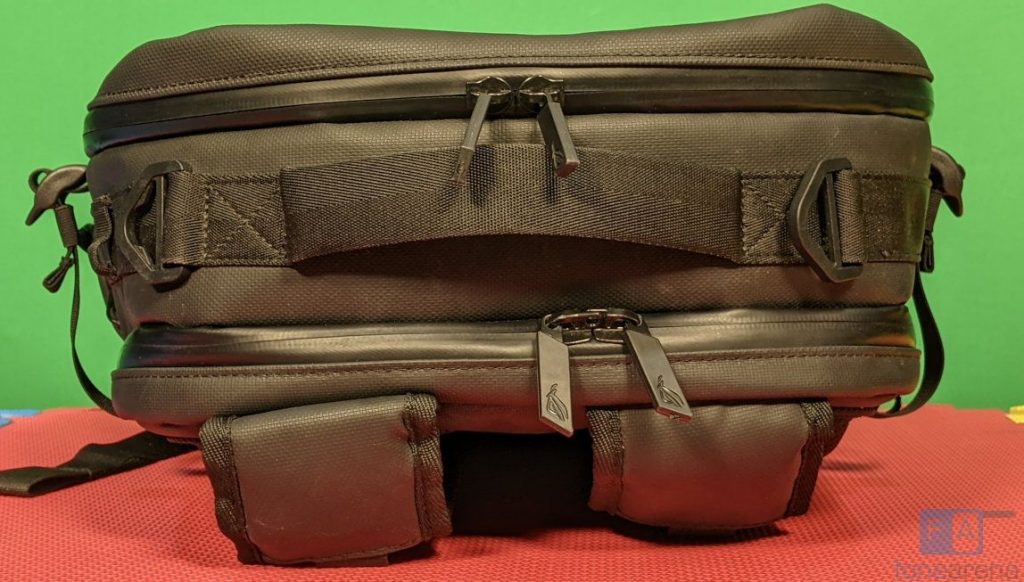 It also comes with a reflective rain cover for all-weather protection. The quality of the zips are pretty good and can withstand everyday showers and light spray. Since the zip ends feature a carabiner-style clip, it is secure, and hampering is not easy.
There are small compartments on the sides to hold a small bottle. There is a small carabiner on one side to hang items on the outside. The cable management hole lets you directly charge your device without opening the main compartment of the backpack by connecting a Type-A cable. It measures 300x480x170mm and weighs 1.94kg.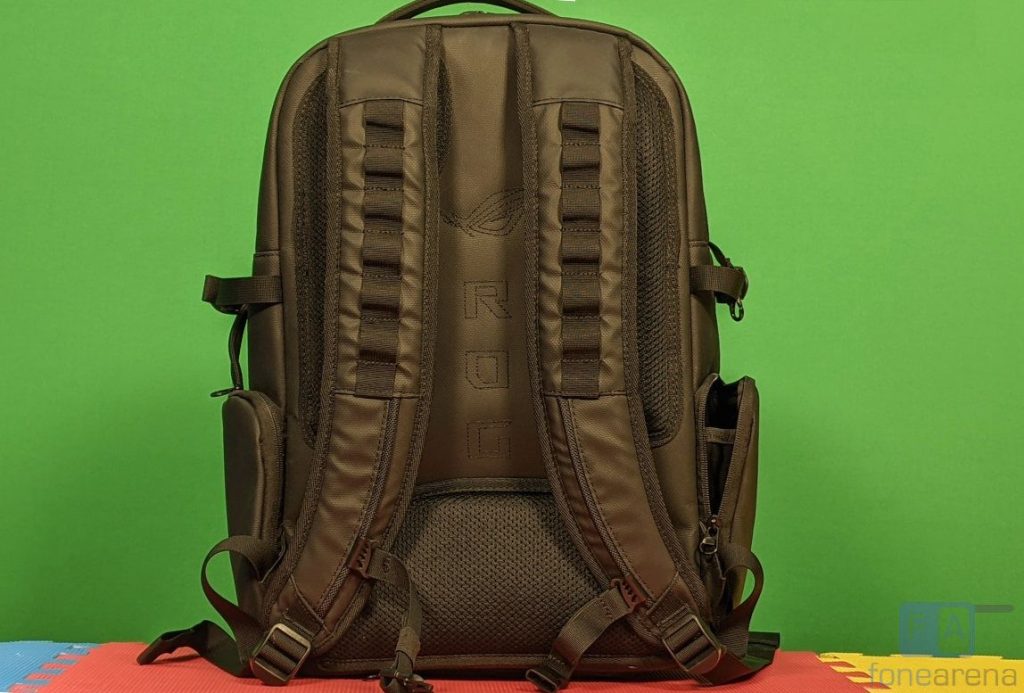 The padded shoulder straps are good and can be easily adjusted to provide a snug, secure fit. The back is covered in a fineweave air mesh for a better airflow, and you can also see the ROG branding along with the logo etched to the back. You can find a small backrest pocket to store items that you can grab easily, making them safe but accessible, but this doesn't have a full zip.
There is a fabric brace that can be used to secure the backpack to an extending suitcase handle. You can also notice compression straps on either sides to hold a jacket or a small yoga mat. There is a hip belt attached to the shoulder straps that lets to hold the bag steady.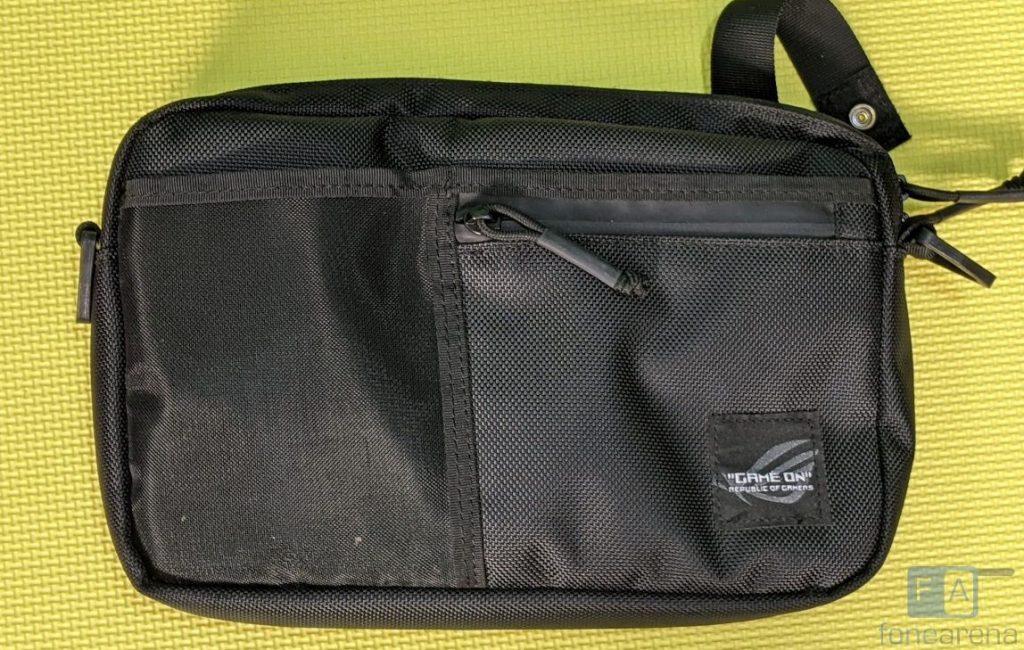 The modular front compartment is easily detachable and has its own shoulder strap, so you can use it to carry essentials when you need to travel light.  The messenger bag also has an RFID-blocking pocket on the front to reduce the risk of falling victim to skimming scams.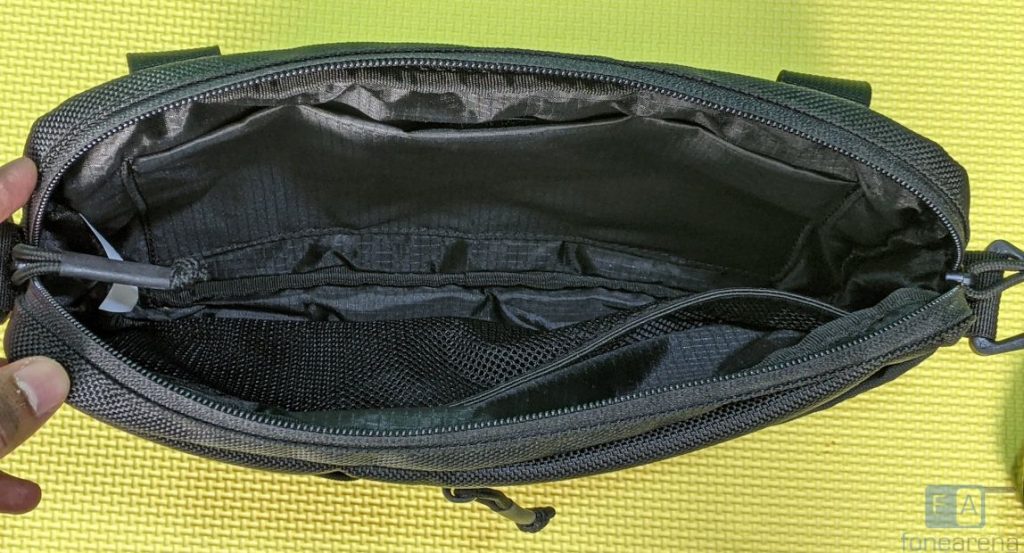 This has a zip and is divided into three small compartments.
Inside the Pack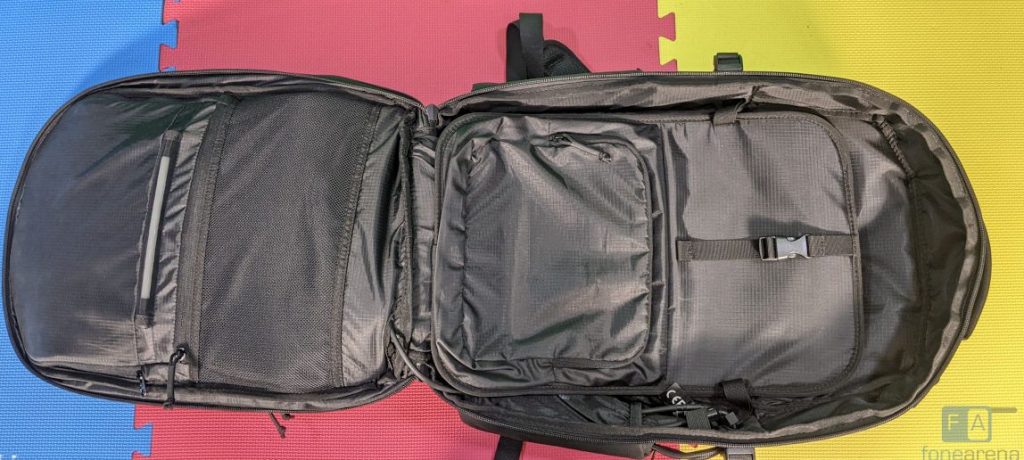 The first partition has numerous smaller pockets inside to prevent items scratching each other, plus a detachable pouch to fit your needs.
You can also see the internal light strip to make it easy to see and find stuff, even in the dark. The backpack even has a cable-pass through slot that lets you use a Y cable to directly charge devices from a power bank (Supports 5V/9V/12V output) and also power the RGB light and the internal light when you connect the Y Cable. There is a small compartment to hold the power bank.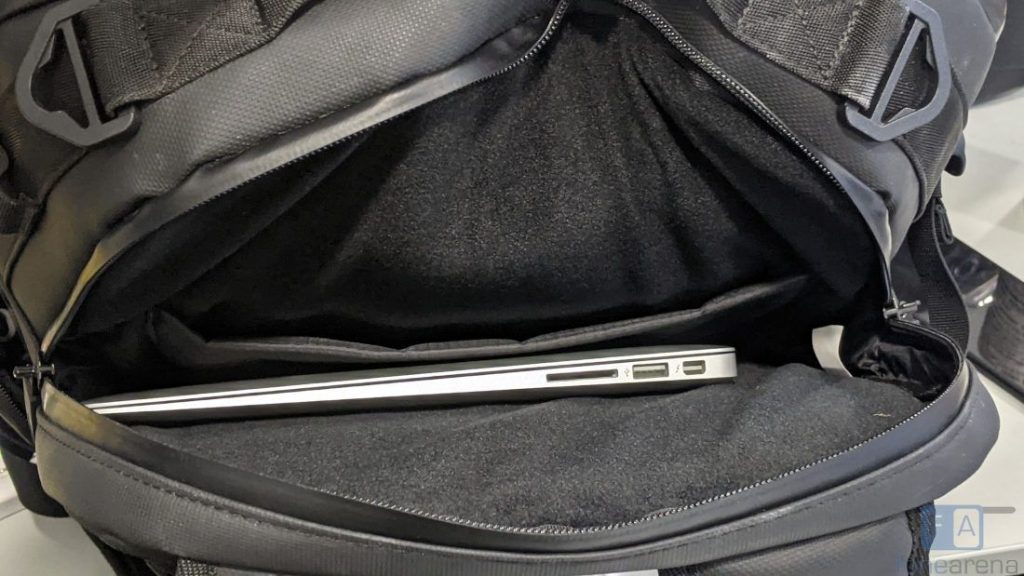 The second compartment is a large, padded slot that measures 280x415x26mm and can fit up to 17-inch laptop. The slot is divided into two compartments, so if you have a smaller laptop, like a MacBook Air, you can put it in the smaller slot. As you can see in the image above, there is a lot of space after storing a 13″ MacBook Air, so it can fit even a large and thick gaming laptop.
RGB Aura Light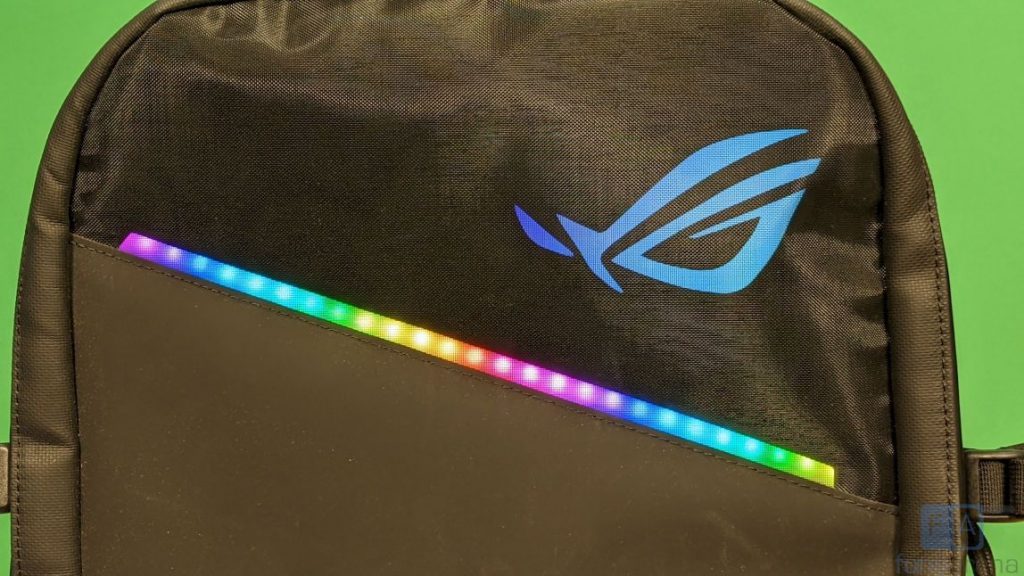 Coming to the main highlight of the backpack – RGB Aura Light. The outside of the backpack has a bold ROG logo and slash illuminate to seven preset effects and a choice of eight striking colors, with brightness that reacts automatically to the ambient lighting conditions.
All this is managed by an intuitive one-touch controller that is can be stored on the outside. It has an IPX4 splash-proof rating. You just have to attach a power bank to light up the RGB lights. The small controller has option to turn on the interior light strip ON/OFF and the Aura RGB Ambient Sensor can change the intensity of the light depending on the lighting to save power.
| | | | |
| --- | --- | --- | --- |
| Lux | 0-100 | 100-500 | 500-1300 above |
| Brightness (%) | 100% | 75% | 50~30% |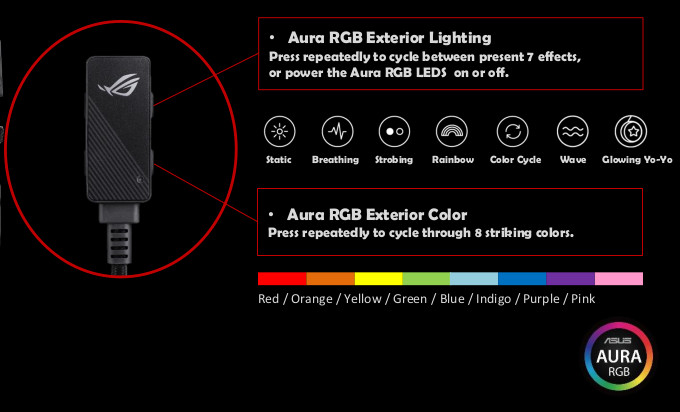 There is a button to change the colour of the RGB lighting. When you press the Aura RGB Exterior Lighting button repeatedly, you can cycle between present 7 effects, or power the Aura RGB LEDs ON or OFF. These RGB light looks cool, especially when you are using the backpack during the night.
The company says that if you connect a fully charged 10,000mAh power bank, it can light up for 24 hours. You can even use a 2A power bank, and it supports up to 5V-3A power banks.
Conclusion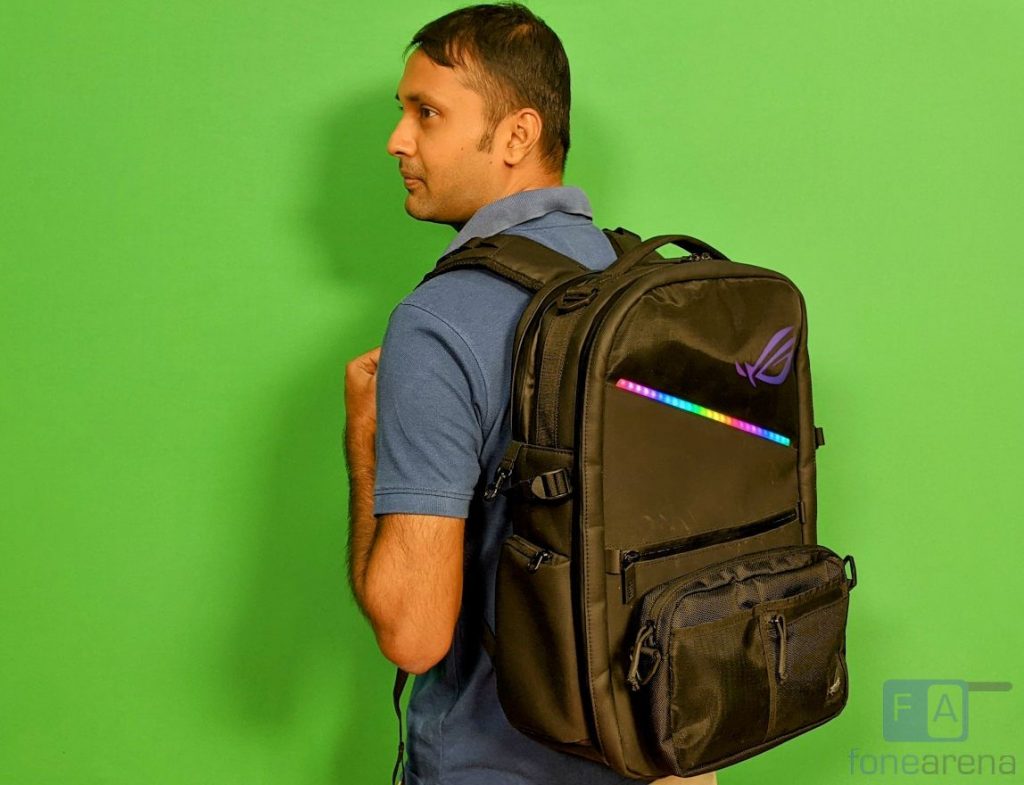 Overall, the ROG Ranger BP3703G Gaming Backpack from ASUS is a good high-end backpack with built-in Aura RGB lighting that not only lets you store up to 17″ laptop, but also several accessories. It is durable, comes with a rain cover and has a removable messenger bag a well.
The price tag of Rs. 19,999 for the backpack looks high, but if you are investing in a high-end laptop, then this durable backpack to carry it is important as well. There is no competition to this one if you are looking for an Aura RGB lighting-equipped backpack that is also durable. Wish the company had sold the one without the RGB lighting at a cheaper rate in India. It is available from Amazon.in. If you feel this backpack doesn't suit you, there are other ASUS backpacks in smaller size and without the RGB lighting on Amazon.in starting at a price of Rs. 850.