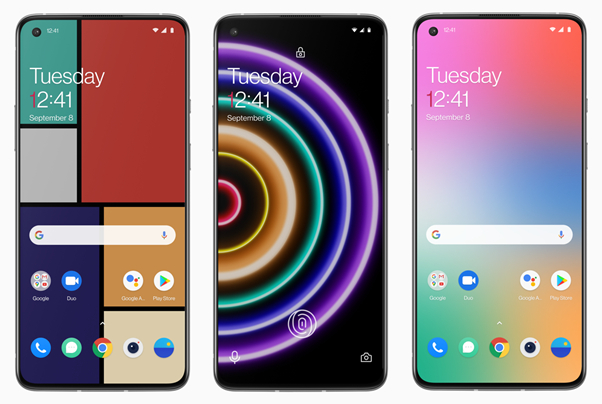 The teams over at OnePlus often release some interesting experiments with software on Android, such as Clipt. Their latest new experiment is called Wellpaper, which is an digital wellbeing app that has Live Wallpapers based on the user's app usage.
To start with, the app will feature three different personalized wallpapers. Each wallpaper will have 6 sections, which are essentially distinct categories of apps. Depending on how much the user is using apps, the Live wallpapers will react accordingly.
According to OnePlus, the three designs can be described as:
Data-heavy Composition design with shifting tiles, inspired by Piet Mondrian's Composition II & III.
Glow, which inspired by the neon lights of future-punk titles like Cyberpunk 2077 and Blade Runner.
Radial (right), where the different categories blend together in a stunning and soft-toned visual
OnePlus has made some background improvements to ensure the battery life of the smartphone isn't affected drastically. These live wallpapers will only update only redraw on unlock, and if the user unlocks the smartphone frequently, OnePlus even put a delay.
The OnePlus Wellpaper app can be installed from the Play Store for free.