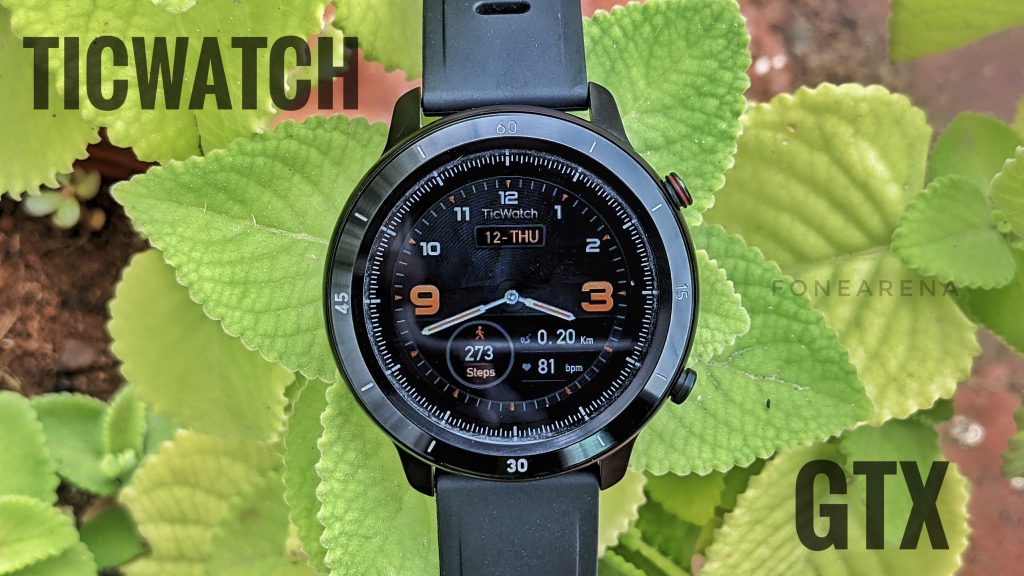 TicWatch, known for its smartwatches and activity trackers belongs to parent company Mobvoi Information Technology Company Limited, which was founded 8 years ago. Besides smartwatches, they also make other wearables like TWS and headsets. Their top-of-the-line product in terms of activity trackers to date is TicWatch Pro.
At the lower price point the TicWatch GTX is an entry-level activity tracker cum basic watch sporting a classic look and is powered by its proprietary operating system. At around 5k, can TicWatch GTX justify the price tag? Let's check out the review to find out.
TABLE OF CONTENTS
Box contents

The initial impression of every product among consumers comes with the way it is presented. TicWatch GTX box looked normal with much-required contents in.
TicWatch GTX
Charging cable with magnetic connector
Quick guide
Highlights
Key areas to consider if you are planning for a TicWatch GTX are
14 Workout modes
7 to 10 days of battery life
Metal casing & IP68 rating
Heart rate sensor – Auto wear detection
TicWatch GTX specifications
1.28-inch (240x240pixels) LCD colour touch display
Bluetooth 5.0 LE, Compatible with Android above iOS
Automatic Activity Record (Steps & Distance tracking), Automatic-Sleeping Monitoring
RLC8762C processor, 160KB RAM, 16MB ROM
PPG heart rate sensor for 24h heart rate monitoring
14 workout modes including Outdoor Run, Outdoor Cycling, Jump Rope, Swimming, Indoor Walking, Rowing, FreeStyle, Mountain Climbing, Indoor Run, Gymnastics, Soccer, Basketball, Indoor Cycling, and Yoga
Notification support for incoming calls and messages.
Music control, stopwatch, timer, weather, torchlight, Find My Phone
Water and dust resistant (IP68 up to 1.5 meters)
200mAh battery with up to 7 days battery life with regular use, up to 10 days with power saving mode on
Design – cool like a pro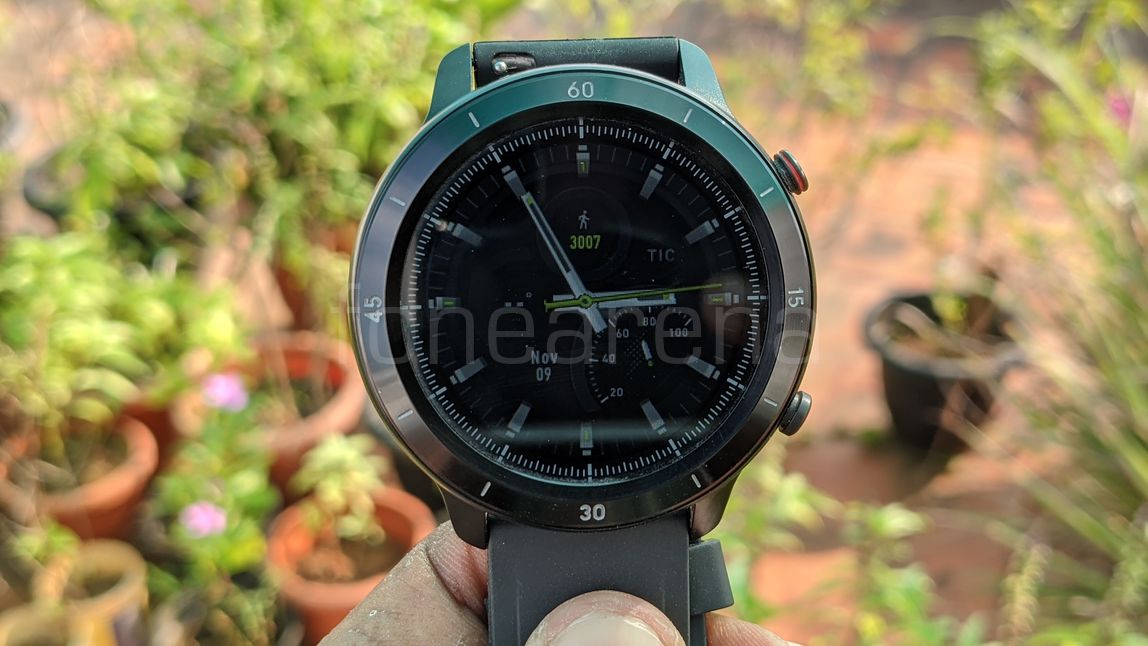 TicWatch GTX looks and feels great considering the budget. The watch's main housing is made of metal and a user replaceable durable 22mm TPU watch band feels good without giving any sort of skin irritations or allergies.
GTX comes with a circular display which makes it look similar to most classic looking watches or G-Shock series. The buckle made of metal provides a tight lock.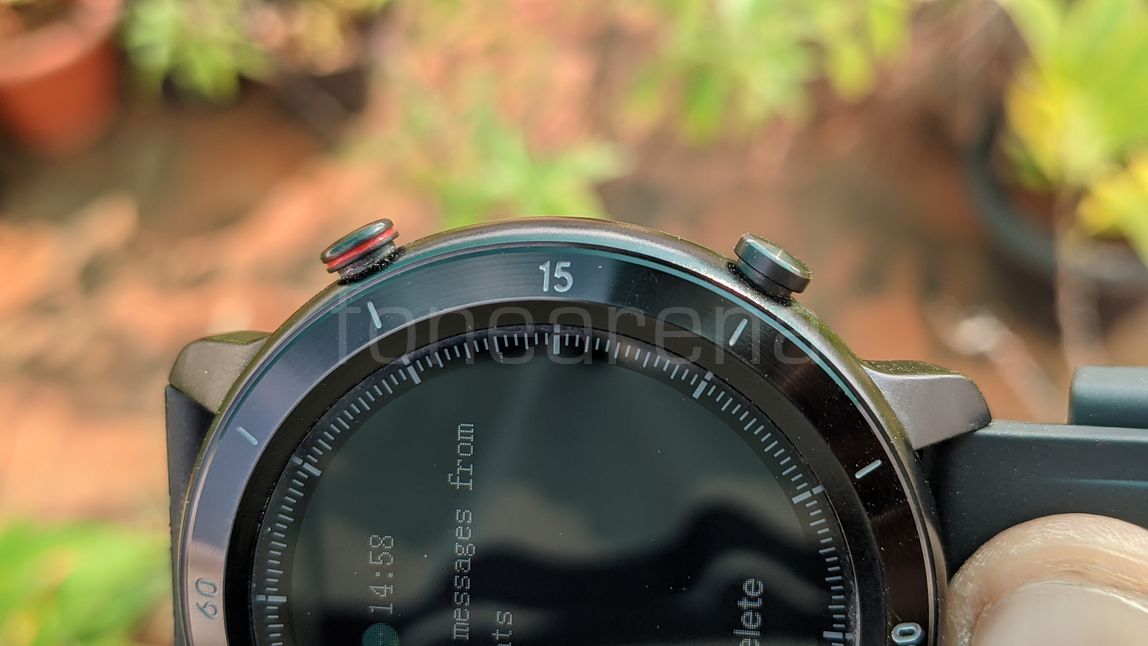 The right side of the watch houses two keys with the top button looking unique with a red ring around. The watch back case is made of plastic and has model details etched on it. At the center is the Heart Rate (HR) sensor and above we have the pogo pins to get the watch connected to the charger.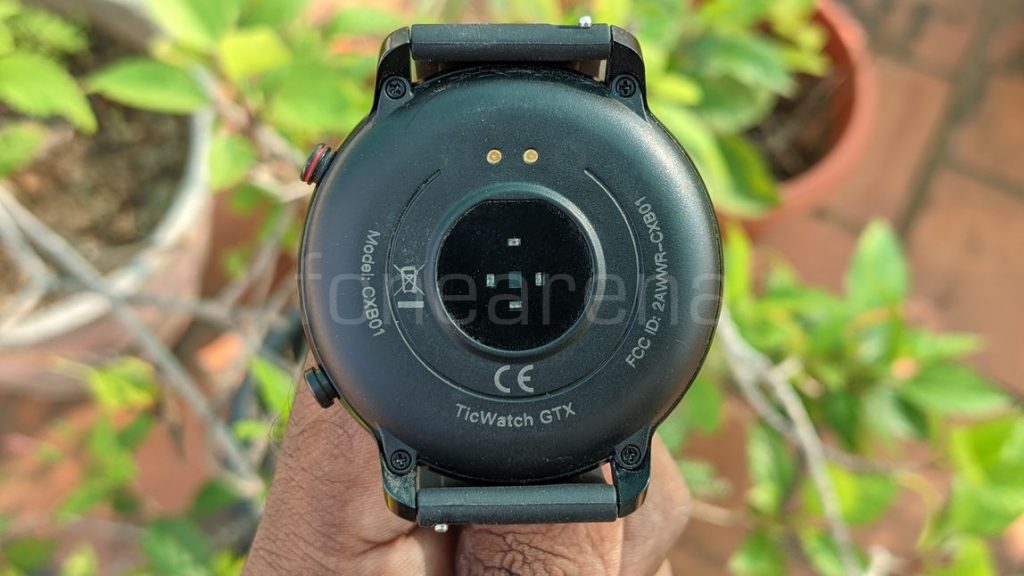 Mobvoi TicWatch GTX dimension
48.7mm circular body
11mm thick
Display and Vibration feedback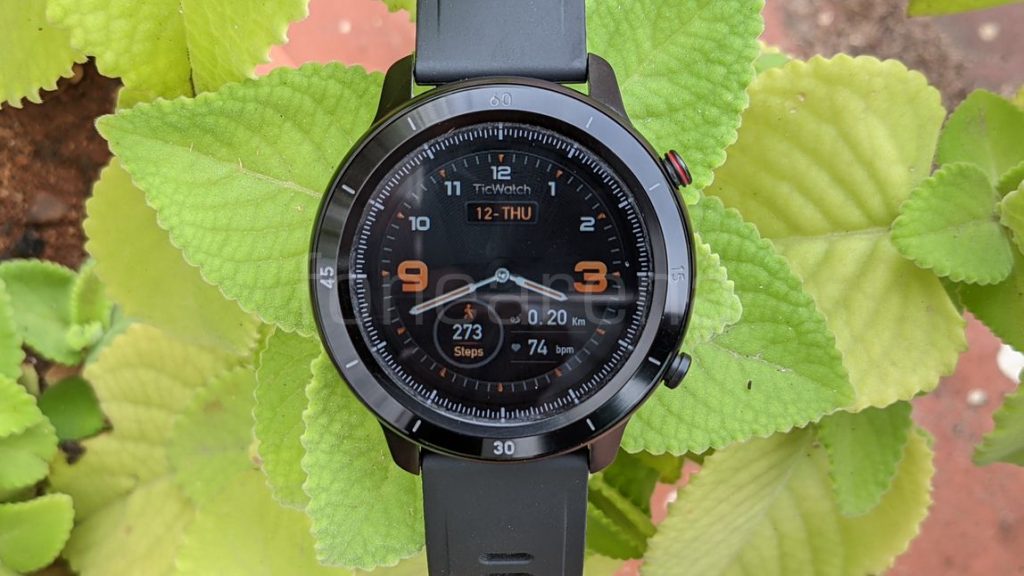 The display is a flat TFT 1.28 inch 240 x 240 touchscreen display and with a lower resolution panel for its size, it is not sharp but feels power efficient. When looked close one can easily spot those pixels. We don't get an 'Always-On' display option.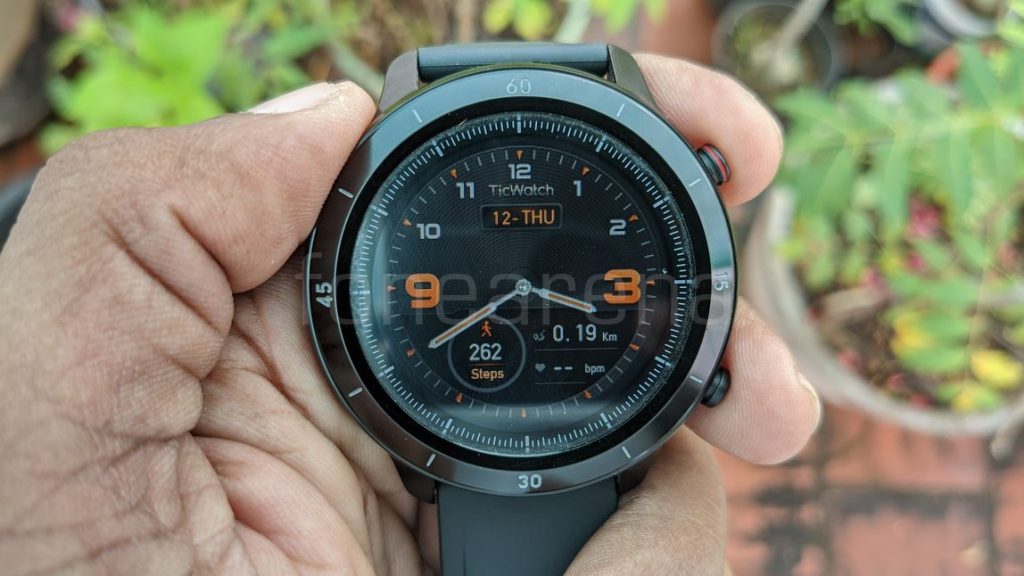 The display is bright enough for outdoor activities. The display supports four-stage brightness options and peak brightness is in favor of outdoor usability. Vibration feedback is strong enough to wake you in the morning. Even we may not miss any of the notification GTX receives.
Durability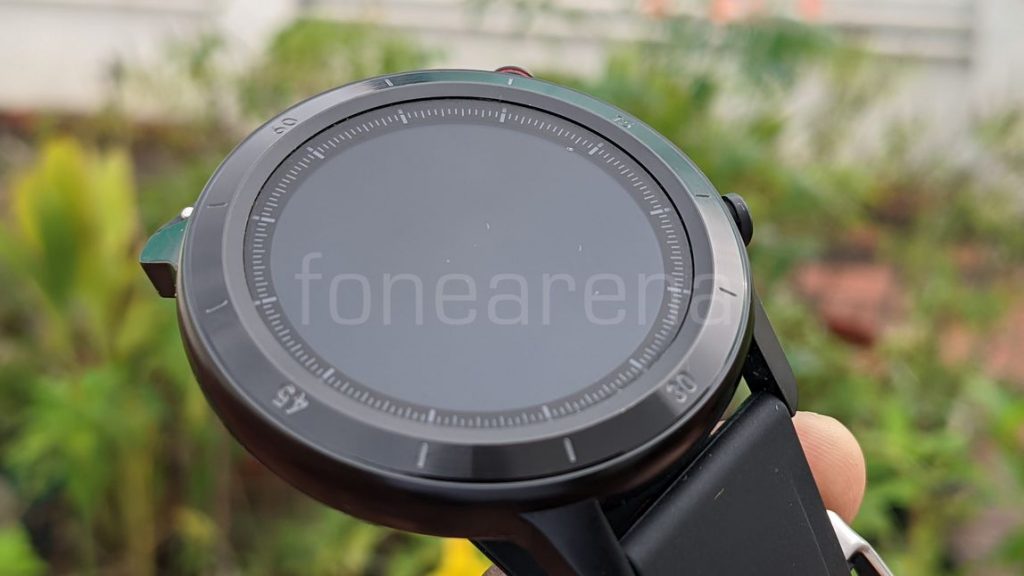 For an activity tracker durability is one of the key areas to be considered as most users will be stepping out with it under various weather conditions. Some might even abuse it to a certain level during various outdoor activities and how do they handle it? To be honest, TicWatch GTX is good in this area. It can easily handle some serious abuse and also being IP68 rated, you have the option to swim as well.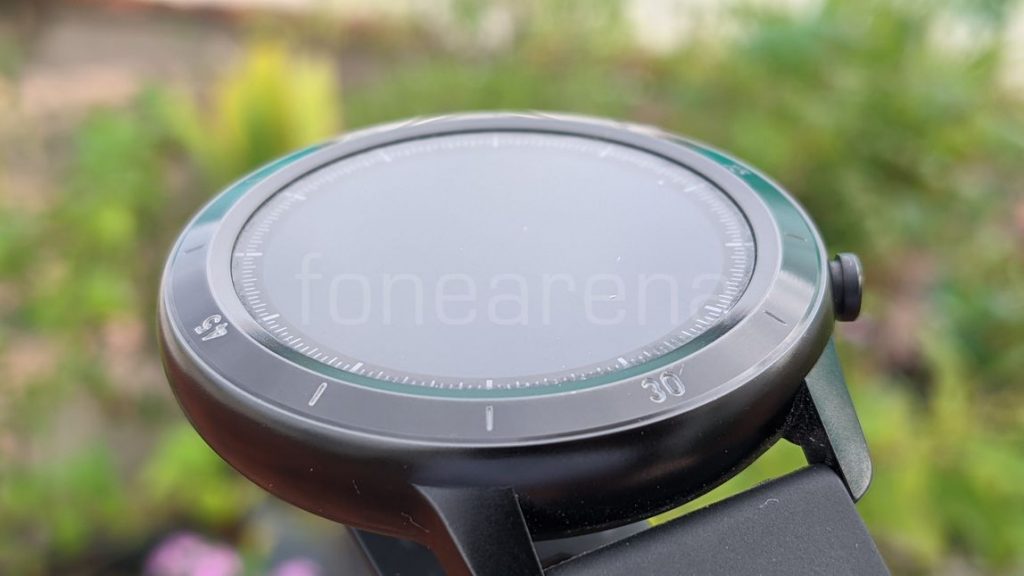 The glass above the TFT display is good and was able to handle harsh conditions during gym workouts. Had slight dashing happening around with the weights and which did not result in scratch or dents on the frame.
Connectivity and Sensors
Bluetooth 5.0 is a key medium for GTX to keep communicating with the smartphone. Being Bluetooth 5.0 it is power efficient and adds a good range to GTX to make it stay connected with the phone without any issue.
Sensors used in GTX are
The heart rate sensor works fine with good accuracy. PPG (photoplethysmography) sensors use light-based technology to sense the rate of blood flow as controlled by the heart's pumping action.
Accelerometer takes inertial measurements of velocity and position. Not sure whether it is 3-axis or not as Mobvoi did not mention anything about it.
Above sensors play a major role in Sleep Tracking and 24/7 Heart Rate Tracking.
TicWatch GTX UI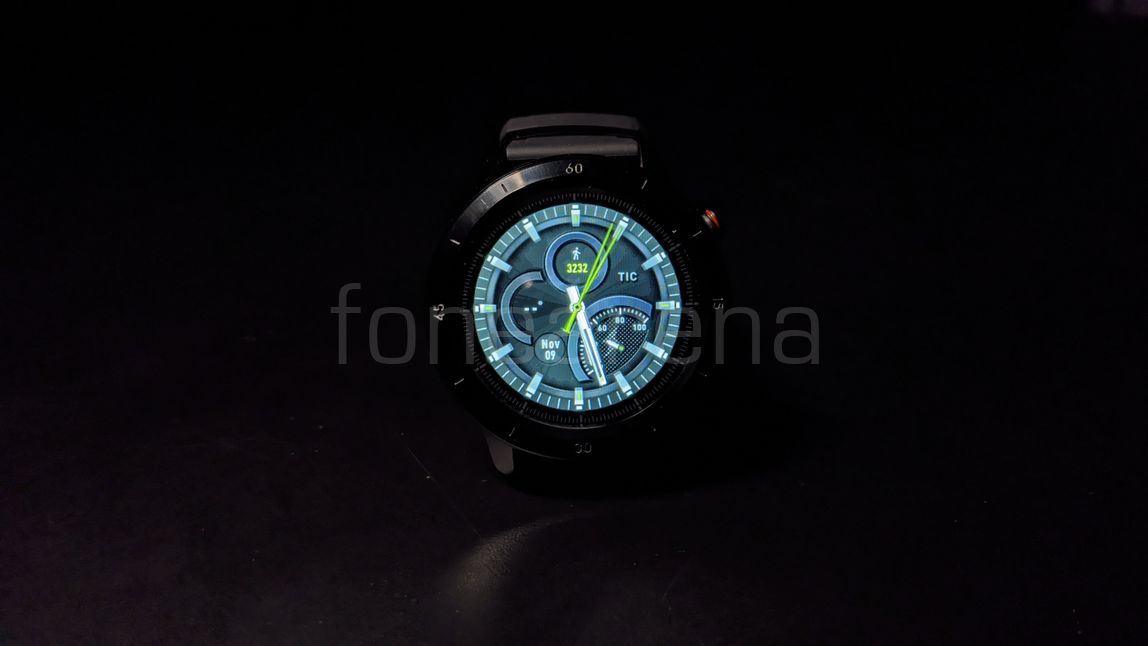 Mobvoi was clear in making GTX look and feel like it's Pro offerings. UI was very similar to TicWear OS with default watch face resembling Android wear home. Navigating through UI is smooth and good considering the hardware this watch packs.
Even though there are limited watch faces, was able to sync and download new watch face in ease. Users can also go for custom watch faces. The Custom watch face tab brings in more options like
Option to import any image from gallery as watch face background
Option to change font colour to match background image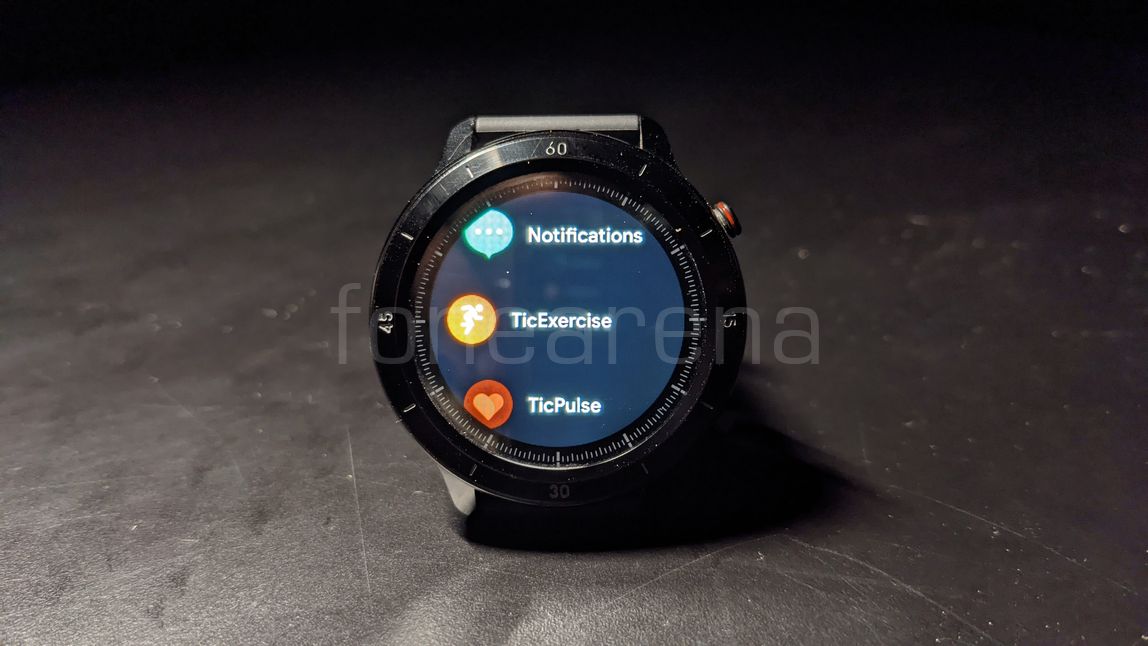 Pressing the top button with a red ring accent will help to navigate to the watch menu. Watch menu consist of following options to use as listed below
Notifications: From the TicWatch GTX home screen swiping up will take to the notification center. TicWatch GTX supports notification of most apps installed on phones. Most counterparts don't display a notification from third-party apps. Having said that, there are no options to reply to the notifications in this case. Call notifications can be terminated and there is no option to mute it.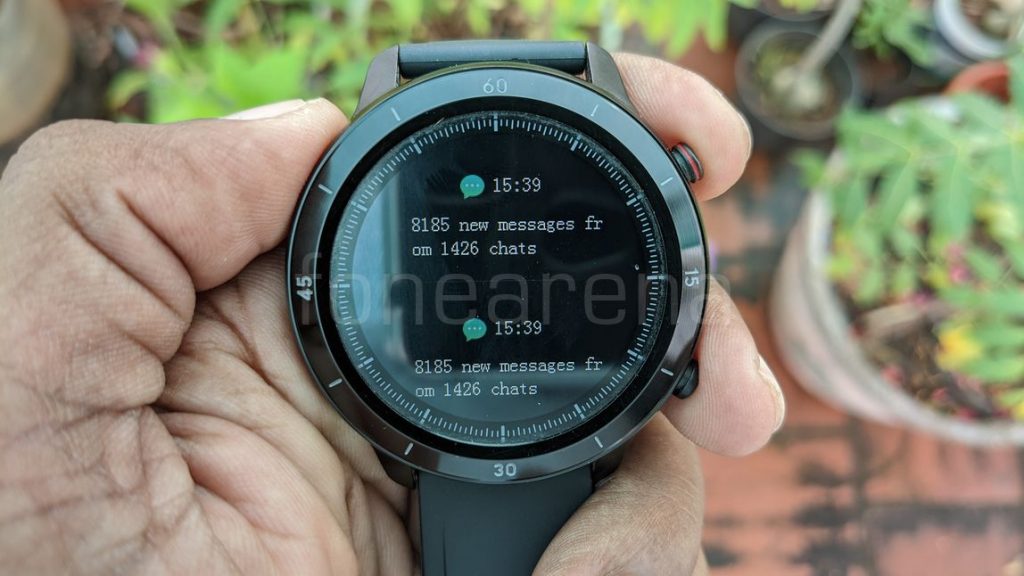 TicExcersice: This tab offers access to the preloaded 14 workout modes.
TicPulse: This tab brings in information about the maximum heart rate of the day to a minimum during resting time. This will show a short graph to read our heart rate based on time and activities. Heart rate from GTX is good and accurate. I tried comparing GTX with other high-end trackers and found this to be good considering heart rate accuracy. Having wear detection help in stopping heart rate sensors from work when the watch is not worn. Most activity trackers in this price range fail in this area, as they lack wear detection sensors.
TicSleep: Hopefully TicSleep tab should be an experimental area for GTX. Sleep data from GTX are very poor and provides terrible values. I hope Mobvoi will try to fix it via OTA update. I don't prefer wearing a watch while sleeping, also those watches with this big form factor won't be favorable. I would rather recommend a band for this work.
TicHealth: This tab will showcase the overall Kilo calories burned that active day and the total number of steps completed with the distance covered the whole day.
Music Control: When the watch is actively connected with the smartphone, the user can control the audio track or multimedia content being played on the phone. Can pause/Play/Pause the player with the help of GTX.
Stopwatch
Timer – comes with predefined options to use in a touch
Weather: GTX lacks a standalone way to get internet access like wifi or e-SIM. Preferably for accurate weather data GTX should stay connected to the smartphone.
Flashlight: This may not be powerful but, should be helpful at dark.
Find my phone: This option is useful to locate the phone. But, keep in mind that watch should stay connected to the phone. When the user triggers this option on the watch it will result in the phone to ring.
Watch settings: This tab brings in a few more options like

Adjust brightness
Reset
Power off
about

Tilt to wake and Tap to wake are known gestures of GTX and these options work fine. Also, users can control these options via the Mobvoi app.
Workouts and Accuracy
TicExercise App offers 14 workout modes. Track your fitness and workout data of the below 14 workout options made available via GTX
 Outdoor Run
Outdoor Cycling
Jump Rope
Swimming
Indoor Walking
Rowing
FreeStyle
Mountain Climbing
Indoor Run
Gymnastics
Soccer
Basketball
Indoor Cycling
Yoga
The absence of standalone GPS makes it not fit for outdoor activities. I rather recommend this watch for indoor activities and swimming.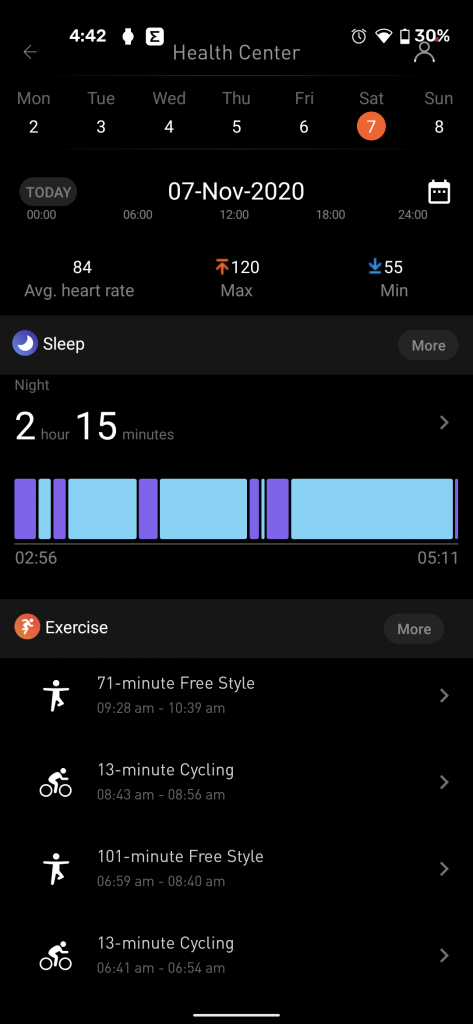 My day-to-day activities include 1 to 1hr 15mins of cycling, 1hr 30mins of badminton, and based on energy level I prefer bodyweight workouts for another 30 to 60mins.
Painful story here is the step count algorithm of TicWatch GTX. Even though during freestyle workouts most users will keep walking across different equipment in the gym or some may relax between every set of workout he/she does in the gym. But surprisingly GTX fails to count all those steps done during workouts and end of the session GTX end up showing just 100 or 200 steps being done. Whereas other bands in similar pricing are doing good in this area.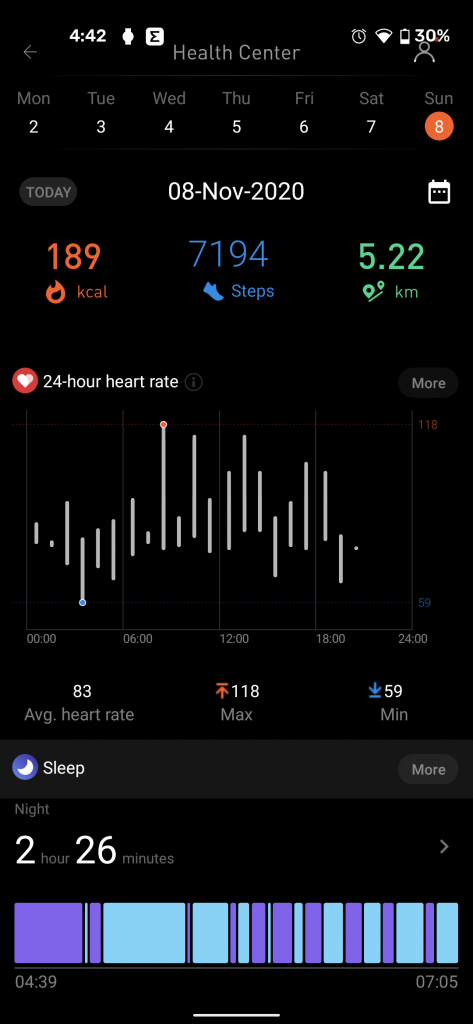 Whereas dedicatedly activating walking or running mode results in proper step count data. But failing during other workouts should be annoying for most users.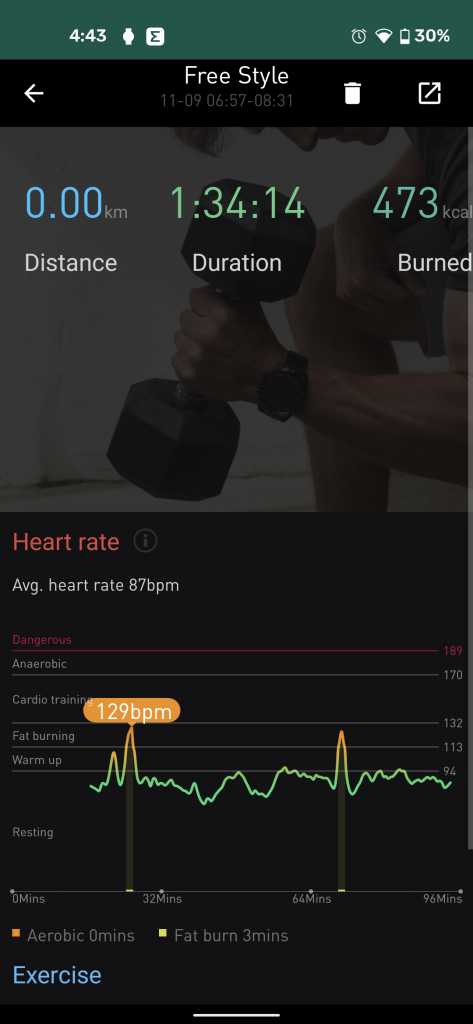 Total calories burnt and heart rate data are thankfully into an acceptable range. This is the prime reason behind recommending this tracker for indoor activities more than outdoor.
Mobvoi app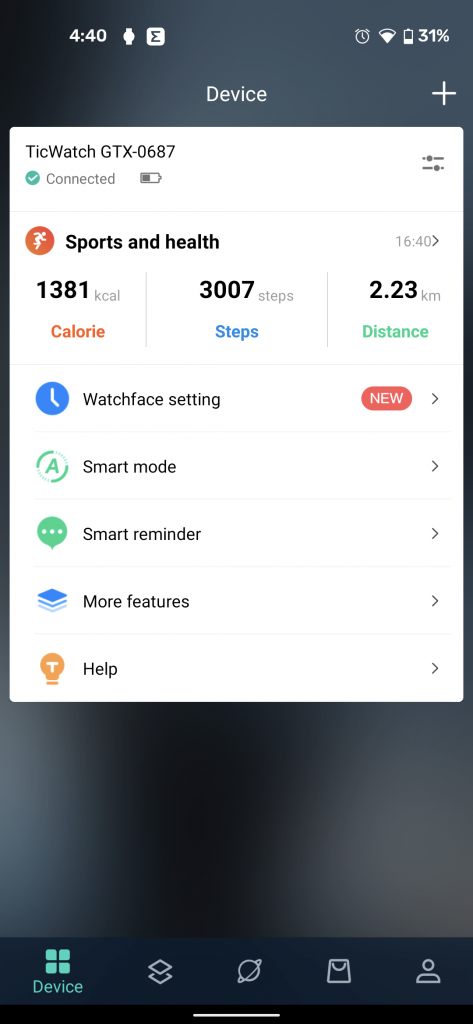 Mobvoi app has five sections which can be accessed on the bottom.
Following are the five tabs
Device
Routine
Explore
Store
Account
Among the above 5 tabs, the most important one should be the device. The device tab carries most of the information needed for an end user. Like, smartwatch connection status with a battery icon. Tapping on it will lead to a section, where the latest software update for the watch can be checked and also the option to pair a new device.
Watch face settings provide options to use new watch faces made available. Only handful of watch faces are available for now. Downloading a new watch face to GTX worked fine. Custom watch faces can be made with a predefined option. Where we can choose the watch dial image and also accent colors.
Smart mode provides the option to set an alarm. Also, auto-detection of heart rate in 24 hours. Tilt to wake and other gestures can be controlled from here. Notification options can be edited from the smart reminder option.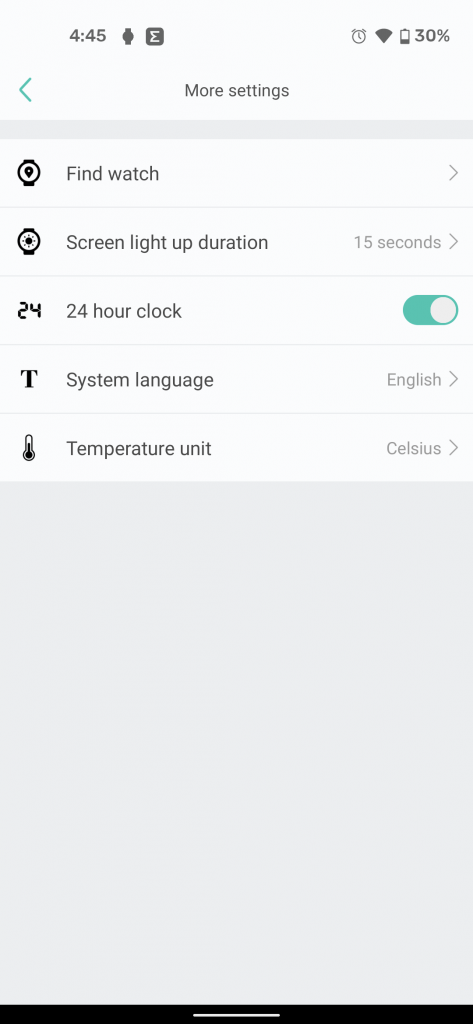 More features section features some of the key options like
Find my phone
Screen light up duration
24hr clock
System language
Temperature unit
The help option will take us to the community. The routine tab is a bit unique, where users can set up their workout routines. Explore tab holds information related to product offers, community, activities, etc.  The store tab will redirect us into Mobvoi's website from their app. Account tab adds information about user and options to use the virtual assistant.
 Battery Life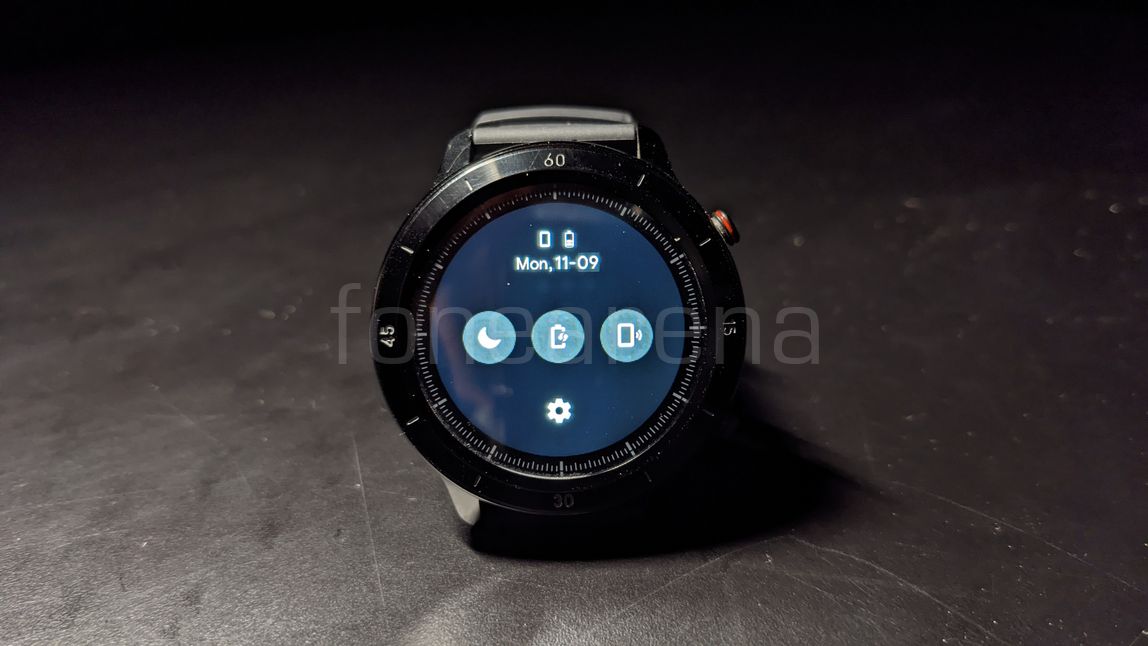 Mobvoi's TicWatch GTX comes powered by 200mAh of battery. Mobvoi claims that up to 7 days of battery life on regular use and up to 10 days when power saving mode on. TicWatch GTX takes nearly 2 hours to get fully charged.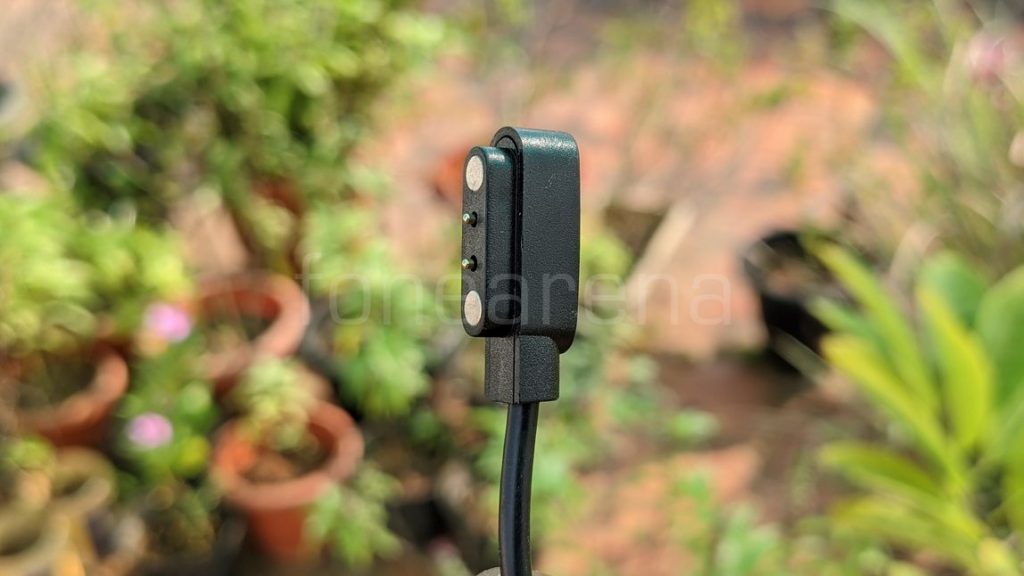 The magnetic charging connector provided in the box is good and works as it is supposed to. The magnet's strength is good and this helps in avoiding dropping the watch in case of lifting the cable or any accidental pull off.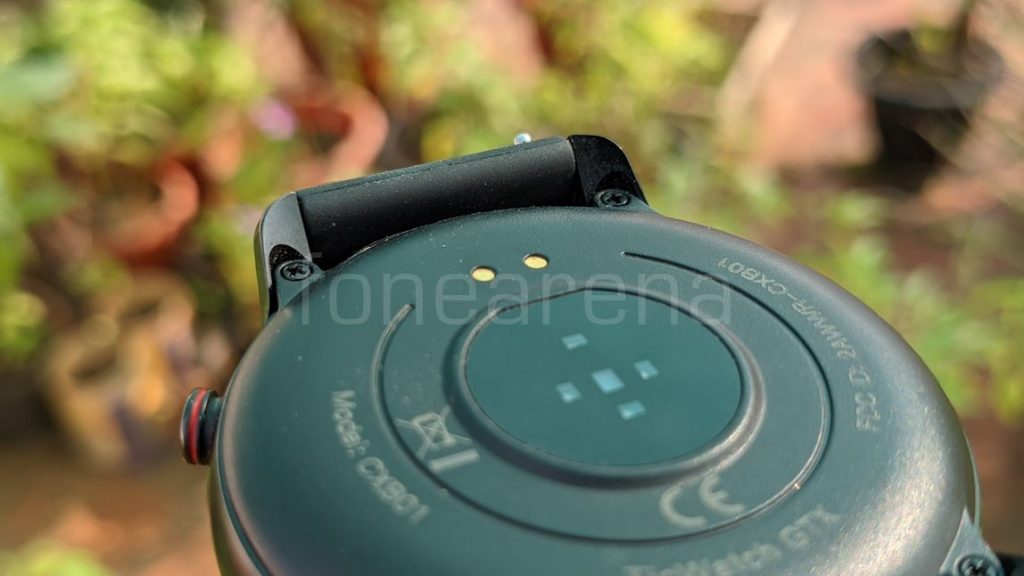 Based on my usage, I get GTX alive for around 5 to 6 days in one charge. Also, I don't keep the watch always connected to the smartphone and my prime use of the GTX will be during activities, the rest of the day it keeps me reminded about being sedentary and overall steps made that day.
Conclusion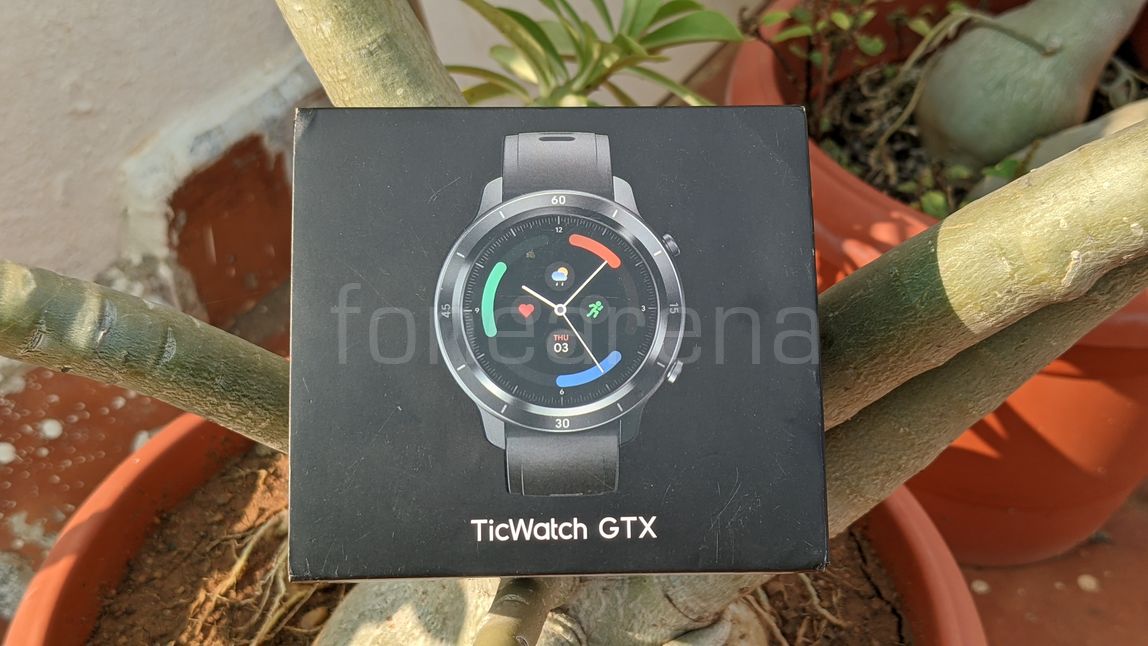 The TiCWatch GTX did good respective to build quality and provided some impressive workout data. Overall the TicWatch GTX failed to impress. I had more expectations considering Mobvoi's TicWatch Pro series powered by Wear OS, which shows excellence as a smartwatch and activity tracker.
Meanwhile, the lack of GPS ruined its outdoor performance. The step counter on the other hand failed while performing freestyle workouts and resulted in poor values. The GTX should be fine for those who wish to get notified about phone incoming notification and those who prefer a professional-looking watch.
What do you guys think about Mobvoi's TicWatch GTX? Is it a half-baked or something is about to come via OTA update? Share your thoughts below in the comments section.
Availability
The Mobvoi TicWatch GTX is priced at Rs. 6999, but it is available from Amazon.in for Rs. 5,199.
Pros
14 workout modes (Subjective)
Build quality – IP68 rating
Battery life
Heart rate auto wear detection
Cons
No Built-in GPS
Sleep tracking is not accurate
Limited number of watch faces
Can't set alarm from the watch and can't control phone camera
Alternatives for Mobvoi's TicWatch GTX:
There are many activity trackers in this price range, Some are bands and many are in watch form factor. Some of the alternative options for GTX in the Indian market are listed below
Amazfit Verge Lite
Amazfit Bip S
Amazfit Bip U
Amazfit Bip S Lite
Fitbit Inspire Health and Fitness Tracker
Samsung Fit 2
Xiaomi Mi Band 5
Honor Band 5
Noise Colorfit Nav