Almost a year ago, I discovered the joys of using Audioboo for covering live events on Twitter. See, Audioboo is kind of the audio version of Twitpic for Twitter. You get 5 minutes of audio recording, and you can set that to be automatically sent to Twitter with a link to listen to the Boo. Quite simple, and when you want to get live impressions of people, it works wonderfully well. Except that there wasn't a version for Symbian before and I had to use my iPod Touch and wait until I had WiFi around to upload my Boos, which defeated the purpose of its instantaneous approach.
Well, that problem is now solved as Audioboo has recently been launched in the Ovi Store, and after a few days of being limited to the UK only, is now available worldwide.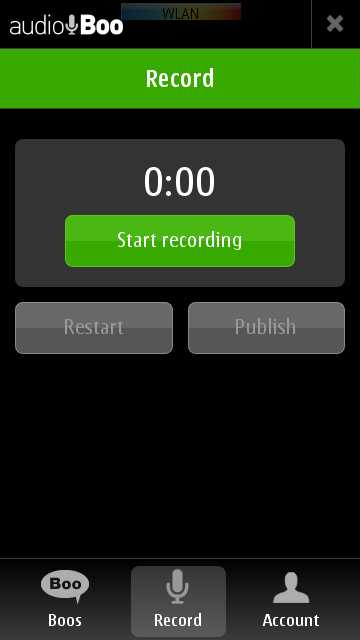 The Audioboo application is quite well designed while keeping it simple. There are 3 tabs: Boos, Record and Account.
The Account tab is the one you should hit first, so you can set up your login details. It also allows you to set your preference for whether or not to geotag Boos.
The Record tab is quite simple: a button to start/pause recording, one to restart if things get out of hand, and one to publish if you're satisfied with the result. When you hit publish, you're taken to an Upload page that lets you listen to the Boo, add a name and tags to it, before uploading it to your account.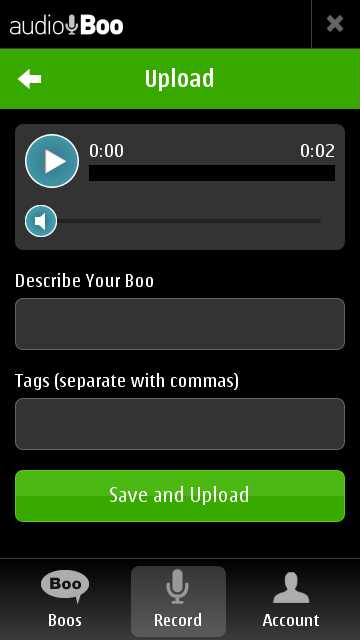 The Boos tab comes with a drop-down menu allowing you to access your own Boos, popular ones, recent ones, featured ones, and Boos from people nearby or those you are following.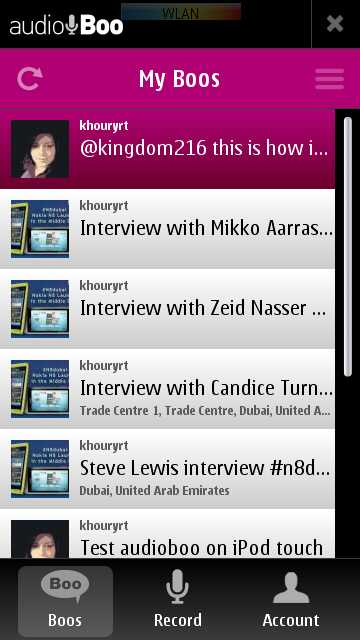 While there are a few functions missing, like the ability to associate an image with a Boo, or change the preference of tweeting a certain recording or not, AudioBoo is a welcome application on Symbian. It's elegantly crafted and simple to use, and comes at the awesome price of free. Download it from the Ovi Store now and tell us what you think about it. Are audio recordings something you'd be interested in doing more often? And in what circumstances would you believe them to be most useful?