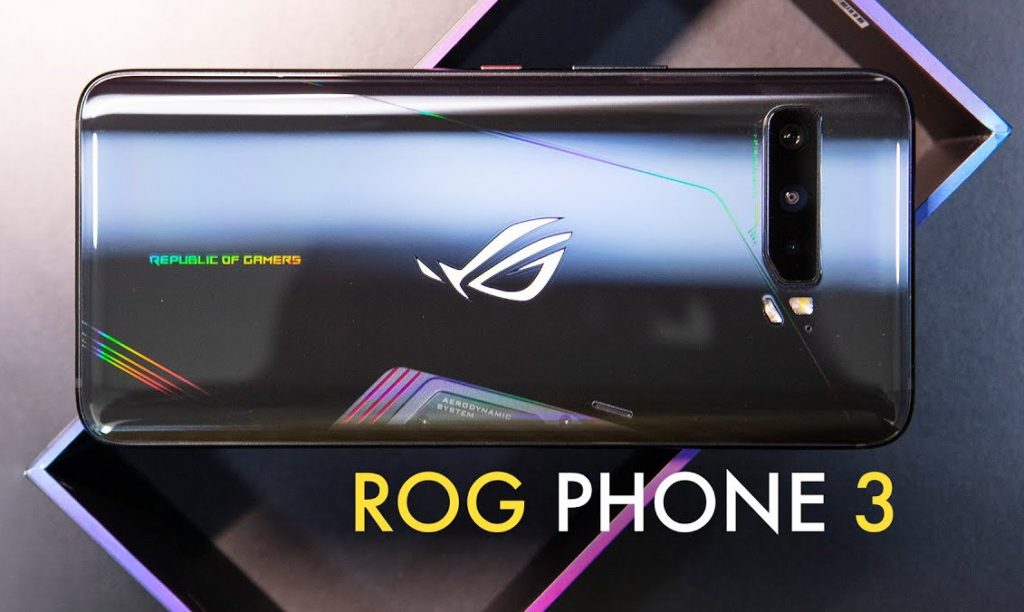 Smartphones specially made for gaming are not new. We even had phones like the Nokia N-Gage in 2003 for similar purposes and the legacy continued with Samsung phones and also Sony's PlayStation certified Xperia Play. Also phones powered by Tegra processors in 2010 had separate stores filled with games tweaked to enjoy the fullest hardware power of the Tegra series. Later Razr acquired Nextbit and released a gaming phone with 120Hz refresh rate display and powerful stereo speakers.
Now came the true gaming beast from ASUS among powerful smartphone lineups from different OEM's in 2018, named the ROG Phone. From then ROG Phone series kept dominating the gaming smartphone lineup for the two successive years and here came ROG Phone 3 to continue the legacy.
Will ROG Phone 3 live up to the name, Let's dive in.
Box contents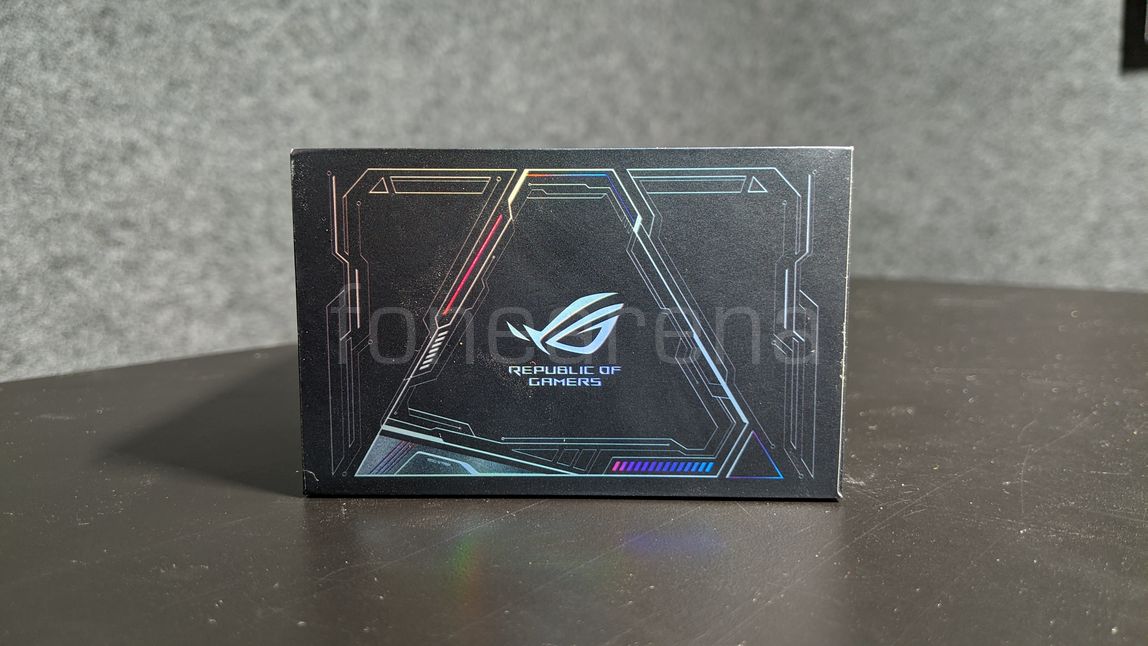 Being a gaming phone I was expecting AeroActive Cooler 3 to be part of box content, considering the price I was taken back. Top of the box had ROG TOTEM, Scanning it with ROG Phone 3 took into intro and started the mission to explore ROG Phone 3. When most flagship manufacturers have stopped shipping type-c to 3.5mm adapters among box contents, Asus included it without fail. When a consumer buys ROG Phone 3 following things will be found inside the retail box;
Asus ROG Phone 3
30 Watt charger
Type-c to type-c cable
Type-c to 3.5mm dongle
Warranty and user manual
Asus Aero Case
SIM ejector
Unique features of ROG Phone 3
144Hz, 1ms AMOLED Display
Qualcomm SnapdragonTM 865 Plus 5G Mobile Platform with UFS3.1 & up to 12GB RAM
A 6000mAh Monster battery in a flagship gaming phone
Latest "GameCool 3" Heat Dissipating System
AirTrigger 3 – Invisible ultrasonic buttons & Motion sensor trigger
Side-Mounted Ports
X-Mode & Armoury Crate
Design and Build quality
ASUS ROG Phone 3 is specially designed for gaming which makes it look unique among modern smartphones which are mostly rectangular slab with plain backs. From front this phone resembles ROG Phone 2 also the dimensions are near ideal. Asus made this happen as those using ROG Phone 2 can upgrade to Phone 3 with the same old accessories from Phone 2. Front of the phone packs a powerful stereo speaker with 7 magnets for more power and less distortion. One of the speakers is slightly larger with an extra-long throw in order to play even deeper bass notes.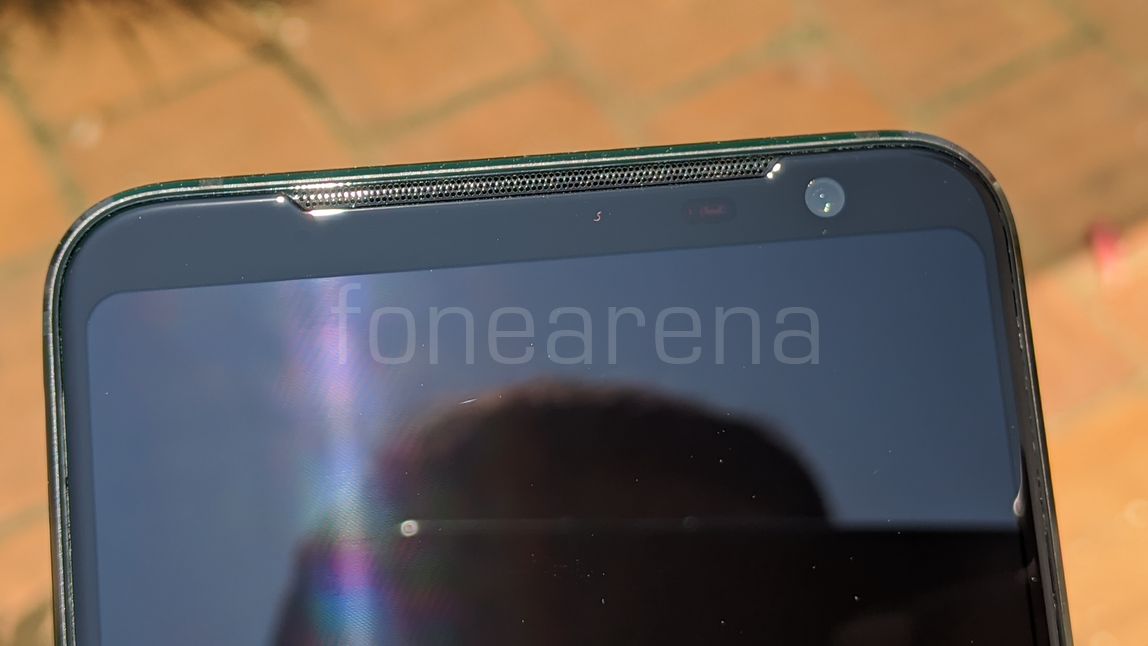 Top Bezel houses a 24MP front facing camera, a Multi colour Notification LED and from practical test it is clear that a gaming phone have some minimal bezels for following reasons;
Minimises the risk of unintentional touches during intensive gaming.
A complete full display. No need for a camera notch or punch hole design.
Room for front firing and bigger speakers.
More room for a bigger battery.
Above points sound more valuable as claimed by Asus.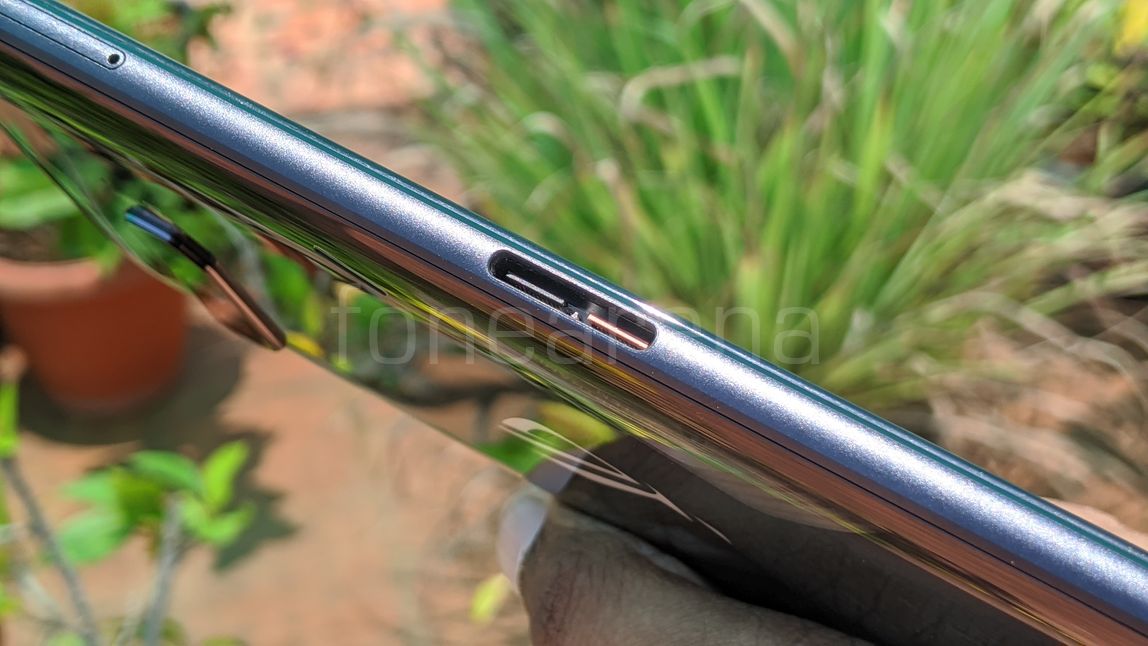 Phone comes with a special Side-port: 48 pin Customised Type C connector which supports USB3.1 gen2, Display Port 1.4 up-to 4K, Fast Charging (QC3.0+QC4.0/PD3.0) and Direct Charge like its predecessor.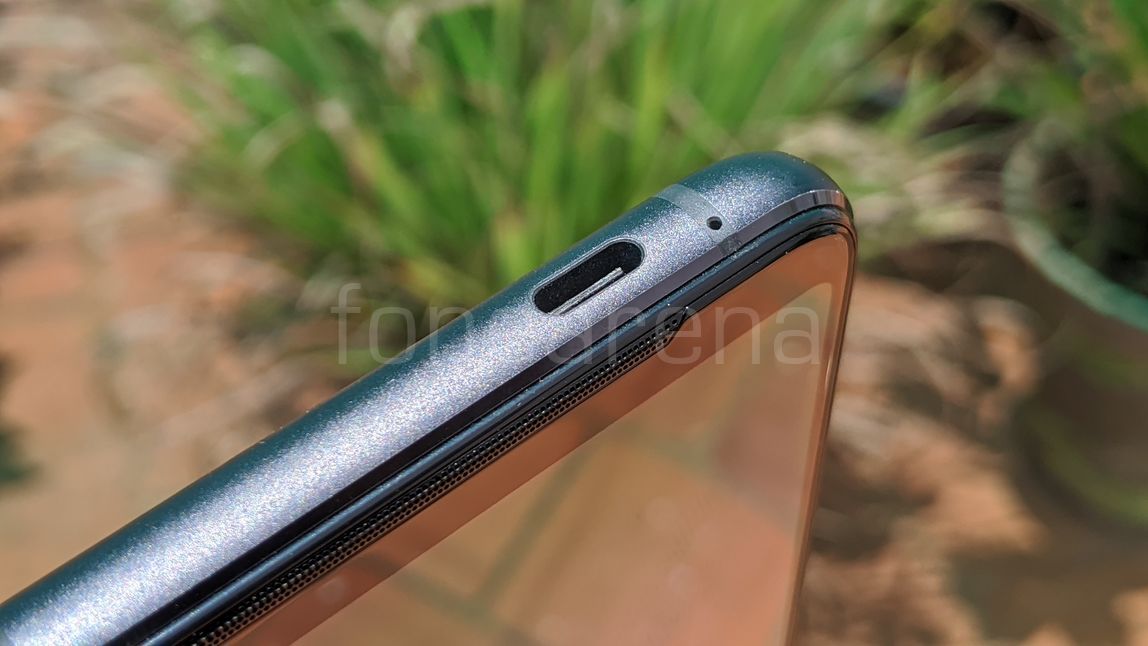 Bottom of the phone packs a microphone next to the Type C connector which is USB2.0 which supports Fast Charging (QC3.0/PD3.0) and Direct Charge as well. Those who wish to come from ROG Phone 2 will be missing the 3.5mm audio jack in ROG Phone 3. Asus claims with AeroActive Cooler 3 yours will get access to the type-c port and 3.5mm jack.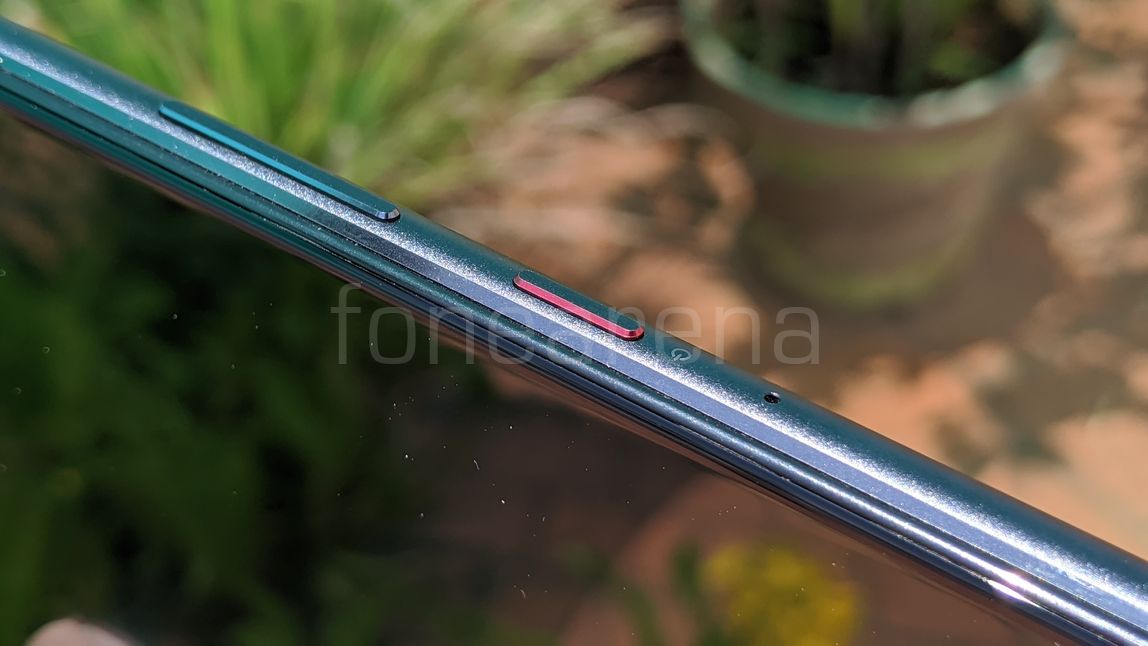 Right side frame of the phone houses metal volume and power button, the power button alone features a red accent along borders. Top of the phone features a microphone.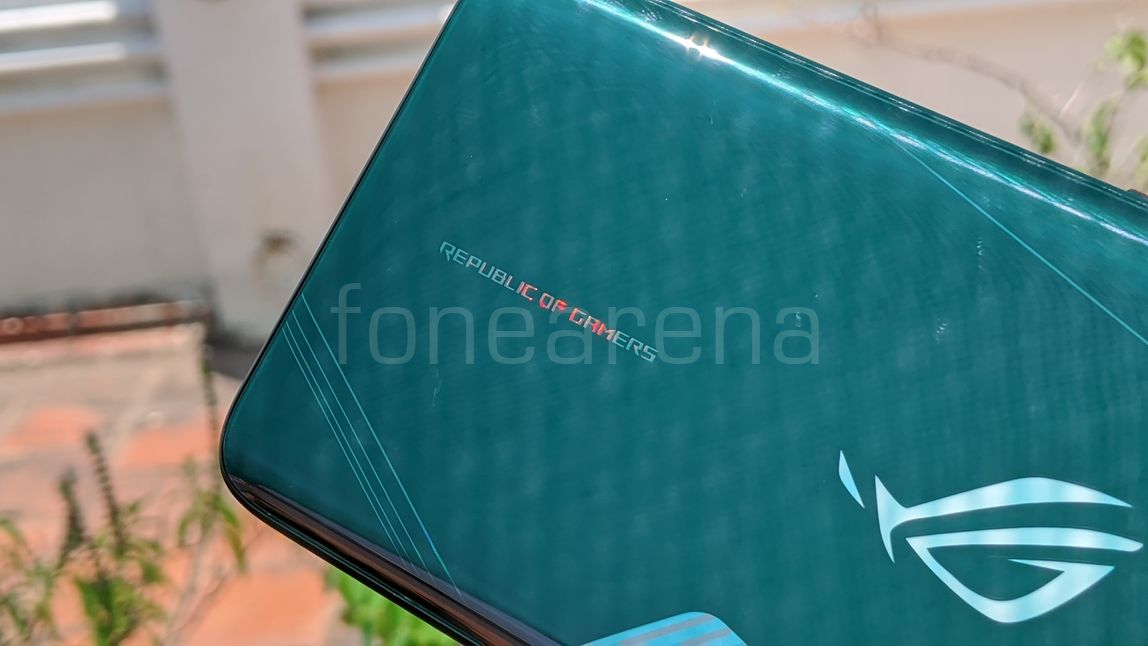 Rear of the ROG Phone 2 is most attractive with some unique visual features like, Aura RGB lighting with an illuminated rear ROG logo that can display a whole rainbow of lighting schemes: static, breathing, strobing or color cycling. You can trigger lighting effects with 11 different phone events such as incoming calls, notifications and more, to give your ROG Phone 3 a unique personality. This can be controlled from Phone settings.
Top left occupies triple camera setup with notable bump, Single LED flash, Microphone and Aura RGB LED for lighting up bumper case. Below the RGB ROG logo glitters Republic of gamers holographic text underneath the glass. Right corner next to ROG logo is a big heatsink with an air vent. On the whole this phone looks like a gaming powerhouse with some attractive unique designs.
Display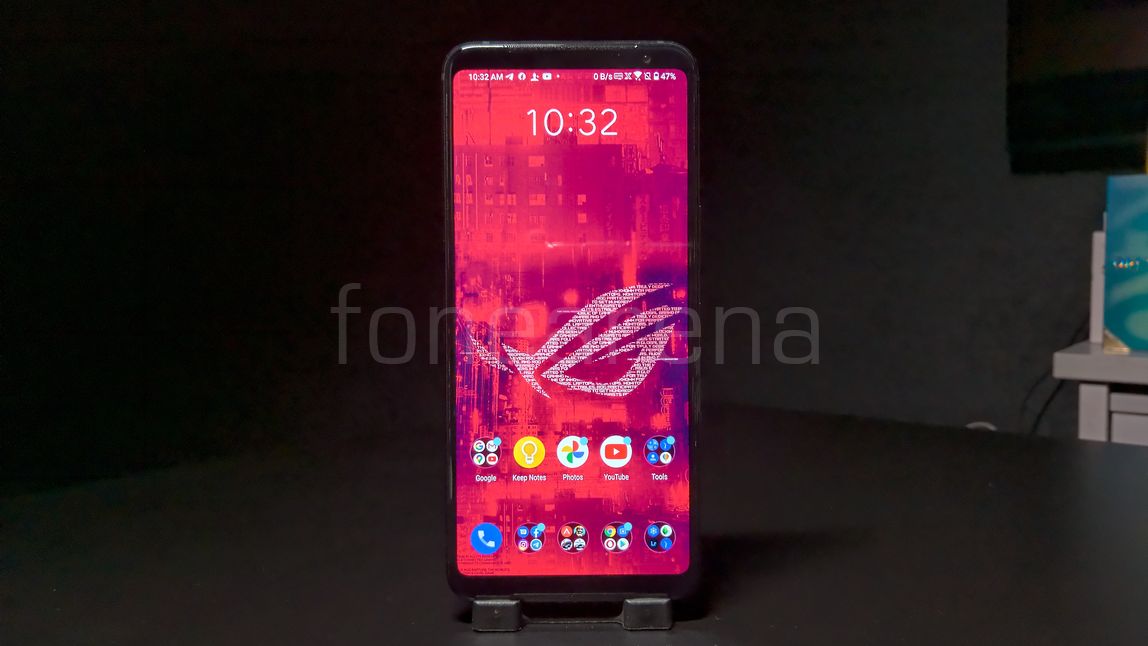 Asus ROG Phone 3 features 6.59 inch 19.5:9 FHD+ AMOLED panel with 10-bit HDR10+ support which is not only color accurate but faster and brighter than the previous generation. As a gaming device its display comes with 144Hz refresh rate with 1ms response. The touch latency is now down to a record low 25ms with a 270Hz touch sampling rate. We can enable 160HZ option in ROG Phone 3 by simple procedure explained here.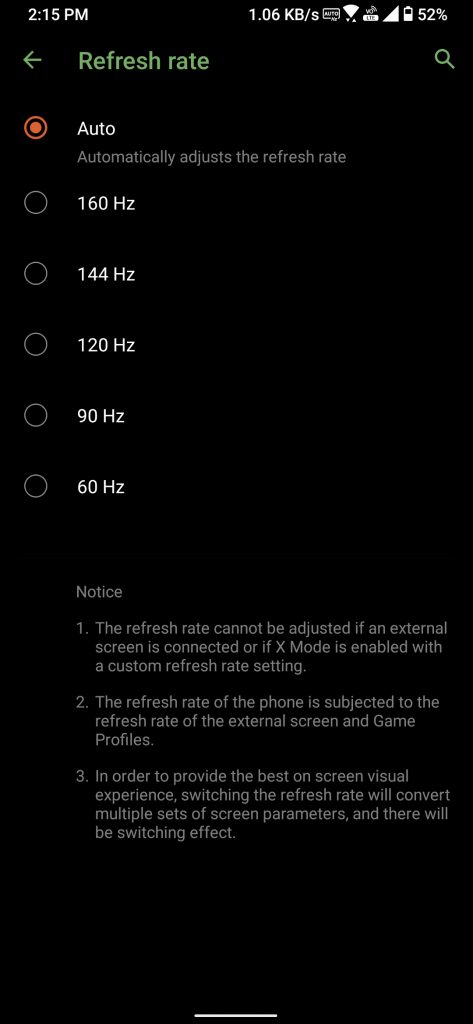 By enabling 160Hz can experience any different in smoothness, but it turns display tone warmer and won't be comfortable to use. Can give a try if you are eager.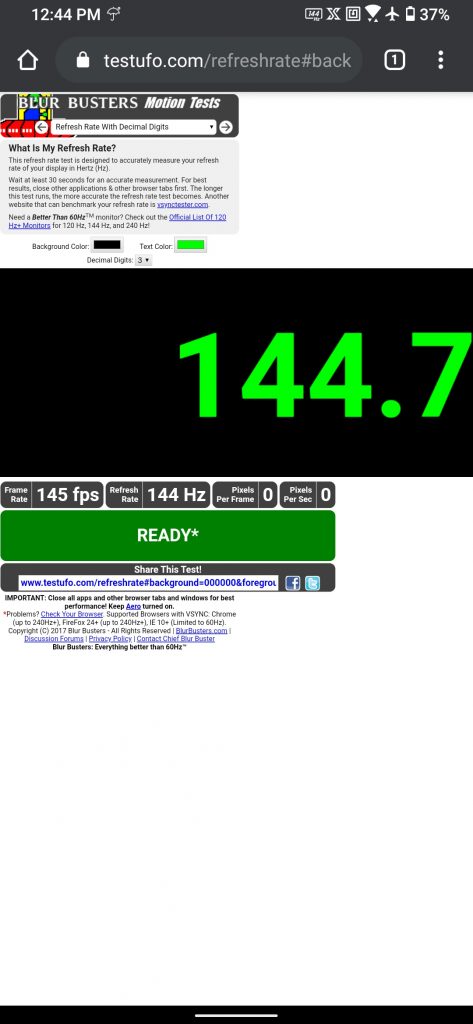 Once user starts interacting with ROG Phone 3 display will feel amazed by way it responds back and also that silky smooth scrolling feels wow. Asus have been looking into Eye comfort as ROG phone users would speed more time looking into phones display, thereby it has received TUV Low Blue Light (Hardware Solution) and Flicker Reduced certifications. ROG Phone 3 display comes with DC dimming support. Brightness of ROG Phone 3 is around 650nits in normal condition and can reach up to 1000nits peak brightness during outdoor under direct sunlight. This display features 113% DCI-P3. Display is protected by 2.5D corning gorilla glass 6 and supports 10 points multi-touch (supports Glove touch).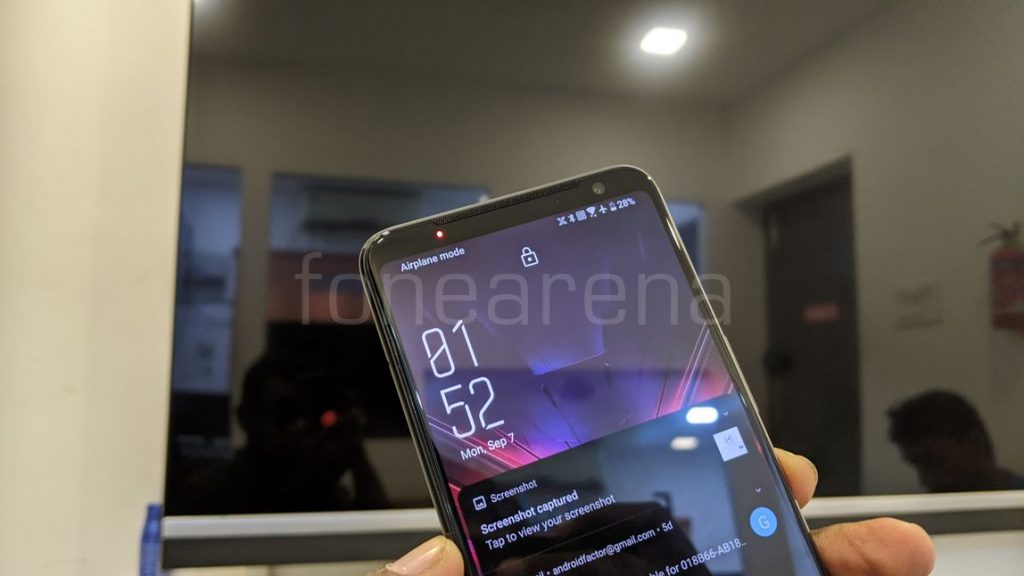 A multi colour notification LED is present along the top bezels which coupled with Always on display makes sure users won't miss any notification. Always On display in ROG Phone 3 comes with 7 different clock styles and a warning about battery drain. AOD will result in unwanted standby drain and I personally recommend using Notification LED than AOD. Haptic feedback is one of the best in the industry. Asus have made every UI interaction to result in a short vibration feedback. This can be felt system wide like old school Symbian theming effects. Typing through the keyboard with haptic feedback enabled felt fantastic.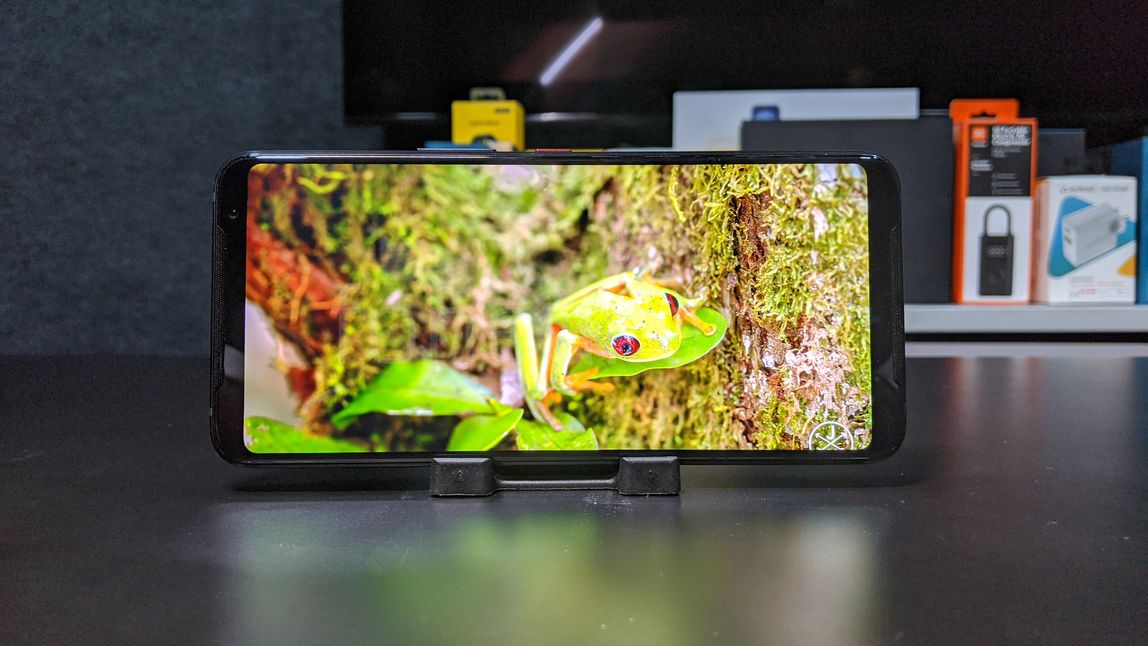 Being an FHD+ HDR panel this phone comes with Widevine L1 certification. This makes streaming Netflix, Amazon Prime, YouTube etc in FHD HDR easy without any issues. I checked using Netflix and Youtube to play HDR contents and there were no issues at all.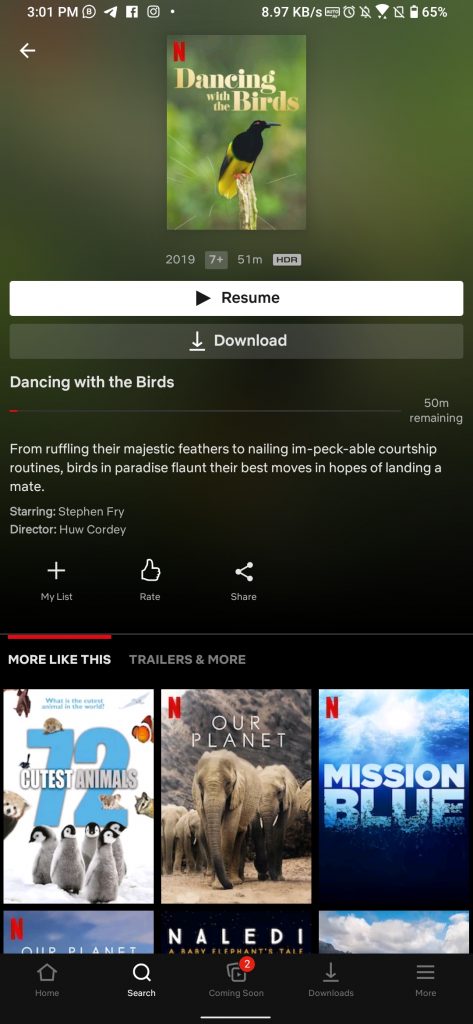 Black Crush — the problem refers to a phenomenon where the AMOLED/OLED panels have issues displaying shades of dark accurately, resulting in a grainy or a pixelated picture with blocks of black. In real world use I did not experience this issue. To bring this issue was put into conditions like:
Having Display brightness below 50%
Should be in darker environment without lights
Should play videos which has both darker and brighter section in same frame
Among current generation smartphones black crush issues and also green, pink, blue tint issues are getting common. It nearly says to us, Old school LCD's are way better to consider. But manufacturers prefer LED displays for the contrast it provides, also power efficient and thinner panels.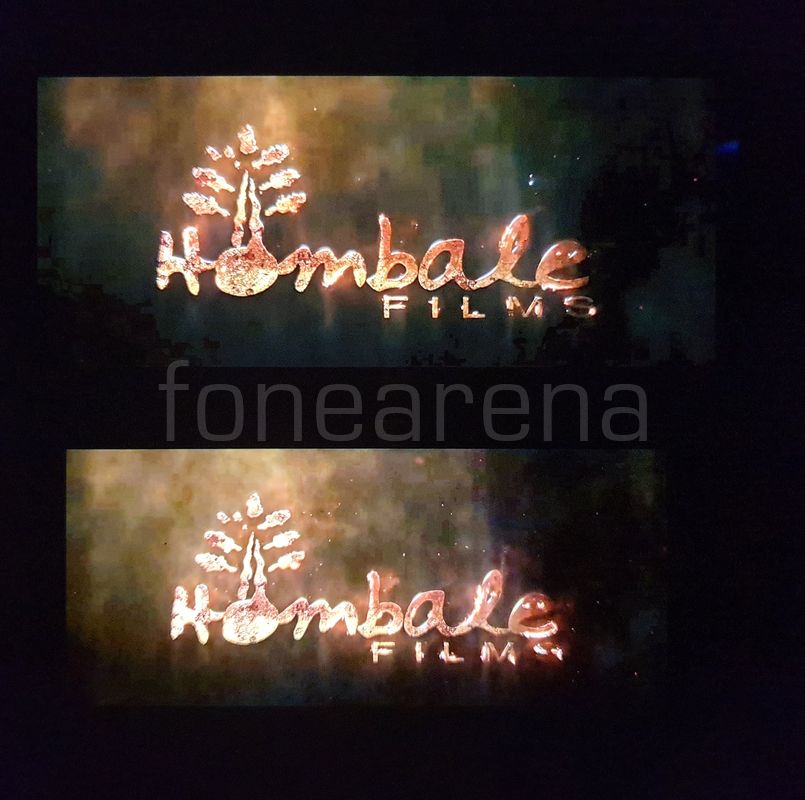 I tested ROG Phone 3 against Nokia 9 PureView to spot the issue. In above image bigger display belongs to ROG and smaller is Nokia 9 PureView. In ROG Phone 3 display along the left corner you guys can spot the difference compared to Nokia.
Network and connectivity
Whether a Smartphone or a feature phone, Phones are basically made to stay connected with near and dear. Prime work we did from the day phone were invented is calls and SMS. ROG Phone 3 is perfect in this area without call drops or missed OTPs. Calls through earpiece are loud and also through loudspeakers are really great.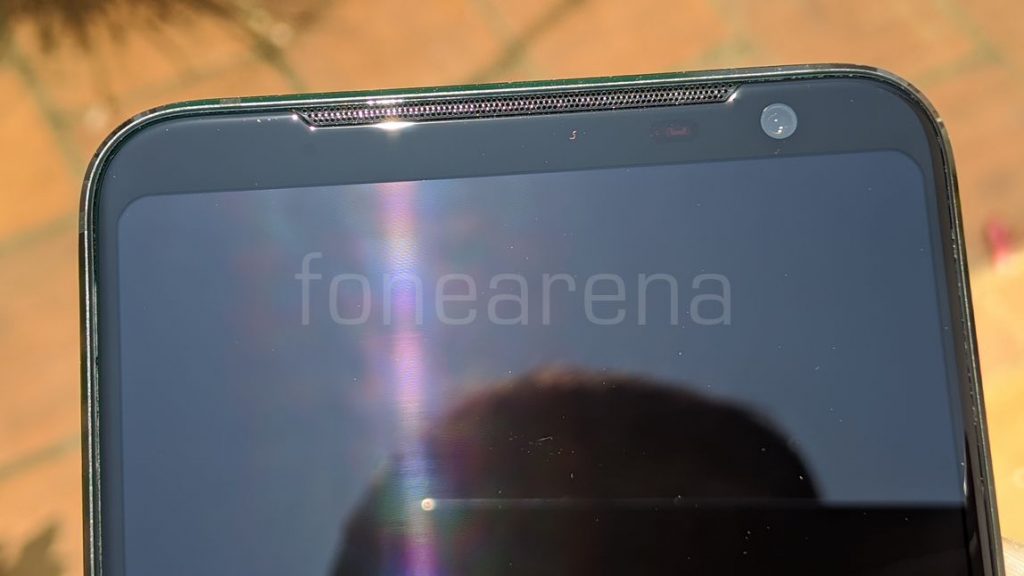 Maximum SAR value of ROG Phone 3 is 1.192 W/Kg (Head).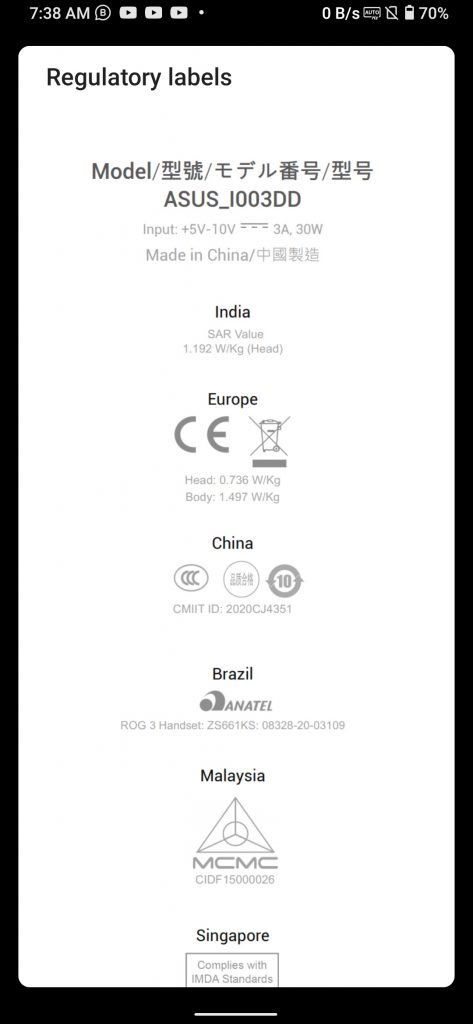 In Phone settings NETWORK & INTERNET tab gives us more options to control Wi-Fi, Mobile network related option and also SIM card preferences and also some key Call options, like vibration feedback for call connect and also Talk-time alert.
Users can have their own quick decline message. ASUS ROG Phone 3 comes with 5G SA and NSA options in the name of future proofing. Also, this phone comes with the normal option to choose between 2G only to 2G-3G-4G preferred mode. This will be useful for users in cities and also remote places.
In highly developed and populated areas 4G signals used to be weak and forcing 4G all time will result in poor network and battery drain issues. I personally prefer switching to 2G only while staying indoors, I switch it to 4G preferred in case I need mobile data. VoWiFi option works well without any issues and the same with Dual SIM VoLTE calls.
As ROG Phone 3 has one of the loudest speakers in the market, most users may be worried to customise ringtone volume with respect to their environment. Thankfully ASUS has an option named SMART RINGTONE. Once we enable it, it will adjust the ringtone volume of the incoming calls based on background noise levels and it works without any flaw. ASUS ROG Phone 3 has native Auto call recording option with much-needed additional features as well, like which number to record / Auto call answer and so on.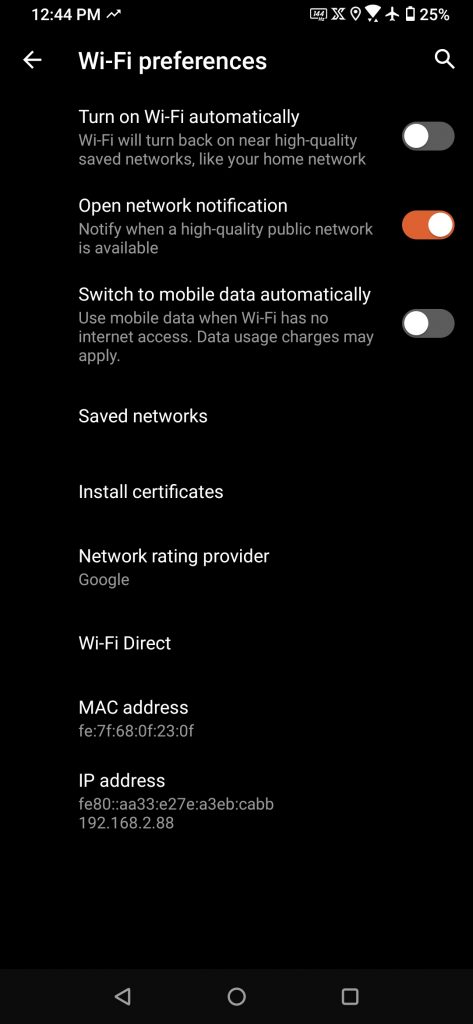 ROG Phone 3 comes with a multi antenna setup which supports WLAN 802.11a/b/g/n/ac/ax 2.4 & 5GHz and Wi-Fi 6. Signal strength was exceptional and in similar range other phones failed to show Wi-Fi signal but ROG managed to stay connected. Wi-Fi auto switch won't happen like other conventional smartphones out there, I personally felt this annoying, But later realised ASUS designed this phone for gamers, and they were clear about it. While playing online games, Wi-Fi auto switching will be painful in most cases like PUBG, Asphalt Multiplayer etc.
Vibration during incoming calls with ringtones are powerful and no one will miss calls in louder crowds too. Noise cancellation during calls are very good as the phone comes with a quad-mic noise-canceling array. Casting options worked well without any issue.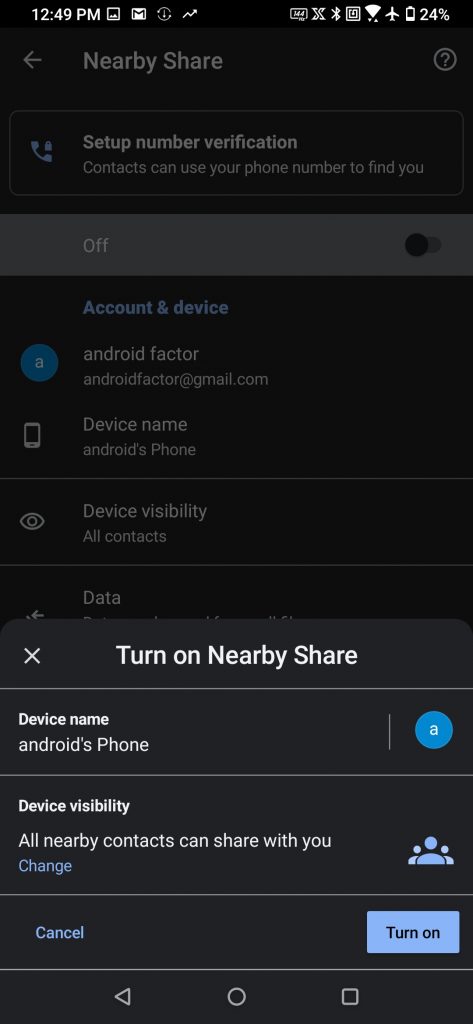 Nearby Share is available to share files through Wi-Fi hotspot. This requires Bluetooth and location services to be kept on. User has control over who can share with them while screen is unlocked.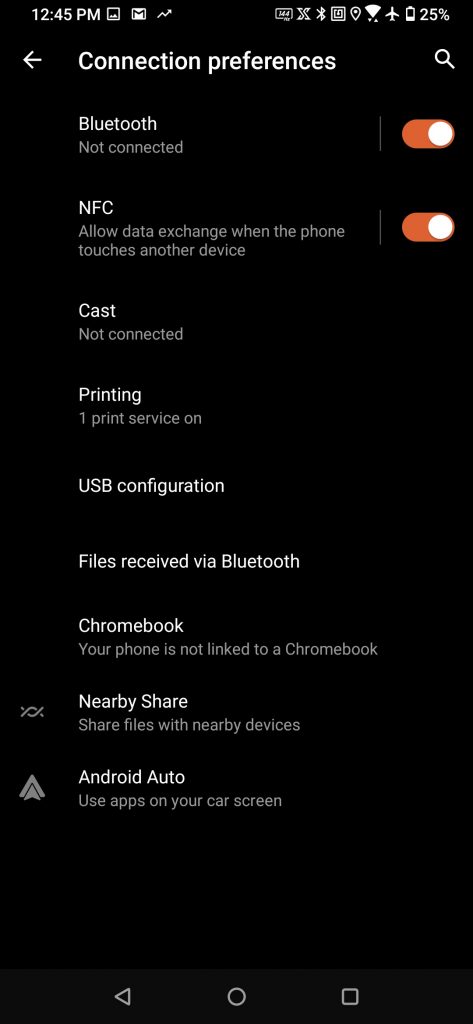 NFC is available and works perfectly to pair audio accessories which support NFC pairing. Also supports (Card mode support in power off). Bluetooth 5.1 works perfect with good range and multiple wireless audio profile support (SBC, AAC, aptX, aptX HD, aptX Adaptive, aptX TWS+, LDAC )
Hardware and Benchmarks
ROG Phone 3 is powered by the special speed-binned, 7nm Qualcomm Snapdragon 865 Plus Platform with a 3.1 GHz frequency, It has an unlocked Adreno 650 GPU with up to 10% better performance. Also 8GB/12GB of LPDDR5 RAM with 128GB/512GB UFS3.1 internal storage. Combination of this powerful hardware results in smooth and fluid performance. ROG Phone 3 features OTG on the go with NTFS read write support. Check out synthetic benchmark score below.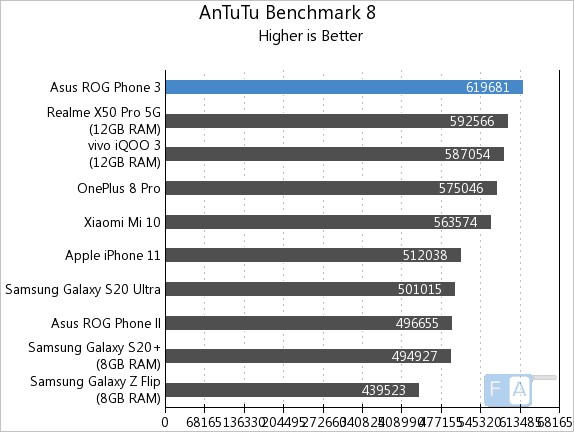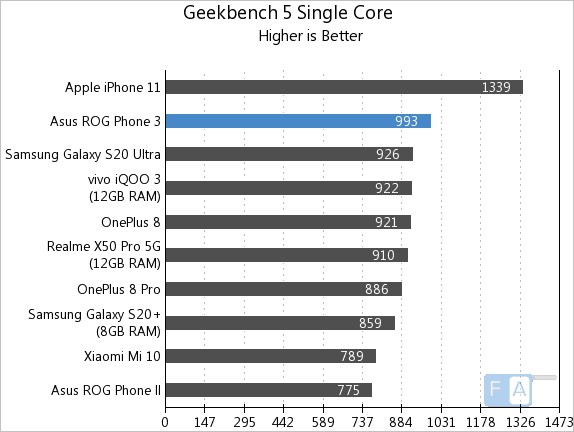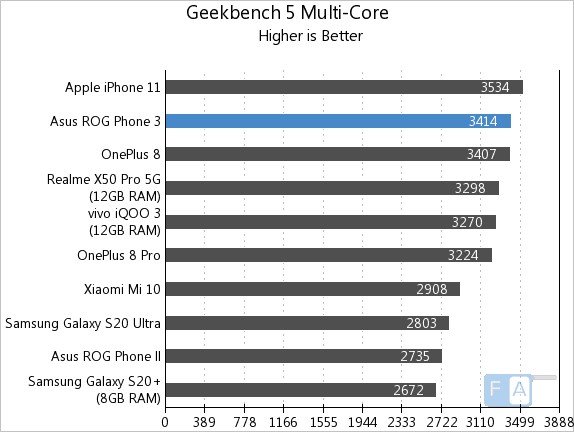 ROG Phone 3 comes with ROG GameCool 3 System A large graphite film, which is closest to the display, spreading the heat more evenly around the screen. The new improved Copper 3D vapour-chamber design dissipates the heat even faster with the assistance of a heat sink that is 6X larger than the one used in ROG Phone II.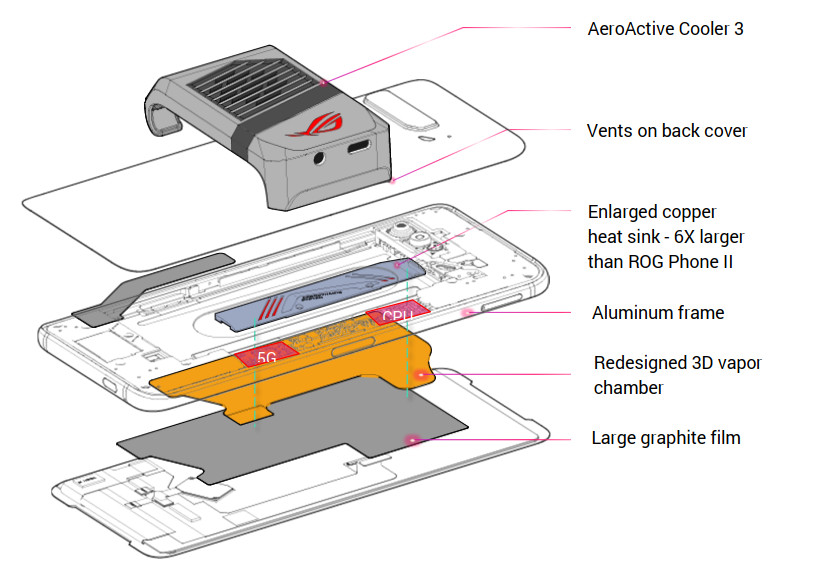 I personally experienced heat around the air vent present at the back while Playing high graphic contents and while using the camera for a while. ROG Phone 3 hardware is well capable of handling video editing, I tried using Power-director and it worked smooth with quick video render time.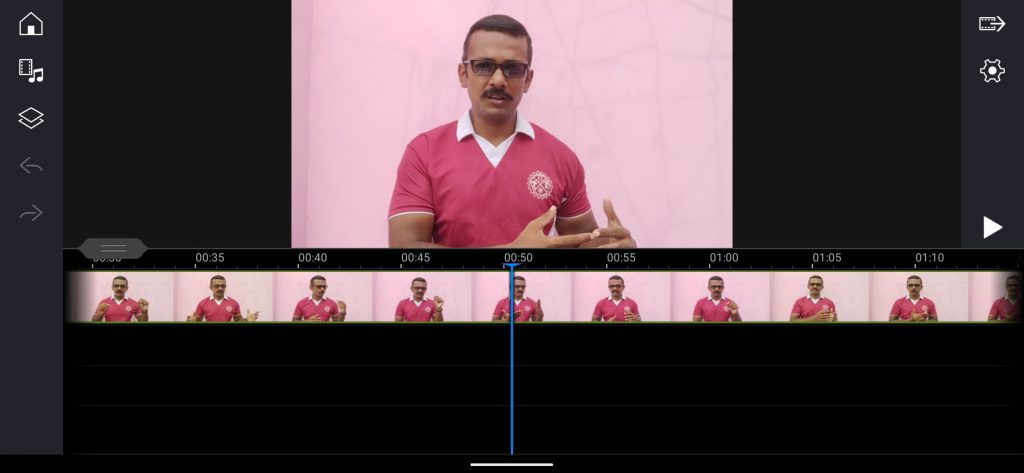 In-display Fingerprint scanner was quick enough for both enrolling and also unlocking the device. Asus claims that ROG Phone 3's in- display fingerprint reader uses machine learning to improve its performance over time.
To be honest it felt as they said and works quick without lag, to make it even smoother and faster I would suggest users to remove screen lock animation. During enrolment of fingerprint, it used to look for different finger locations to improve unlock experience.
ROG Phone 3 packs following sensors — Accelerometer, E-Compass, Proximity, Hall sensor x 2, Ambient light sensor, in-dis-play fingerprint sensor, Gyro, Ultrasonic sensors for AirTrigger 3 and grip press.
Gaming and Multimedia Performance
Asus ROG Phone 3 being a gaming centric flagship powerhouse there is no surprise that it outperforms competition in ease. I tested this phone by playing PUBG, COD, Asphalt 9, Asphalt 8, Shadow fight 3 & 2, PES2020 etc. Maximum temperature I experienced while playing PUBG for more than 30mins was around 45 degree and goodness is temperature subsides immediately once we close the task performed.
PUBG — Even though we are confused about PUBG's future in India, Hope PUBG gaming experience will be very much useful to showcase ROG Phone 3 gaming capabilities.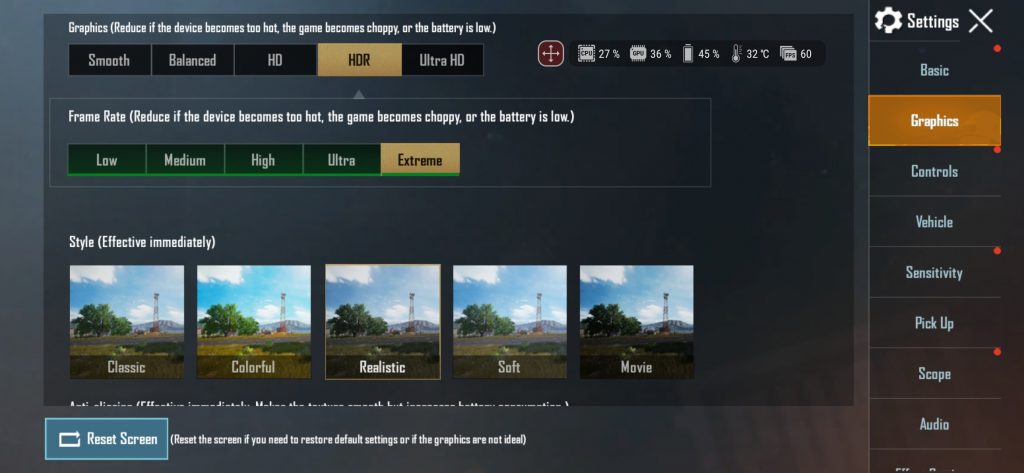 ROG was very much comfortable with most games and did not experience frames drops like midrange phones in the name of Gaming centric, Most flagship phones with snapdragon 855 and above should feel ease in handling high graphic contents and being powered by snapdragon 865+ coupled with industry leading cooling mechanism everything went superb smooth.
While playing PUBG, max temperature was around 45 degrees with frame rate sticking around 58 — 60fps. Also using air triggers were easy and those who play pro level will feel this very much useful with the latest options to use swipe gestures and more with those pressure sensitive sensors on the frame. Can play with Gyroscope and also what all options come to your mind with respect to PUBG can be put into use without any issue.
Asphalt 9 -Among arcade games in play store, Asphalt 9 is graphic intensive and easy to play in nature, Which makes it famous and interesting among mobile gamers.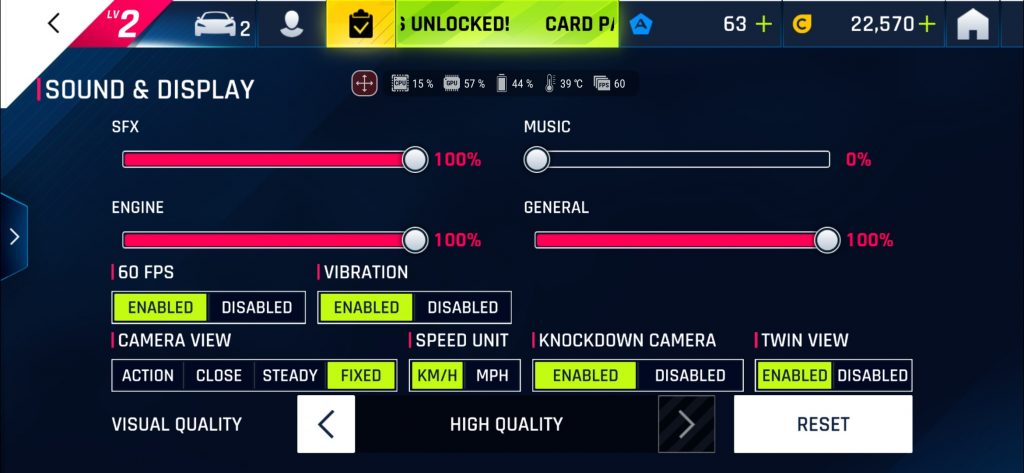 I also tried playing Asphalt 8 in ROG Phone 3 and it was pleasant experience. Even tried recording some of my gameplays and still phone was not stressed for multiple tasks at same time. Users can even stream through YouTube or Twitch while playing and there are more native options available in favour of gamers. Asphalt
Overall Gaming experience is professional level like previous generation ROG phones. Being a gaming phone it comes with some unique software customisation as listed below.
Armoury Crate (ROg's Game space)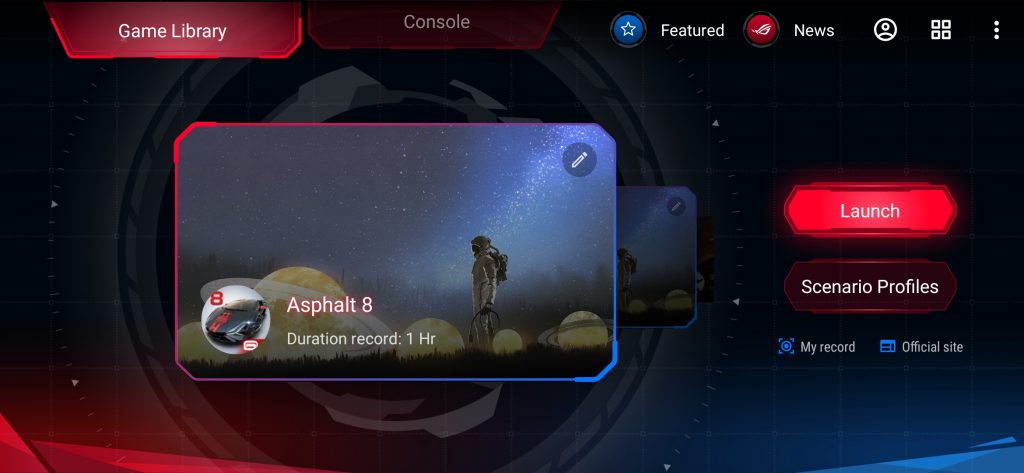 Armoury crate is ROG Phones native game space app with wide range of options in favour of gamers. Clicking open armoury crate leads to a Game library and more options related to gaming and accessories available for ROG Phone 3. The Console tab contains options to activate X-Mode and more information about internal hardware like CPU, GPU, RAM, System Temperature and Storage information. Once X-Mode is activated we get access to custom settings which takes us to tabs for Scenario Profiles 3.0 — This adds the ability to set specific settings for every game.
Customising the Touch, Display, Performance, Audio, and Network to either make sure every game performs at its peak or to find the lowest setting with good enough performance to extend battery life. You are the one in control. Furthermore, we also get control over profiling and memory cleaning.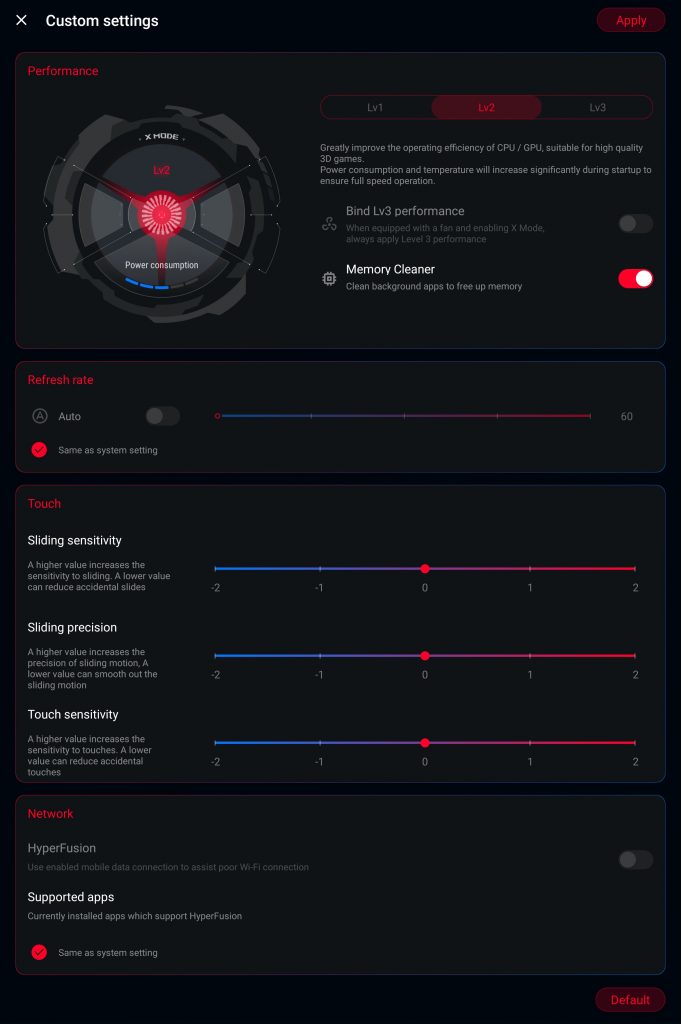 Game Genie — Here you manage which games/apps that should start Game Genie, the order of functions in the Game Genie panel and which apps that are allowed to use data while gaming.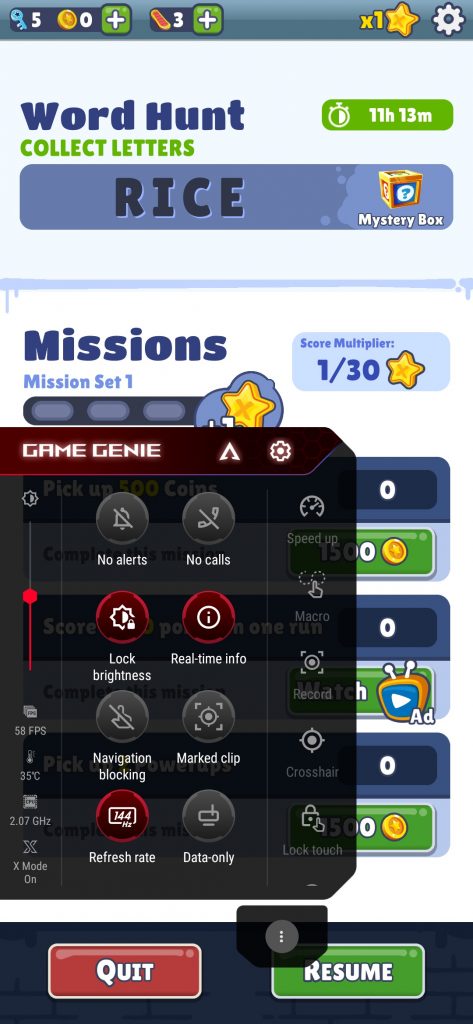 AirTrigger 3 — Invisible ultrasonic buttons & Motion sensor trigger The touch sensitive Ultrasonic bumper/shoulder buttons with haptic feedback, can do more than ever with the AirTrigger 3 technology.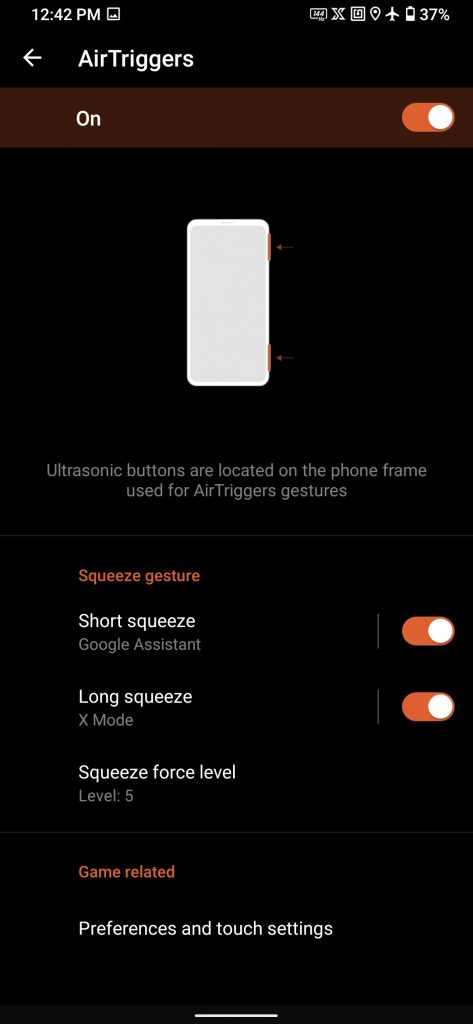 Now supporting both sliding, swiping and the possibility to divide each button in two partitions for tapping.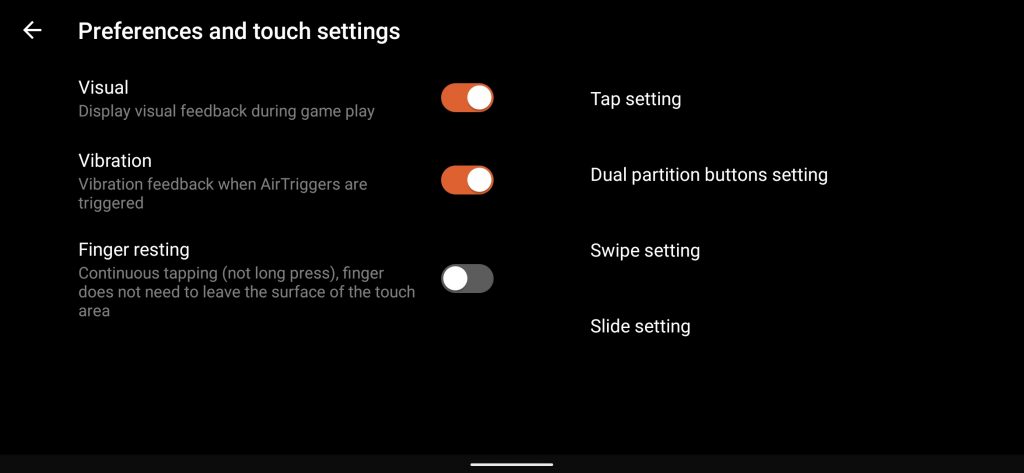 Resulting in up to four shoulder triggers. AirTrigger 3 also features a single shake to control on-screen input, giving you a total of 5 additional actions that are comfortable to use. AirTrigger 3 can be used even when not gaming. With a simple long- or short- "squeeze" in portrait mode you can activate customisable actions smilier to Google's Pixel phones to wake up Google Assistant and more.
AeroActive Cooler 3 — The compact AeroActive cooler 3 is an accessory that does not only direct air to the GameCool 3 cooling system, it also has a kickstand, a 3.5mm headphone jack and a Type-C port, so you can charge it while using standard 3.5mm headphones. The fan is both silent, efficient and does not require external power.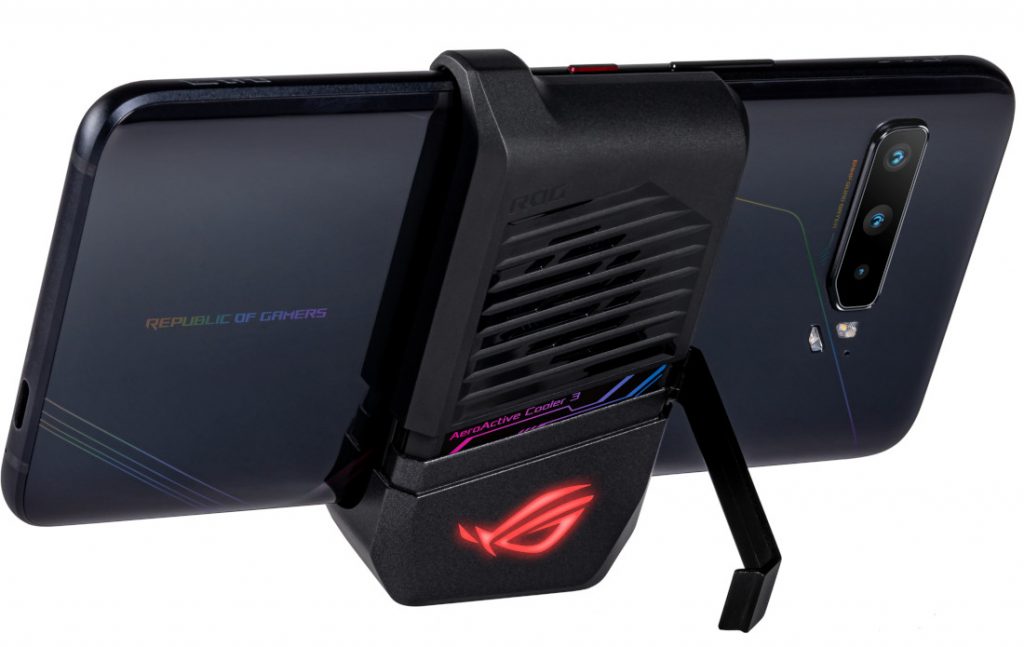 System Lighting – Let you control when the RGB logo and Aura RGB LED (only active with Lighting Armour Case) should light up and in which colours. It is also possible to create a lighting synchronisation with other ASUS Aura products.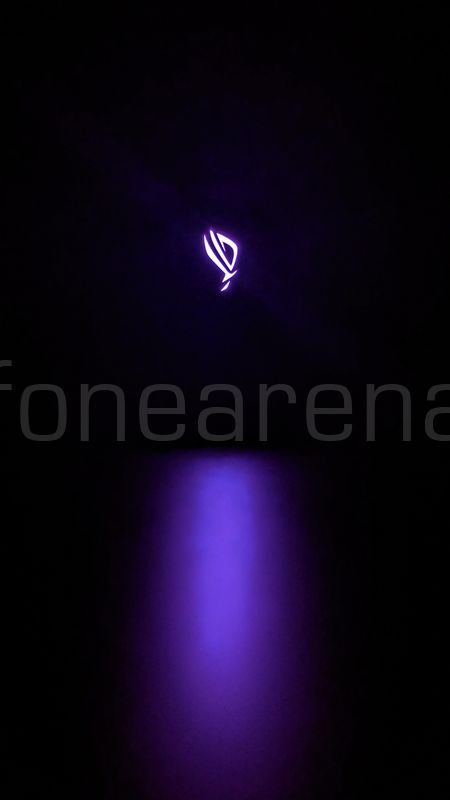 Top right features user profile details, News and Featured. Featured content tab had many interesting contents to explore. It had games listed based on hardware and accessories features ROG Phone 3 comes equipped.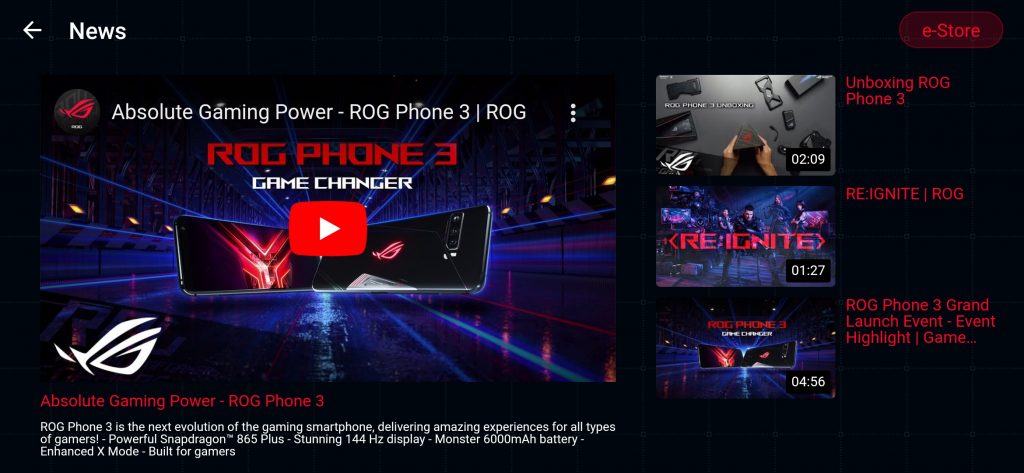 Featured contents tab is interesting with games which can utilise ROG Phones key hardware specification like 144 Hz, Gamepad specific, Twin View compatible contents and games which can use AirTriggers.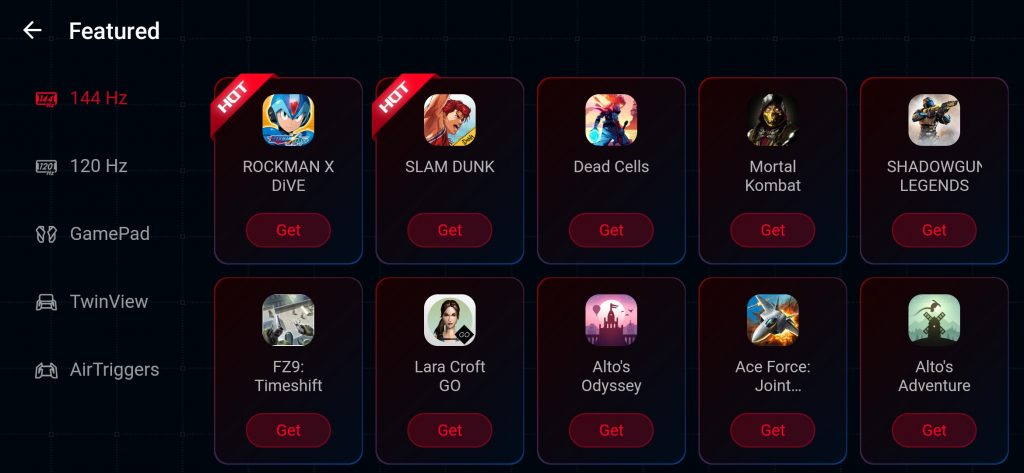 Music and Video Player
This device is very well known for gaming and no doubt that it is a good multimedia performer too. YouTube music becomes Default music player for most stock and near stock Android phones. Also Google gave option to import playlist and other user data from Google play music to YouTube music and everything worked fine. Advantage of having YouTube music app is, it can satisfy both vocal and visual audience simultaneously.
Regarding Video playbacks, Asus gallery app jumps in as video player and which has limited codec support. So users are recommended to download VLC or preferred video player from play store.
Audio through the type-c port is good and loud. ASUS ROG Phone 3 comes with Hi-Res audio 192kHz/24-bit standard (USB-CTM output) that is 4 times better than CD quality. Bluetooth 5.1 with (SBC, AAC, aptX, aptX HD, aptX Adaptive, aptX TWS+, LDAC ) resulted in good Wireless Music experience with good signal strength and range.
Featuring HDR10+ display watching visual content was a treat. ROG Phone 3 with 6000mAh battery won't get tired easily and it can last you a full active day with all your gaming and multimedia activities. I personally enjoyed watching my favourite YouTube videos with audio through loudspeakers which was very loud and clear. ROG Phone 3 speakers are loud enough for outdoors activities. Try 'Poweramp' for better control over music experience.
Android 10 and Asus ROG UI
ROG Phone 3 comes with ROG UI/Asus UI on top of Android 10. Also, most manufacturers provide two major updates for their flagship phones and Asus has a very good track record with respect to updates. Asus kept me surprised by the way they fixed bugs and introduced new options as per community discussions. ROG Phone 3 kept getting improvement updates with bug fixes and added more software features too. Happy to see Asus serve consumers with respect to community page discussions and user feedbacks.
Home screen felt near stock with much-needed customisation options which stock android users are in need of. Swipe right for Google feed similar to Pixel or AndroidOne phones.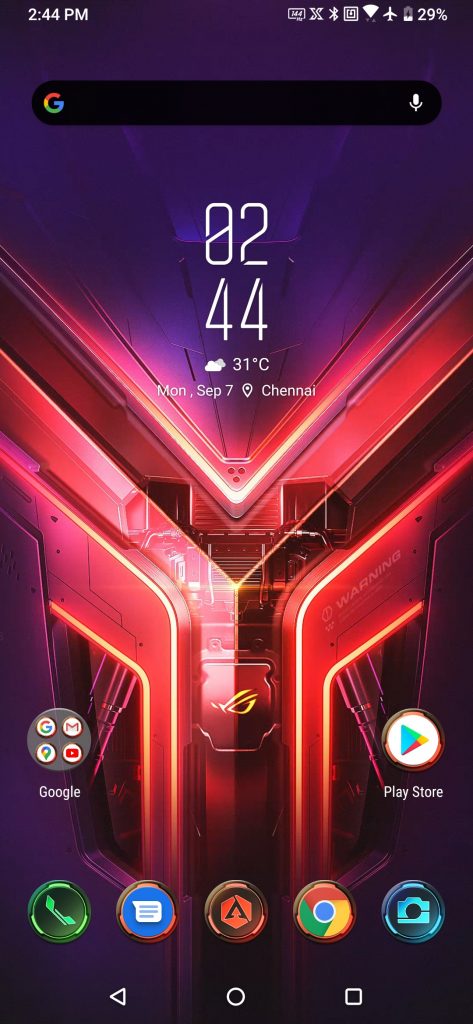 Press and hold on homescreen to get into customisation options like Wallpapers, Widgets, Edit Home Screen and finally preferences. With preferences chosen, the user can control layout, grid size, App icon badges and more. To prevent random changes on the home screen or to avoid accidental drag and drop users can trigger the Lock Home Screen option.
We get exclusive animated wallpapers to illustrate X-Mode status. If the user has enabled squeeze option, long squeeze and short squeeze can result in action. When X-Mode activation action is performed, it will bring home screen wallpaper animation into action.
With Android 10 users get the option to choose between the dark gaming inspired ROG UI theme or the lighter and cleaner look of Asus UI. Asus also claims that ROG UI also comes with the latest version of OptiFlex memory management engine powered by machine learning. It takes care of memory management based on most used apps details.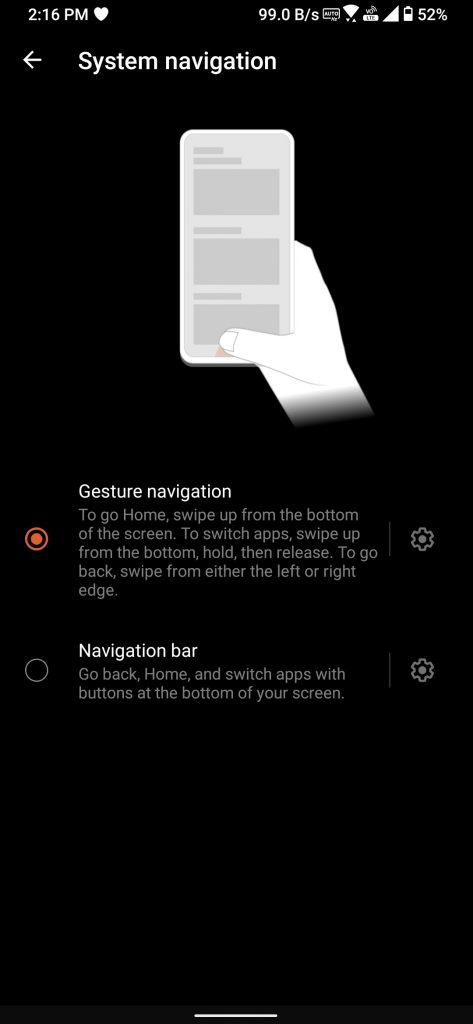 Status bar icon manager and system navigation settings can be tweaked further in display settings. In system navigation we can either use system wide gestures or can get back to old school Android three button navigation.
Standby screen options like Lift to check the phone and wake display for new notification can be found in display section.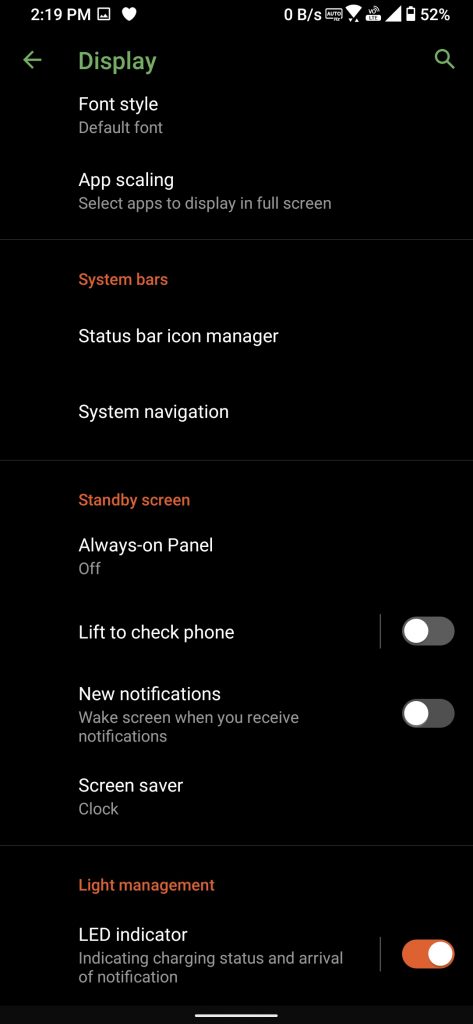 Display section lists out more controls to users from refresh rate to sleep time. Also colour profiling is available here with predefined profiles for Natural, Default, Cinematic, Standard and fully customisable options. Display size can be changed and also Font size like stock android phones, Also Font styles come with three different preloaded fonts. Apps can be scaled to meet full screen experience.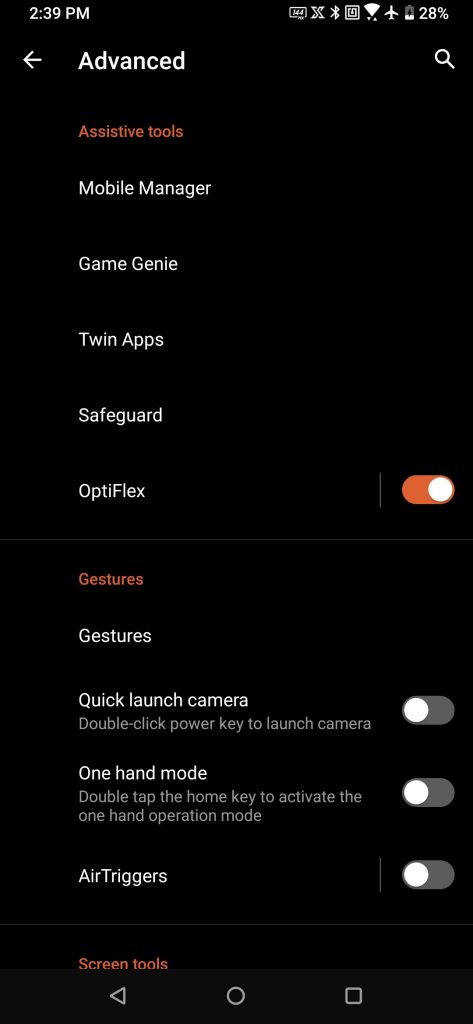 Advanced section in phone settings takes us to Assistive tools, gestures, Screen tools and Touch sensitivity. The Assistive tools includes various options such as:
Mobile manager — which can scan and fix memory, Cleanup junks, monitor data usage and Privacy & Security. Mobile manager has a separate tab for PowerMaster via which users can control Auto-start manager, Battery modes, Battery-saving options and Battery care.
Game Genie — Provides general settings and options related to gaming like game toolbar, realtime information, temperature, navigation blocking etc.. Also can control live-streaming options from here.
Twin Apps — Users can have two accounts for one app. Also which will list supported apps.
Safeguard — This is a SOS option which can help configuring quick emergency calls and sms to configured contacts.
OptiFlex — This is something new and which is recommended to be kept enabled as which can help accelerate app launch speed and also prevents from app reloading and saves power on standby.
Gestures — This segment includes more options related to motion gestures, Touch gestures and Gestures on dark screens. All these features are well known for most smartphone users around. This includes:
Lift to check phone
Flip down to mute
Hands Up – Useful to auto answer calls by lifting the phone near the ear.
Double tap to suspend – Lockscreen and Homescreen
Double tap to wake
Swipe up to wake from idle mode
Music control – Draw II with fingers to play and pause.
Screen Tools
Screen recorder — Comes with more options to control. Works flawlessly and conveniently.
Screenshot — Options to trigger screenshot with gestures and screenshot format and more can be done in this section.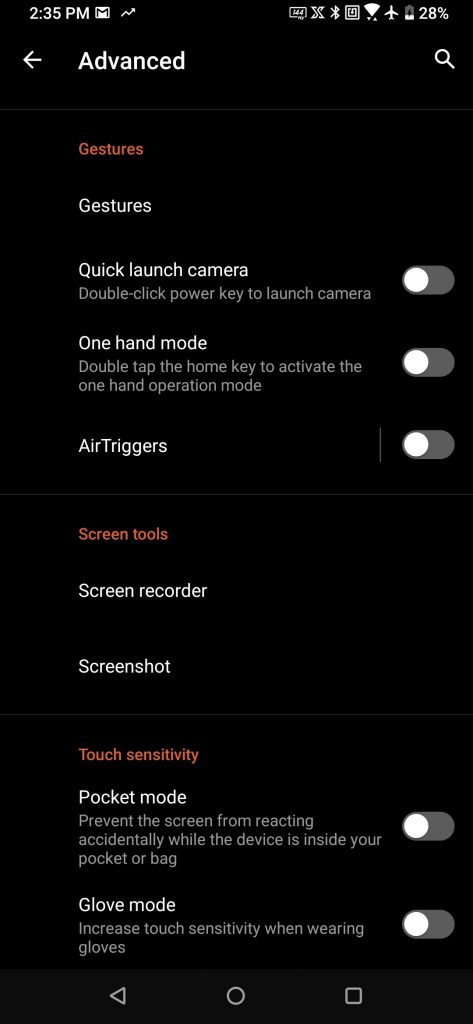 Touch sensitivity
Pocket mode — Very much needed to avoid accidental touch and calls from pockets. Most smartphone users experience accidental call attending and initiating from pockets.
Glove mode — To increase touch sensitivity.
Themes and Wallpapers section is good for those who wish to keep their phones homescreen and App icons refreshing. Most themes and wallpapers are paid but can find some free contents there. This theme store is way better than the one we find in Color OS or Realme UI.
Camera – A Surprise element

ROG Phone 3 came in favor of gamers but it will surprise camera enthusiasts as well. This phone comes with triple camera setup at rear with Primary 64MP SONY IMX686 sensor, 0.8 μm pixel size — Quad Bayer technology with 16MP, 1.6 μm large effective pixel size, F1.8, 1/1.7" sensor, 2×1 OCL PDAF, LED flash (Only EIS) and 13MP 125 ̊ ultra-wide camera with F2.4 and Real-time distortion correction.
5MP Macro camera and a single 24MP front facing camera with 0.9μm sensor and Quad Bayer Technology resulting in 5.9MP output.
Camera app layout is simple with required options. Swiping left or right will take user to available options as listed below:
Pro Video – Can Record using Primary and Ultra-wide sensors. Users Can control Focus, Shutter, ISO, Exposure and White balance. Screen shows more information like the Left Right channel audio meter and also options like Wind noise reduction and Hyper Steady mode can be accessed.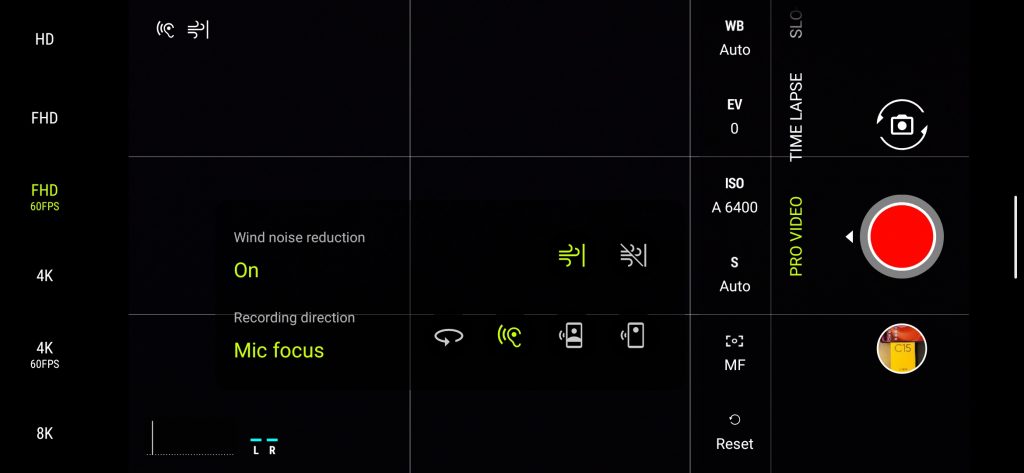 Flashlight controls and Video resolution options from 720p to 8K are made available for users to choose.
Time Lapse – Can record through primary and Ultra-wide sensors from HD to 4K. Users can control Flash, recording speed and also video recording duration. Auto Zoom option can be enabled like Zoom-in or Zoom-out effect.
Slow Motion – Slow-motion can be done only through primary sensor, as you guys will be aware, for recording slow-motion videos camera sensor will be looking for more light to be around and most smartphones today come with bigger Primary sensors in favour. Users can record HD 480fps, FHD 240fps, FHD/4K 120fps. Also can control flash while recording.
Motion Tracking – In this mode primary subject in the field of view can be locked into focus and thereby AI works to put that subject in focus inspire of moving around within the frame. In this mode we can record FHD 60fps to 4K 60fps.
Video – Video recording was good from ROG Phone 2 days with very good stabilisation. 4K Videos were good in details, even stabilisation was good when 60fps option being enabled and more options were being included in ROG Phone 3. Users can record HD to 8K videos in primary sensor and upto 4k in Ultra wide sensor. Options to enable wind noise reduction and also enabling HDR are available.
Photo – When ever user interacts with camera app, first tab to be shown is photo. Photo tab comes with options to choose frames, Flash, Google lens, HDR, Night mode, Normal to Ultra-wide switch and Beauty features. Can shoot at max resolution of 64MP by choosing in camera settings.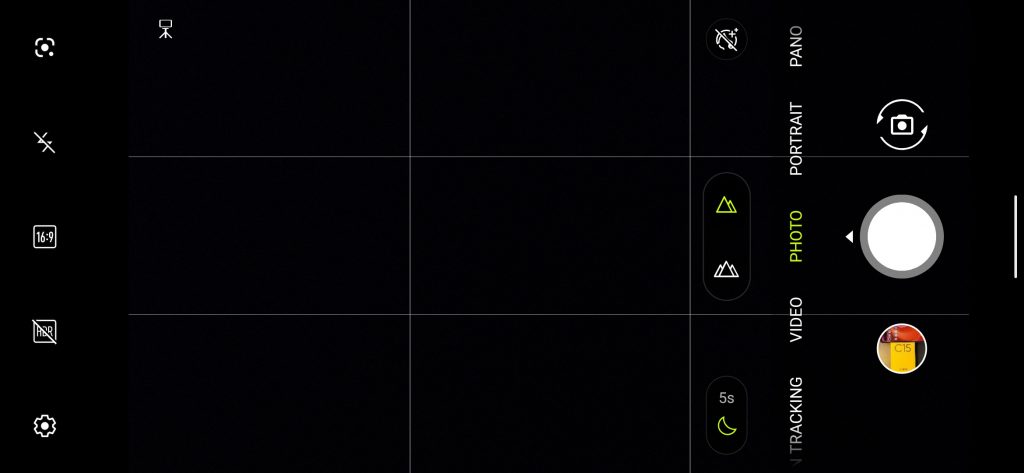 Photos through IMX686 were wow and colours are natural. With Quad Bayer technology into play results are 16MP outputs from a 64MP sensor. Results are more natural and come with good details. Sometimes photos may even look dull but a simple tweaking with editing apps adds a more appealing look.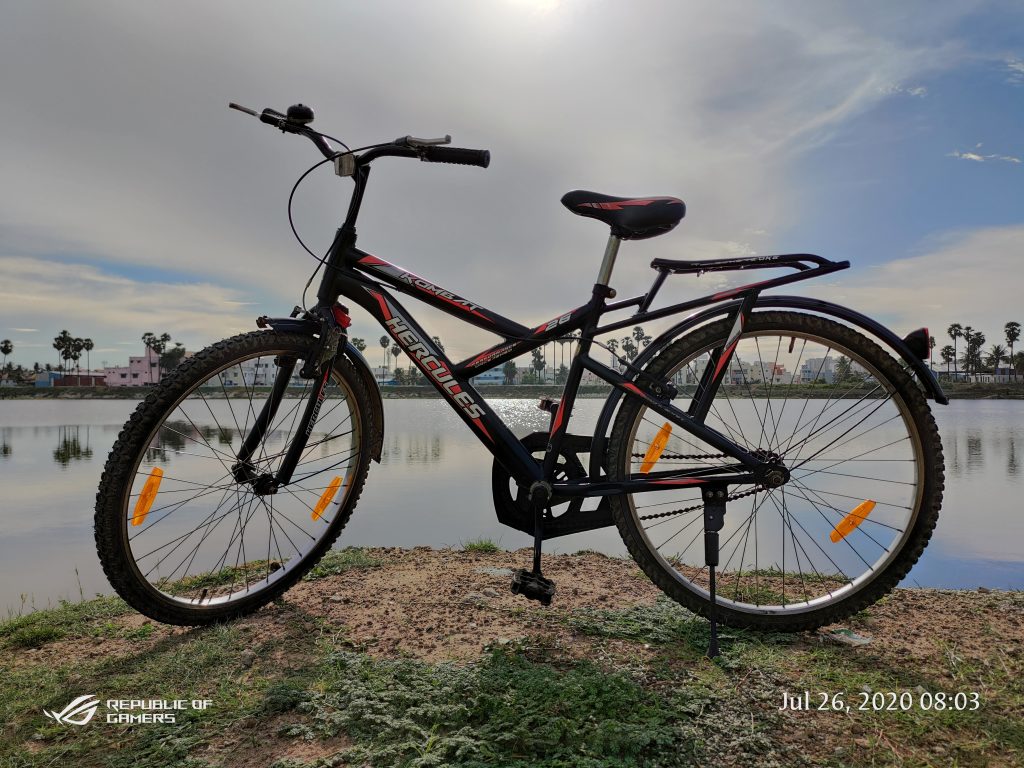 HDR capabilities is good and visible. Like most smartphones today ROG  Phone 3 comes with Auto HDR option. Can be triggered manually based on scene, Which brings in sure improvement in shadow regions.
Ultra-Wide samples are not that great like primary sensor. 13MP sensor provides outputs which lacks sharpness. Editing ultra-wide outputs resulted in even better photos with good details. Being ultra-wide details along the corners are washed and won't look like primary sensor output.
Also primary sensor is good for 2x to 3x digital zoom, outputs are good and challenge here will be point of focus.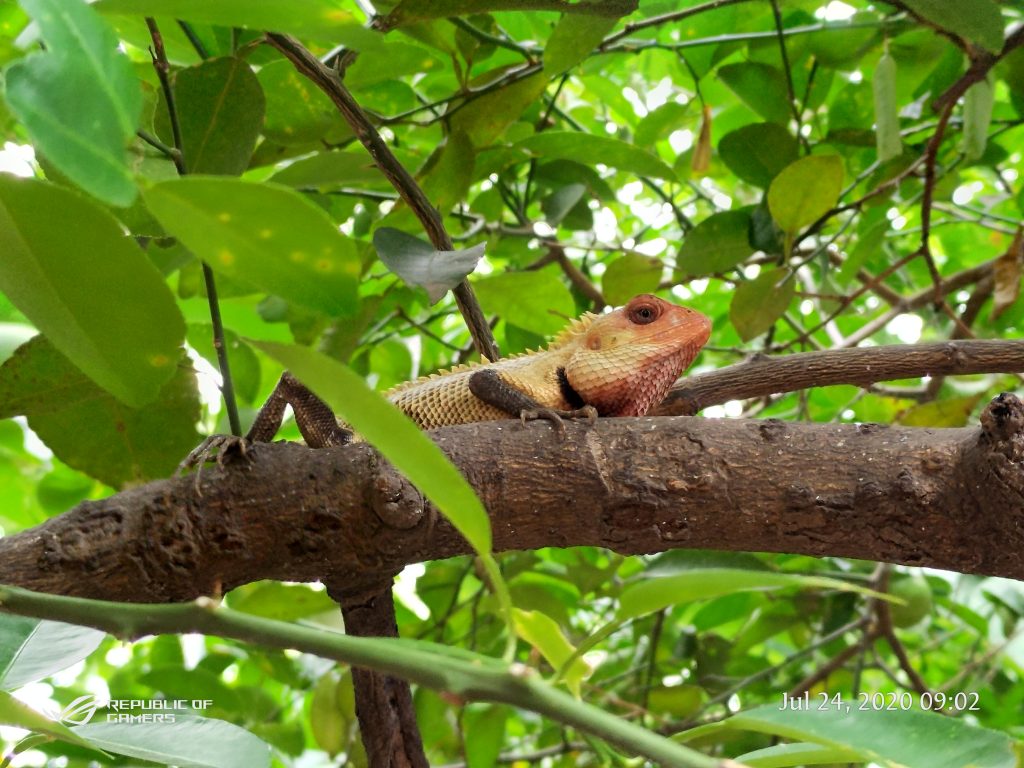 Check 64MP samples here
Primary sensor did fine during low light conditions. When light gets less than certain limit, Night mode comes into play automatically.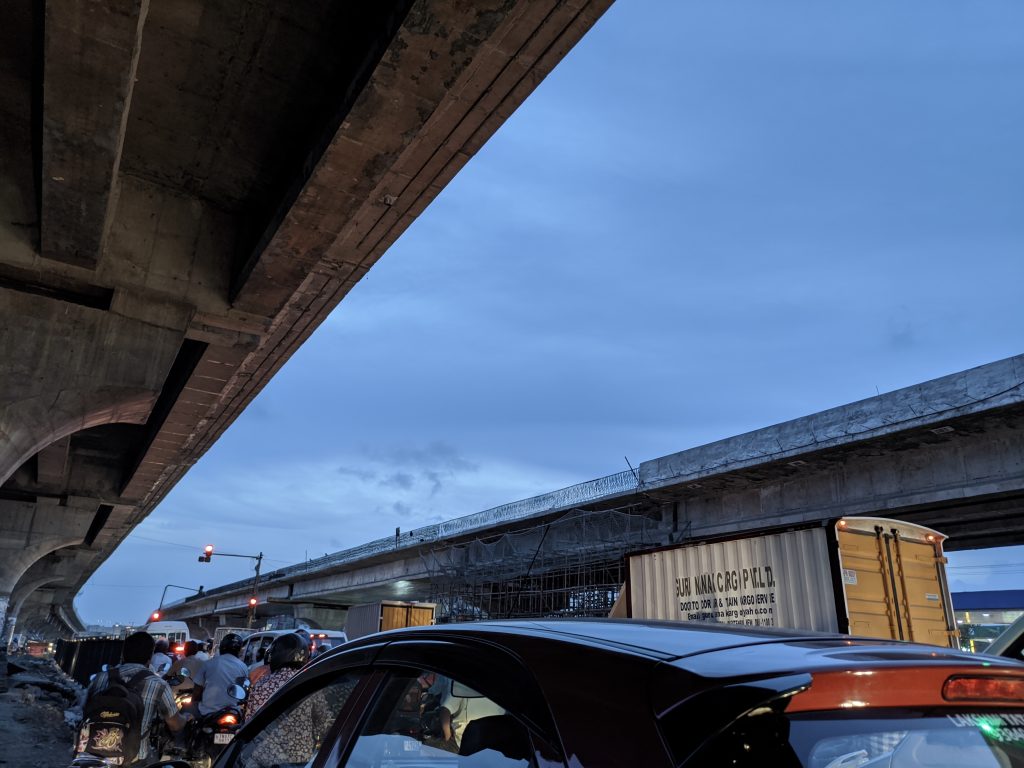 Full screen mode samples
Portrait – This mode works perfect for objects as well. Users can control Blur strength and frames before shoot. Beauty effects can also be applied. Edge detection for objects are mostly perfect if light is good. Even in indoors with average light phone performed good.
Panorama – Both Primary and Ultra-wide sensors can be used here. Also frames can be made both in landscape and portrait directions. Got some awesome results.



Night – Night mode can be used in both Primary and Ultra-wide. Frames can be changed. Max shutter or Exposure range I spotted was around 5secs. Not that impressive in reality. Can't use night-mode in front camera.
Pro Photo – If you got a tripod, This mode will be very useful and also a saviour. Night mode in ROG is not that great and here in pro mode, users can explore more through IMX686. Outputs are very good and controls being provided are really good. Users can take control over Focus, Shutter (32sec max), ISO (3200 max), Exposure (-2 to +2) and White balance. Also all these options can be kept in Auto as well. Can control frame and flash options. Can capture RAW + Jpeg photos in pro mode.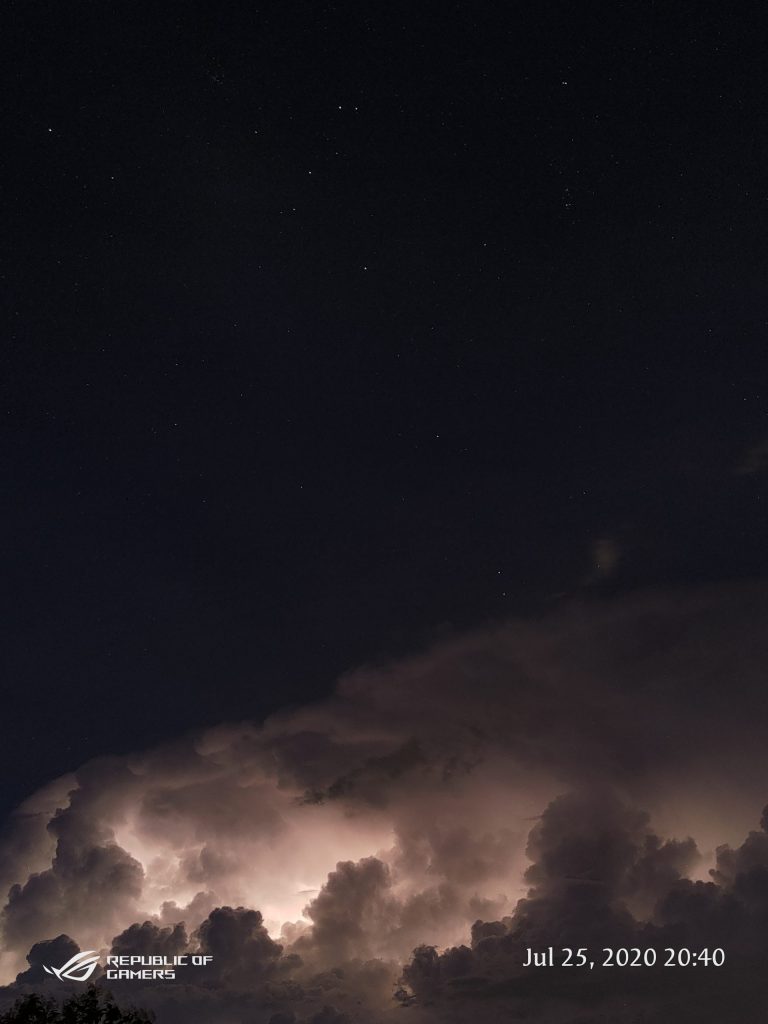 Macro – Dedicated 5MP macro sensor works fine without any issues. Images are soft and not that sharp. I personally recommend shooting macro photos with the primary sensor at 2x digital zoom. Can't record video through macro sensor.
check macro photos from primary sensor below
Front Camera – 24MP camera with Quad Bayer Technology which supports photos, Portrait and video modes. Pixel binning kind of Outputs are good with more details and are not very sharp. Option to shoot at 24MP mode can be found in front camera settings, click here for 24MP samples. HDR outputs were good even in harsh conditions with good amount in details at shadowed regions. Portraits from the front camera are good when the environment is well lit, but struggles with edge detection in complicated environments. Editing native photos results in good detailed output without loss in existing details.
Asus could have placed at least used modes into a sub folder in the name of more. But happy that navigating between modes is not tough like my personal Phone Nokia 9 PureView which takes more time to switch between modes compared to the Asus ROG Phone 3 and ROG feels silky smooth during transition between modes.
Edited ROG Phone 3 Photos
I mostly used Snapseed and Adobe Lightroom to edit the outputs from ROG Phone 3. Surprisingly most photos size increased after editing. Normally we experience loss of detail while editing. ROG Phone 3 is a bit different and edited outputs were mind-blowing. Check out edited photos below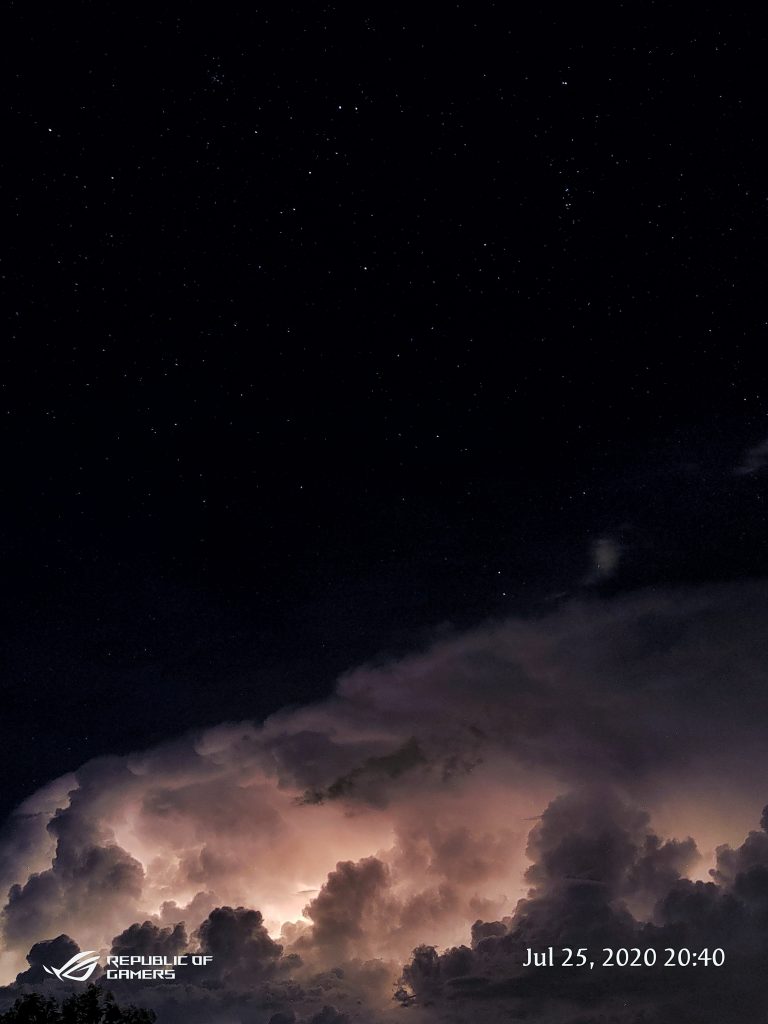 Videography – in spite of lacking OIS, Asus managed very good video output with 3-axis electronic image stabilisation for rear cameras. Videos are super stable upto 4K 60fps output. 8K outputs are not that smooth, but provide very good details and sharper output. With rear cameras users can record 720p to 8k 30fps videos. ROG Phone 3 can also record 60fps FHD and 4K videos via primary sensor. FHD and 4K videos with Wind noise reduction and HDR enabled were pleasing to watch with very good details in shadowed regions.
Front 24MP camera can record HD, FHD and FHD 60fps. Videos are good and stable for Vlogs. Audio outputs are very good as Asus ROG Phone 3 also uses Nokia OZO technology for its camera. Frames are stable with no drops and also stabilisation is good for outdoor recordings.
Battery
ASUS managed squeezing in the biggest battery among flagship phones in the market. ROG Phone 3 comes with a 6000mAh non-removable li-po battery like the previous model. There is a very good reason why Asus opted for 30W charging in ROG Phone 3. Because they wanted the largest battery capacity possible, batteries need a separator between the Anode and Cathode. The faster the quick charging speed is, the thicker the separator needs to be to ensure safety. Thus, faster charging equals to lower capacity.
Being a gaming device with top-notch specs ROG Phone 3 will be power hungry. So 6000 mAh battery makes more sense than faster charging speed. As the phone is mainly designed for gamers it has custom type-c ports to use accessories and also to charge the device in landscape mode. Side-port comes with 48 pin Customised Type C connector USB3.1 Gen2, DP 1.4(4K), Fast Charging (QC3.0+QC4.0/PD3.0) & Direct Charge.
Bottom Type C connector features USB2.0, Fast Charging (QC3.0/PD3.0) & Direct Charge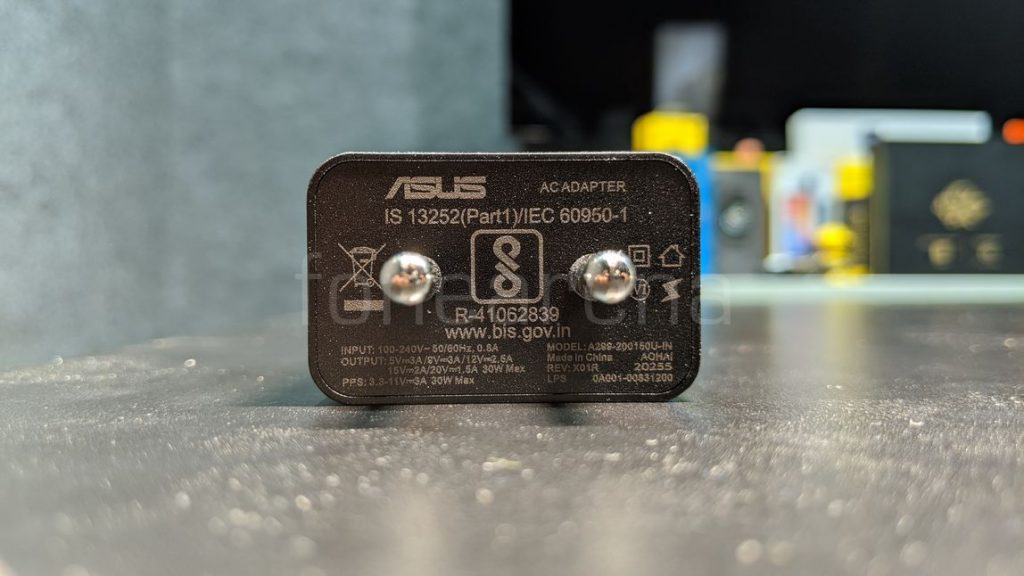 I tried using both PD chargers and Qualcomm Quick charge chargers both worked perfectly as said. In system battery settings we can find an option to enable 10W slow charging. This will help the battery stay healthy for long and also users can charge their device while playing or using their phone.
I tried using Qualcomm quick charge chargers to Power Delivery chargers, everything works as mentioned in the spec sheet. ROG Phone 3 comes with 10W reverse charging, it can also work as a power bank to charge other phones and accessories.
Now let me share my experience of how good this phone lasted on my heavy usage pattern. On an average ROG Phone 3 lasted more than 7hrs Screen On Time (SOT) after every charge. I personally never charge phones more than 90% often and also I won't let them drain below 20%. Roughly i can assure that, for every 10% of its battery users should get an hour of SOT.
This phone will wow most smartphone users around. That too if you are coming from Apple's iPhone or Samsung's Note/S series, you gonna love this phone for this reason. I kept the phone in Auto refresh rate most of the time and ended up with 7 to 8 hrs SOT. Also tried forcing the device at 60hz and the result was good, as it crossed the 8 hr mark without any issue. From my experience I can assure that A normal user will end up with 8hrs + SOT and those with more to prolonged gaming will get more than 6.5hrs of SOT.
It achieved a One Charge Rating of 18 hours and 53 minutes in 60Hz mode, so in 144Hz it should be less. With the bundled charger it can charge from 0 to 50% in about 35 minutes and 0 to 100% takes 1 hour and 52 minutes since it uses its own technology which charges up to 4500mAh at 30W and reduces after that so it takes long time for full charge.
Conclusion
Many may think that the Asus ROG Phone 3 is a gaming centric phone. From my personal experience with the device for the past 1 month, I would say it is a perfect multimedia phone with exclusive gaming features.
This phone is not only for gamers but those who spend most of their time scrolling through social apps and watching videos will love this phone. ROG Phone 3 comes with a silky smooth screen and is highly responsive among current competition and also those speakers are wow to experience. This phone's battery will be a key area of addiction as you won't be searching for charger often. Again no phone is completely positive and no excuse for ROG Phone 3 too.
This phone is heavy to handle and also those who prefer using phones late at night may face black crush issues. I never prefer using phones beyond night 10pm, also if there are no lights around I prefer keeping my phone away, Again I can't expect everyone to do the same. Those who prefer using phones late at night with minimum brightness should stay away, especially those who prefer watching HDR video contents at night.
Availability
It is available from Flipkart priced at Rs. 49,999 for the 8GB RAM with 128GB storage version and the 12GB RAM with 256GB storage version costs Rs. 57,999.
Alternatives
In a similar price range we have many other options too. Some may weigh lighter than ROG Phone 3 and some are in existence for different roles.
OnePlus 8 – Lighter and Multimedia centric
Mi 10 – Camera and Multimedia centric
OnePlus 8 Pro – Premium flagship which weigh lighter than ROG
iQoo3 – Cheaper option for Gaming and Multimedia also comes with 3.5mm
Samsung Galaxy S10 Lite – If you want to experience Samsung phone with Snapdragon 8 series chip in India
Vivo X50 pro – For outdoor videos and camera centric
iPhone XR, iPhone XS – For Videography, iOS and Apple ecosystem
Pros
Excellent performance
Very Good Battery life
Good camera
Very Good speakers
Smooth and responsive display
5G support
Cons
Display Black crush issue
Rear camera bump prone to scratch
Heavier for single hand portrait use
Wi-Fi auto switch is not good (For general users)