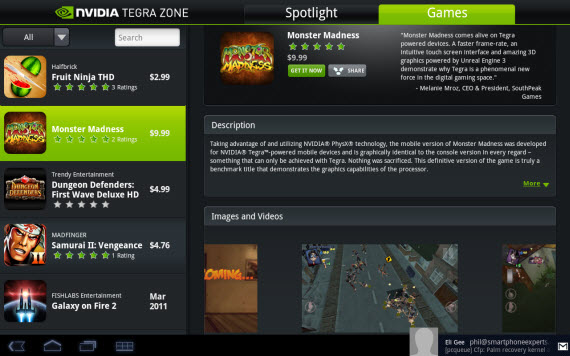 NVIDIA recently launched the Tegra Zone app, which allows you to find the richest games optimized for smartphones and tablets powered by the NVIDIA Tegra 2 processor. The Tegra Zone app is currently live on the Android Market. It features games optimized for Tegra 2 processor as well as professional game reviews, high res screenshots, behind-the-scenes featurettes, HD video trailers and gameplay videos.
The Tegra 2 optimized games, will come with features such as:
More realism: Increased geometry detail, higher resolution textures and complex shaders, lighting, and shadows.
More interactivity: Larger number of characters on screen and more instances of independent animations
Extra challenging: Advanced artificial intelligence processing , complex world and player management
Improved game play: More levels to tackle and more equipment for gaming characters to use
Enhanced shopping experience and better game play.
Currently, Samurai II: Vengeance, Dungeon Defenders: First Wave Deluxe HD, Galaxy on Fire 2 THD, Backbreaker THD, Fruit Ninja THD, Vendetta Online, Monster Madness and Hardwood Solitaire IV are the only games available at launch. Dungeon Defenders: First Wave Deluxe HD is the first game available for Android that's built on Unreal Engine 3. You can easily purchase these games from the Android Market. To learn more and download this app, head over to the Android Market web link.