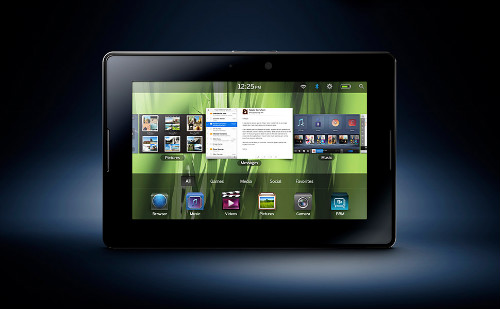 RIM's BlackBerry PlayBook has been one of the most anticipated tablets. It boasts of rich multitasking capabilities, with native support for Adobe Flash and Air, which means there are tons of existing apps ready to run on it. Although the Playbook is great piece of hardware ,  most are skeptical about the apps that would be available for the device. Now there is a rumor that the device can run Android apps.
Sources say that the PlayBook tablet has the capability to run third party applications designed for Google Android devices. According to a video that showcases the BlackBerry PlayBook at MWC 2011, we hear the demo-guy mention about the Android app support. RIM is still looking for a Java VM to run on the PlayBook. RIM may adopt the Dalvik virtual machine to support Java applications and has even opened its development center to the world, offering users a chance to win a free PlayBook if they submit before the PlayBook launches.
httpv://www.youtube.com/watch?v=wuuxDVTf2nw
The BlackBerry PlayBook features 7-inch LCD multitouch capacitive display with 1024 x 600 resolution, 3 MP front-facing camera and 5 MP rear-facing camera (both HD), 1GHz dual-core processor, WiFi, which is expected to launch in March 2011 in USA.