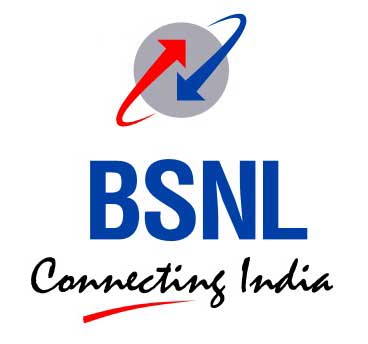 Bharat Sanchar Nigam Ltd (BSNL) have launched their SMS based tariff Recharging and Plan Migration facility for its GSM mobile service customers in Tamilnadu Telecom Circle. With this facility customers can change their tariff plan or recharge with desired STV without the need to go to a retailer or BSNL outlets to get your mobile recharged. Activation of Voice STV/Boosters through SMS by 2G Prepaid customers of all plans by themselves has been introduced in with effect from 24 Feb 2011.
The details of the Voice STV/Boosters are as follows,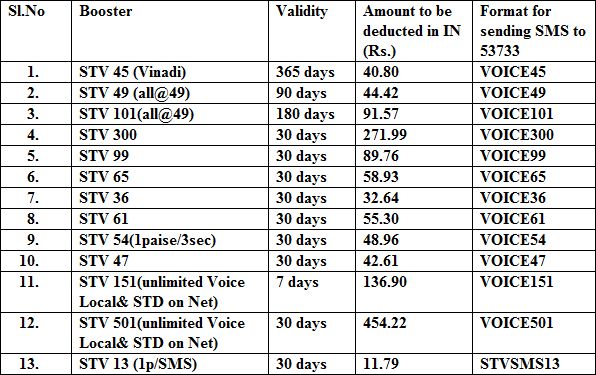 The procedure for implementation for activation of the Voice STV/Boosters is
For activating the Voice Booster, the customer should send SMS to 53733 with the appropriate key word – for example "VOICE45".
On receipt of the SMS , reply will be sent to the customer from 53733 that "Your request for activation of VOICE45 is received". On activation you will get on-net 1p/sec, off-net 1.2p/sec and Rs.40.80 will be deducted from your account.
On receipt of the confirmation SMS, availability of the eligible balance is checked, and if there is sufficient balance, the service will be activated and the following message will be received.          "Dear Customer, your request for Booster 45 is activated-BSNL"
If sufficient amount is not available in your account, the service will not be activated and the customer will be informed as "Low Balance message: Unable to activate the booster due to insufficient balance. Please recharge now."
The Data Plan tariff for 2G & 3G service has been revised with effect from 25 Feb 2011 as given below,
2G & 3G prepaid data recharge vouchers

The data usage charges applicable to all data/voice plans under 2G and 3G mobile services.
The free data usage is also applicable while in national roaming.
The usage charge beyond the free usage allowed is also applicable while in national roaming.
The RCV's mentioned above will increase both main and dedicated account validity by 30 days.
All other terms and conditions will remain same.
Note: In Chennai Telephones circle 2G Unlimited GPRS 274 plan is available only through SMS & not via C-TOP-UP. Now this unlimited plan is withdrawn from SMS also.
New 2G DATA RCV of MRP 270 is introduced – again via SMS only; and not through C-TOP-UP.
In 3G data Plan, the existing 1499 unlimited plan is withdrawn from C-TOP-UP. Two New Plans 1503 & 3003 are introduced through C-TOP-UP only.