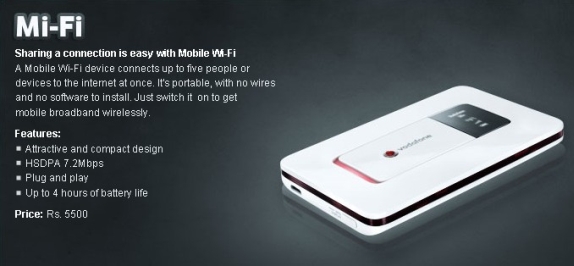 We were just looking around the Vodafone 3G site and found a nice surprise – Mi-Fi a device.  I guess most of you have heard of such a device or might be using one. For those of you who don't know , it's a portable Wi-Fi hotspot which takes in a SIM Card and lets you share your single data connection with multiple devices. If you are a person who carries multiple phones and want data on all devices without hefty phone bills or painful SIM swapping, a MiFi is a great device to have.
The price of the device is mentioned as Rs.5500 and it's pretty reasonable  if it's true. But I'm almost certain the device will be locked to Vodafone !
Olive launched a similar product last year called the Nexus but it had only 1-2 hours of battery life. It would be a good move by Vodafone if the information shared on the website is accurate.
The device pictured above is mostly a Huawei made R201 Wireless hotspot and I have used one while in UK and it's pretty good.
I'm pretty sure that this device will fall under the Mobile Broadband Category in the Tariffs .Now the question is will we have good 3G coverage for using such a device ?
Source : vodafone.in