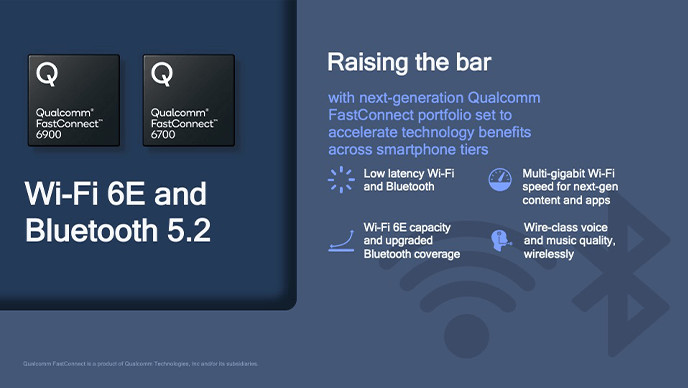 Qualcomm Technologies has announced their FastConnect 6900 and FastConnect 6700 mobile connectivity systems that combine industry leading technologies like Wi-Fi 6E and Bluetooth 5.2. By integrating them, Qualcomm was able to achieve peak speeds of up to 3.6Gbps, enabling applications that require ultra-low latency and advanced audio capabilities.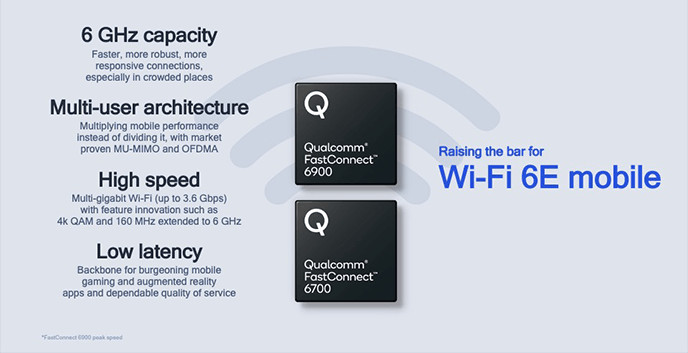 Both systems have various features integrated like Qualcomm 4K QAM (for 2.4, 5 and 6 GHz), 160MHz support in 5 and 6GHz bands and integrated Bluetooth 5.2, which implements a second Bluetooth antenna with intelligent switching capabilities. Along with improved Bluetooth reliability and range, Bluetooth 5.2 also enables Qualcomm aptX Adaptive and Qualcomm aptX Voice.  The FastConnect 6900 features additional features like 4-stream Dual Band Simultaneous (DBS) that result in its peak speeds of 3.6Gbps.
The new systems come with improvements in latency, capacity and network efficiency. Utilising the platforms ultra-low latency enables multiple use cases in mobile gaming and XR applications. Qualcomm claims it can deliver a latency reduction of up to 8x in congested environments, which can improve gaming experiences.
The FastConnect 6900 and 6700 solutions will start shipping for production during the second half of 2020. 
Commenting on the announcement, Dino Bekis, vice president and general manager, mobile and compute connectivity, Qualcomm Technologies, Inc. said:
With the introduction of the FastConnect 6900 and 6700 solutions, Qualcomm Technologies is redefining the mobile experience by extending the power of Wi-Fi 6 into the 6 GHz band and advancing wireless audio with cutting-edge integrated Bluetooth 5.2 features. These innovations enable us to further break away from the pack and deliver a connectivity portfolio optimized to accelerate global adoption across multiple smartphone tiers.