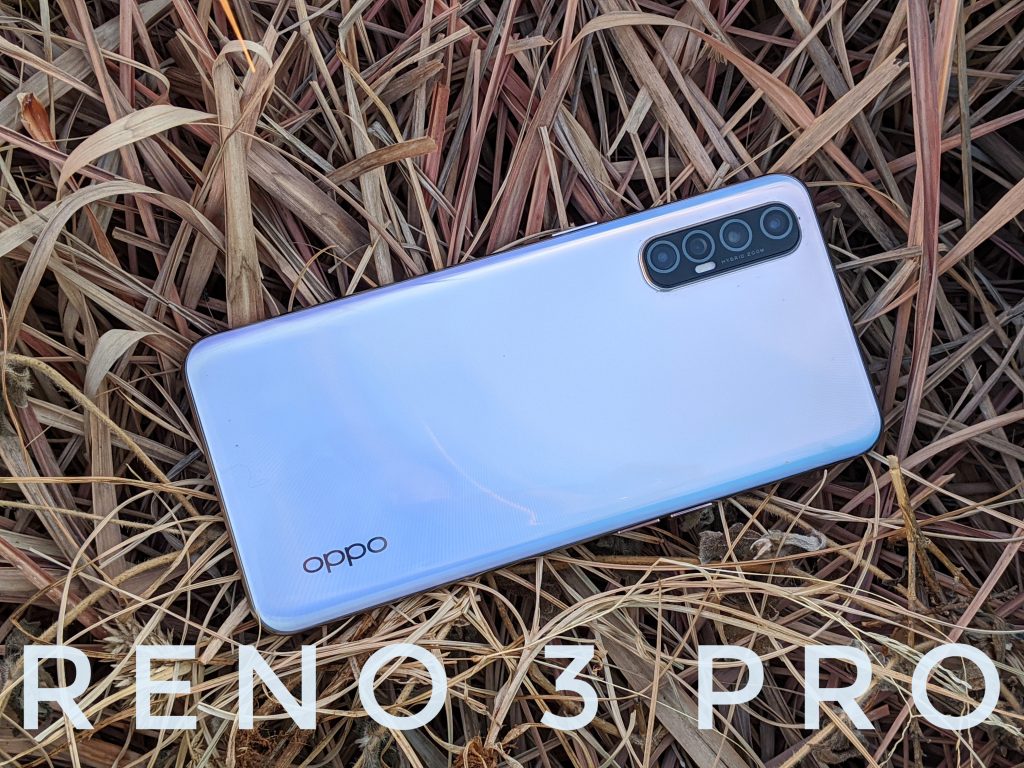 To say the OPPO Reno 3 Pro is underrated would be an understatement. Because, spoiler alert – I really like this device, but at the same time, it is, by virtue of its pricing, an overpriced smartphone in a hyper-competitive market that has been seeing price wars in all segments. How can such a device, which is both underrated and overpriced, exist? Yet it does and it adds only to the confusion. However, to make purchasing decisions slightly easier, we have things like a dual punch hole 44MP selfie camera, making it a device for selfie lovers, a familiar yet striking design, making it a safe option for OPPO users and for everyone else and even new buyers, specifications that tick all the right boxes. Great. Yet the conundrum remains. Why is the Reno 3 Pro priced this way? And as always, is the device really worth the price it demands? Who is it really for? This is the review of the OPPO Reno 3 Pro.
Unboxing Video
Box Contents
OPPO Reno 3 Pro
User guide, warranty, and SIM ejector tool
30W VOOC 4.0 charger
Transparent Case
Pre-installed screen protector
 3.5mm headset
Physical Overview
The Reno 3 Pro Indian variant is a 4G device from OPPO which is not to be confused with the 5G version released in China. Let's take a quick recap. The display is a 6.4-inch FullHD+ panel with GG5 protection, underneath which resides the in-display fingerprint scanner. The internals are powered by the Helio P95 Mediatek chipset, supported by 8GB LPDDR4x RAM and 128 or 256 GB of storage. A 64MP main camera with f/1.8 aperture is flanked by an 8MP Ultrawide and a 13MP 2x Zoom unit. The fourth camera unit is a 2MP mono which helps in depth-sensing as well as in improving the dynamic range of pictures. Over at the front, the 44MP main selfie camera and a 2MP depth sensor form the punch hole setup. The camera system being the main highlight of this device, also sports a 4,025 mAH battery with fast charging. On top of this there are several interesting OPPO specific features enabled by the software but as always, let's begin with a look at the hardware.
Design
OPPO has long been a leader in designing attractive smartphones, so the Reno 3 Pro is in no way, different. But it is different, if you're looking for design continuity from the original Reno series. You'll not find a shark fin pop up front camera or a flat flush-with-glass rear camera, but you will indeed feel a lot of familiarity with the OPPO brand. The design is much closer to the F15 than the Reno 2 series, which raises the question "Then why Reno?". The answer is, of course, the camera system, more on that later.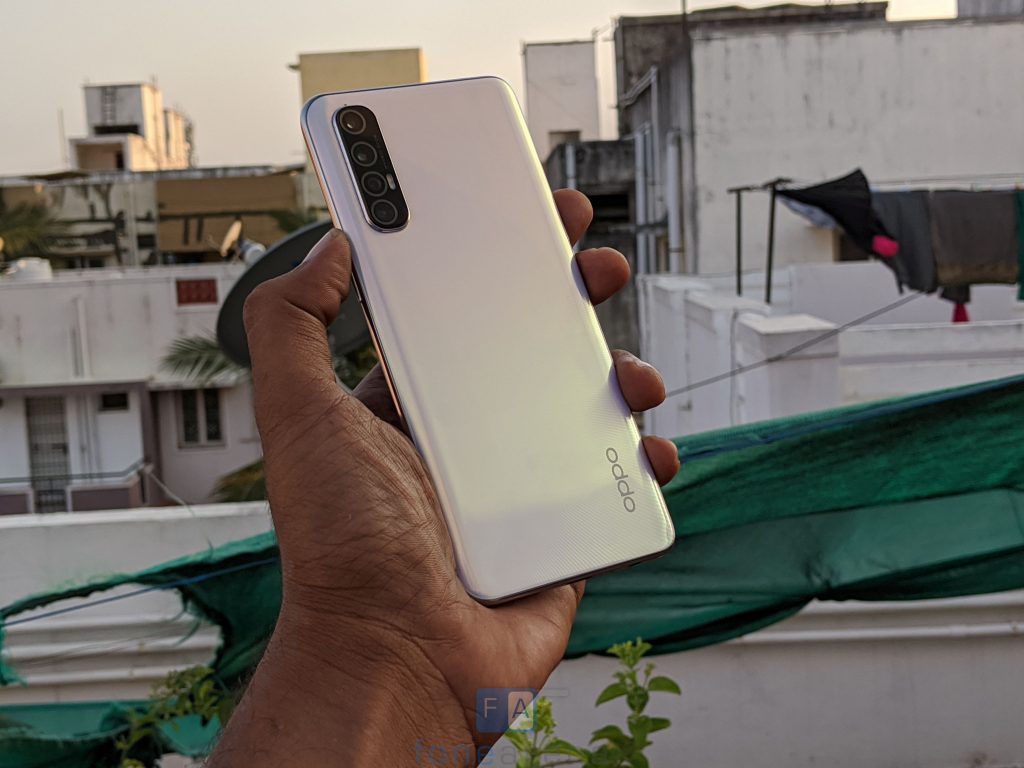 At the back, at least in this variant, you have a gradient colour scheme along with a subtle curvy line-pattern, which you can find on many of the recently launched trendy devices. I must say, the combination of these colours and the lines do make for a really attractive design, which gels well with the ergonomically crafted back panel. It surely fits great in the hand, because these days, even 6.4-inch devices can feel small thanks to the edge to edge screens and razor-thin bezels. Here's where the punch hole deserves a mention because this feature adds a lot to the unique look of the Reno 3 Pro. Besides adding tremendous amounts of utility, the lack of a pop-up camera reduces bulk, making the device lightweight to carry, which in my books, is a must for big-screened modern phones.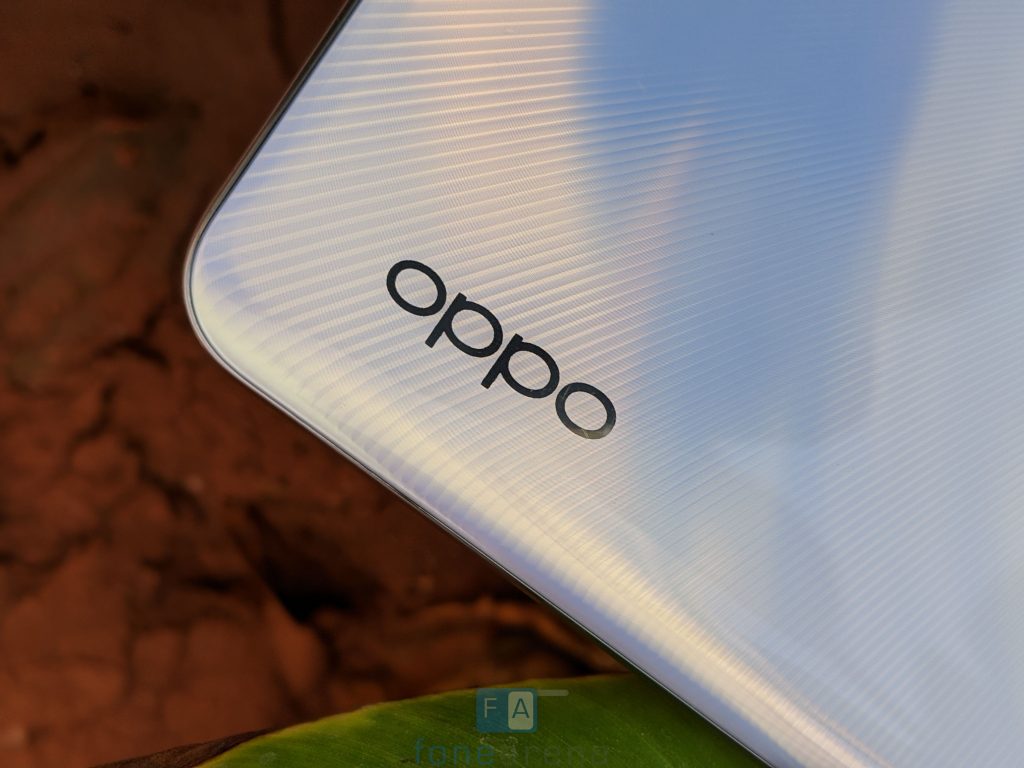 The Reno 3 Pro looks good, feels great and separates itself from the rest with a dual punch-holed 20:9 AMOLED screen. From the back, it looks like an OPPO device and from the front, it looks like a Reno 3 Pro. That's pretty much what you would need to know about this smartphone when it comes to design. While a lot of you might feel dismayed by the lack of continuity from the Reno series design language, you might just completely forget it when you hold this one in your hands. Maybe that's what OPPO intends to make you do. On that note, let's talk about the display.
Display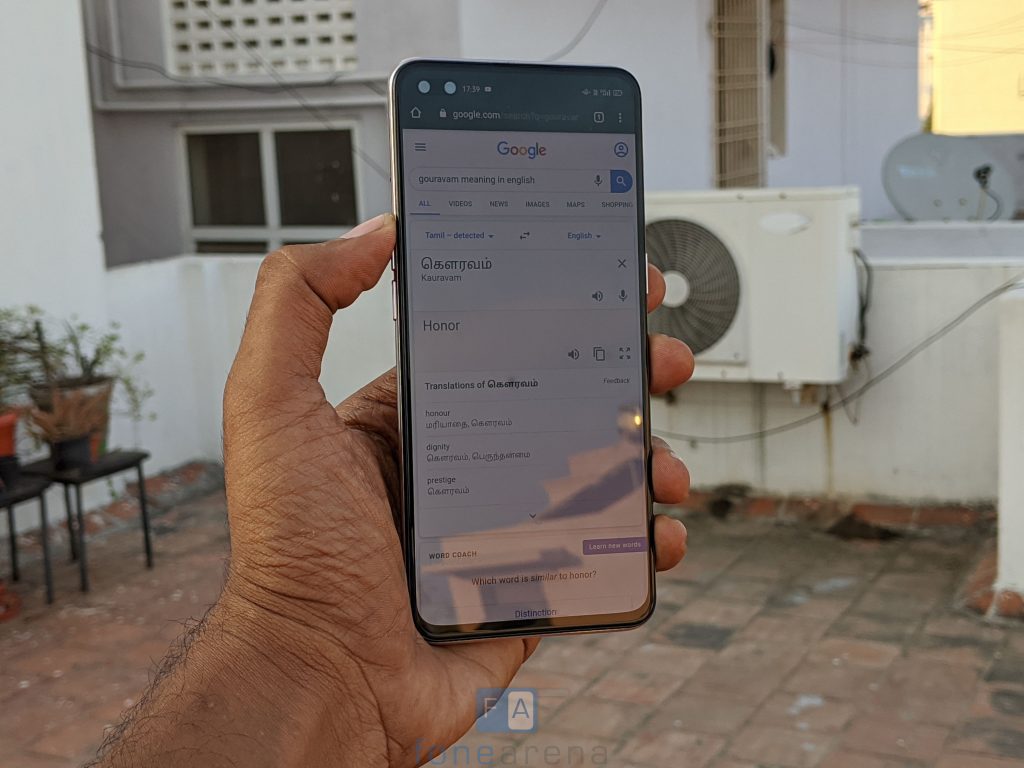 The 6.4-inch 20:9 AMOLED screen is, as you would expect from any phone at this price range, great. With great contrast, colours and a very fitting 20:9 aspect ratio, there is not much to complain. Gone are those days when we would talk about the screen air-gap or viewing angles or outdoor visibility, because in every way, the displays these days are far better. Only thing that mostly differs is the brightness, which you might have seen in spec sheets in terms of nits. While OPPO is not too specific on these numbers, I found the Reno 3 Pro to have an extraordinarily bright display. This made outdoor viewing easy and yes, it went really low indoors as well, making it almost perfect for all situations. Sure, there is no HDR which you might find in higher-end devices but no complaints in dynamic range were visible to my trained eyes. Using an HDR display by the side the entire time, I hardly noticed any difference. The only improvement I wanted to see was a better colour calibration out of the box because it tends to be more magenta in the whites, which you can fix in the display settings.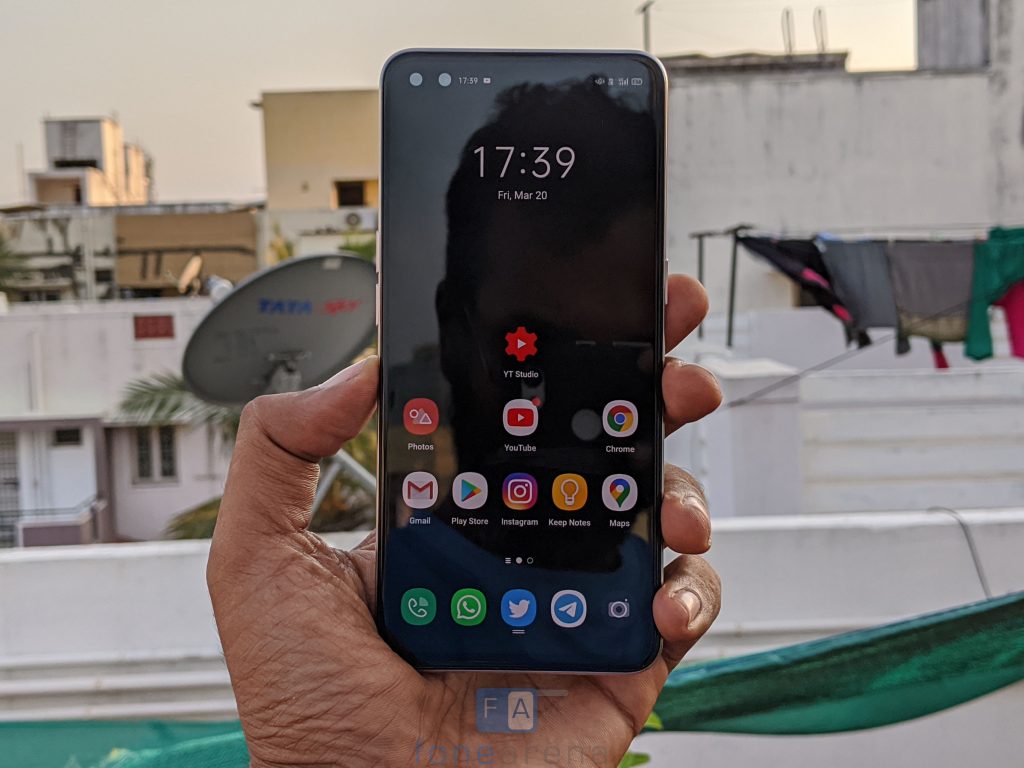 So, how distractive is the punch hole? My answer is, you will get used to it. The thing I liked about the punch hole is that, unlike some other devices, the black around the punch hole is not enabled by software, but actually blacked out, which I very much appreciate. To be honest, the visibility of the punch hole made me use the selfie camera a lot more and since it is on the left, it didn't come in the way of me watching multimedia content. Most of the time, you will forget it's there. When you see it, you would want to take a selfie. Guess it's a win-win for OPPO here, just like the internals.
Internals
Powered by a Helio P95 chipset, the Reno 3 Pro is the first smartphone to feature this "flagship-level" system from MediaTek. This chip features an Octa-Core 12nm processor (Dual 2.2GHz Cortex-A75 + Hexa 2GHz Cortex-A55 CPUs) with an IMG PowerVR GM 9446 GPU, ably supported by 8 gigs of LPDDR4x RAM and UFS 2.1 storage. Let's see how it fares in the benchmarks.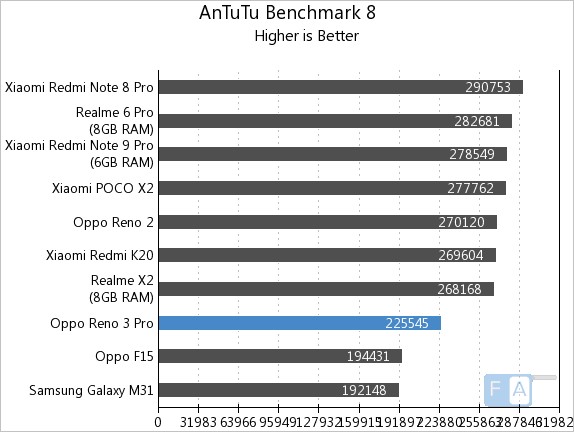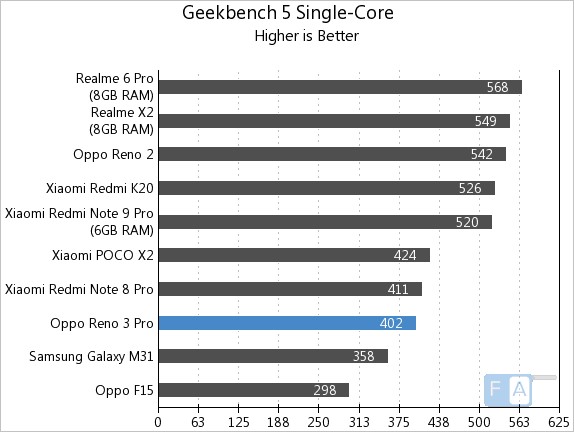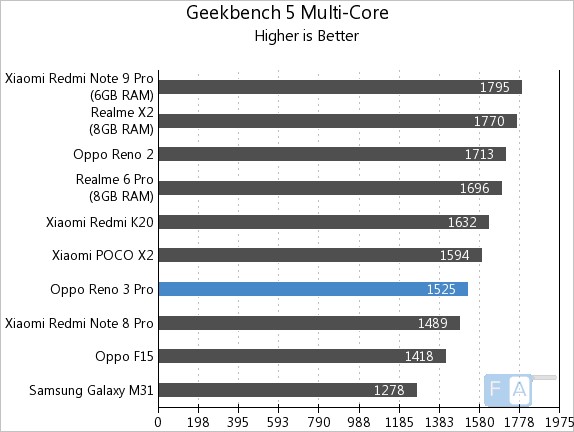 While it has a massive lead over the company's own P70 chipset, it still lags in benchmarks when it comes to comparative chipsets in the same price range or even lower. This presents a tough scenario for marketing this to a tech-savvy audience, but is that the goal here? More on that later. So, with the benchmarks aside, how is the phone actually like when it comes to performance? Like day-to-day usage? Does the lag in benchmarks reflect in reality?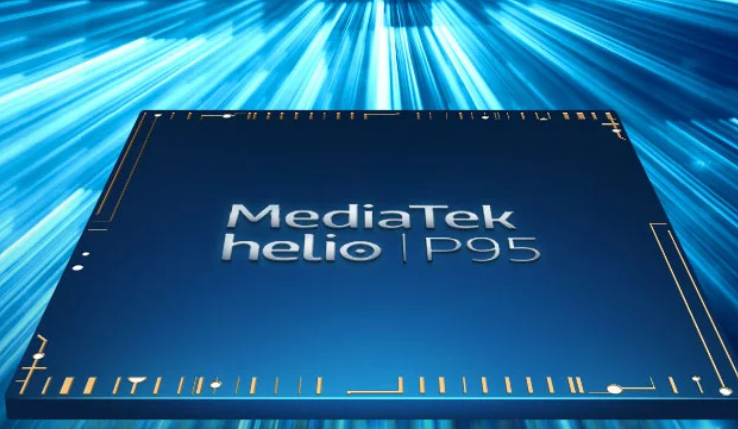 The answer is, yes and no. Yes, gaming is a concern when it comes to playing challenging titles. Sure, you can make do with the performance you get, but it is no match to gaming chipsets or flagship chipsets you see in other devices. But no, it does not reflect in day to day usage, which I care deeply about, more than gaming. Such is the nature of this device, because no one wants to buy this device for gaming, it's for a smooth, care-free experience where there is no lag, no heating, no battery issues and so on. This is what makes the Reno 3 Pro really great because, over a month of usage, it performed like a champ, consistently. The key here is consistency and of course, due to the nature of the chipset, there are no heating issues even when using the camera. So, without further ado, let's talk about the most important reason why one would buy the OPPO Reno 3 Pro, the camera.
Camera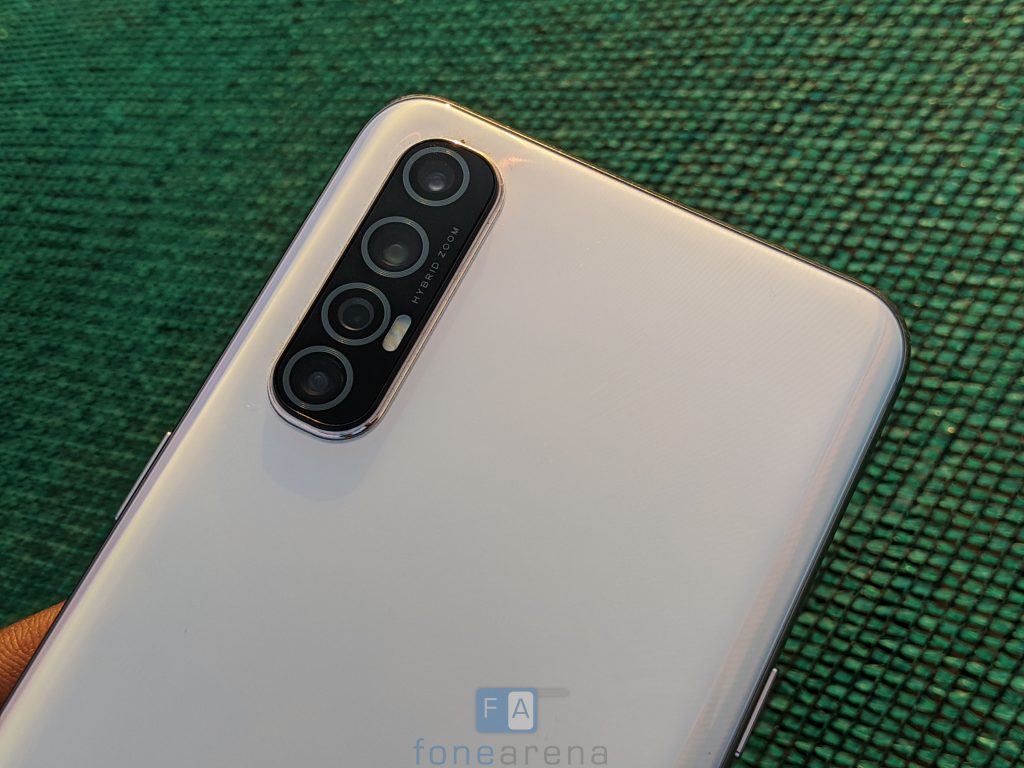 The camera system on the OPPO Reno 3 Pro is a quad-unit with the main sensor at 64MP, with an f/1.8 aperture and three other units. Let's focus on the main one first, because that's where all the action and magic happens. First up, it creates rich and beautiful images you would expect from the Samsung sensor that has been making great rounds in many of the devices that take great images. The Reno 3 Pro is no exception, but the important thing is the imaging algorithm that comes with OPPO devices that makes a lot of difference when it comes to dynamic range, and yes, hybrid zoom. Let the sample images do all the talking –
Yes, it makes use of the 64MP sensor AND the telephoto 13MP sensor, which is at 2x. With data from both the cameras, OPPO manages to create a compelling lossless image that you can even edit for artistic purposes because there is so much data left there. Honestly, I was taken aback by this amount of clarity at 5x, especially in video because it potentially rivals even the flagship cameras that come with similar setups. Similarly, the ultra wide angle lens on top of an 8MP sensor creates vividly dynamic images with the unique perspective one expects.
The highlighted features include a 20x digital zoom, which in my experience, breaks images to an extend where details are irrecoverable but still a decent utility to have, but it is the Ultra Dark Mode, which takes brilliant images during the night and Dazzle Color mode, which take the imaging algorithm to its peaks. In terms of video, the best feature in recent times is the EIS-based Ultra Steady Video 2.0, a Reno-specific feature that works as advertised. A floating camera that removes all the shakes.
Check out the video samples (in Tamil)
Finally, it is the front camera that deserves all the praise on the OPPO Reno 3 Pro. Anything that is over-marketed deserves special scrutiny because it is one of the primary reasons why one would purchase anything impulsively. So, after much scrutiny I can say this – The OPPO Reno 3 Pro's dual front-facing camera is one of industry's best solution for the selfie camera. The depth mapping is impeccable, the dynamic range is great and clarity is beyond what one would expect from a front-facing camera. What's great is that this superb depth sensing can be used in video recording too. This is not available in a lot of devices. Again, let the images do the talking –
If you are looking to buy a phone that takes the best front-facing portraits, the OPPO Reno 3 Pro is an easy recommendation. In addition to this, you get a great hybrid zoom feature, ultra steady video on top of a great set of camera hardware. But it's hardly just hardware, right?
Software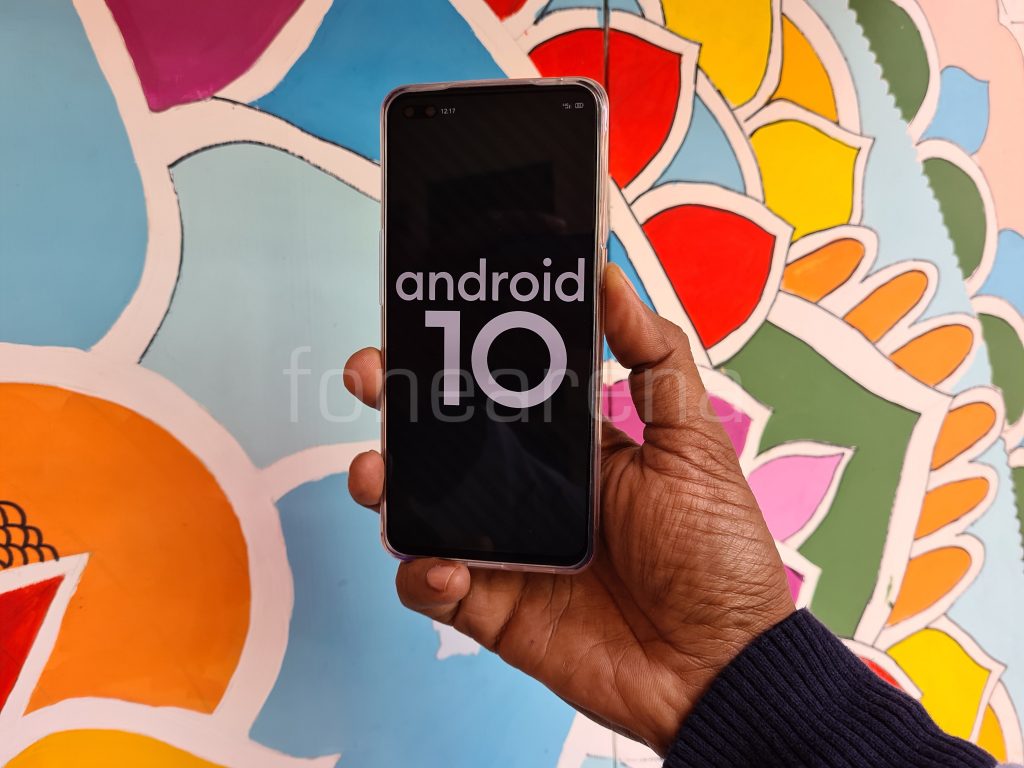 Color OS is a revelation. Not just on the Reno 3 Pro, mind you, it has just become one of the best custom skins on top of Android. I am not going to focus on the features here, because there is already an article written on it, which I highly suggest you take a look. After all, simply, software makes or breaks the experience on a smartphone. It is highly recommended that a no-frills experience awaits you on a smartphone and that's what the OPPO Reno 3 Pro delivers.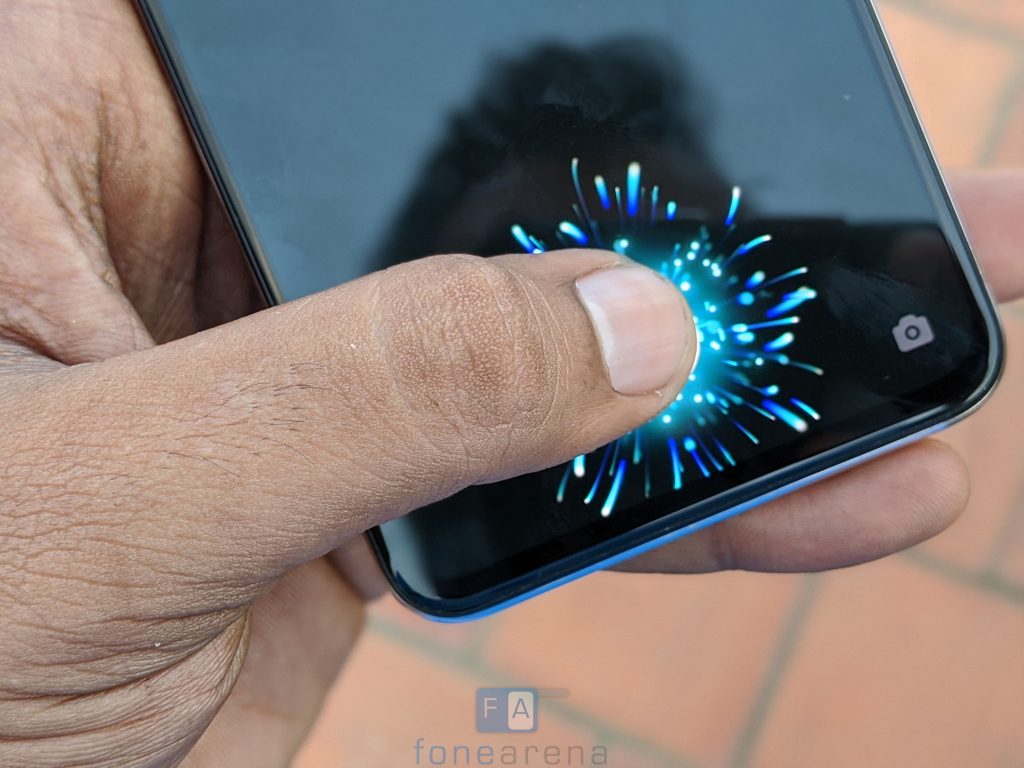 Yes, it's not just the software when it comes to mentioning the specific device. MediaTek delivers, as I had mentioned before, on the performance. Color OS and the Helio P95 flow so well on the Reno 3 Pro, it is seamless. It must be the optimisation in terms of performance, but it is also heavily optimised for, you guessed it right, the battery life. But before that, more importantly, let's talk about the biometrics on the device, enabled by the software. The in-display fingerprint scanner is super fast and works just as advertised. OPPO has one of the most reliable optical fingerprint scanners on the planet, maybe it is the right supplier they have chosen. Only thing I found discomforting was the super bright display overpowering a dark room when the fingerprint scanner is in action, but the comfort is in realising that almost always it worked. Let's now talk about the battery.
Battery
From the camera to the battery, the hardware and software are in perfect rhythm, delivering a solid performance on the OPPO Reno 3 Pro. Battery life was solid in my month-long use. Almost always, there was a substantial charge left at the end of the day. Not to mention, if I wanted to charge, it came in fast, or should I say, super fast. With VOOC FlashCharge 4.0, what else would you expect. Here are some numbers that can tell you more about the battery and its rating that it got through our tests.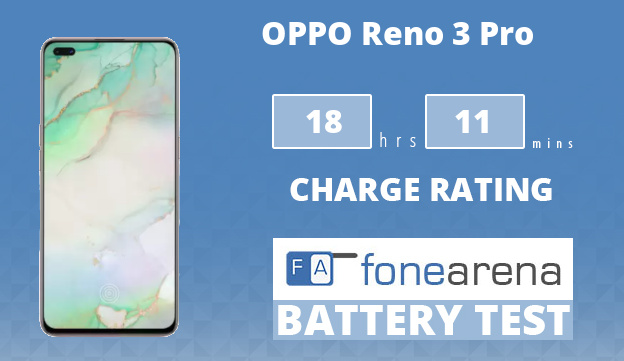 Conclusion
If you have gone through every word of the review above, you might have realised already that there is not much to complain about the OPPO Reno 3 Pro. If you experience the device without buying, like me, you will instantly like the device and have it on your list of recommendations, except when confronting a budget-minded buyer. First, let's be very clear how OPPO positions its devices. Under the BBK umbrella, OPPO is most definitely an offline player which offers huge margins to market and sell its devices in the highly impulsive and lucrative retail market in India. As our country develops at a rapid pace, a lot of the Tier-2 and Tier-3 cities and towns are being mainstreamed, so a lot of demand exists in these places where online-only smartphones still do not have a store-presence.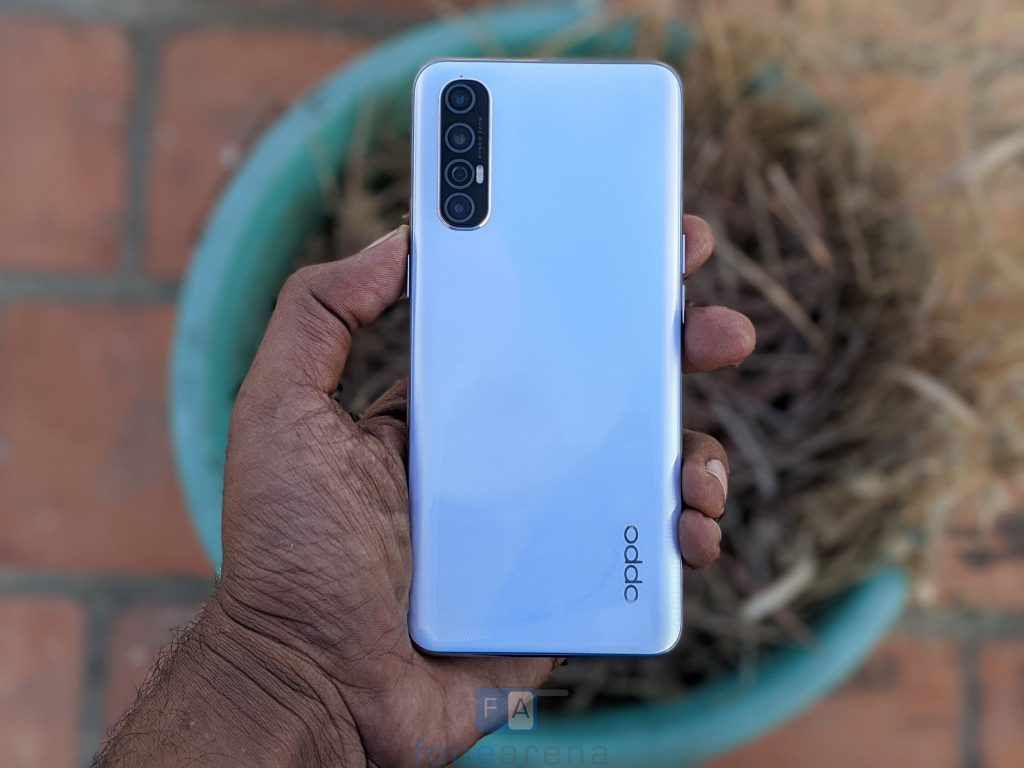 Here's experience matters more and most of the buyers are first-time owners with little to no brand loyalty. This is where specifications of internals don't matter. In this context, brand OPPO would like to offer a compelling variety of smartphones in a wide price range. At around Rs. 29,990, for tech enthusiasts like me and most probably you, it's a hard sell, but for first-time buyers who are looking for a quality experience and a good camera, it's an easy sell. If they aren't sold, they will just use it in the offline store and find out for themselves. It's that good. So, is the OPPO Reno 3 Pro worth the price it comes at? For you and me, no, but for most others falling in the highly lucrative developing market, yes. Should you recommend it to them? Yes. Should you recommend it to others with budgetary constraints and performance requirements? No.
To sum up my experience and the eventual reflection on the OPPO Reno 3 Pro – it's an underrated conundrum. Offline buyers will feel it is underrated when they see all the negative feedback about the price and it is a conundrum for us tech enthusiasts because it is hard not to recommend to the enthusiastic buyer who doesn't care about specifications or GPU performance.
Pros
Great display and fast fingerprint scanner
Lightweight experience
Good performance and stability
Good set of cameras with notable features like hybrid zoom and ultra steady video
Good battery life with fast charging
Optimised software
Cons
Hard to recommend because of competition's pricing
Not ideal for gamers
Discontinuity of Reno design language
Are you an enthusiast recommending devices to people? Do you own this phone? How important is pricing to you? What are your thoughts on this device? Let us know in the comments section below and thanks for reading.