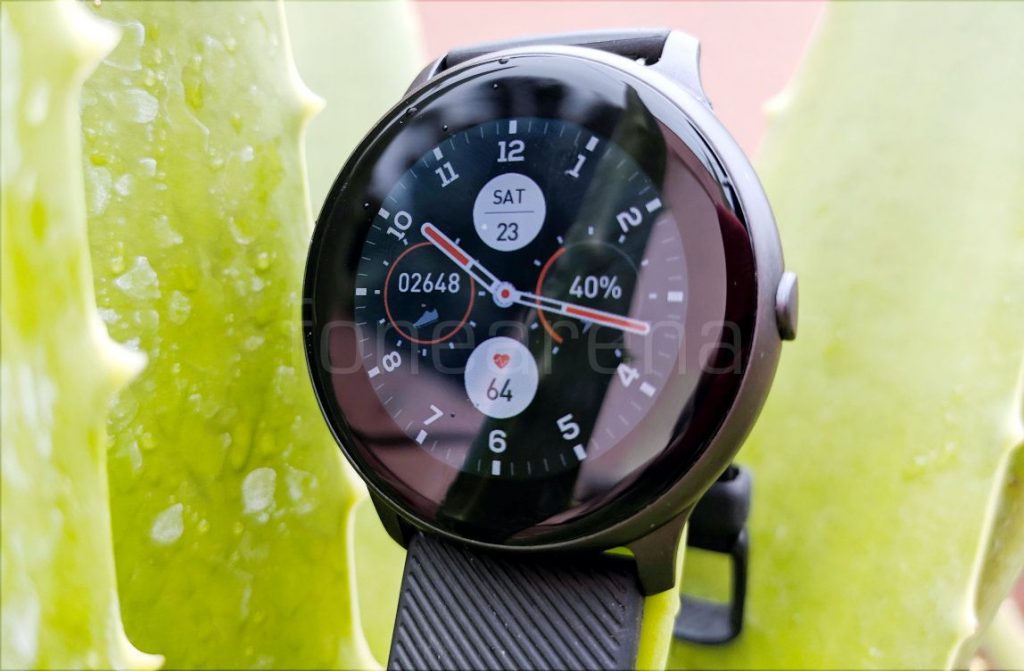 Noise launched the NoiseFit Evolve, the company's first smartwatch  with an AMOLED screen earlier this week. It has a lightweight body, several features including music controls, heart rate sensor and more. I have been using the smartwatch from Noise for about a week now, here is the review.
Box contents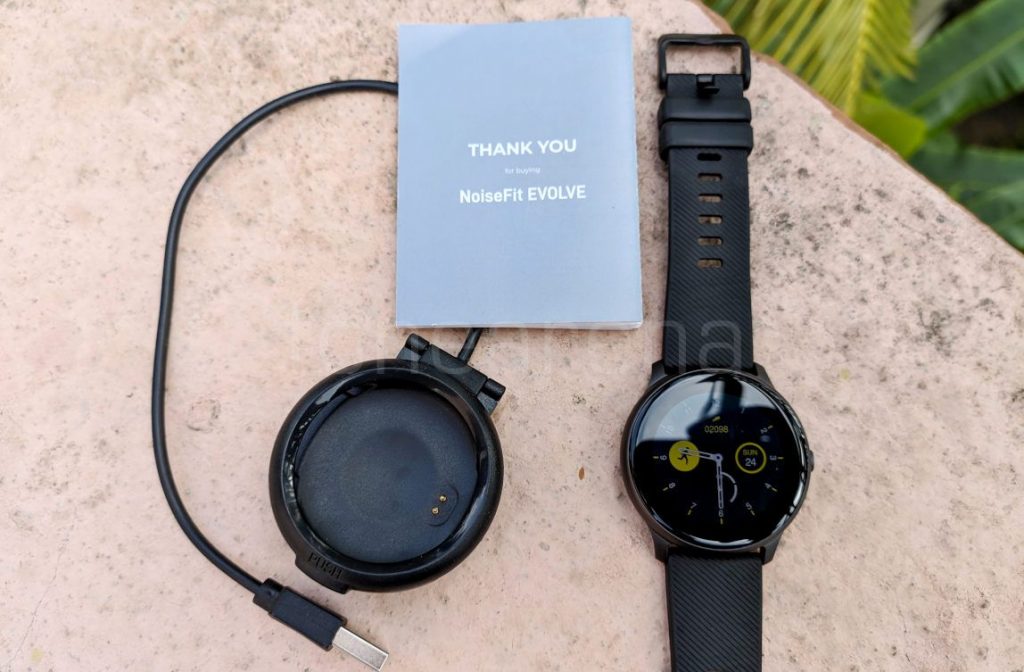 NoiseFit Evolve smartwatch in Slate Black color
Wrist strap in Black color
Charging dock with USB cable
Quick start guide
Design and Build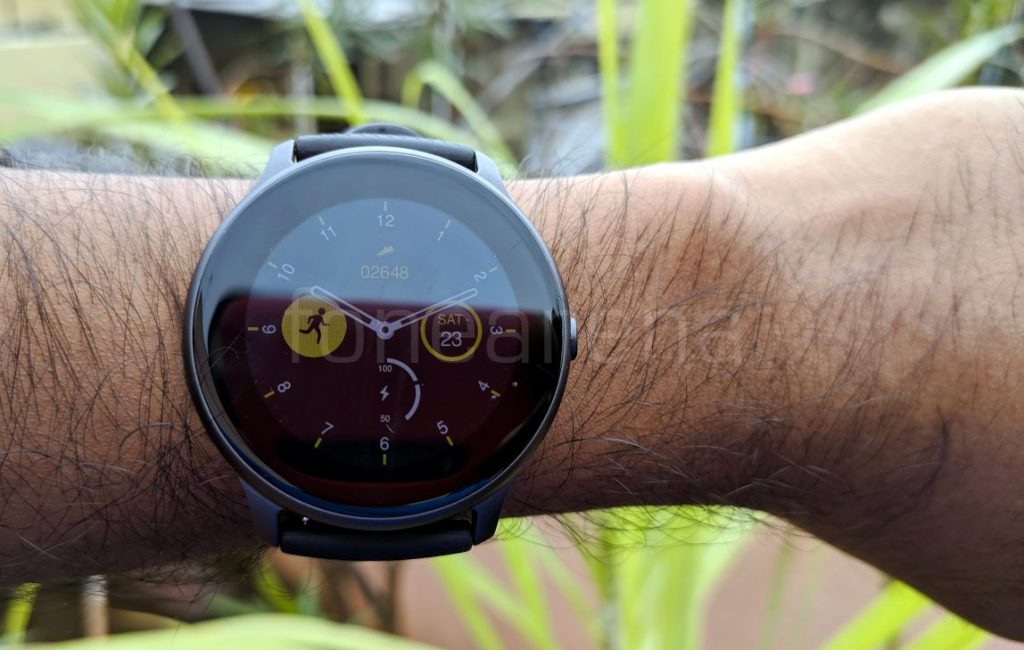 The NoiseFit Evolve has a round dial with large bezels around the display. It weighs just 43 grams with the band and 3 grams without it, making it one of the lightweight smartwatches in the price range. The dimensions are 44.5×9.8x8mm, so it is somewhat similar to a normal watch with a 40mm dial. It has IP68  water resistance, and can withstand dust, dirt and sand, and are resistant to submersion up to a maximum depth of 1.5m underwater for up to thirty minutes, and can be used in shower, however, the company says that it should not be used in sauna, hot water bath and ocean water as the moisture and salty water can damage the band. It also says that you should not wear it when swimming.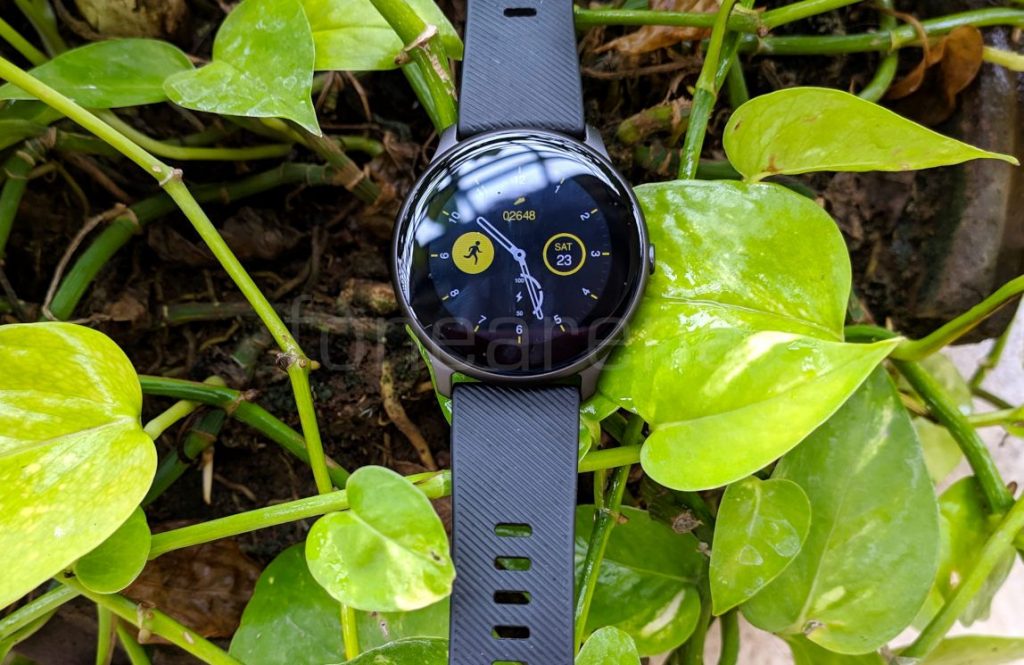 There is 3-axis accelerometer and Bluetooth 5.0 to connect to Android and iOS devices, but it doesn't have 3-axis gyroscope sensor. Since the Bluetooth chip is programmable, so it can store data even when it is disconnected from the smartphone. Coming to the band, it is made of skin-friendly thermoplastic polyurethane and the strap is adjustable depending on your wrist length. Since the strap is easily removable, you can use any third-party strap.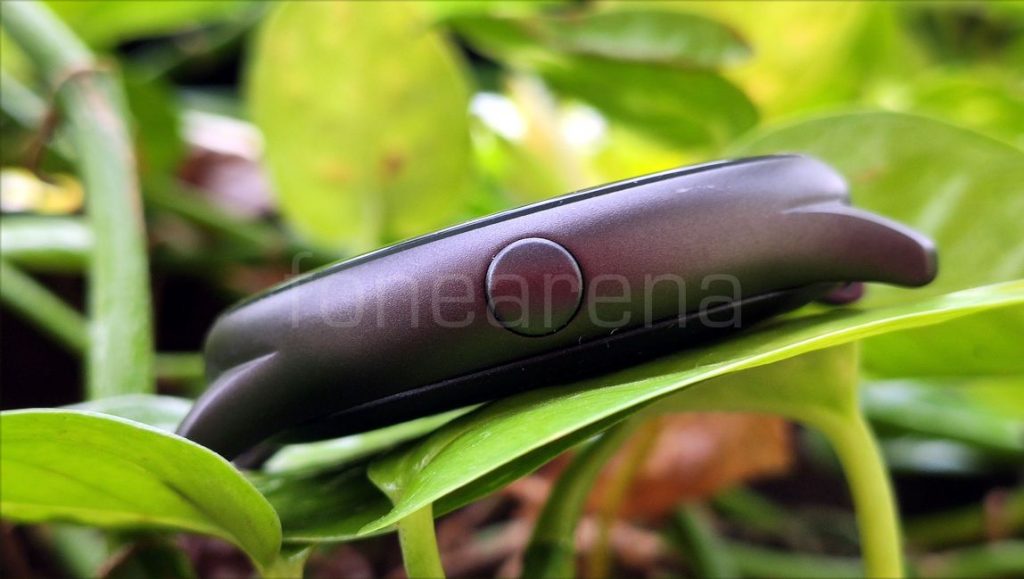 There is a button on the right side that lets you go to the home button.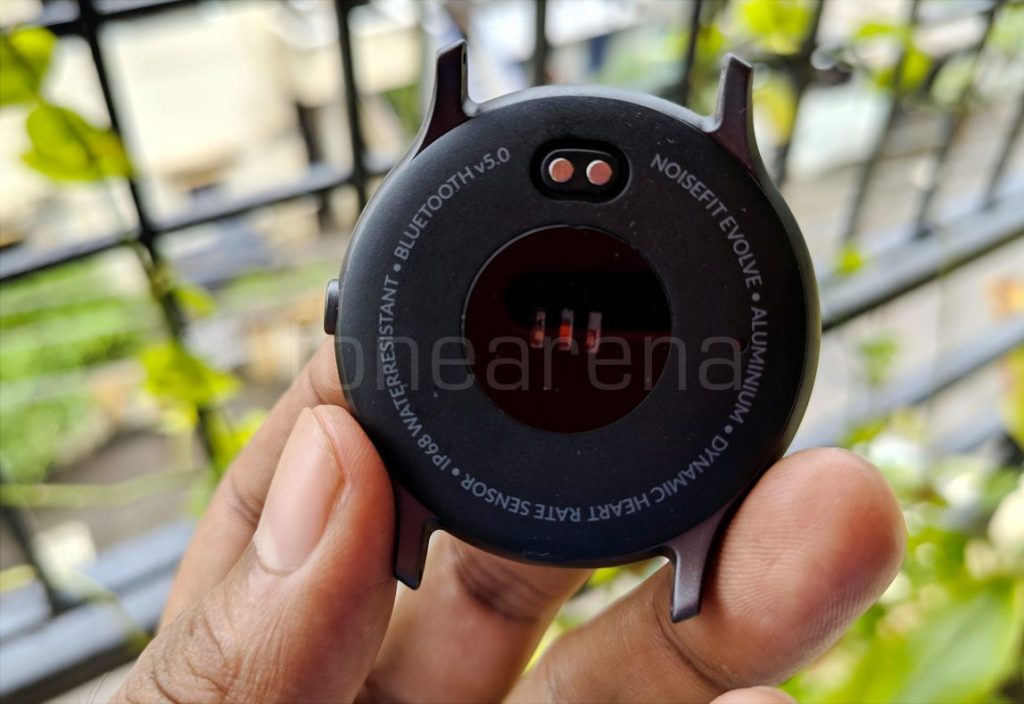 On the back you can see the heart rate sensor that has glowing green LED lights when you are using it to measure heart rate. You can also see the charging pins on the back. It has an anodised aluminium finish that offers a premium look.
Display and features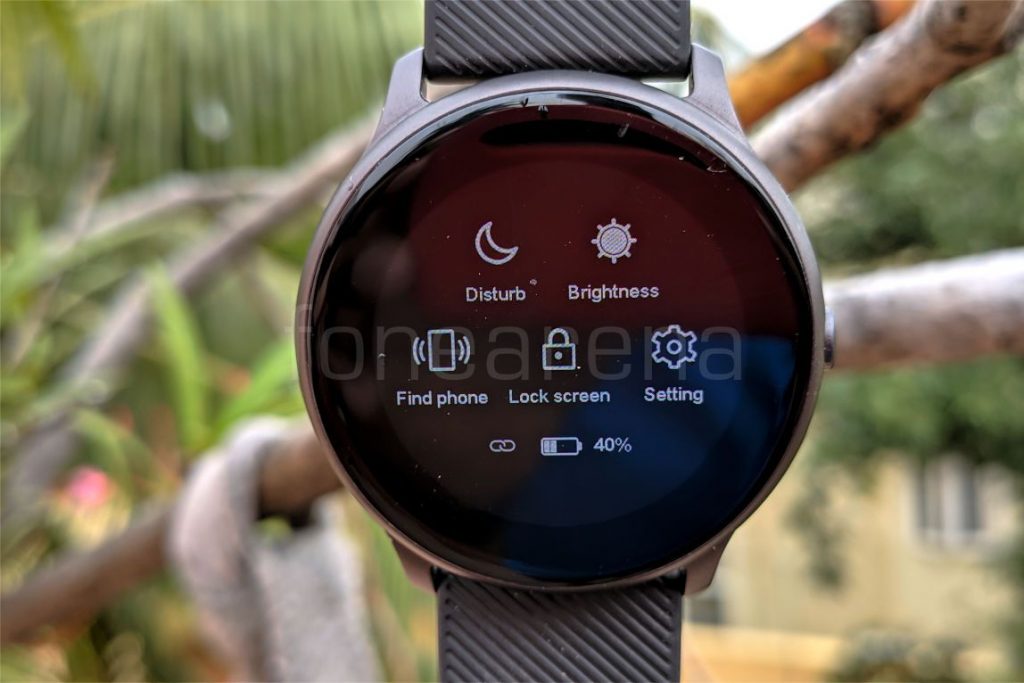 Coming to the display, the smartwatch has a 1.2 (390 x 390 pixels) AMOLED color touch screen display with a pixel density of about 459 PPI. The display is bright even under bright sunlight and the viewing angles are good. The display attracts fingerprint easily, and the company doesn't say if the band scratch-resistant glass. This doesn't have an always-on-display, but you can set it to turn on when you lift your hand, and the screen turns off after a few seconds to save power. There are five different dials to choose from, but you can't add anything more than that.
You can adjust the brightness when you swipe from the top, and you get 6 settings to choose from. Level 3 is more than enough even in bright outdoors, but the level 1 is very powerful during nighttime. There is also DND, Find phone, Lock screen to clock the screen and unlock by pressing the button on the right side for sometime, settings and the battery level.
Swipe to the left shows Today view with steps, KM and kcal for the day, then there is heart rate measurement option, and the sleep data that shows total time, deep sleep and light sleep. There is also a compass, which is handy. Another good feature is music controls. You can go to BT music option to view music control panel that lets you play, pause and skip tracks when you play any music or any kind of content like Music Player, YouTube videos or even podcasts when the watch is connected to the phone.
There is Alarm clock option that lets you set five different alarms with separate day schedules, the Find phone feature makes the phone ring to find it, when it is connected to the watch, and there is also a stopwatch feature with lap count. Photograph feature lets you use the watch as a remote shutter button for the phone.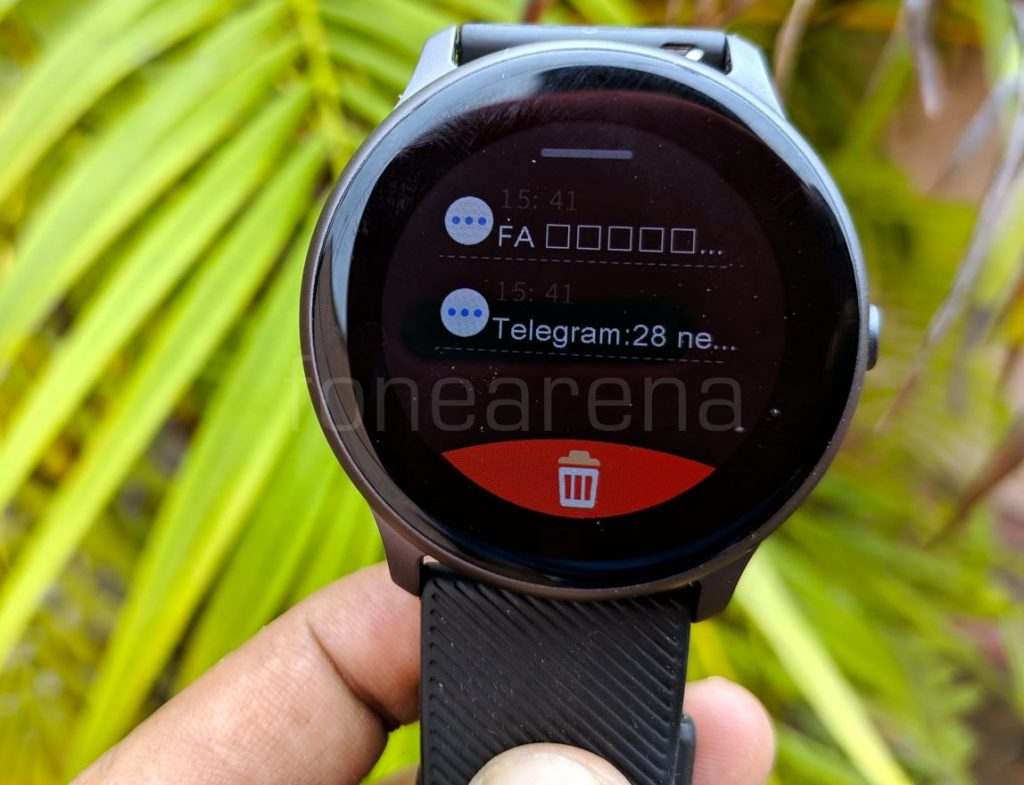 Notices feature shows notifications from the apps, but not all the apps show full notifications, and apps like Gmail doesn't show content of the mail.
Finally, the sports mode lets you track 9 activities such as walking, indoor walk, outdoor run, indoor cycling, indoor run, cycling, mountaining, yoga and free training. After selecting an activity, you can manually select a target like Mileage, Time or Calories or select no target option. There is a 'records' option to view all the activities recorded.
I tried walking, running and cycling, which are all outdoor activities. When connected to the phone it gets the GPS coordinates since the phone doesn't have a built-in GPS feature, if not it just uses the pedometer to calculate the distance, which might not be that accurate. Some activities like Yoga doesn't count calories burnt and counts steps instead. There is day, week and month view for the activities. It says that the watch will only save activities that last longer than 5 minutes or include more than 200 steps.
Sleep tracking is accurate most of the times, and it tracks deep and light sleep, similar to most bands, but it doesn't track day time sleep. There is also day, week and month view for sleep tracking.
Heart Rate Sensor
The smartwatch uses LED lights and photo-diodes to illuminate blood vessel for a while and monitors the heart rate via the change of green light absorbed, similar to the older models. You can't say this is 100% accurate, but heart rate recordings — both resting and active are decent. It is almost similar to other smartwatches. This does the job perfectly, and is similar to Mi Band 4 data.  It takes 5 to 10 seconds to measure heart rate, and you get continuous heart rate tracking during workouts, which will also drain the battery. From the app settings you can set it to measure heart rate automatically ever 10, 30 or 60 minutes.
Software
The Noisefit peak for Android and iOS lets you manage several things on the smartwatch. I even got a new firmware using a day back. After downloading the app you just have to scan the QR code on the watch after selecting the 'Evolve' smartwatch model in the app. Pairing takes few seconds. You can register using Google account to sync your data so that you don't lose them when you switch devices. You can also set daily steps goal, change unit between metric and imperial, read FAQs about the watch, watch videos and contact customer support.
The app also has reminders for water consumption and sedentary reminder. There is also silent alarm option.
Battery life
Coming to the battery life, the watch comes with a unique charging connector design. You need to place the watch inside the case so that the contacts on the watch touches the contact on the dock, and connect the USB to the charger. The company recommends only to use 5V-1A charger or charge from a USB port on a laptop or a PC, and also says not to charge it with water or sweat to prevent a short circuit.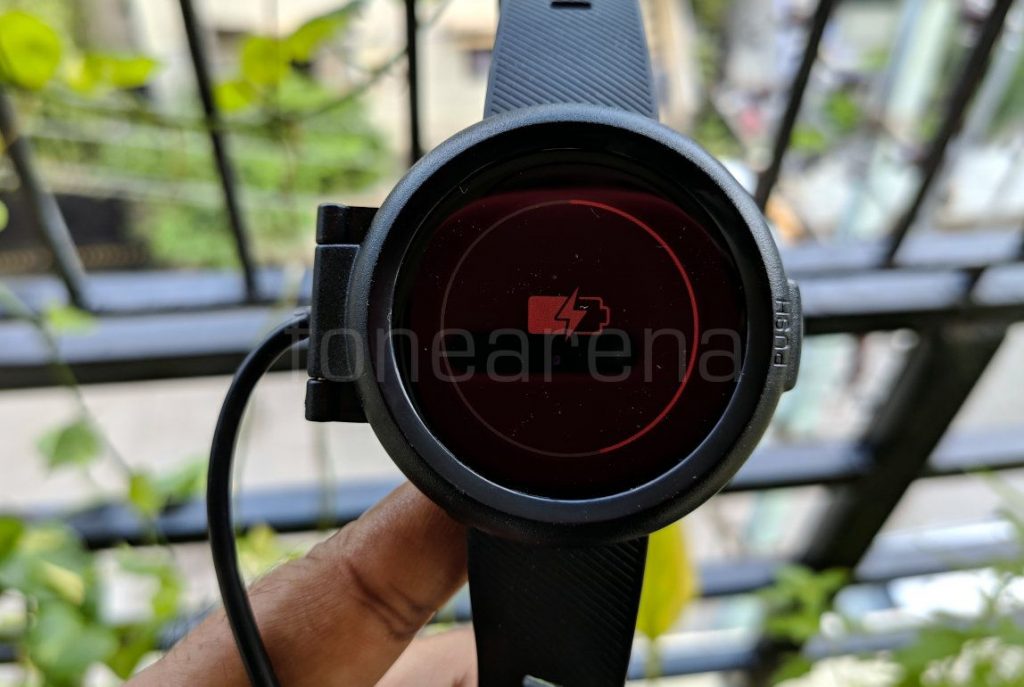 The company promises 3 days of battery life and up to 10 days of standby time for the watch that has a 180mAh battery capacity. I have been using the watch for about a week now, and I still have 40% left, so the battery life is brilliant. I don't sync notifications every day, but I have used it for several activities that includes heart rate monitoring.
Conclusion
The NoiseFit Evolve Review is a decent smartwatch for the price of Rs. 5499. It has a large circular AMOLED color display that is brilliant, has 9 sports modes, is IP68 certified for water resistance and the battery life is good as well, however the company could have added a gyroscope sensor, more watch bands and built-in GPS for better sports tracking to compete with other watches in the price range.
The NoiseFit Evolve Sport version that costs Rs. 5999 offers slightly better build and a different strap. It also comes in Dusk Blue and Blush Pink versions. These are available from noise.com and will also be available from other platforms soon.