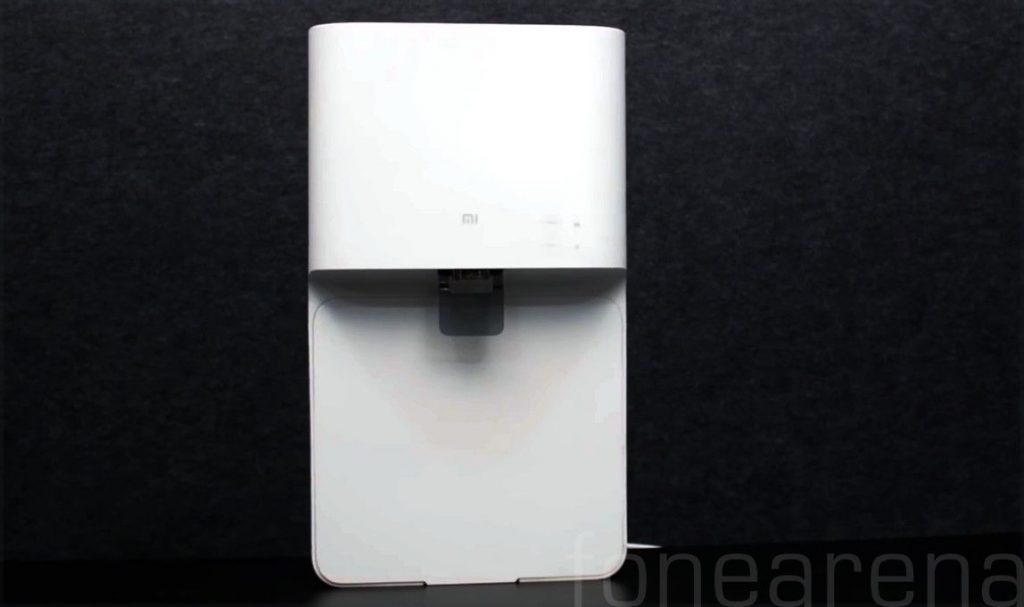 Xiaomi launched its first Smart Water Purifier with RO + UV purification in India at its Smarter Living event in September. It has a 7 liter tank, minimalist design and offers five stages of purification. After trying it out for the few weeks, here is our review.
Design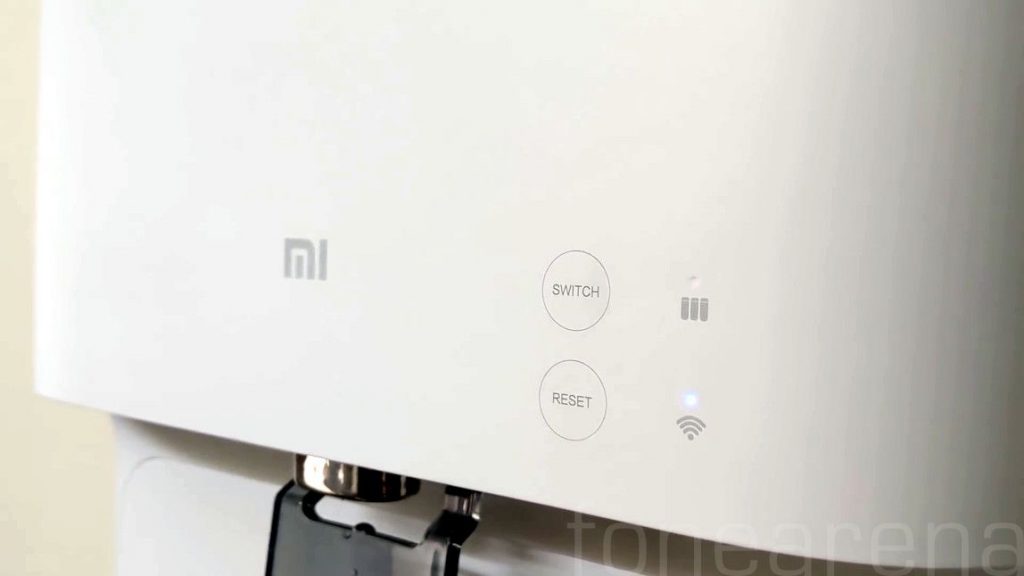 Starting with the design, the purifier comes only in white color. On the front there is a Mi logo. Next to it are the Switch and Reset buttons. There is a filter indicator that shows the status. If it blinks orange, then the filter is nearly exhausted, if it's steady orange then the filter is exhausted. If the Wi-Fi indicator is quickly blinks orange, then Wi-Fi is awaiting connection, if it is quickly blinks blue, then the Wi-Fi is offline or connecting. These also let you rest Wi-Fi when you simultaneously press and hold for three seconds, before you set up.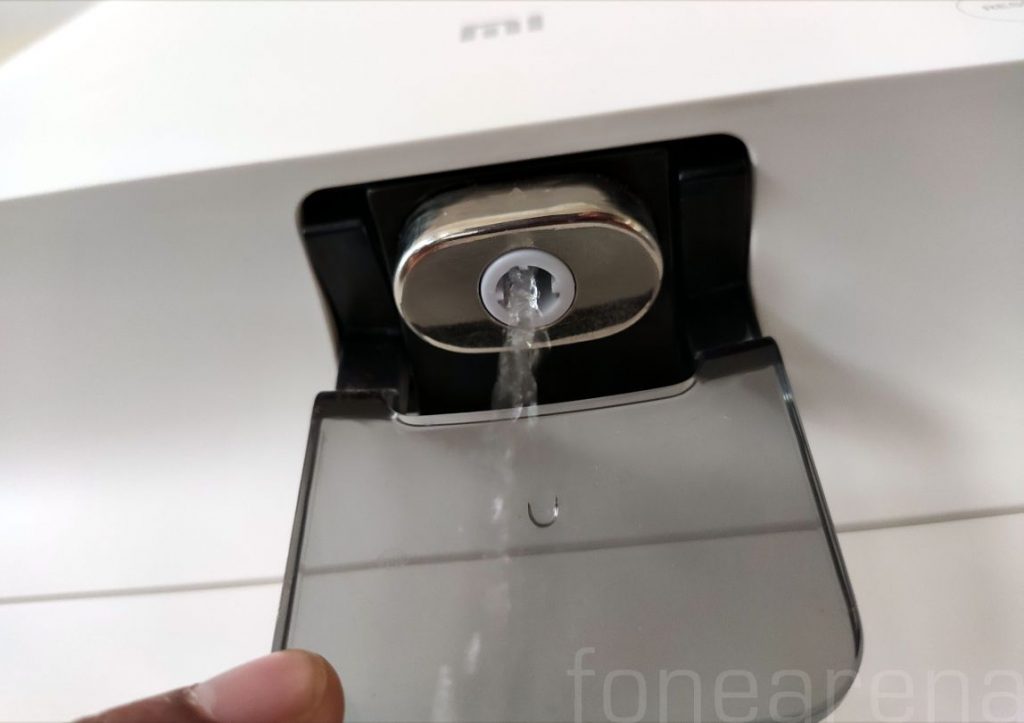 The water outlet is present below that. You can press the water dispenser tap or pull it to the top for continuous water flow.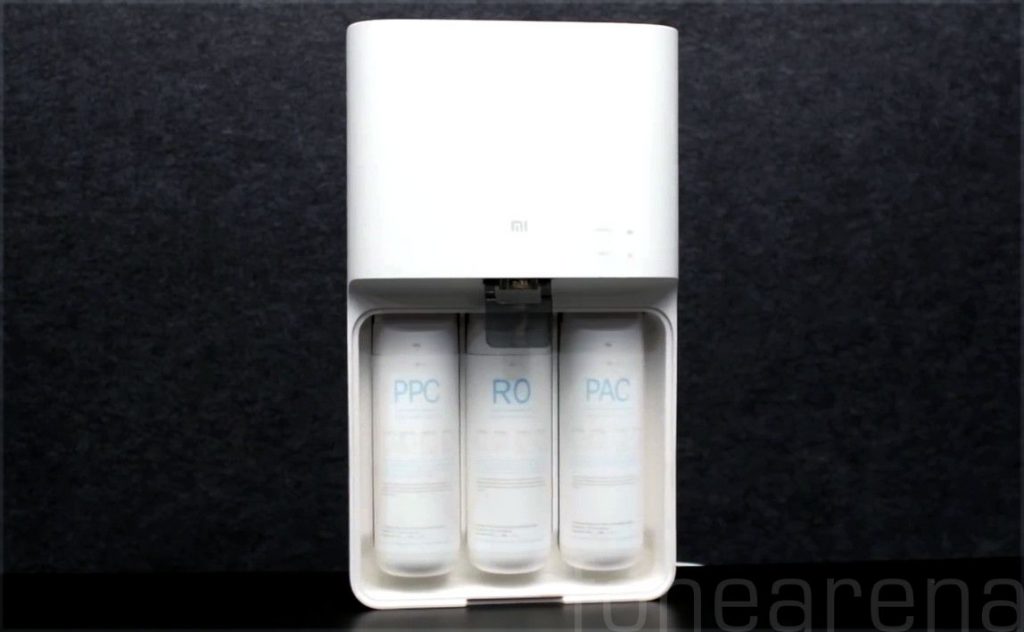 Once you open the plastic cover, you can see the PP Cotton & Activated Carbon Filter (PPC), Reverse Osmosis Membrane Filter (RO) and Post Activated Carbon Filter (PAC). These filters can be removed just by twisting, so you don't need a technician visit for changing filters. The filters also have indicator lights that shows the life.  If it blinks orange, then the filter is nearly exhausted. If it glows orange, then the filter is exhausted. It has a 7 liter tank, which can be cleaned by opening the cover on the top.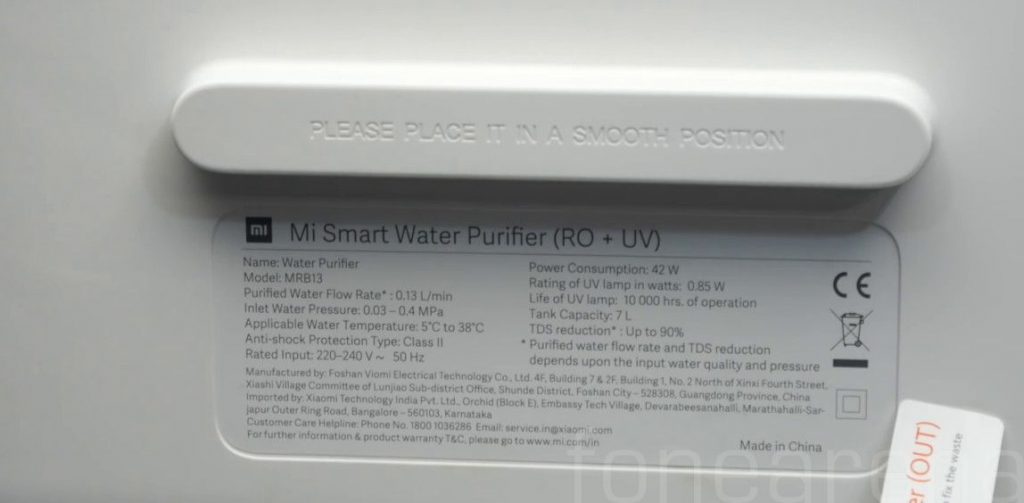 On the back there are technical specifications of the water purifier. Below that there are water inlet and outlet ports and a power port.
Technical Specs
Purified water flow rate: 0.13L per minute
Inlet water pressure: 0.13-0.4 Mpa
Applicable water Temperature: 5° C to 38° C
Anti-Shock Protection Type: Class II
Rated power input: 220-240V ~ 50Hz
Power Consumption: 42W
Rating of UV lamp in watts: 0.85W
Life of UV lamp: 10,000 hours of operation
Tank Capacity: 7L
TDS reduction: Up to 90% (Might vary depending upon the water quality and pressure)
TDS: <2000mg/L
Hardness: <500mg/L
Turbidity: <10NTU
Chlorine: <1mg/L pH range: 6.5-8.5
Iron Content: <0.3mg/L
Performance
Coming to the performance, the company says that the water purifier offers up to 90% TDS reduction. The PPC filter intercepts large and visible particles such as rust sediment, fibers and other visible matters. Furthermore, colors, odor, residual chlorine, trichloromethane, organic substances such as carbon terachloride. RO filters out heavy metals, bacteria, viruses, limescale, and organic matter with a 0.1nm precision. PAC filter further removes odor and organic substances and the in-tank UV light kills bacteria and viruses with up to 99.99% efficiency. Based on our usage, tap water input with about 950ppm TDS got output of 41ppm, which is about 95% TDS reduction. The Mi Home app shows all the details, including input water TDS and output TDS.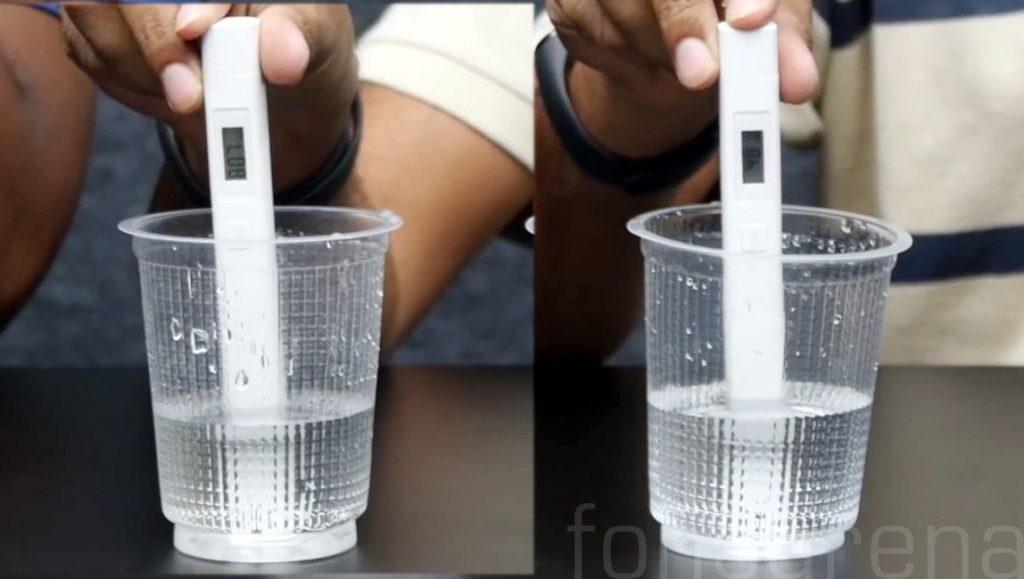 The other day, using the TDS tester we got 94% TDS reduction from 807 to 48, which is impressive. This might vary depending on the TDS in the input water. This can manage TDS of up to 2000 mg/L without any issues, according to Xiaomi, but it is advised to use the pre-filter to enhance the life of existing filters, especially if the TDS is more than 1000. This needs to be purchased separately for Rs. 599.
The app shows the filter status. The PPC filter will last up to 1 year or 10000 liters of tap water, RO filter will last up to 1 year or 3600 liters of pure water and the PAC filter will also last up to 1 year or 3600 liters of pure water. You can order the PPC, RO and PAC filters at Rs. 1299, Rs. 1799 and Rs. 899, respectively, so the total cost is Rs. 3997.
Xiaomi says that with the Mi Smart Water Purifier the ratio of pure water and wastewater is about 1:2 which means for every 1 liter of drinking water there will be 2 liters of waste water, which is common in RO purifiers. The wasted water can be used for watering the plants, wash vessels and other things.
Smart Connectivity
Thanks to smart connectivity with the Mi Home app on Android or iOS, you can view the amount of water purified every day along with TDS levels.
You also get software updates for the purifier. The app also offers filter installation tips, help option to know more about it and lots more.
Conclusion
Overall, the Mi Smart Water Purifier is another good Mi Ecosystem product from Xiaomi at a competitive price of Rs. 11,999. It offers five stages of filtration, real-time monitoring of TDS and filter life with the Mi Home app, and it is easy-to order and replace the filter yourself without any assistance, so maintenance is low. It is available from Flipkart, mi.com and Mi Home stores.