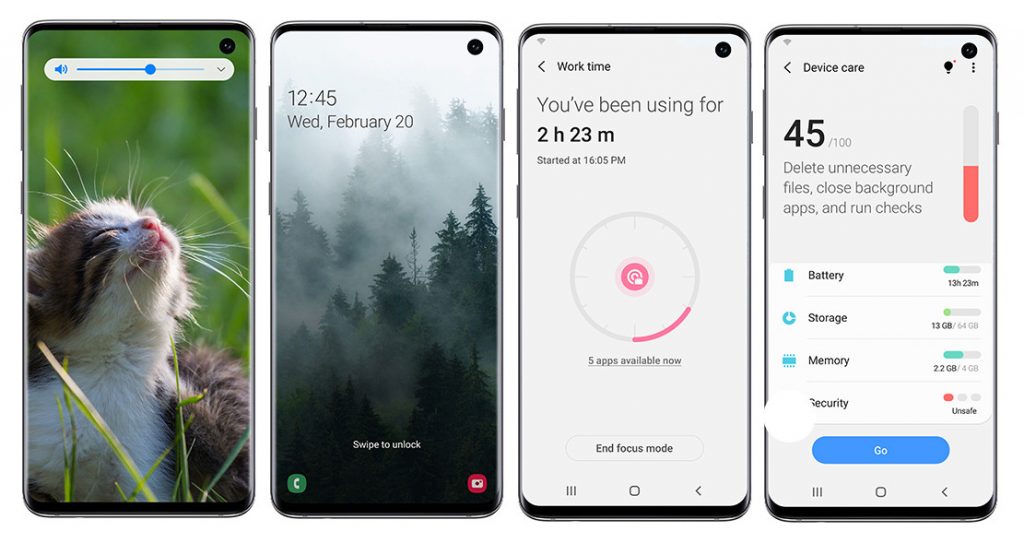 It has been over a month since Google rolled out stable Android 10 update for its Pixel phones. Samsung today announced new One UI 2.0, the next major One UI update for its smartphones, which is based on Android 10 for its flagship Galaxy S10 series.
New features in Android 10 One UI 2.0 update
Clean and easy-to-use interface with minimized pop-ups, embedded loading indicators and simplified button arrangements. Streamlined design where notifications take up less space
New, smarter layout for a visually comfortable experience. An enhanced Dark Mode intelligently adjusts the brightness of images, texts and colors on the display while reducing battery consumption.
Smart Lock screen automatically adjusts the color and format of the clock and notifications so that you can always see the text and icons clearly.
Focus Mode lets you pause apps temporarily for times when you need to minimize distractions and get in the zone. By tracking usage, managing screen time or enabling focus mode to minimize distractions, users can ensure they are being efficient.
Intuitive Device Care menu gives you quicker access to the essential functions. Some individual features are also enhanced to give you more control, such as keeping or deleting duplicate photos.
Samsung did not reveal the countries the Android 10 beta testing for Galaxy S10 series has started, but it has been already confirmed in Korea recently, and should start in US, UK, select countries in Europe soon. Samsung is also yet to officially confirm the list of devices that will get the Android 10 update.
How to join the  beta program? (Only available for S10 series in some countries)
Download the Samsung Members application from Galaxy Store or the Google Play Store.
After logging in, go to Notices and select "One UI Beta Program Registration" to submit an application.
Once signed up, go to Settings and then Software update to select the Download and install option. This will allow the software to update and load the beta version.
Check out the complete changelog for One UI 2.0 below.
What's new

One UI 2 upgrade with Android 10 brings exciting new features from Samsung and Google based on feedback from users like you. Some apps, including Calculator, Samsung Internet, Samsung Health and Samsung Notes, need to be updated individually after you update your OS.

Full screen gestures

Added new navigation gestures.

One-handed mode

New ways to access One-handed mode: double tap the Home button or swipe down in the centre of the bottom of the screen.
Settings moved to Settings > Advanced features > One-handed mode.

Media and devices

Replaced the SmartThings panel with Media and Devices.
Media: Control music and videos playing on your phone as well as other devices.
Devices: Check and control your SmartThings devices directly from the quick panel.

Biometrics

Enhanced security according to Android 10 policies.
You may need to enter your PIN, pattern, or password more often than before.
Improved usability on the Lock screen and for authenticating in apps.
Added options for showing the fingerprint icon when the screen is off.
You can choose to show it always, never, or only when Always On Display is shown.

Device care

The battery usage graph now provides more detailed information.
You can remove duplicate images from your phone to free up storage space.
Added battery limit setting and other enhancements for Wireless PowerShare.

Digital wellbeing

Set goals to keep your phone usage in check.
Use Focus mode to help avoid distractions from your phone.
Keep an eye on your kids' activity with new parental controls.

Internet

Customize the quick menu to get instant access to the features you use the most.
Get more information from the app bar.
Use Video assistant to enhance your experience with web videos.
Install add-ons from the Galaxy Store to get even more features.

Samsung Contacts

Added the Trash feature for Contacts.
Contacts that you delete will stay in Trash for 15 days before being deleted forever.

Calendar

Priority options are now provided for event alerts.
Stickers can be added to a date without creating an event.

Reminder

More options are available for repeating reminders.
Set location-based reminders for a specific period of time.
Share reminders with your family group and other sharing groups.
Set reminders for a specific date without an alert.

My Files

Created a Trash feature so you can restore ifles if you delete something by mistake.
Added more filters that you can use while searching to help you find things quickly.
You can now copy or move multiple files and folders to different destinations at the same time.

Calculator

Added speed and time units to the unit converter.

Connected car

Android Auto is now preloaded.

Tips

Added tips to help you get the most from your Galaxy.

NFC

Removed Android Beam feature.