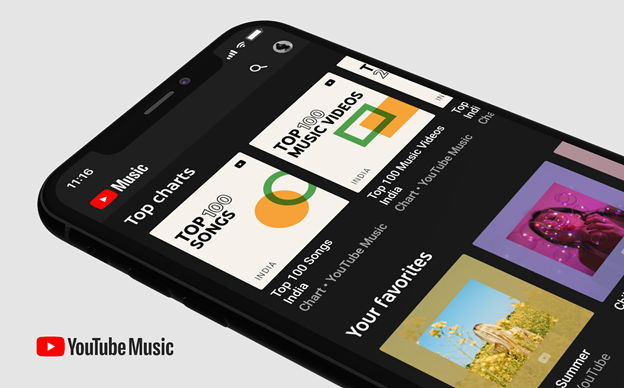 Earlier this year, Google launched YouTube Music streaming service in India and the company also introduced student plans for Youtube Premium and YouTube Music Premium later. Expanding its lineup, Google has now officially launched YouTube Charts in India and is now available in over 56 countries alongside the global chart.
YouTube Charts will include India-specific trending music lists, as well as Top Songs, Artists, and Music Videos, all at one place. YouTube Music Country Charts in the United Kingdom, Australia, New Zealand and Canada have many Indian artists including Guru Randhawa, Badshah, Arijit Singh and Neha Kakkar.
Here's what YouTube Charts will include:
Trending section: It is updated multiple times a day to provide a unique, real-time view of the new music that the users are enjoying and is based on the total organic views.
Top Songs: This section will display the most played songs on YouTube and highlights the number of organic views of a song on YouTube. It is calculated by combining all official versions of a song and the Top Songs chart is updated weekly on Monday at 12.30 AM.
Top Artists:  The Top Artists chart highlights the most popular artists on YouTube, based on the total organic views of their entire discography. The Top Artists chart is updated weekly on Monday at 12:30 AM.
Top Music Videos:  This section is about the music video experience on YouTube, highlighting the most viewed official music videos on the platform and the Top Videos is updated weekly on Monday at 12:30 AM.
YouTube Charts are also available within YouTube Music, including Top 100 most played songs and Top 100 music videos globally and locally and Top 30 Trending chart. Users can access YouTube Charts on YouTube.com/charts.
Commenting on the launch, Lyor Cohen, Global Head of Music at YouTube, said:
I'm convinced we're in the golden age of music in India. It's stunning to watch Indian artists flex their creative muscle around the world, constantly taking top spots in our global music charts. We want to do even more for the music industry here. We've heard loud and clear from Indian artists, labels, and fans that they want a single source of truth to see what's hot and popular in the world of music. I'm incredibly excited to bring YouTube charts to India. This will reflect the vital, breathing pulse of music that India loves and artists that India adores — all in one place, only on YouTube.
Pawan Agarwal, Head of Music Partnerships, YouTube & Google Play, India and South Asia at YouTube said:
Indian artists have truly gone global. Week to week in 2019, on average 20% of the entries on the Global Top Songs chart have featured Indian artists. Their popularity outside India, is  a testimony of YouTube's massive global reach, and the opportunities it offers to artists.  We are very excited to bring YouTube Charts to India, as it is not only a reflection of the success achieved by artists, but also a way for new talent to be discovered.