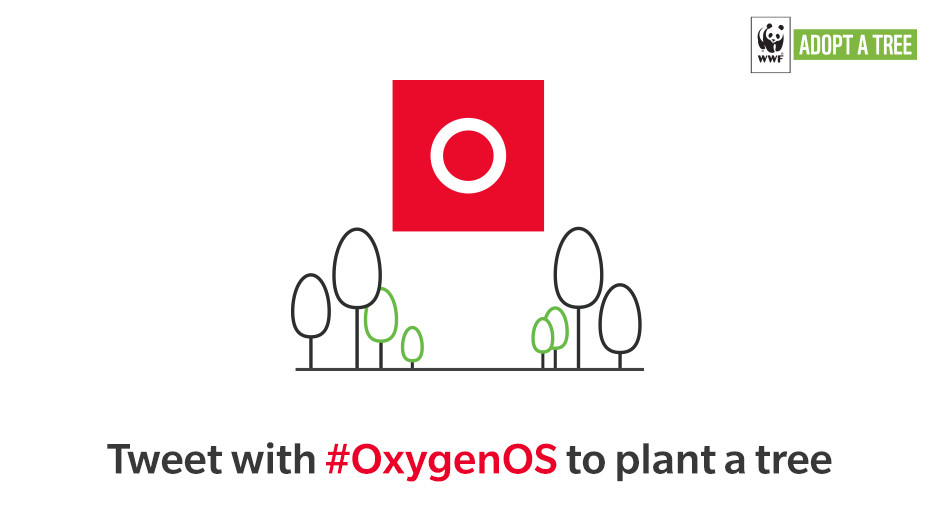 Yesterday OnePlus announced tree plantation drive to commemorate 1500 days of OxygenOS, in partnership with WWF India (World Wide Fund for Nature) for their Adopt A Tree campaign. It said that for every tweet with #OxygenOS, OnePlus and WWF India will plant trees. Today the company has announced that over the course of 24 hours, the campaign received over 27,332 tweets globally out of which 12,376 were tweets from India alone, for which an equivalent number of trees will be planted in association with WWF India. You can click here to Tweet and plant a tree.
Here's celebrating what breathes life in this world & into our products🌱

Join us as we team up with @wwfindia to celebrate 1500 days of #OxygenOS by planting a tree for every tweet.

Tweet with #OxygenOS to plant a tree.

— OnePlus India (@OnePlus_IN) September 12, 2019
On the occasion of completing 1500 days of OxygenOS, the brand has taken its initial step towards this mission, with the help of the OnePlus community worldwide. As a part of this partnership, One Plus India and WWF India will also engage in a broader environmental stewardship programme which will address the key issues of sustainable e-waste disposal, water stewardship to help minimise negative impacts on the environment.
Based on feedback from users, OnePlus has worked on OxygenOS over the past 5 years, to bring together a clean, minimalistic design with customized features and a smooth user experience. Some unique OxygenOS features include 'Zen Mode', a smart feature for users to take a 20-minute break from their smartphone, 'Work-Life Balance', Reading Mode and Gaming Mode. The upcoming OxygenOS 10 is expected to be based on Android 10 and bring new features.
Speaking on this initiative, Vikas Agarwal, General Manager of OnePlus India, said:
Oxygen is crucial for every living being and over the last decades, oxygen has come under threat with numerous trees being felled, forest fires and misuse by mankind. Since our own OxygenOS has completed 1500 days, we wanted to give back to our community and mother nature significantly, and hence partnership with WWF India for this initiative. I am thrilled that users participated over the last 24 hours with the #OxygenOS so we can plant as many trees as possible.