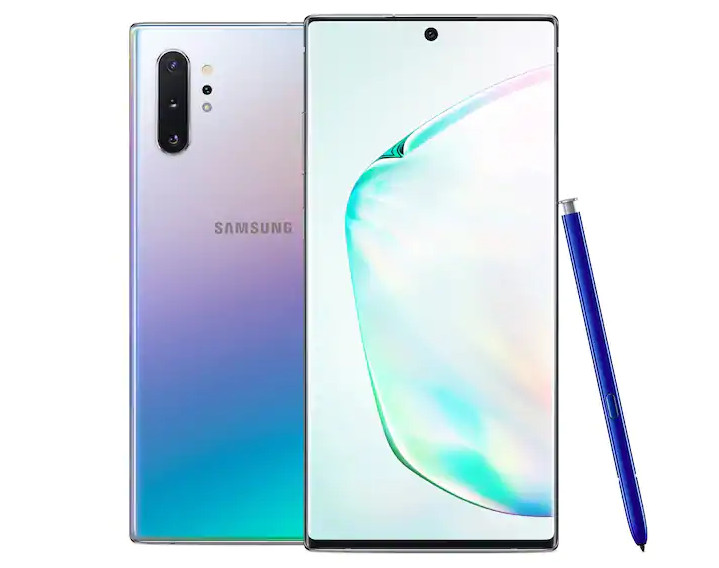 Samsung introduced its flagship Galaxy Note 10 series last week. Now the DisplayMate Technologies which is known for their accurate and in-depth evaluation of smartphone displays has completed its comprehensive evaluation of the Galaxy Note10+'s Dynamic AMOLED Display, and according to them, the Galaxy Note10+ has a very impressive Top Tier Smartphone Display with close to Text Book Perfect Calibration Accuracy and Performance that is Visually Indistinguishable From Perfect.
Based on our extensive Lab Tests and Measurements the Galaxy Note10+ has received a DisplayMate Best Smartphone Display Award earning DisplayMate's highest ever Display Performance Grade of A+ and setting or matching over 13 Smartphone Display Performance Records.
The Galaxy Note10+ packs a 6.8-inch Quad HD+ (3040 × 1440 pixels) Curved Dynamic AMOLED Infinity-O display with 498ppi, and it has matched or set records for some important measurements, including screen reflectance, absolute color accuracy, peak brightness, native color gamut, contrast ratio and screen resolution.
It has Record Peak Brightness of 1,308 nits, a 25% Brightness increase in the High Brightness Mode over the Galaxy Note9, providing much higher screen visibility and readability in High Ambient Light.
The 778 nits is for the Natural Mode with an All White Full Screen 100% Average Picture Level APL image, which is the most challenging image for an OLED display because all the pixels are at full power. This is 10% Brighter than on the Galaxy Note9, and a Contrast Rating for High Ambient Light that is also 12% higher than on the Galaxy Note9. For the Vivid Mode it is 793 nits and 12% Brighter than the Galaxy Note9. These are Record Setting Brightness for OLED displays with 100% Average Picture Level APL images.
Samsung Galaxy Note10+ 5G  tops DxOMark's Selfie Camera, Rear Cameras and Video Rankings
DxOMark has rated the Note10+ 5G camera as the best on a smartphone and rated it a whopping 113 points. HUAWEI P30 Pro was the previous best with 112 tied up with Samsung Galaxy S10 5G. It has also rated the phone as the best selfie camera on a smartphone with 99 points, beating the ASUS Zenfone 6 that has 98 points.
DxOMark says that the Note10+ 5G packs a camera setup with hardware advancements such as a new chipset and a wider aperture on the tele-camera, improved algorithms and fine-tuning that has further improved on the excellent performance of previous high-end Samsung devices. It's a solid all-rounder, with excellent still image and video quality in most lighting conditions. The Note 10+ 5G's combination of excellent exposure, color, detail and bokeh for stills, together with excellent all round video places it on the top spot, it added.
Regarding the front camera it said that in photo mode, exposure and color rendering are very good in most situations, and a wide focus range ensures that subjects are in focus at any shooting distance, bokeh mode has some limitations but is still capable of producing pleasant and fairly natural-looking results, autofocus and stabilization systems work very accurately and efficiently as well, and overall the Samsung Galaxy Note 10+ 5G is easily recommended to any selfie photo or video shooter.