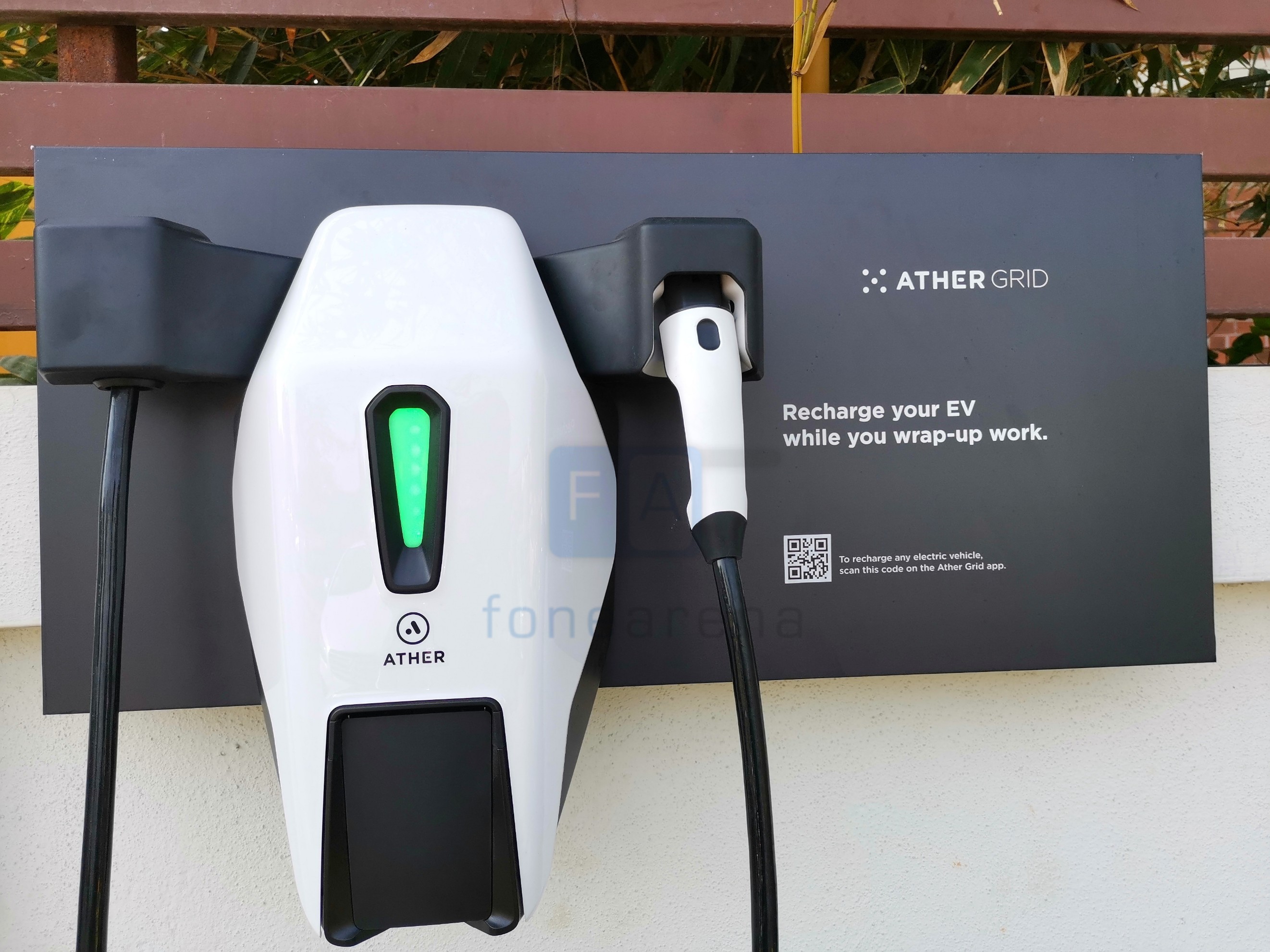 Ather Energy introduced its range of 'Made in India' electric scooters last year in India. The company debuted its launch in Bengaluru and promised to expand to many cities gradually. As promised, Ather Energy has started its work to launch the electric scooters in Chennai and has begun installing Ather Grid charging points across the cities. We visited the locations where the fast charging points have been set up and here is the first look of Ather Grid in Chennai.
The company will be installing 50-55 Ather Grid points by the end of the year and the fast charging network can be used by all electric two-wheelers and four-wheelers. As a part of the launch offer, this facility is being offered free of charge until the end of the year. They have partnered with restaurants, cafes, shopping malls, tech parks, gyms, etc to install the charging points and according to the company, the charging points will be made available no more than the 4km driving distance from each other.
Ather Grid charging points locations in Chennai
As of writing this article, Ather Energy has set up 4 charging points across Chennai. Ather Grid is now live at Forum Vijaya Mall, AtWorks Guindy, Bikes & Burgers and CocoJaunt 172. The company will add 3 more this month, making it 7 in the city.
It plans on setting-up a network 50-55 charging points by the end of 2019 across Bengaluru and Chennai, and plans to expand the network and set-up charging points at 6500 EV charging Points in 30 cities by 2023.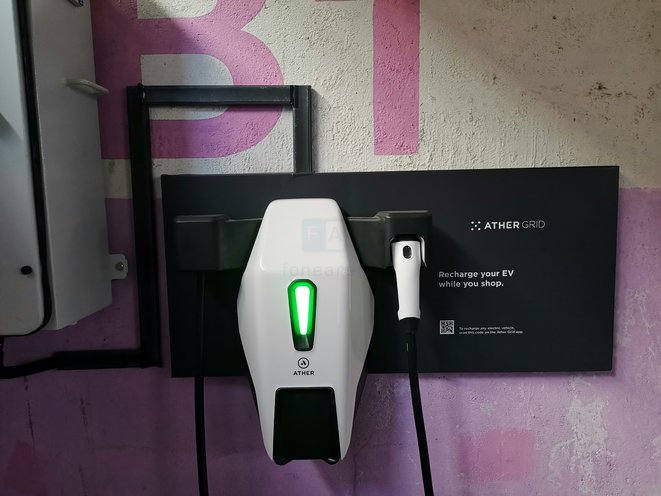 Regarding the Ather Grid, the company is using 3 types of charging point i.e., a wall mounted, floor mounted and one that is suited for cramped walls. The dimensions of the wall mounted point is 880 x 970 x 85 mm, floor mounted point is 1830 x 30 x 85 mm and point for cramped spaces is 600 x 970 x 85 mm. The distribution box from where the power is drawn has dimensions of 850 x 50 x 300 mm.
The charging point will consume 3kWH(maximum), per charging session when an Ather electric scooter is fast charged from 0 to 100%. The speed of charging depends on various factors and the company claims that Ather scooters can charge up to 80% in 1 hour.
Additionally, the charging point and the distribution box have IP54 and IP55 rating which means that it is protected from dust and water.
How to use Ather Grid charging point?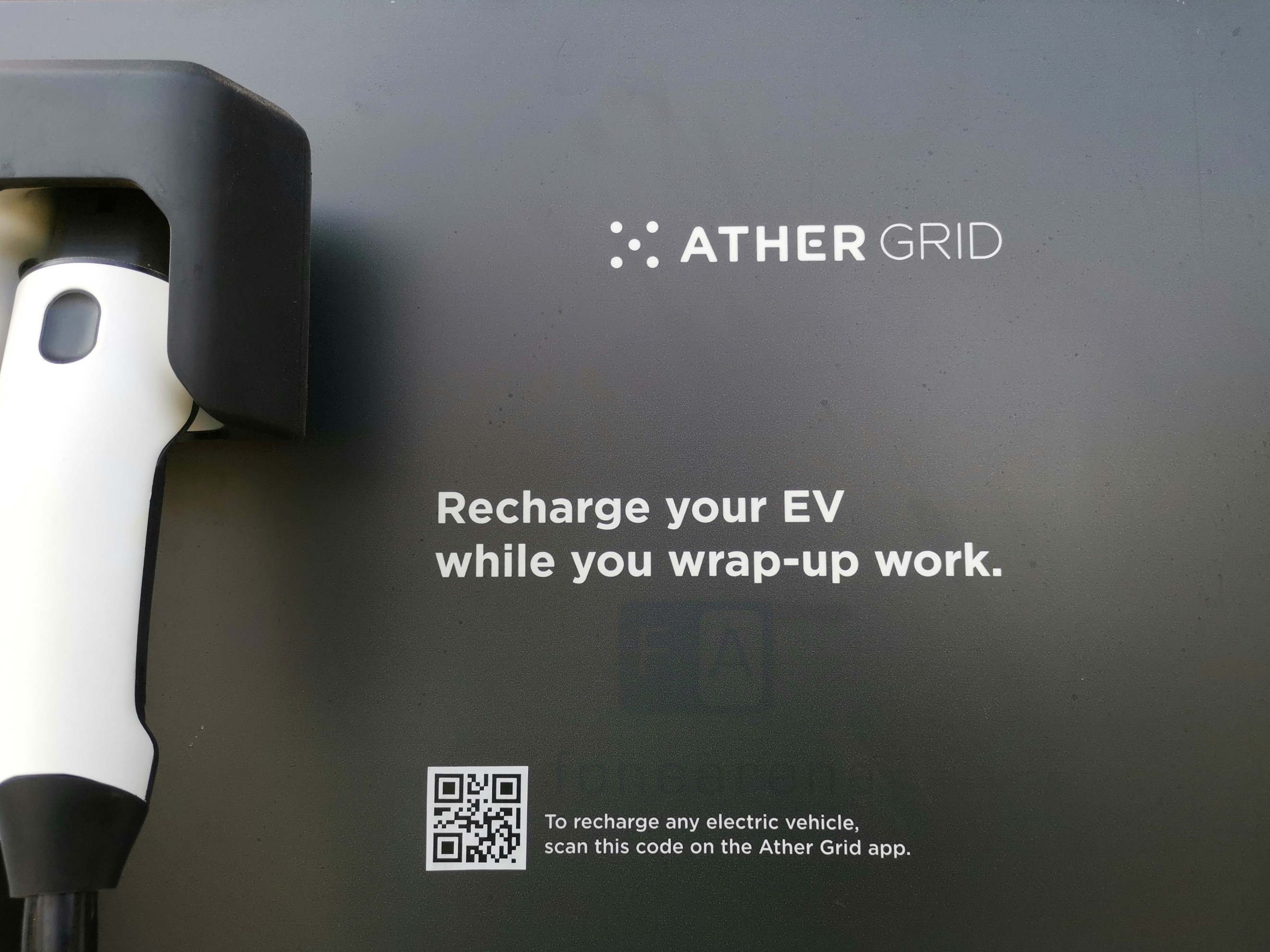 Download and install the Ather Grid app
Setup your vehicle and your personal information
Search for the nearest charging point on the map
Navigate to the location, Scan the code on the pod and select the charging time
Click on 'Start Charging' and monitor your charge from anywhere
When it comes to the electric scooter, the Ather 450 is designed for city riding conditions, comes with a top speed of 80 km/hr, a range of 75 km and one of the quickest accelerations of 3.9 seconds from 0-40 km/hr in the scooter category. The 340 has a top speed of 70 km/hr, a range of 60 km and acceleration of 5.1 seconds from 0-40 km/hr. It can fast charge to 80% at a rate of 1 km/minute.
The Ather 450 is priced at Rs. 1,23,230 on road and the Ather 340 is priced at Rs. 1,11,230 on road in Bengaluru. This is inclusive of FAME subsidy at Rs. 27,000 (up from ₹22,000 under FAME I), GST, road tax, smart card fee, registration card, and insurance. Pre-orders for Chennai will start in June.