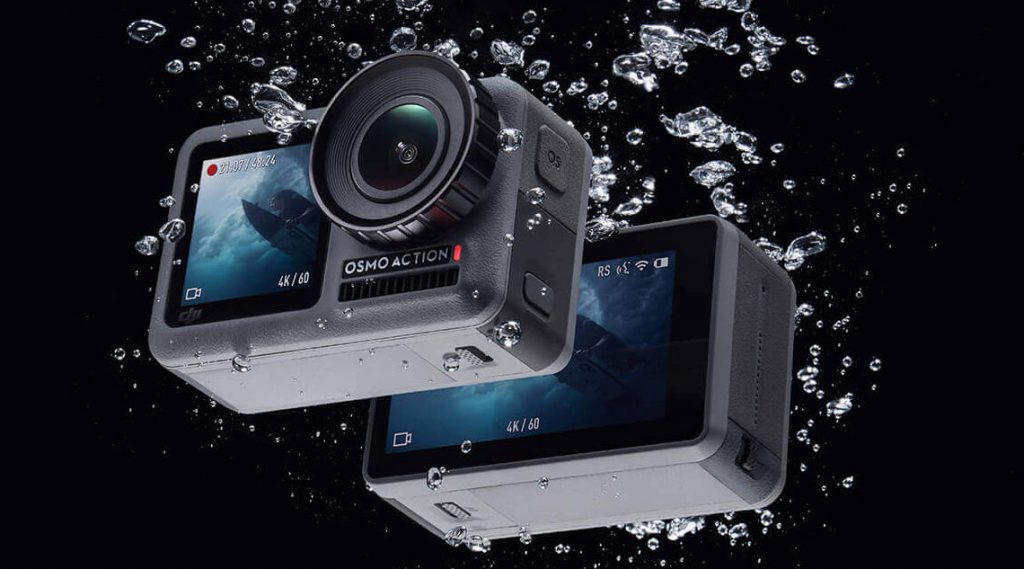 DJI announced the Osmo Pocket 3 handheld camera with 3 axis stabilization in November last year. Expanding the lineup, DJI has now introduced its new Osmo Action camera which comes with dual displays and new RockSteady Electronic Image Stabilisation.
DJI Osmo is a 4K action camera with dimensions of 65×42×35 mm and weighs 124 g. It sports dual color screens to the front and back with the front screen being 1.4 inches in size with a pixel density of 300 ppi. The rear screen is 2.25 inches in size with a resolution of 640×360 and a pixel density of 325 ppi. The displays have a brightness of 750 nits which should help the users to use this camera in harsh lighting conditions, including direct sunlight.
Regarding the optics on the DJI Osmo Action, it has a 1/2.3 inch 12MP CMOS
sensor and the lens has a 128 degree Field Of View(FOV) with an aperture of f/2.8. It can shoot in 4K at up to 60 frames per seconds, 1080p at up to 240 frames per second and 720p at up to 240 frames per seconds. It can also shoot HDR video in 4K up to 30 frames per second and Slow Motion in both 720p and 1080p up to 240 frames per second. The maximum video bitrate is 100Mbps on the Osmo Action.
DJI Osmo Action also features 'RockSteady' which is DJI's Electronic Image Stabilization (EIS) technology. The company says that the high-performance stabilization algorithms work in conjunction with EIS to record every movement in smooth, stable, high-quality video and this also works at 4K/60fps.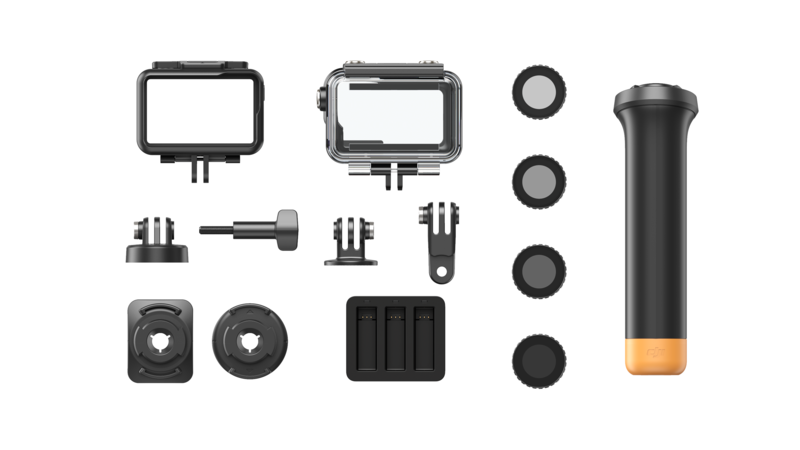 Apart from this, the Osmo Action comes with a 1300mAH LiPo battery, waterproof body and can be mounted on GoPro mounts.  Users can also use the DJI Mimo app to connect Osmo Action to their mobile device with WiFi or Bluetooth for added functionality. Optionally, users can also get accessories like camera frame kit, adhesive mounts, waterproof case, 3.5mm adapter, extension rod, floating handles, filters and charging hub for the Osmo Action.
Pricing and Availablity
DJI Osmo Action sells for US $349 (Rs. 24,500 approx.) and is available to buy now on DJI's store and will be available from authorized dealers from May 22.
Commenting on the launch, Roger Luo, DJI President, said:
DJI has always pushed the limits of technology, and the content creators who love our products made clear they wanted us to push the limits of their creative potential too. Osmo Action is our cutting-edge answer to what the creative community demands: Exceptional image quality and stabilization in a unique and durable new form factor, with dual color screens and seamless software integration. For all types of creators who push their gear to the limits, Osmo Action sets the new standard. Whether you are capturing aerial content with Mavic 2, incredibly smooth content with Osmo Pocket, or heart-racing footage with Osmo Action, DJI offers a full suite of products for your creative needs.