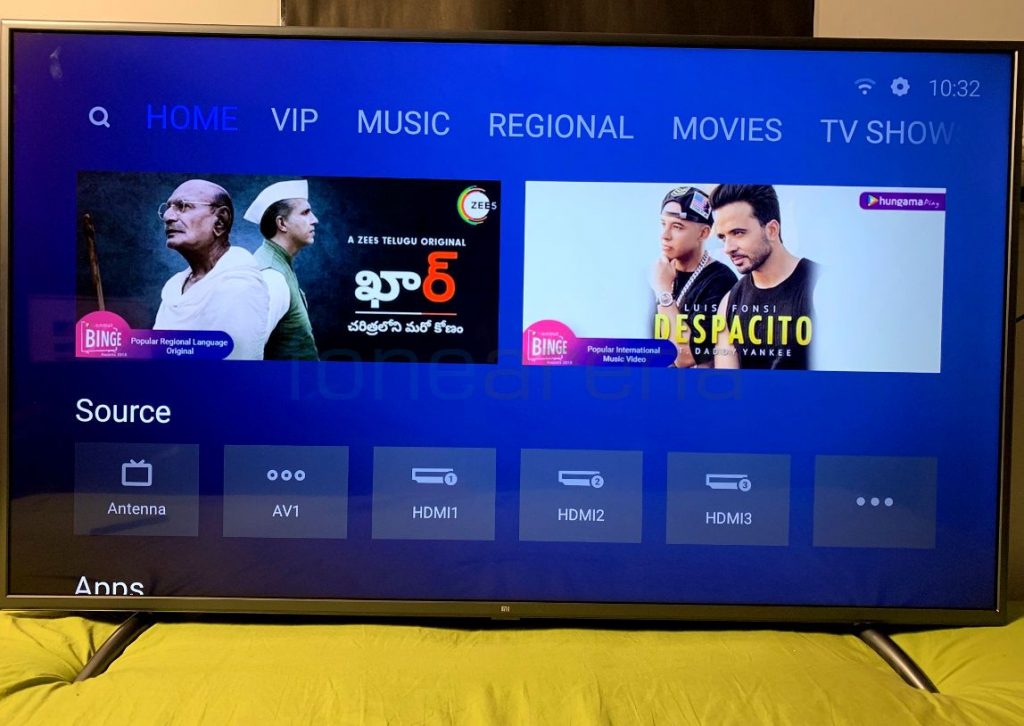 It's almost an year since Xiaomi launched its first set of Mi TVs in India and one can say they've had a good run, if not great. While there was only one 4K Mi TV at launch, the rest of 2018 saw Mi TVs hitting different price points with full HD and HD ready panels starting at a really low price of Rs. 14,999. This definitely helped push more sales but the flagship Mi TV, which launched at Rs. 39,999, a stunning price at that time, became Rs. 49,999 when it got upgraded to the Mi TV Pro. This kind of removed the advantage Xiaomi had over other brands, purely in terms of pricing and competitiveness.
Enter 2019, we have the Mi TV 4X Pro which aims to address this issue. Xiaomi has priced it at Rs. 39,999, which brings it back into the game. It's a flagship range 55 inch 4K panel with 10-bit HDR, the speakers have been upgraded to boast a 20W output with surround sound, runs Android TV with Xiaomi's intelligent Patchwall that enables stand out features like universal Google search for both online and satellite TV content, has chromecast built-in and well, as you would expect, it has all the features the recent batch of Mi TVs launched with. So, what's the catch?
Context
While I have briefly seen demos of the Mi TV in action, actual experience had evaded me until now. Honestly, I am a bit smitten by a large screen couch-potato experience again because it's been 2 years since I stopped watching television, meaning satellite TV content on a large screen. A 55-inch LG dumb TV sits unused at my home in Chennai and I didn't bother buying a Chromecast as I had a game console to play internet content. But then I stopped gaming as well, so the past couple of years, I have been exclusively consuming online content from YouTube/Netflix/Amazon Prime on my 24-inch desktop monitor.
With this background, I spent about 6 hours with the TV, exploring all the features like a kid, so here are the first impressions of Mi TV 4X Pro, my first smart TV experience.
The TV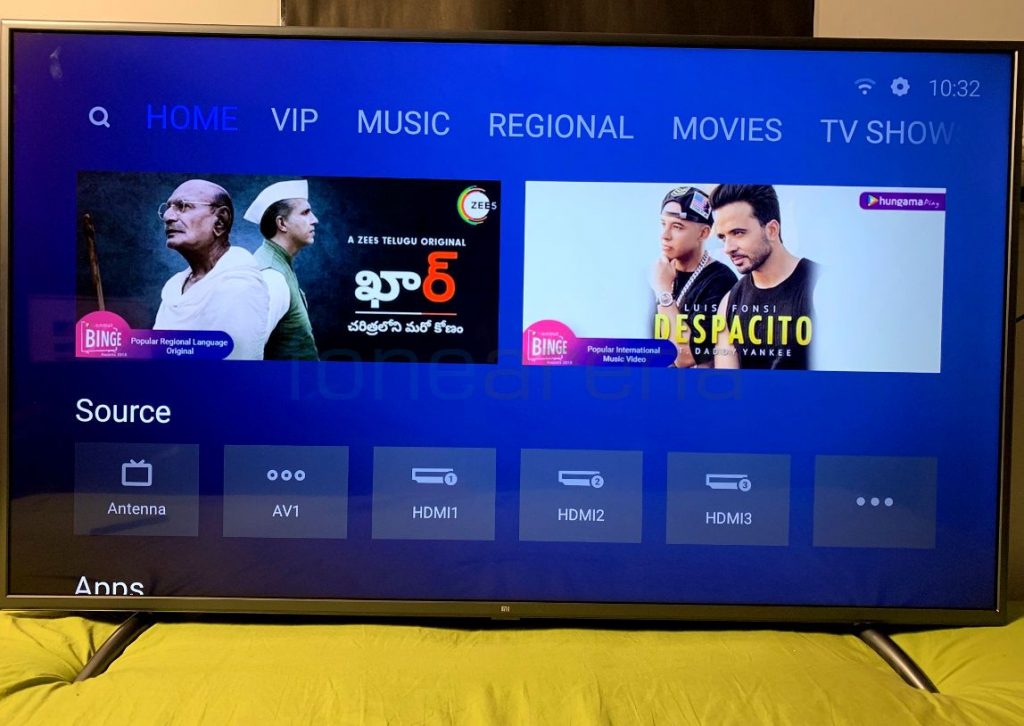 Setting the TV up is quite a task if you're doing it alone. Wall mounting is entirely the domain of a professional so don't even try, but you'll be able to do the stands that come with the box. Take the TV out, screw in the stands, and we're good to set it on any flat surface. Only thing left to do is plug it into the power socket and quickly go buy a pair of AAA batteries because they don't come with the box, true story. The batteries are for the Bluetooth remote which has a Google assistant button and a mic.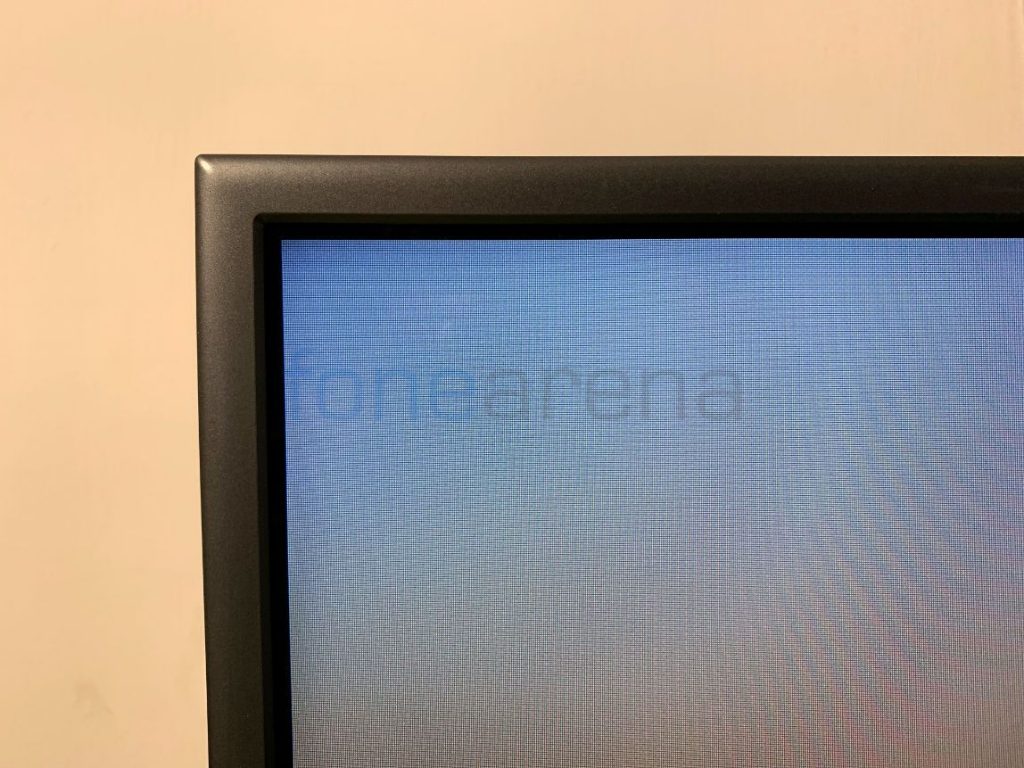 While I didn't notice immediately, the bezels do seem bigger than the Mi TV Pro. They're exactly like the 49″ 4A Pro, measuring 11mm in thickness. Honestly I don't mind the frame, but when I looked up videos of the almost frame-less 55-inch models, I could see how Xiaomi managed to bring the price down. The body, overall, is extremely similar to the 4A Pro in terms of layout, thickness and so on. I'm not a fan of the build quality of the stands, but they seem to work just fine even on an uneven soft surface.
These are the I/O ports you get – 3xHDMI, 2xUSB, 1xSPDIF, 1xLAN.
The Picture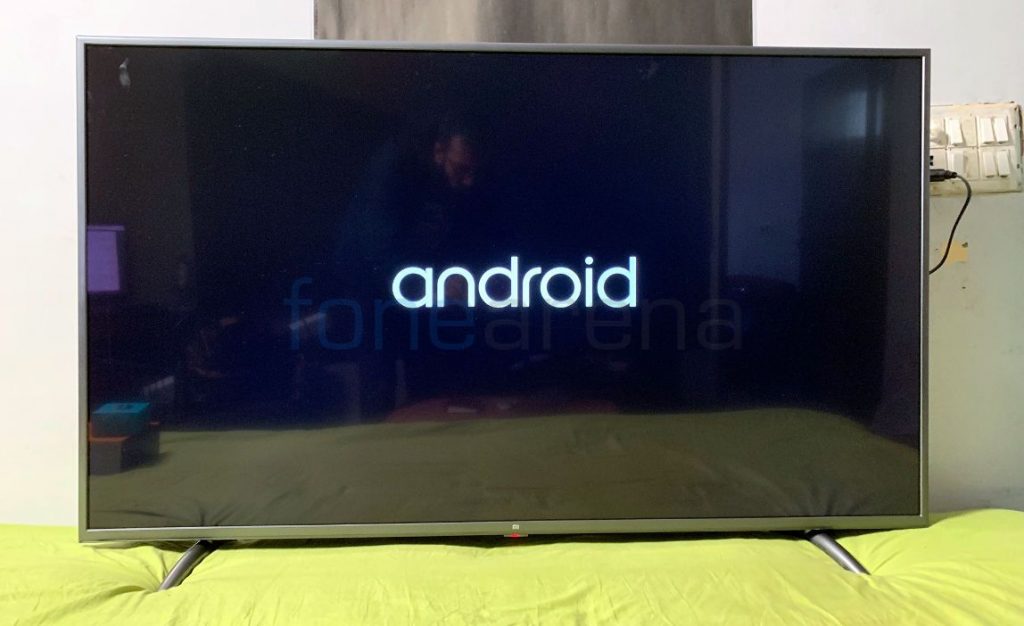 The panel is a 4K UHD 3840×2160 LCD with LED backlighting. On the box, it says that the TV is manufactured by TCL, so I'm guessing Xiaomi routinely uses their panels, which is not surprising at all. TCL makes great panels and this one's no exception. Inky blacks, great dynamic range thanks to it being a 10-bit HDR panel and really accurate colors. I really liked the pictures coming out of the TV. Of course the colors don't pop like OLED panels but this is massively better than the TV at home. Think I'll have more to say about the picture quality once I spend more time with the TV.
The Sound
Correct me if I am wrong, but isn't this the first time Xiaomi is using 20W speakers on its TVs? Well, it is a much-needed upgrade I'd say. I've always found the in-built speakers to be super bad on most of the TVs, so this one was a pleasant surprise. Don't get me wrong, this is in no way a match for external speakers. There is not enough bass of course, not enough fidelity in the high frequencies, but I found it good enough for most of the low-quality content I consume on YouTube, where audio quality is rarely a concern. I'm assuming this will be good enough for satellite TV content as well.
The Content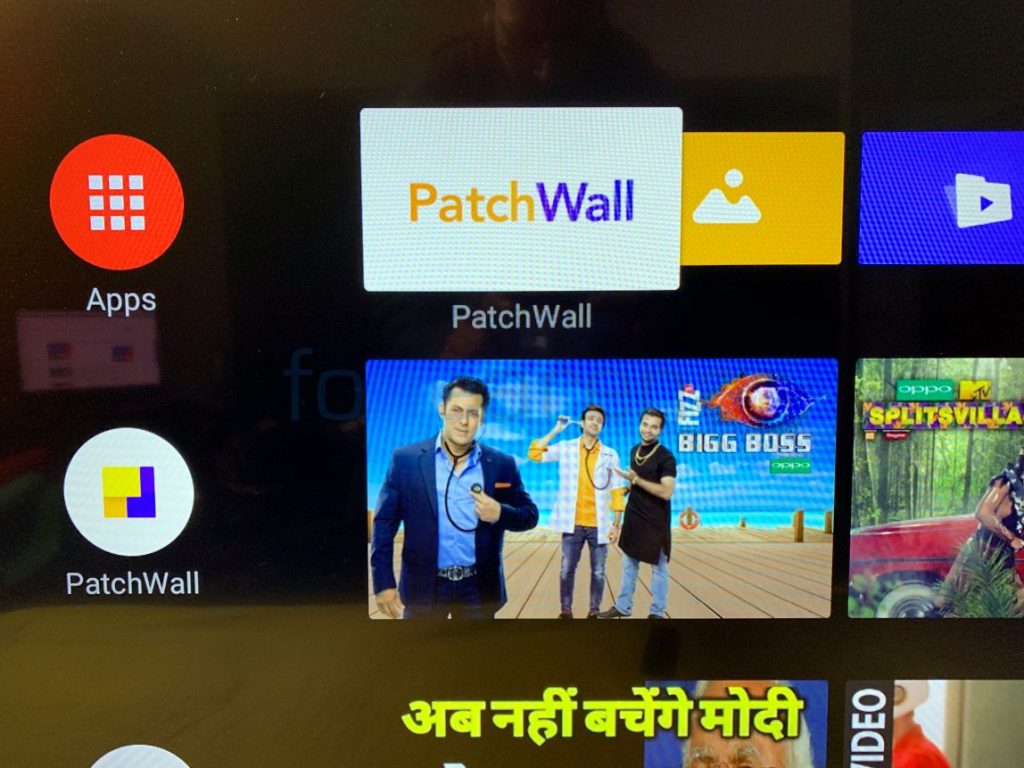 Running on Android TV, the lack of basic apps is no longer a problem. Google Play Music, Play Movies, Play Store for more apps and of course YouTube, they're all pre-installed. In fact, during the setup you're asked to install more apps. I ended up installing VLC and several other apps. Sure, Netflix or Amazon Prime is still missing from the Mi TV experience but it's only a matter of time and a software update. Side-loading of APKs is possible though.
Patchwall is easily the most interesting part of the Mi TV experience. Xiaomi has spent a lot of time tweaking it and it has nicely evolved to a point where it has become really smart. I had seen demos of universal voice search effortlessly going through STB content as well as online content. Well, I can say for sure it works great. Google Assistant is right now, the best at understanding all kinds of local slangs and languages, so I wouldn't expect less. Of course, you can ask it to perform various other tasks and derive information like weather and so on.
Patchwall is where you see various other services as well like Sun NXT, ALT Balaji, Hooq, Hungama, Zee5 and so on. All of this content is neatly arranged into various categories, making it very easy to navigate and when you feel like you want more, the list goes on and on, generating content based on your taste and watch history. I'm very keen to see how this experience evolves in the course of my review. I'll be getting a satellite connection to test Patchwall to make sure I can get the whole deal, if you have any specific requests let me know in the comments.  Sidenote, I was happy to see Chromecast built into the TV.
The Value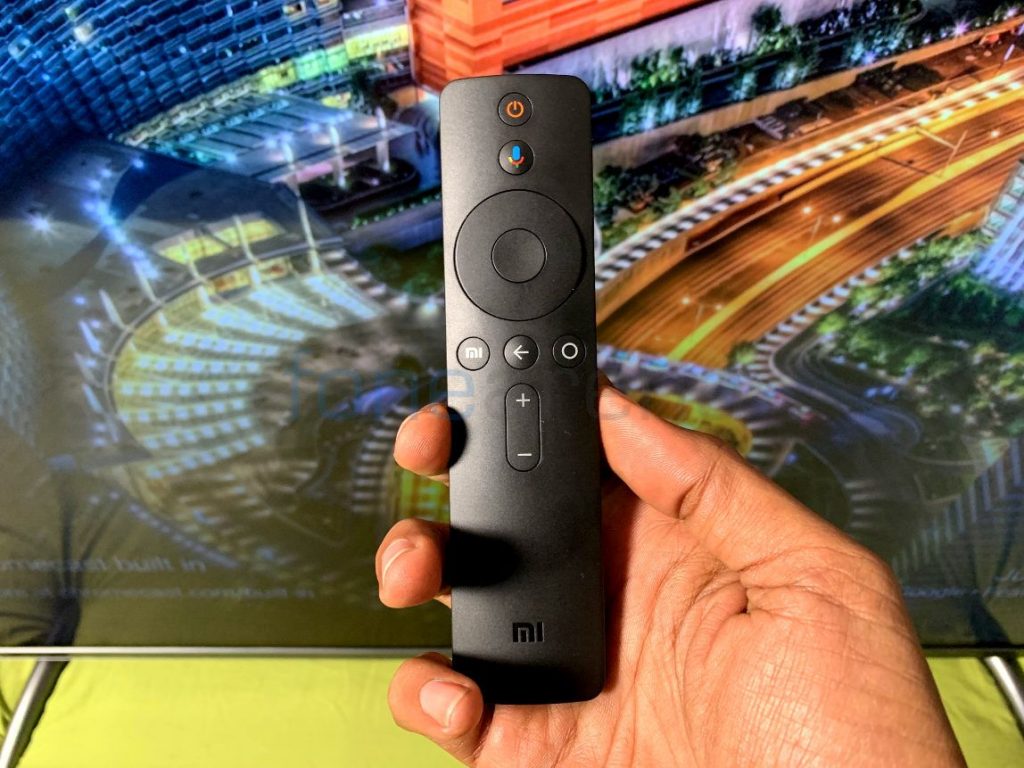 At Rs. 39,999, Xiaomi is getting back into the game in a big way. Sure, it loses some style, but the price tag makes the Mi TV 4X Pro more valuable than its predecessor. As far as first impressions go, I'm definitely stoked to test the TV out more and come to a verdict in the full review. Until then, if you have anything that you'd like me to test, let me know in the comments section below. It will be available via Mi.com, Flipkart and Mi Home stores starting 15th January 2019 at 12PM.