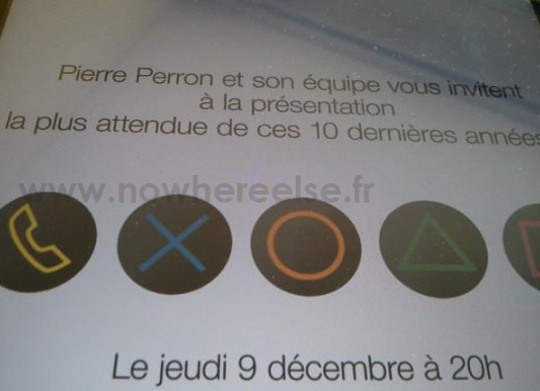 We had earlier brought to you the leaked pictures of the Sony Ericsson Playstation/PSP phone. The phone has been a topic of discussions and rumours for the past few years. The recent leak was the one which confirmed it's existence.
Now a leaked picture shows an invitation to a press event to be held in France on the 9th of December. The invitations says the even is going to be the best in the past 10 years.
Below the invitation lies a phone icon next to which lie the four iconic Playstation buttons- X,O, Triangle and Square.
The event will be hosted by Pieere Perron, the Director General of Sony Ericsson France.
The phone should be running the latest version of Google's Android OS- 2.3 Gingerbread. It has the following specifications:
1 GHz Qualcomm Processor
512 MB RAM, 1 GB ROM
Screen is at least 3.7″ ( We expect a big screen as it's ideal for gaming)
micro-SD Card Slot
Multi Touch Touchpad instead of the analog joysticks
Camera with LED Flash (We're guessing around 5MP)
via BGR