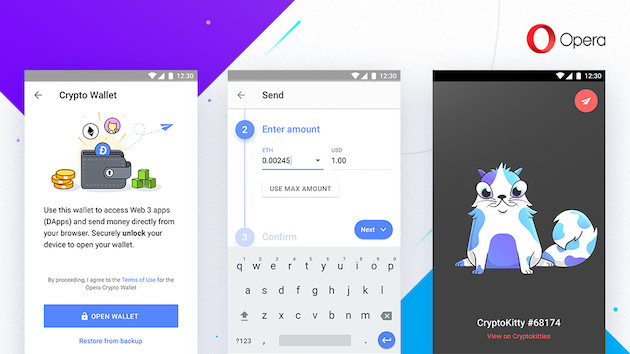 After introducing built-in Crypto Wallet for its Android app in beta back in July, Opera has announced the stable version making it the first Web 3-ready browser featuring crypto wallet integration and web of tomorrow (Web 3) support. Web 3 is an umbrella term for a set of emerging technologies intersecting cryptocurrencies, blockchains and distributed systems that, together, extend the capabilities of the web we all use today in important and meaningful ways.
Opera believes that the web of today will be the interface to the decentralized web of tomorrow (Web 3).  The browser now supports Ethereum, a popular and quickly growing protocol that allows people to make transactions and developers to create decentralized apps (Dapps), which provide practical use for this technology.
You can download Opera from the Play Store, however for Web 3 transactions, you need to purchase Ethereum cryptocurrency and store it in Opera Crypto Wallet. Once the cryptocurrency is stored, users can access a selection of Web 3 apps in the Dapp (decentralized application) store, accessible from within the browser's built-in Crypto Wallet. It is already testing Cryptocurrency Wallet on desktop in developer version and plans to also roll it out to PC browser (Windows, Mac, Linux) in 2019.