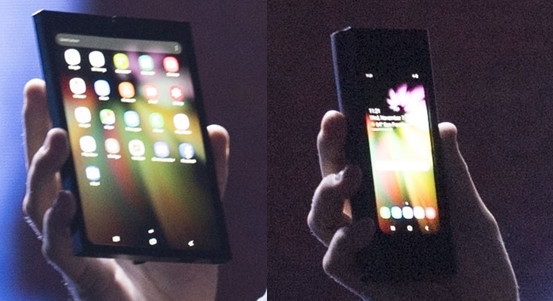 Samsung, as expected, has finally showcased its foldable display at its developer's conference in San Francisco. The company has provided the details like screen resolution that are needed for developing a foldable smartphone to developers. 

Samsung's foldable device sports a 7.3-inch display when it's open to offer a tablet-like viewing experience and when folded, it sports a 4.6-inch display on the outside. The outer 4.6-inch display packs a 21:9 aspect ratio, 840 x 1960 resolution, 420 PPI, and the 7.3-inch display come with 1536 x 2152 pixels and the same pixel density.
Google already announced support for flexible displays, so apps will use the outer display will expand to occupy the 7.3-inch main display when the device is unfolded, and users will also have the option to use three apps in tablet mode.
"Since glass is not pliable, we developed a new maerial for the cover window that's flexible and durable. And to ensure the reliability of the display, we found a unique adhesive that enhances the display's elasticity and keeps its strength even when ifs folded and unfolded over and over again," said Samsung.
However, Samsung isn't revealing the entire spec sheet of the foldable tech. The company didn't showcase the device fully just yet. Since the launch date isn't finalized, there's a good chance that spec sheet might change fully.