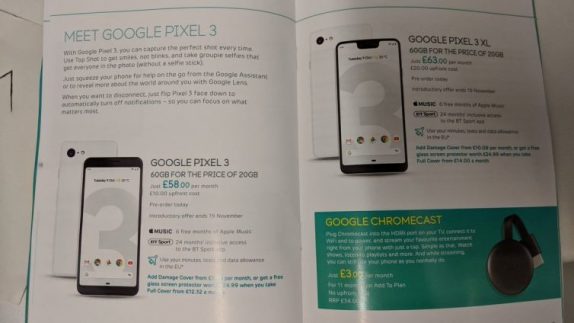 Google Pixel 3 event will take place in three days, but we already know most of the details about the flagships that is there to know. The non-stop leaks about the Pixel 3 continues to flow as a new carrier ad from a retailer's magazine leaks the Pixel 3 "Top Shot" camera feature, as well as hinting at a Google Home Hub launch date.
For one, the UK magazine ad once again shows off the Pixel 3 and the Pixel 3 XL with its notch display in white color. The listing also has pricing for them in the UK. The smaller Pixel 3 is listed at £58/month and the Pixel 3 XL having a higher £63/month price through EE. Moving along, the listing also highlights the camera feature of the Pixel 3 dubbed 'Top Shot' which will enable the phone to "capture the perfect shot every time."
The ad also mentions "groupie selfies," which might be referring to the wide-angle camera sensor on the front of each Pixel 3 device. Another detail gathered here is that Google is clearly going to be using Digital Wellbeing as a selling point on these devices, and also mentions that flipping the phone face down to activate Do Not Disturb mode. Finally, the ad also hints at Google Home Hub and If true, the Home Hub will be launching on October 22nd. Another notable inclusion is the refreshed Chromecast which is rumored to launch alongside Pixel 3.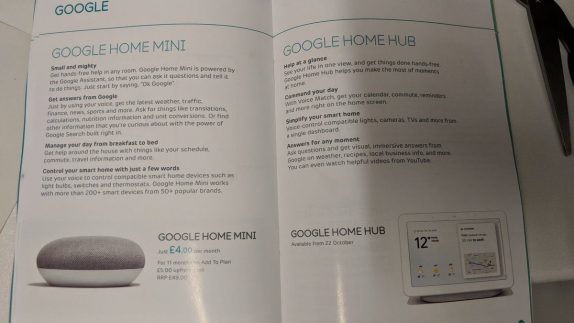 On another note, a Hong Kong-based site has already put up a complete review of the Pixel 3 giving a closer at the features, retail packaging, accessories; a charger, USB-A adapter, headphone adapter, and USB-C earbuds and everything except for the pricing.
According to the review, the 6.3-inch OLED is apparently "good," it also includes few low-light camera images compared with the iPhone XS Max. The reviewer goes on to say that the Pixel's images are apparently close to real life with even exposure and low noise. Either way, let's wait and see what Google has to say about the Pixel 3 and other products on October 9th.