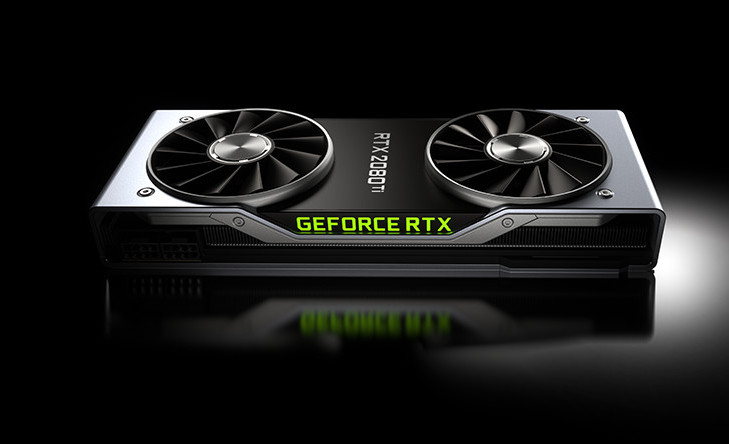 NVIDIA at the Gamescom introduced new GeForce RTX series GPUs – GeForce RTX 2080 Ti, 2080 and 2070 based on the new NVIDIA Turing architecture and the NVIDIA RTX platform with next-generation shaders with real-time ray tracing and all-new AI capabilities.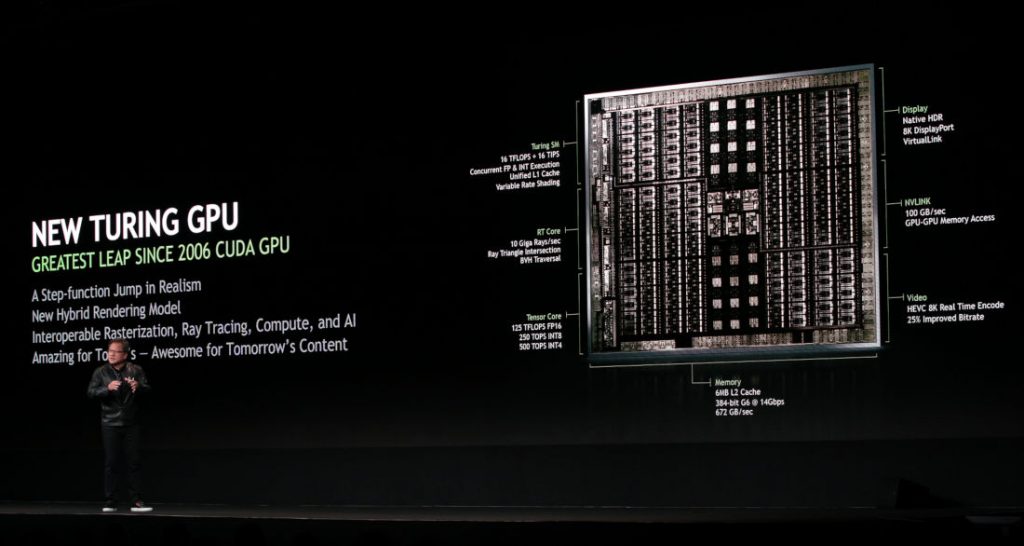 The Turing architecture promises 6x more performance than its predecessor, Pascal with new features and technologies for 4K HDR gaming at 60 frames per second.
New RT Cores to enable real-time ray tracing of objects and environments with physically accurate shadows, reflections, refractions and global illumination.
Turing Tensor Cores to perform lightning-fast deep neural network processing.
New NGX neural graphics framework integrates AI into the overall graphics pipeline, enabling AI algorithms to perform amazing image enhancement and generation.
New Turing shader architecture with Variable Rate Shading allows shaders to focus processing power on areas of rich detail, boosting overall performance.
New memory system featuring ultra-fast GDDR6 with over 600GB/s of memory bandwidth for high-speed, high-resolution gaming.
NVIDIA NVLink, a high-speed interconnect that provides higher bandwidth (up to 100 GB/s) and improved scalability for multi-GPU configurations (SLI).
Hardware support for USB Type-C and VirtualLink, a new open industry standard being developed to meet the power, display and bandwidth demands of next-generation VR headsets through a single USB-C connector.
New and enhanced technologies to improve performance of VR applications, including Variable Rate Shading, Multi-View Rendering and VRWorks Audio.
The Special Founders Edition versions of the new GeForce RTX GPUs are built to the company's high standards, the GPUs' key features include:
Factory-overclocked design out of the box, with a next-gen 13-phase iMON DrMOS power supply and sub-millisecond power management for maximum overclocking.
Dual 13-blade axial fans produce 3x higher airflow and ultra-quiet acoustics.
Forged and machine-finished diecast aluminum cover with diamond-cut edge detailing provides a rigid, lightweight frame for an open design with beautifully smooth, continuous curves.
First full-card vapor chamber, which is 2x larger to maximize heat spreading and heat transfer to the finstack.
Enhanced DisplayPort 1.4a with DSC allows a single connector to drive an 8K monitor at 60Hz.
The NVIDIA RTX platform will offer real-time ray tracing and the power of AI to gamers. About 21 new games —including Battlefield V, Shadow of the Tomb Raider, Metro Exodus, Control, and Assetto Corsa Competizione are being developed on the NVIDIA RTX platform. Developers include EA, Square Enix, EPIC Games, and more.
The GeForce RTX 2080 Ti and GeForce RTX 2080 are available for pre-order on nvidia.com and at over 100 participating partners with availability starting on September 20. The GeForce RTX 2070 will be available in October worldwide, across 238 countries and territories. They will be sold by partners including ASUS, Colorful, EVGA, Gainward, Galaxy, Gigabyte, Innovision 3D, MSI, Palit, PNY and Zotac.
 

GeForce RTX 2080 Ti
Founders Edition
GeForce RTX 2080 Ti
GeForce RTX 2080 Founders Edition
GeForce RTX 2080
GeForce RTX 2070 Founders Edition
GeForce RTX 2070
GPU Architecture
Turing
CUDA Cores
4352
2944
2304
Boost Clock
1635 MHz (OC)
1545 MHz
1800 MHz (OC)
1710 MHz
1710 MHz (OC)
1620 MHz
Base Clock (MHz)
1350
1515
1410
Frame Buffer
11GB GDDR6
8 GB GDDR6
Memory Speed
14 Gbps
Memory Interface Width
352-bit
256-bit
Memory Bandwidth (GB/sec)
616 GB/s
448 GB/s
Ray Tracing
10 GigaRays/sec
8 GigaRays/sec
6 GigaRays/sec
Performance
78T RTX-OPS
60T RTX-OPS
45T RTX-OPS
Graphics Card Power (W)
260W
250W
225W
215W
185W
175W
Price (MSRP)
$1,199
$999
$999
$699
$599
$499