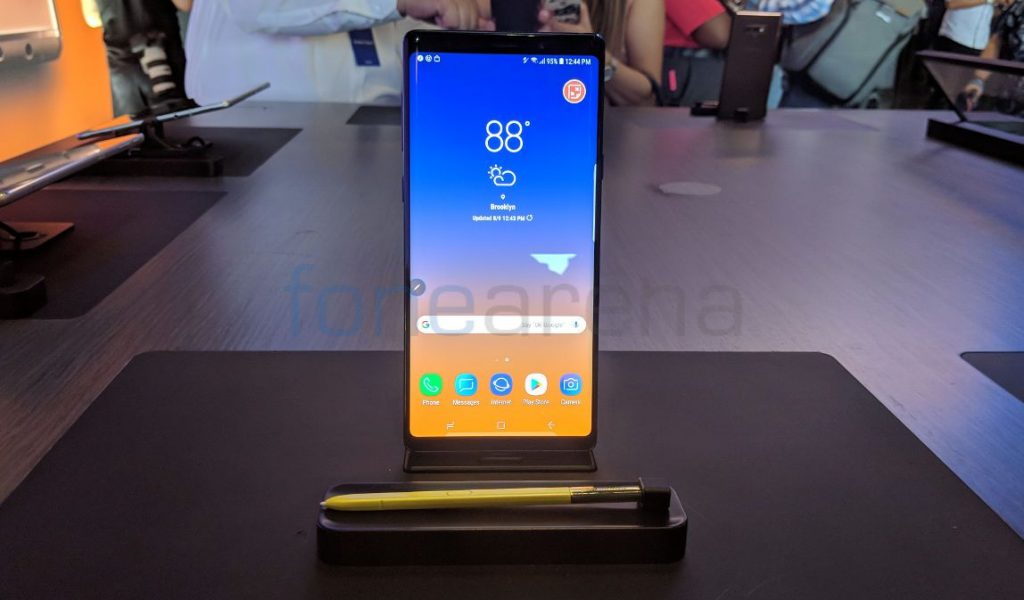 Samsung Unpacked 2018 is over and we have a bunch of new devices to talk about. Let's start with the Galaxy Note9. The largest and most expensive Android phone.
If you have spent any time with last years Note8, then you will feel right at home with the Note9. The biggest changes come under the hood and inside if that brand new S Pen. Let's go over the major specs first:
6.4-inch Quad HD+ Super AMOLED display
Exynos 9810 or Snapdragon 845 depending on the region
6GB or 8GB of RAM / 128GB or 512GB of storage, expandable with SD Card up to 512GB via Hybrid slot
Dual rear 12MP cameras with OIS, wide-angle F1.5/2.4 & telephoto F2.4
4000mAh Battery with adaptive fast charging and wireless charging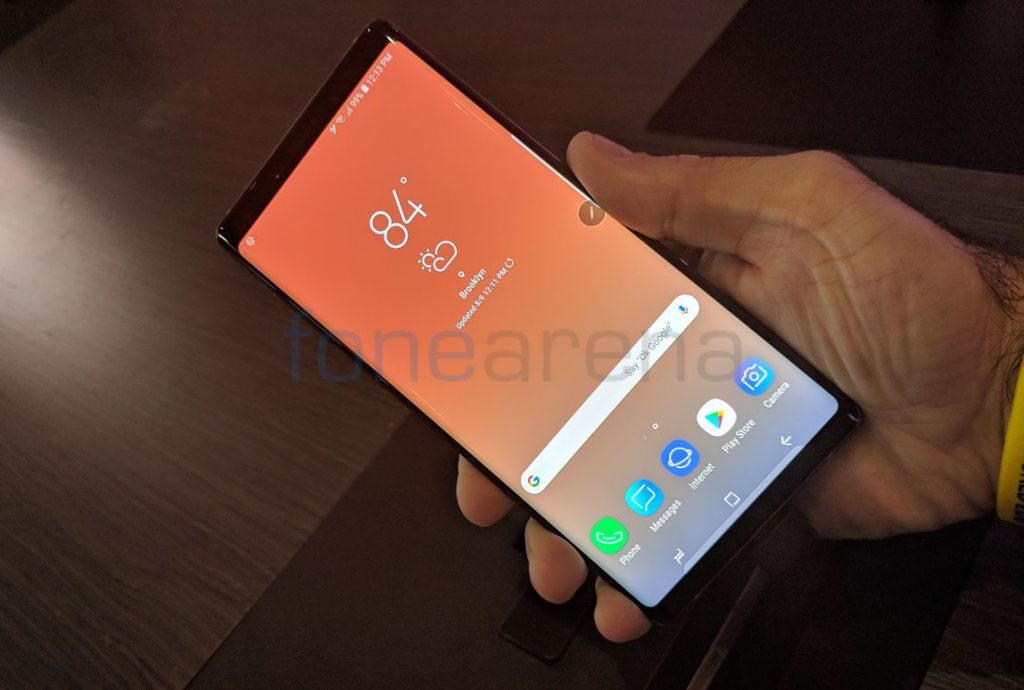 Getting it in hand you know right away it is a Note. A rectangular monolith of glass and metal, it feels super premium in hand. The edges are a bit uncomfortable while holding it in one hand but they allow the huge 6.4″ screen to live in a body about the same size as last years Note 8.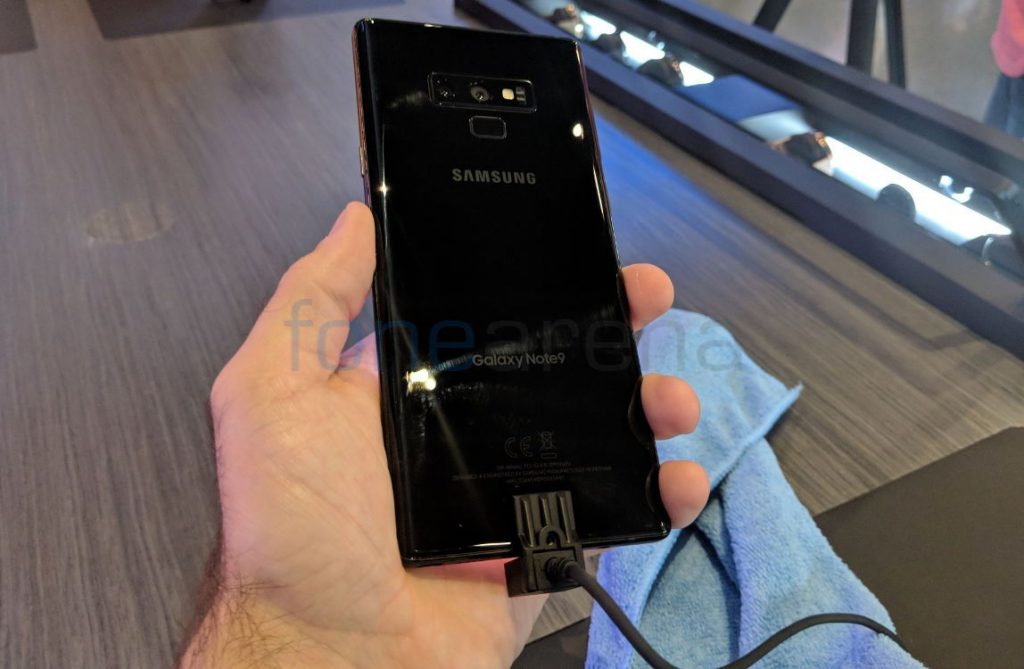 Fingerprint placement is greatly improved and even my smallish hands had no problem finding it.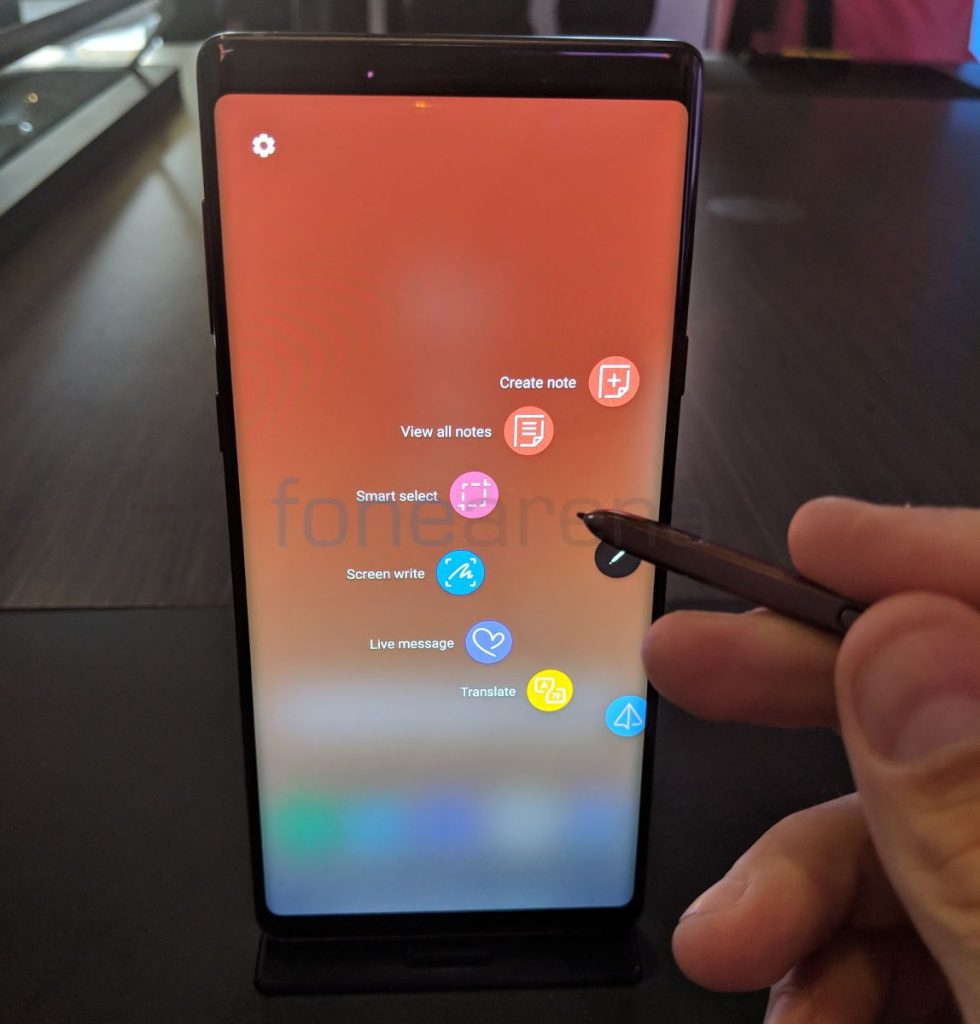 The biggest change has to be the addition of Bluetooth LE (Low Energy) to the S Pen. With it, you can do everything from controlling your camera to controlling a presentation (which they did on stage btw). I can see that coming real handy for creators and that is who I feel this phone is for, the creators.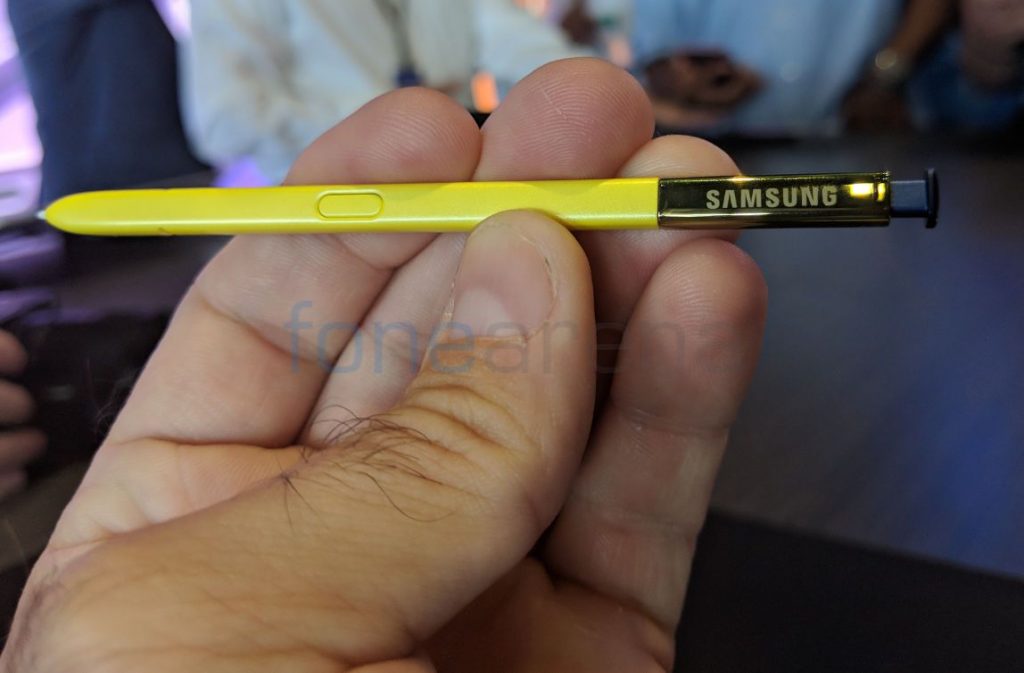 They had one Mr. Doodle on stage drawing with it and it seemed to work quite well. It has a tiny battery that charges when docked and only takes a minute. Even when dead all of the basic S Pen functions of work just fine.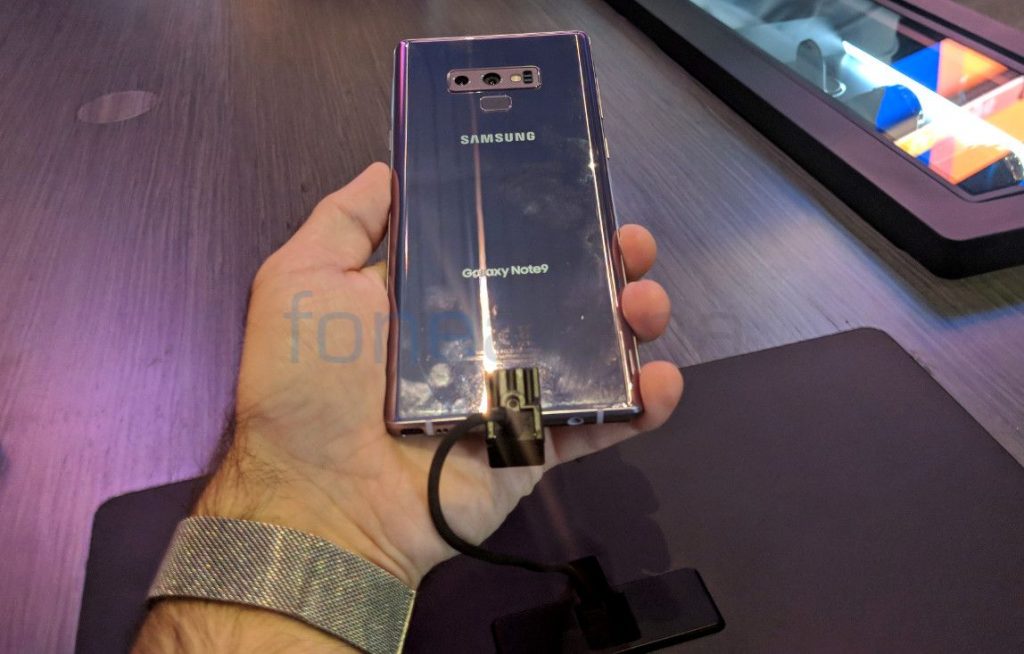 With a 4000mAh battery, it seems like ready to do battle in the office or on a Snapchat spree. It is a huge bump from the Note 8 which was 3300mAh. Who could blame them after the Note7.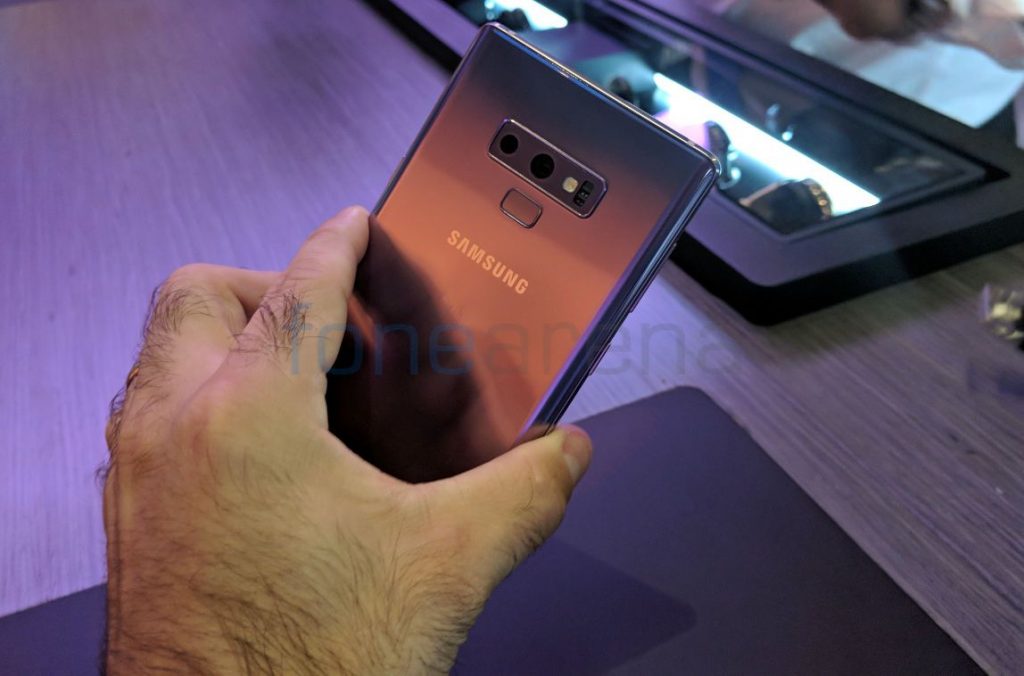 I played with the camera a bit and seems great from what they are showing, very similar to the S9+ but we will need a full review to know for sure. If you pair the 512GB storage option with an SD card of the same size, you get a full Terabyte of storage. You will never have to worry about not having your favorite songs or having to delete your favorite videos.
The Galaxy Watches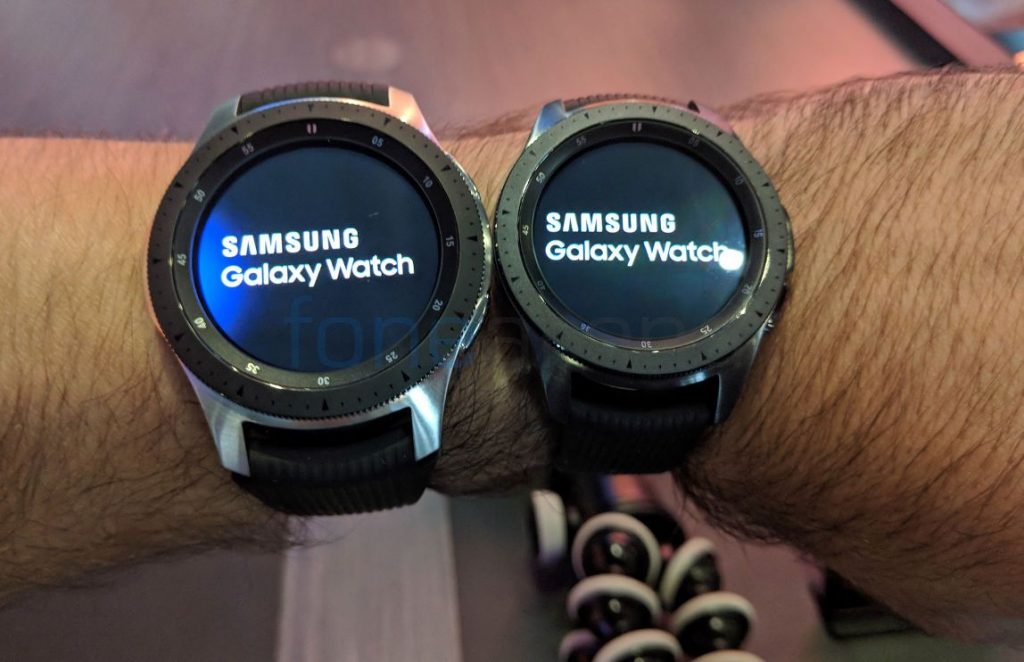 The new Galaxy Watch is quite similar to last years Gear S3 but comes in 2 sizes now, 42 and 46mm. Both will come in LTE or Bluetooth only models but with the 46mm having almost twice the battery life (472mAh vs 270mAh), that may be the one to go with.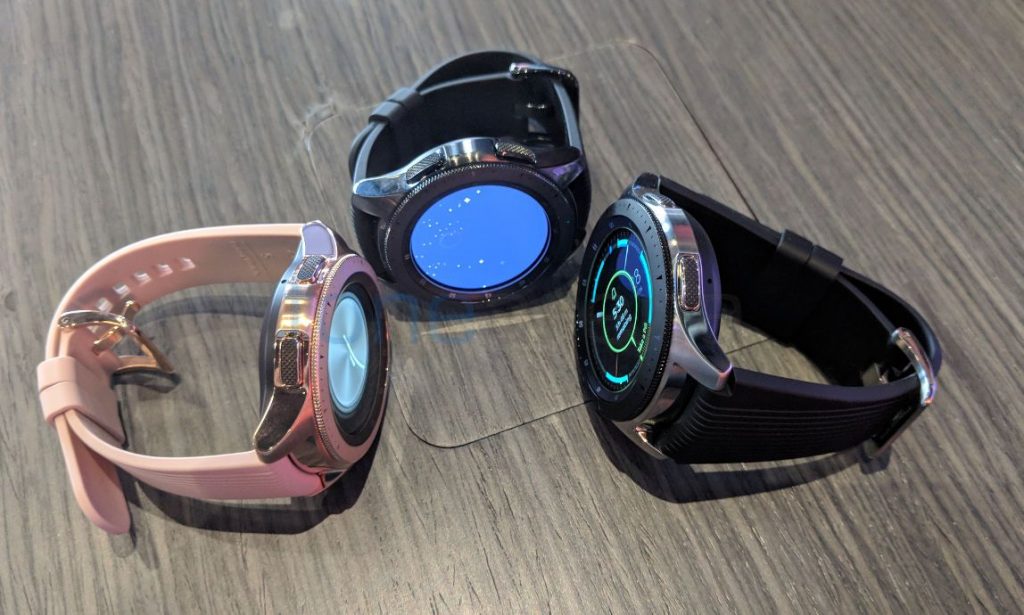 I will say both felt good on my wrist. They look and feel very premium, especially that rose gold variant. The rotating bezel is still very much my favorite way to navigate a smartwatch and felt great to use on these new watches. With so many colors, size and strap options, you would be hard pressed to find a Galaxy Watch you did not like.
Samsung Galaxy Home Bixby-powered smart Speaker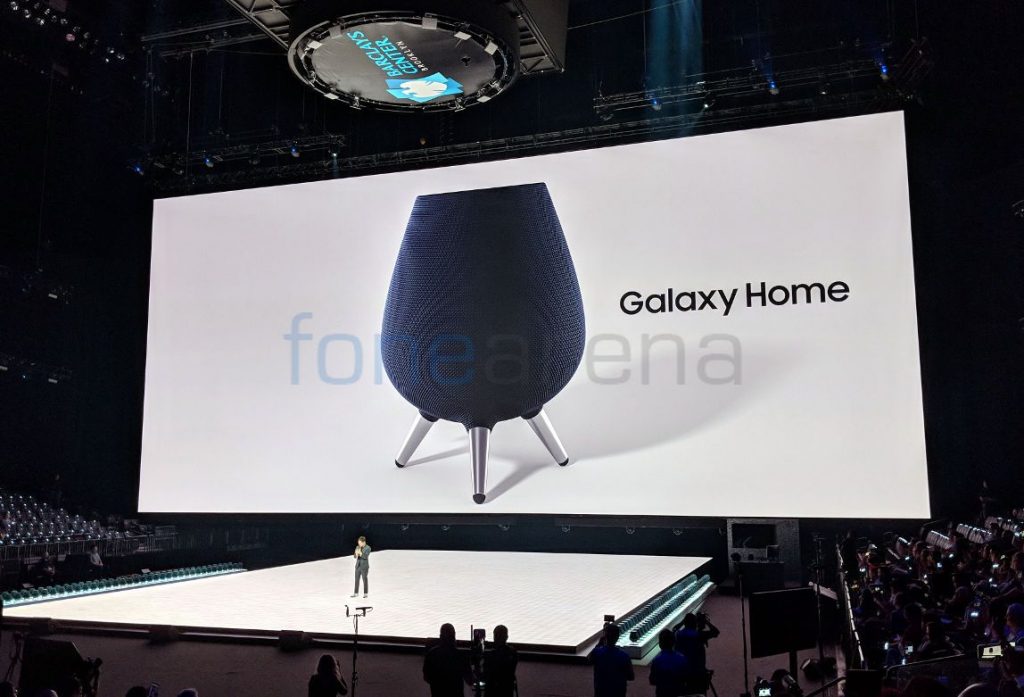 We knew it was coming but had no idea when but here it is, The Bixby smart speaker. They named it Galaxy Home but I think they missed the boat on going full Bixby but calling it the Bixby Home. I did not get to get hands on or see it up close but they used 160 to fill the Barclays Center with audio that did not seem too shabby. It is an odd look but defiantly different from every other smart home speaker. I like its quirkiness and hope I can play with one soon but they seem far off. Maybe we will know a bit more at IFA or SDC.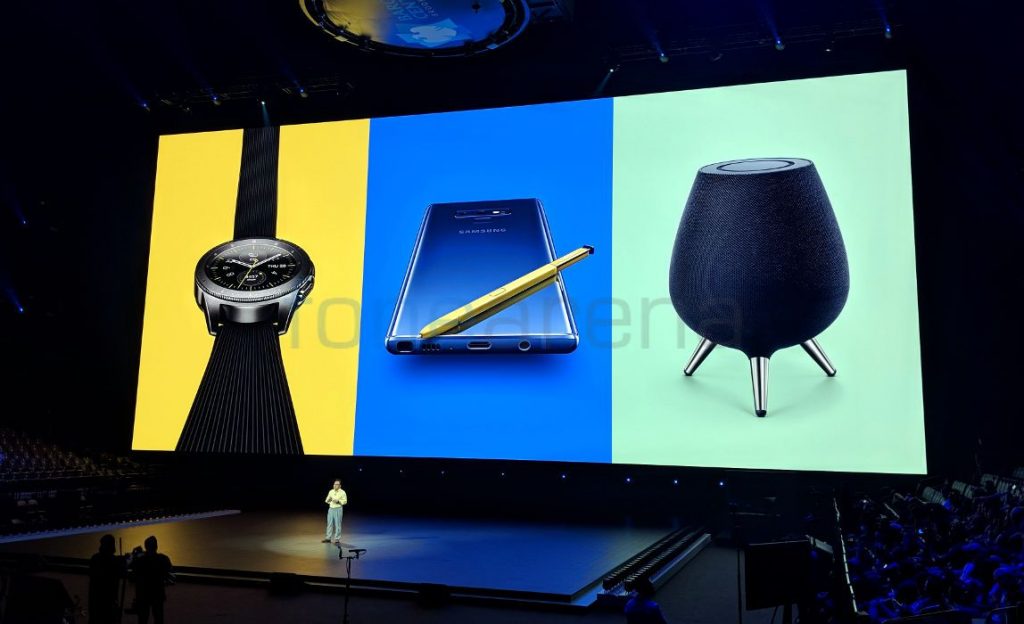 The Samsung Galaxy Note9 is priced at $999.99 (Rs. 68,750 approx.) for the 6GB RAM with 128GB storage version and the 8GB RAM with 512GB version costs $1,249.99 (Rs. 85,940 approx.) in the U.S. The Galaxy Watch 46mm version in Silver  costs $349.99 (Rs. 24,070 approx.) and the 42mm in Midnight Black and Rose Gold options cost $329.99 (Rs. 22,695 approx.) with LTE version coming later this year. Both these will be available from August 24, 2018, and the pre-orders have already started. The Galaxy Note9 is available for pre-order in India starting at Rs. 67,900.