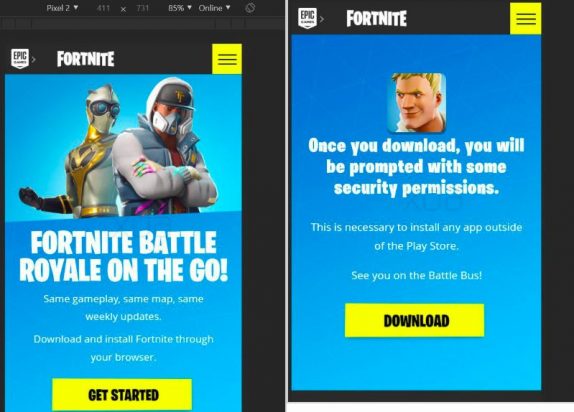 Fornite maker; Epic games back in May announced that Fortnite for Android will be available in Q3 of 2018. But the company is yet to officially announce a launch date, however, sources claim that the game will be launched as an exclusive for the Samsung Galaxy Note9 on August 9th.
Reports also suggest that unlike most games, Fornite won't be available on Google Play Store, instead, it will be available only on a few supported handsets and the list of Android smartphones that'll support Fortnite Mobile on Android once it launched is now leaked. This piece of information is found hidden within the source of the Fortnite Mobile page on Epic Games' website.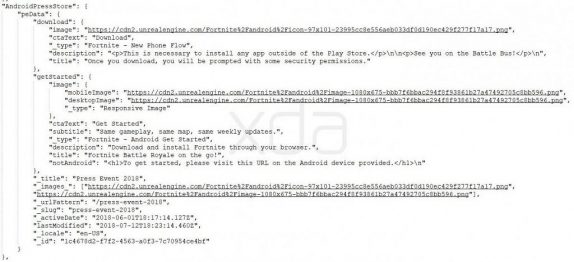 It also details the instruction for users on how to download and install the game on their Android smartphone. Users who have the supported handset can download the Fortnite Mobile on Android the web browser, instead, of Play Store. In the next page, users will be informed about the "security permissions" which likely refers to enabling installation from unknown sources. The reason for not offering Fortnite on Play Store is unknown at the moment.
The only practical reason for this decision is because it would lose out on 30% of all sales, in-app purchases as apps distributed within the Play Store must use Google Play In-app Billing. This way they can have full control over the revenue and save up to $600,000 per day given that the revenue from Android users reaches $2 million per day.
List of Android smartphones that support Fortnite Mobile on Android include the Google Pixel 2, Google Pixel 2 XL, Huawei Mate 10, Huawei Mate 10 Lite, Huawei Mate 10 Pro, Huawei P10, Huawei P10 Plus, Huawei P10 Lite, Huawei P9, Huawei P9 Lite, Huawei P8 Lite (2017), LG G6, LG V30, LG V30+, Motorola Moto E4 Plus, Motorola Moto G5, Motorola Moto G5 Plus, Motorola Moto G5s, Motorola Moto Z2 Play, Nokia 6, Razer Phone, Samsung Galaxy A5 (2017), Samsung Galaxy A7 (2017), Samsung Galaxy J7 Prime (2017), Samsung Galaxy J7 Pro (2017), Samsung Galaxy Note 8, Samsung Galaxy On7 (2016), Samsung Galaxy S9, Samsung Galaxy S9+, Samsung Galaxy S7, Samsung Galaxy S7 edge, Samsung Galaxy S8, Samsung Galaxy S8+, Sony Xperia XA1, Sony Xperia XA1 Ultra, Sony Xperia XA1 Plus, Sony Xperia XZ, Sony Xperia XZs, Sony Xperia XZ1.
We're not really sure if this is the final list or the company has more phones that are not revealed yet. Either way, Samsung's Unpacked event seems to be growing big as each day passes.