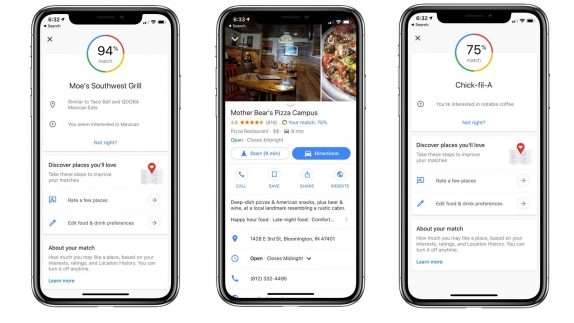 Google Maps for iOS is getting a new update that brings a new feature 'match.' This feature will help you by suggesting new restaurants that it thinks you might enjoy. Google will collect the data including the places you've visited and interests you provide, to predict if you would like a particular restaurant.
Google Maps Match feature was initially rolled out to Android back in May and was first introduced at the I/O 2018. The 'Your Match' feature will display how likely you are to enjoy a place and reasons explaining why once you tap on any food or drink venue. Google is using machine learning to generate this based on factors like food and drink preferences you've selected in Google Maps, the places you've been to, and more. The matches list will change as your preferences evolve.
You can download or update the already existing Google Maps app for iOS from App Store here.
Google about the new Match feature on Maps said:
Our new "match" feature will help you find your one true love. And by love, we mean your next favorite cheeseburger. Tap on a food or drink spot to see how likely you are to enjoy it based on your unique preferences – so you can spend more time eating and less time searching for places to go.