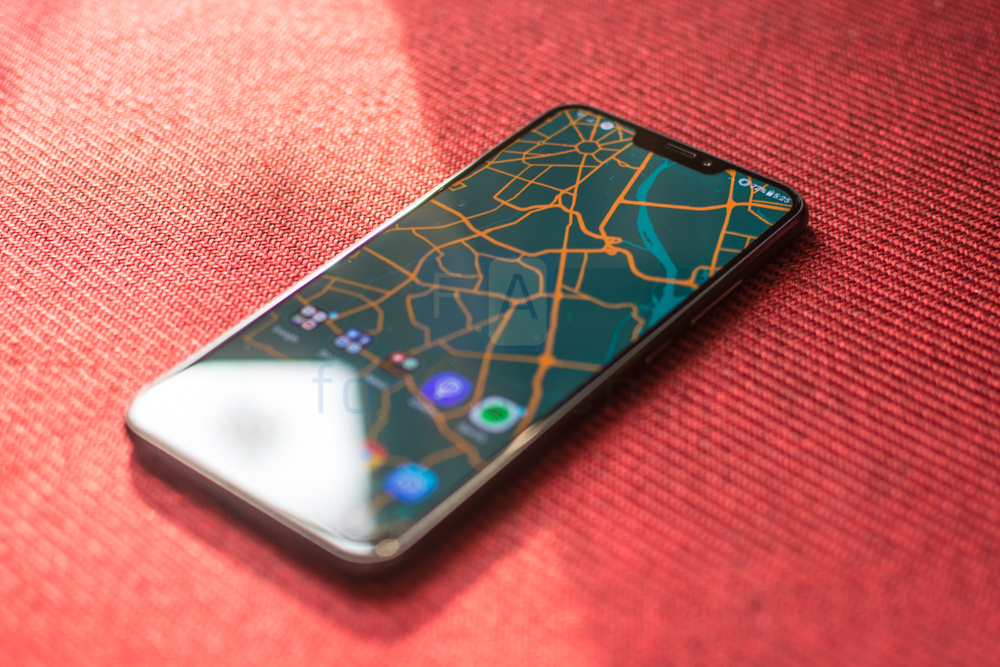 The affordable flagship segment has essentially been dominated by OnePlus over the last few years. Despite strong attempts by Xiaomi and Honor, there hasn't been a breakthrough success that could really put a dent in OnePlus' march. With the Zenfone 5Z though, ASUS has a formidable competitor that gets almost everything right on paper and is priced exceptionally well. Does real world use live up to the promises though? Let's find out. 
ASUS Zenfone 5Z (Z5620KL) specifications
6.2-inch (2246 × 1080 pixels) Full HD+ 19:9 2.5D curved glass Super IPS display with 500 nits Brightness, 95.4% NTSC color gamut, DCI-P3, 1500: 1 Contrast Ratio, Glove Touch support, Corning Gorilla Glass protection
Octa-Core Qualcomm Snapdragon 845 Mobile Platform with Adreno 630 GPU
6GB LPDDR4x RAM with 64GB / 128GB storage, 8GB LPDDR4x RAM with 256GB storage, expandable memory up to 2TB with microSD
Android 8.0 (Oreo) with ZenUI 5.0, upgradable to Android P
Hybrid Dual SIM (nano + nano / microSD) with Dual VoLTE
12MP rear camera with dual-tone LED Flash, Sony IMX363 sensor, 1.4μm pixel size, f/1.8 aperture, 0.03s Tri Tech auto-focus,Dual Pixel PDAF, 4-axis OIS, EIS, Pro mode with RAW support, secondary 8MP camera with f/2.0 aperture, OV8856 sensor, 120-degree wide-angle lens
8MP front-facing camera with f/2.0 aperture, OV8856 sensor, 83-degree wide-angle lens
Fingerprint sensor
3.5mm audio jack, FM Radio
Dual speakers with NXP 9874 Smart AMP, Hi-Res Audio 192kHz/24b-bit, DTS Headphone: X for 7.1 channel surround sound, dual microphones
Dimensions: 153×75.65×7.85mm; Weight: 155g
Dual 4G VoLTE, Wi-Fi 802.11 ac (2.4GHz + 5GHz), Bluetooth 5, GPS + GLONASS, USB Type-C (2.0)
3300mAh battery with ASUS BoostMaster fast charging and AI charging
Design
I guess we'll start off the review with the obvious. The Asus Zenfone 5Z is a great looking device that just happens to look very similar to the iPhone X. From the way the edges curve over to the ergonomics but we're past the point where nitpicking on design inspiration makes much sense so let's just move on ahead.  So yeah, as we said, this is a really nice looking phone that is bound to turn heads when you whip it out of your pocket.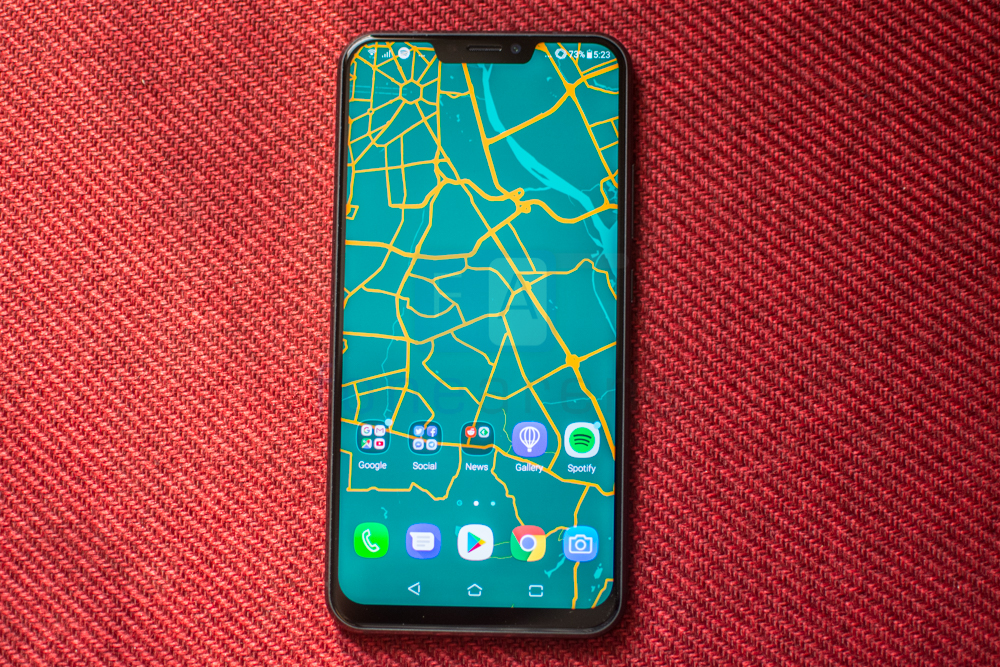 The screen is a large 6.2 inch panel with an aspect ratio of 19:9. As expected, the aspect ratio narrows down the phone to the point of fitting very comfortably in the palm. It does make the phone quite a bit taller though and there's simply no way you can reach out to the corners with your thumb. Yes, there is a notch present. Deal with it. The notch integrates the 8MP front facing camera. There's also a slight chin along the bottom that we find more offensive than the notch which can be hidden away.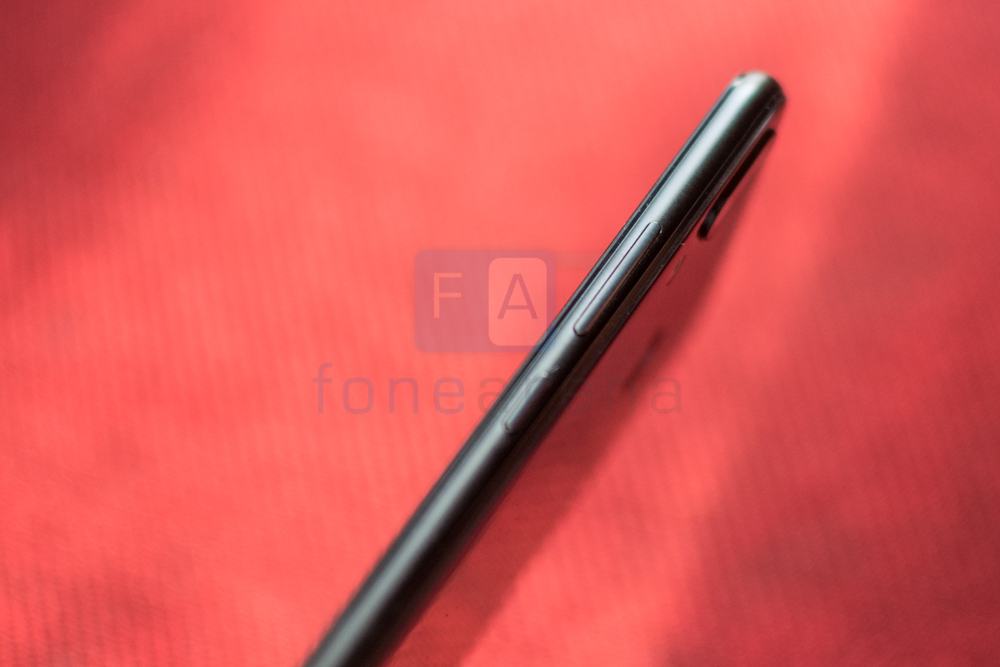 The right hand side sports both the volume rocker and power button. The buttons have excellent give and feedback. The buttons are perfectly positioned to be reachable even if you've got smaller hands. The left side houses the hybrid SIM slot that lets you install two nano SIM cards or a single SIM card alongside a microSD card for memory expansion.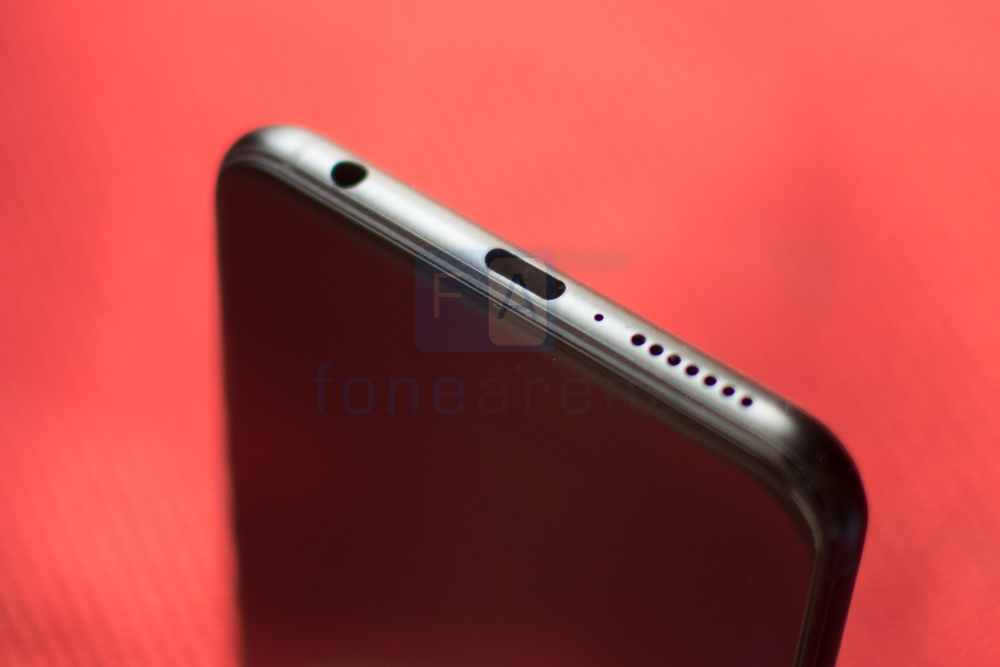 The bottom edge of the Zenfone 5Z sports a USB Type C connector in addition to a headphone jack. The phone is equipped with a NXP 9874 Smart Amp and is High Res certified. We tested out audio playback with 1More Triple Driver earphones and found output quality to be clean and very well-balanced with all the effects turned off. Compared to the OnePlus 6, headphone output was perceptibly better.
The built in Audio Wizard offers a robust set of features including custom equalisers. We didn't really like DTS X based headphone effects which seemed too artificial for our liking. Similar to the OnePlus 6, the ASUS Zenfone 5 offers custom EQ profiles for their headphones. Going one step further though, ASUS has also built in profiles for dozens of other headphones. Unfortunately, our 1More's weren't a part of the list and not every headphone will be covered but a whole lot of popular models are represented here.
In addition to headphone output, the ASUS Zenfone 5Z really excels in speaker output too. With stereo speakers, one along the lower edge and another in the earpiece, the phone gets REALLY loud and the quality doesn't suffer even up to the 80% mark. Like we mentioned in our preview, there's even a bit of bass. Interestingly, ASUS has built an outdoor mode which cuts off the bass frequencies and makes the phone even louder. We didn't really feel the need to use this since the phone is already loud enough to be heard in almost any scenario.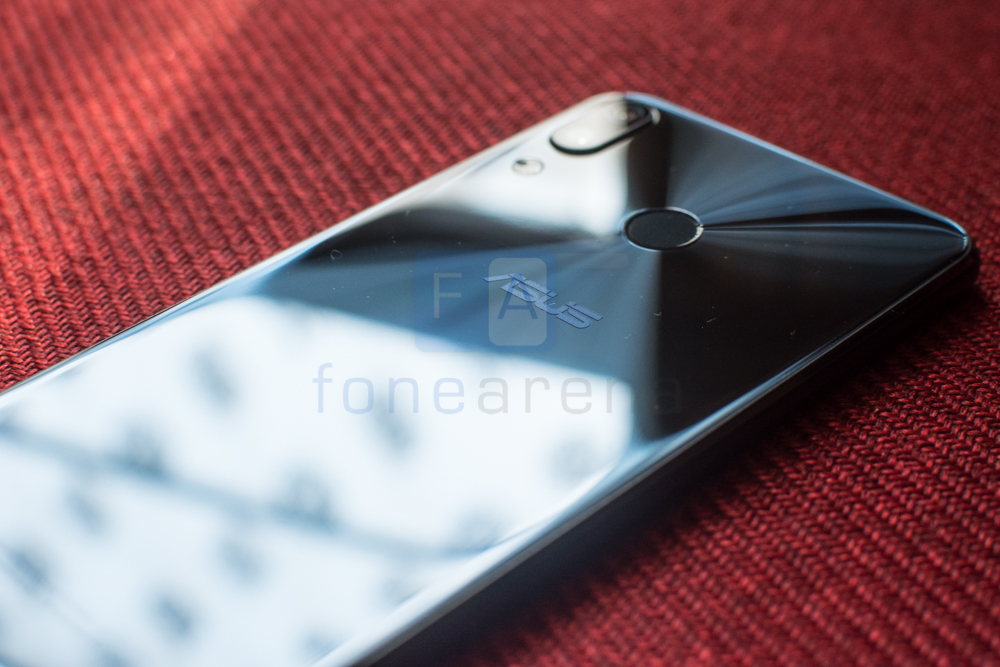 The back of the ASUS Zenfone 5Z is made of glass but continues with the spun metal design that ASUS devices are well known for. Its a fingerprint magnet and attracts a lot of lint. You'll probably cover it with a case but yes, it is quite visually appealing. A fingerprint scanner sits above the ASUS logo alongside the dual cameras and LED flash in the corner. The fingerprint reader is just as fast as any other flagship device and we had no complaints on that front. The phone also supports face unlock but the implementation isn't as good or fast as on competing devices. The phone frequently failed to recognise us indoors and it is absolutely unusable in poor lighting.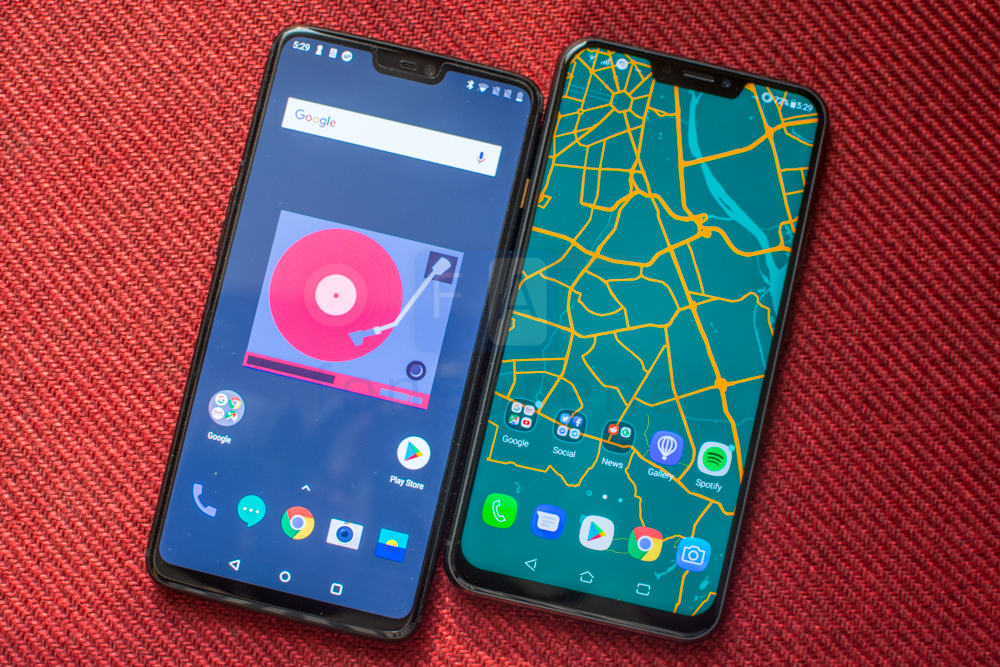 The best part about the ASUS Zenfone 5Z though has to be the ergonomics. The phone fits exceedingly well in the hand and we really like the weight distribution. Pictured above, you'll see it next to the OnePlus 6. While we absolutely enjoyed using the OnePlus 6 too, in comparison the Zenfone 5Z is just very slightly better designed. The screen is just a tiny bit smaller than the OnePlus 6 and this makes a surprising difference in day to day use.
Software
The OnePlus 6 is the biggest competitor for the ASUS Zenfone 5Z and a near stock build of Android is one of its biggest selling points. The Zenfone 5Z can't really claim that. Built on top of Android 8.0 with the June security build, Zen UI  has come a long way over the years. We're always complaining about how OEM skins detract from the experience but for the most part, Zen UI proved to be a very enjoyable experience. Heck, I didn't even bother throwing on Nova Launcher which is usually my first install. It's not perfect but Zen UI manages an almost perfect balance between features while avoiding software bloat. The company has also been hyping up their AI based integrations. While calling some of these as AI based features might be a bit of a misnomer, they do work well and enhance the experience.
There's so many features on board that it'd take an entire article just to list them out. We're going to focus on some of the key aspects that really stood out to us. First up, unlike many OEM skins, the Zenfone 5Z maintains a two level interface where you have an app drawer in addition to the home screen. Make a folder on the home screen and you'll observe the 'AI' features at work. The phone will automatically come up with a name for the folder should you leave it blank. On installing new apps, you'll get a pop up asking you to move the app into a relevant folder.
There's a whole bunch of customisation options built into the launcher. From icon packs to label colours for folders. You can adjust the icon alignment, scroll effects and more. There's enough here to satisfy all but the most dedicated customisation enthusiasts. Swiping up from shortcut tray at the bottom brings up the full app drawer. The smart folders continue to do their work here as well.
ASUS is really playing fast and loose with the AI terminology for the feature set. A lot of the so-called AI features are not really things that use any sort of machine learning or have existed in phones for years. Stuff like OptiFlex learns your usage patterns and optimises app launch speeds through caching. Another 'AI' feature is the ability to keep the screen on as long as you are gazing at it. That's not to say that the features don't work well. Nomenclature aside, we quite liked the addition of most of the features.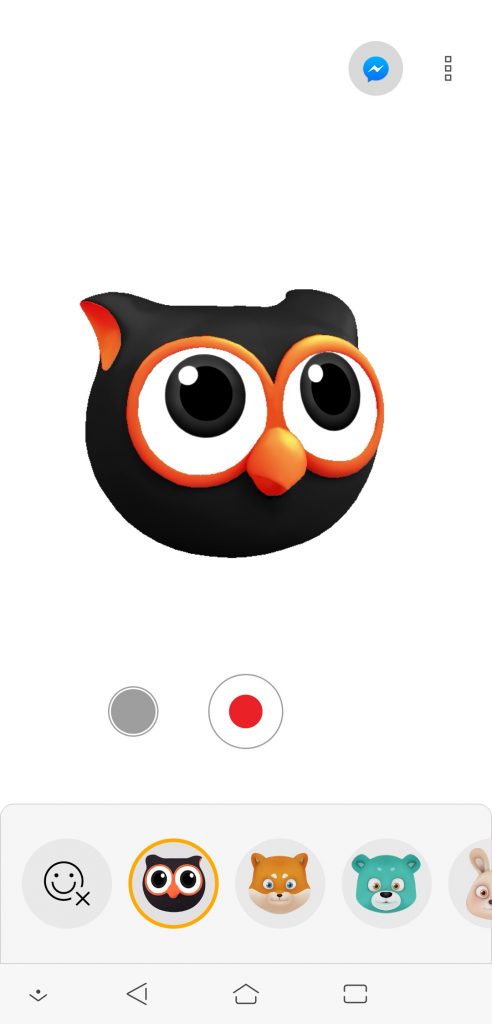 Hidden away deep under the settings are a few more features. These include a 'Page Marker' that can download a web page offline. Paired with a Chrome bookmark, it can sync your saved web pages over Google Drive for viewing on multiple devices. Then there's the self-explanatory twin apps feature that duplicates applications like Facebook or WhatsApp. GameGenie lets you record or live stream your mobile gameplay sessions to YouTube or Twitch. There's a beauty mode as you'd expect as well as a rather poor rip off of Animoji that ASUS calls ZeniMoji. Not the most original name, yeah. Most of these are remnants of the older, heavier ZenUI and they don't intrude in usage unless you go looking for them.
Performance
With a Snapdragon 845 chipset on board and 6GB of RAM, there are no compromises on performance. In day-to-day use, the phone performs just as well as the OnePlus 6 which is the other Snapdragon 845 toting phone we've recently tested out. The phone is screaming fast and there's was never a laggy moment no matter what we threw at it. From CPU heavy emulation to high end games, nothing slows down this phone but that shouldn't really come as a surprise given the internals. We've put the phone through a series of benchmarks to give you an idea of how it compares to the competition.
In Geekbench 4 Single Core, the Zenfone 5Z manages 2354 points which is just short of the 2477 points scored by the OnePlus 6.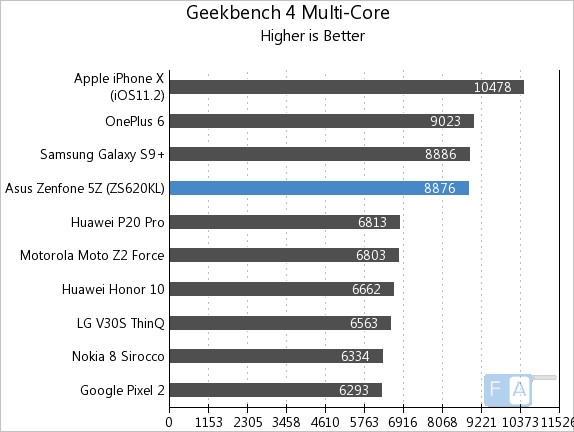 Multi Core performance in the Geekbench 4 benchmark netted a score of 8876 which is pretty good but less than the 9023 scored by the OnePlus 6.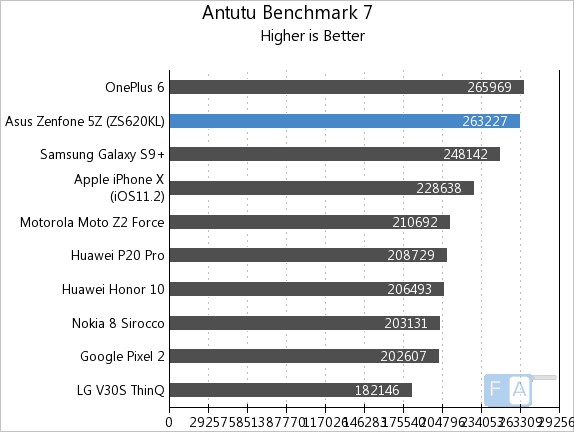 In the AnTuTu 7 Benchmark, the Zenfone 5Z scored 263227 points making it one of the best devices in our test bench.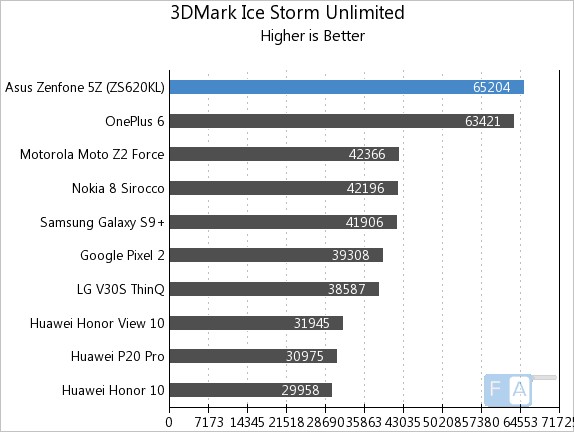 The Zenfone 5Z scored top marks in the 3DMark Ice Storm Unlimited benchmark.
Display
The Asus Zenfone 5Z has a 6.2″ Full HD+ IPS display that goes as bright as  500 nits. There's 95.4% coverage of the NTSC color gamut as well as support for the DCI-P3 color space. The contrast ratio is rated at 1500: 1. All said and done, the display is pretty good on paper. What about real world use though?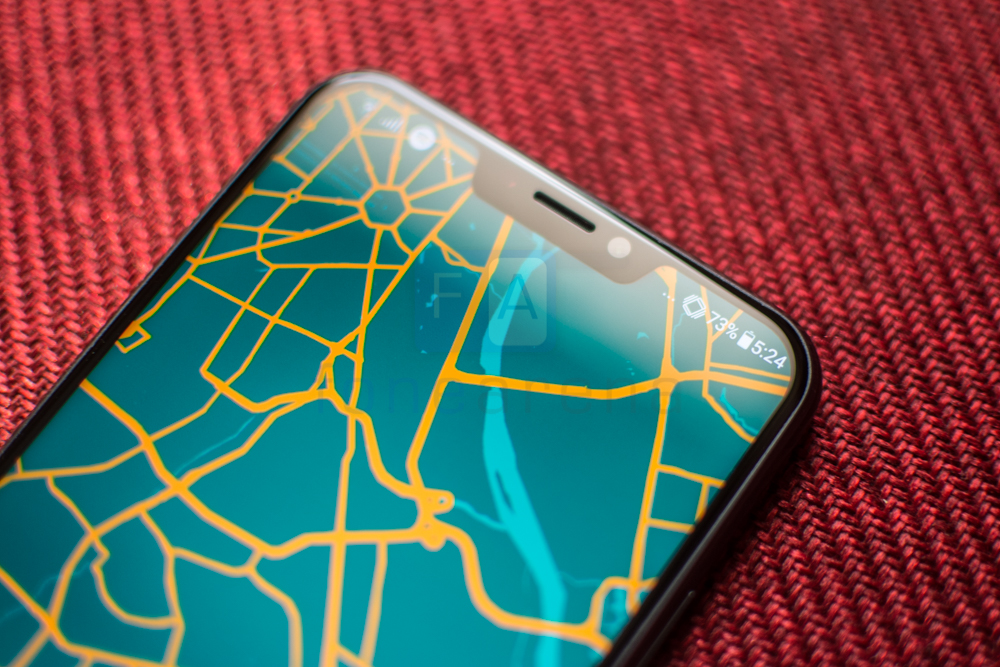 The screen on the Zenfone 5Z is a joy to look at. It might not be an AMOLED panel but you still get incredibly deep blacks and rich colours. The screen is a bit over saturated but it looks really good when viewing multimedia content. It might not have the sheer brightness levels of the OnePlus 6 at max brightness but it never leaves you wanting either. Sunlight visibility too is great and we had no issues whatsoever in viewing this outdoors.
Camera
The Zenfone 5Z is quite a heavy hitter when it comes to the camera. The main rear camera is a 12MP equipped with a Sony IMX363 sensor with 1.4μm pixel size, f/1.8 aperture, 0.03s Tri Tech auto-focus, Dual Pixel PDAF, 4-axis OIS and EIS. Th secondary camera is an 8MP unit with f/2.0 aperture, OV8856 sensor as well as a 120-degree wide-angle lens which lets you capture a much larger frame. On top of the hardware, ASUS has once again promised a lot of AI based additions to the software for scene detection.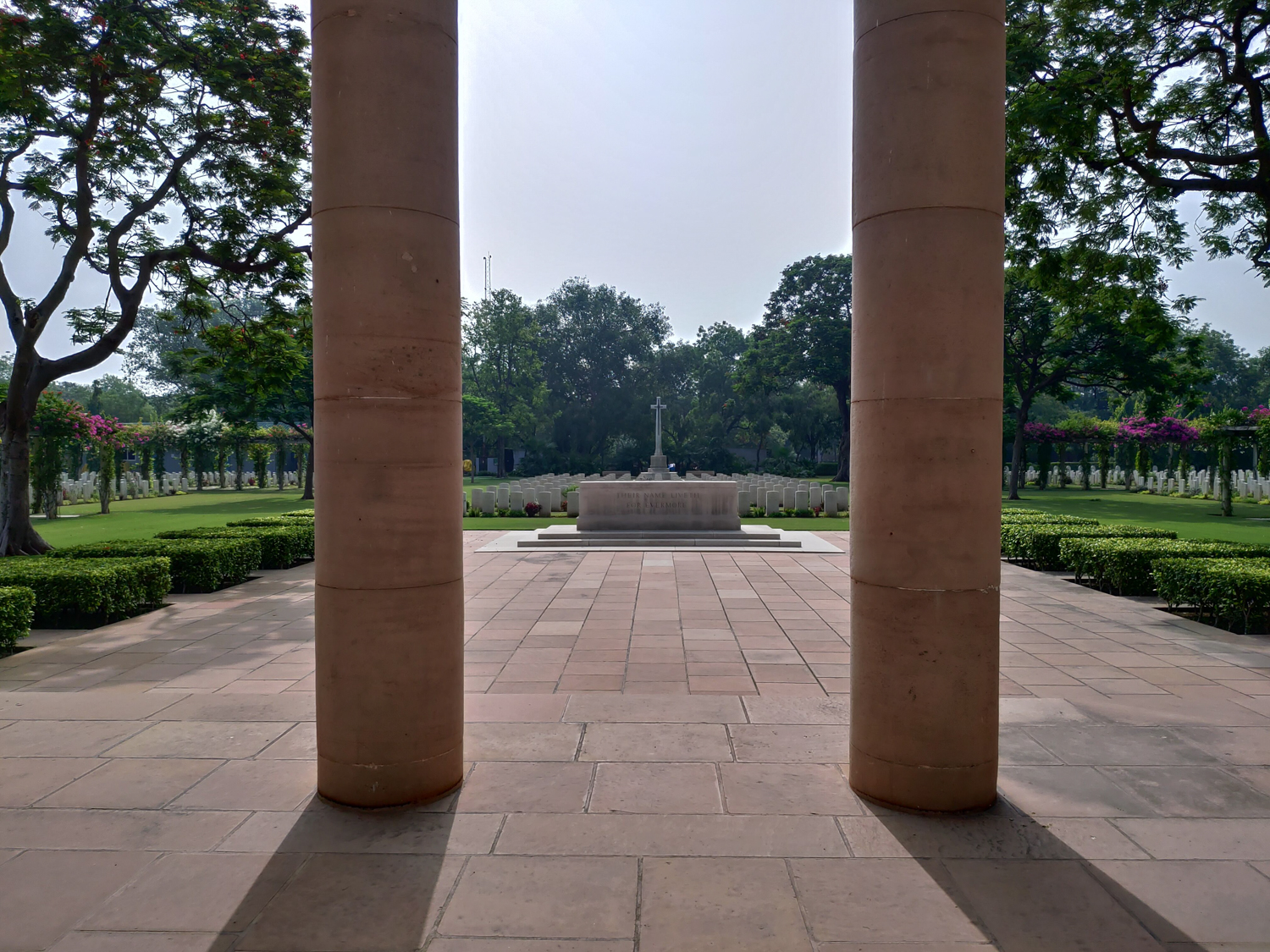 Despite less than ideal conditions where we were shooting into the light, the Zenfone 5Z managed quite well here. The pillars are well-lit and there's little noise in the background.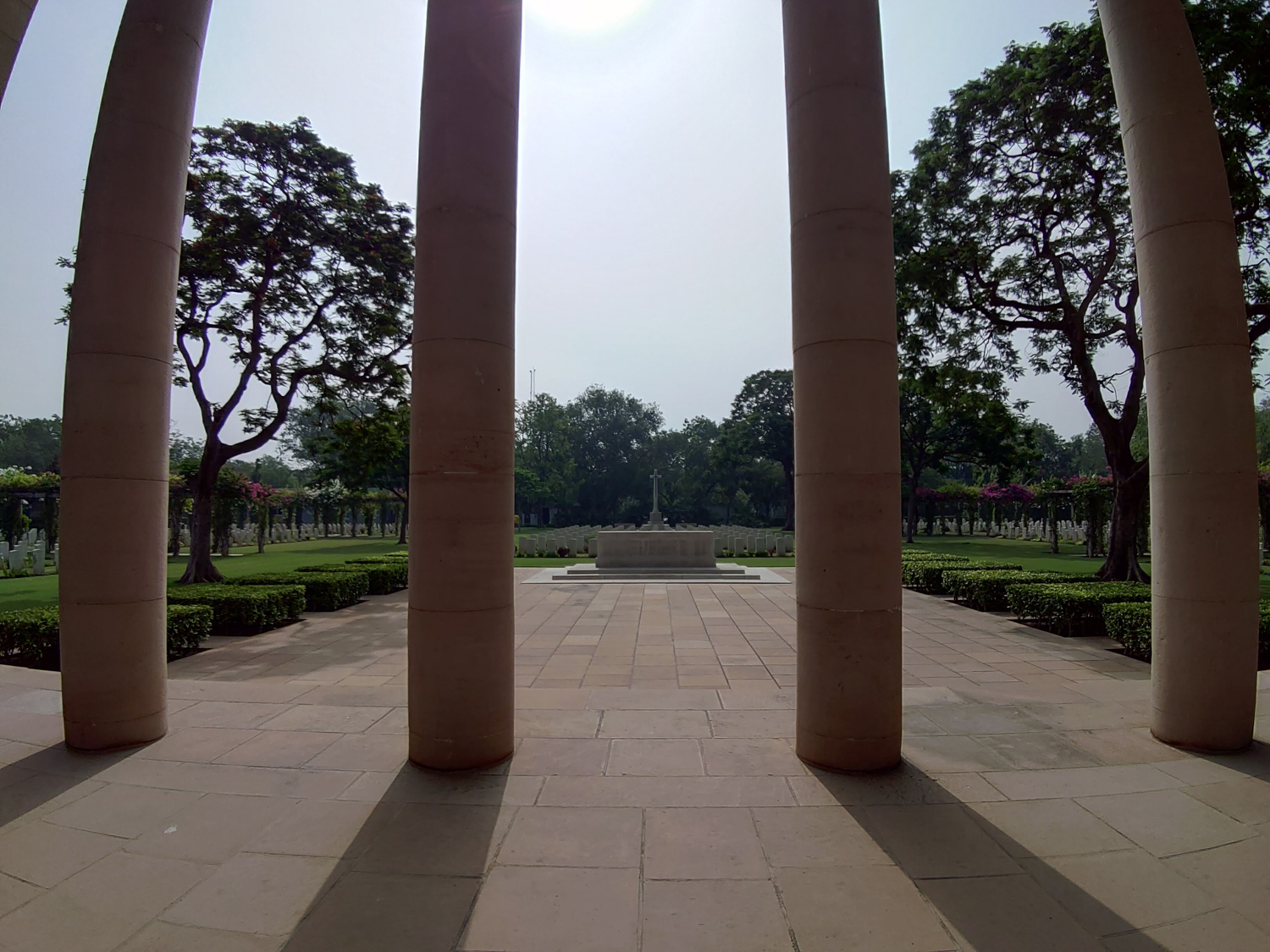 Switch over to the wide-angle lens and the image is noticeably darker. With a 120 degree wide-angle lens, the barrel distortion is very obvious. There is quite a bit of noise reduction going on in the background which has resulted in the loss of fine detail.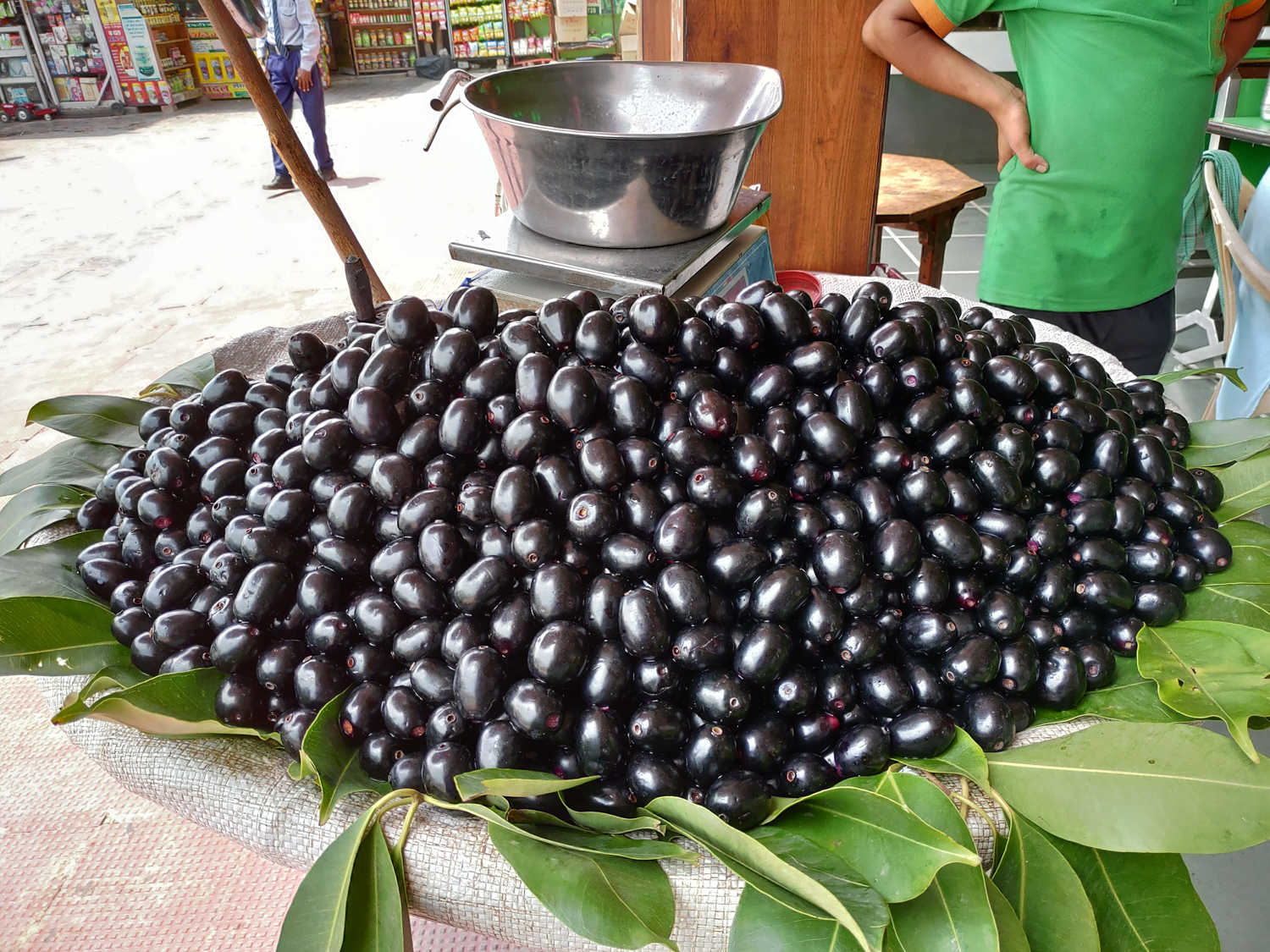 Zoom in close and you'll observe that the camera retains a good amount of detail. Highlights appear to be blown out in the top left corner and we feel there is more tweaking needed on the HDR front.
Despite having OIS on board, we often ended up with blurry shots and you'll need a steady hand to get shake-free shots indoors. The 8MP front facing camera wasn't particularly impressive as it failed to capture a sharp shot and there's a certain softness to the images captured. Low light performance too is a mixed bag. Images mostly appear noise free but the heavy-handed noise reduction really pulls down the level of details.
Over all, we like the camera on the Zenfone 5Z but it isn't as consistent as the one on the OnePlus 6 which is its nearest competitor. The wide-angle camera is very nifty on paper but actual results are less than satisfactory.
Connectivity & Battery Life
The Asus Zenfone 5Z has all the standard connectivity options that you expect from a modern flagship. There's Dual 4G VoLTE, Wi-Fi 802.11 ac (2.4GHz + 5GHz), Bluetooth 5, GPS + GLONASS as well as USB Type-C. The phone also gets a hybrid SIM slot which gives you the opportunity to bump up storage via the microSD card slot. Roughly 50GB out of the onboard 64GB of storage is available when you first boot the phone.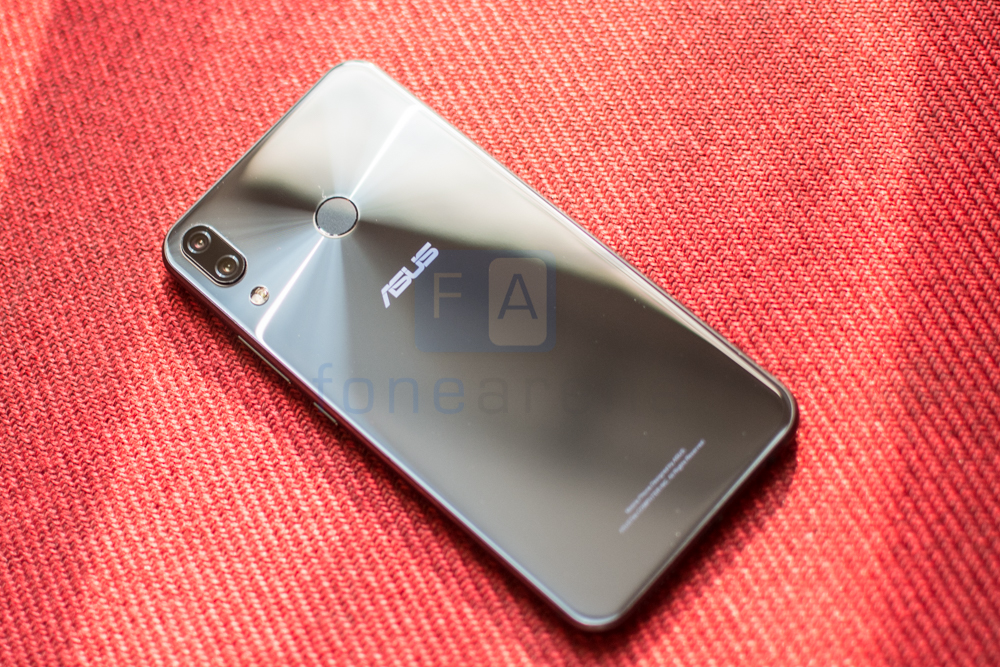 The phone has a 3300 mAh battery equipped with boost charging as well, you guessed it, AI based charging. Obvious comparisons will be drawn with Dash Charging and no, while the Zenfone 5Z doesn't charge up as quickly, it is still fast enough. We managed to get a full charge in about 1 hour 20 minutes. AI charging is what really intrigued us though and has the potential to drastically improve long-term battery health. The phone essentially learns your usage patterns and stops charging the phone short of a complete charge. The remaining charge is completed just ahead of the time you wake up. As you'd have guessed, this works particularly well if you have a set schedule and prefer overnight charging.
Conclusion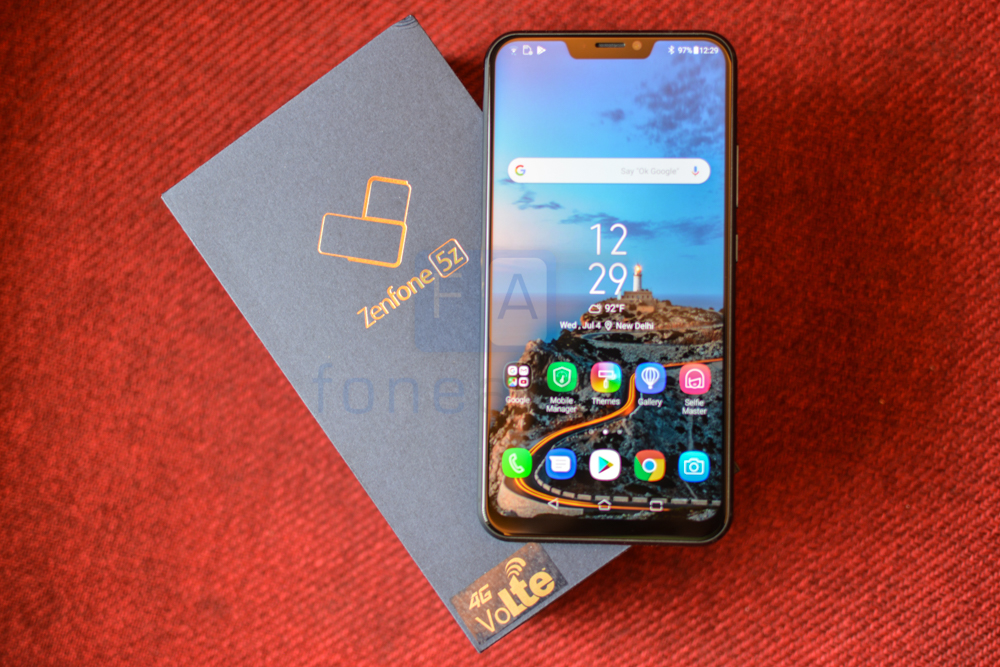 With the Zenfone 5Z, ASUS is taking the fight to the competition. This is a really good phone at an exceptionally good price and OnePlus should be worried. Is it better than the OnePlus 6? Not quite. The camera still needs a bit of work. The display is no slouch but is just very slightly superseded by the one on the OnePlus 6. All of that can easily be negated though if you are on a budget. Priced under Rs. 30,000, the Asus Zenfone 5Z is exceptional value for money and gives you so much for phone for your buck.