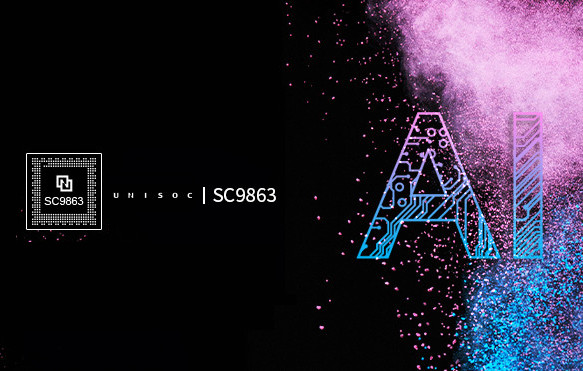 UNISOC (Previously Spreadtrum) has announced SC9863, the company's latest mid-range Octa-Core processor that has Cortex-A55 cores and SC9832E with Cortex A53 cores for budget smartphones at an event in India. The company did not reveal which fabrication process technology it uses in SC9863, but it has confirmed that SC9832E uses 28nm HPC+ processor technology. The company recently announced new brand name, identity and definition – UNISOC that completes the integration of Spreadtrum and RDA.
Compared to the ARM Cortex-A53, the performance of the processor is improved by 20% and AI processing power is increased by 6 times, says the company. The UNISOC SC9832E has been certified for Android Go, whch promises 20% higher performance compared to its competitive products.
UNISOC SC9863 specifications
Up to 1.6GHz ARM Cortex-A55 cores x 8
Supports 1080P HD video playback as well as FHD+ (1080 x 2160 pixels) displays
16MP at 30fps with a 3xCSI 4+4+2 Lane/4xCSI 4+2+2+2 Lane interface /  16MP + 5MP dual cameras
3D Face ID capability based on deep neural networks, offering fast, accurate face authentication
LTE Cat7 modem with dual-card dual-VoLTE and VoWiFi functionality and 4G+4G (LTE/WCDMA/GSM + LTE/WCDMA/GSM)
Real-time intelligent context detection and recognition offering intelligent identification and classification of images in the photo gallery
SLAM algorithm offers smooth, stable AR photography and video, and achieves high-precision 3D imaging and modeling functions based on IR structured light.
Real-time image processing and 3D noise reduction (3DNR)
UNISOC SC9832E specifications
Up to 1.4 GHz  Cortex-A53 cores x 4
28nm HPC+ processor technology
680 MHz Mali-T820 MP1 GPU, OpenGL ES 3.0 and Vulkan 1.0 GPU API
667MHz eMMC 5.1/LPDDR3 memory controller
Supports 1080P HD video playback, HD + (720 × 1440 pixels) display
13MP at 30fps with 2xCSI 4+4 Lane/3x CSI 4+2+2 Lane interface
VoLTE Cat4 modem with Dual SIM Dual Standby (DSDS) capable of supporting 4G+4G (LTE/WCDMA/GSM +LTE/WCDMA/GSM) or 4G+3G (LTE/WCDMA/GSM + WCDMA/GSM) configurations
Wi-Fi b/g/n/ Bluetooth 4.2/FM/GPS+Gionass/Beidou
We can expect these new chips in smartphones in coming months.
Commenting on the launch, Adam Zeng, CEO UNISOC, said:
The global mobile ecosystem is evolving at a very rapid pace, and we are focussed on helping the Indian market stay ahead of the technological curve. We want to meet and exceed the growing expectations of Indian consumers with better products and better features, which is why our latest chipset solutions are designed to cater to advanced mobile and communication technology requirements. We are confident that these new additions to our extensive portfolio will be well-received in the market, and will help in laying the foundation of a more prosperous and smarter future.

In a growing market with increased demand and fierce competition, the launch of UNISOC SC9832E chip platform has set a new benchmark for Quad-core LTE products. It has achieved the world's highest level of integration, performance, and power consumption, which can help our customers design intelligent terminal products with better performance and more competitiveness to meet the needs of different market segments.