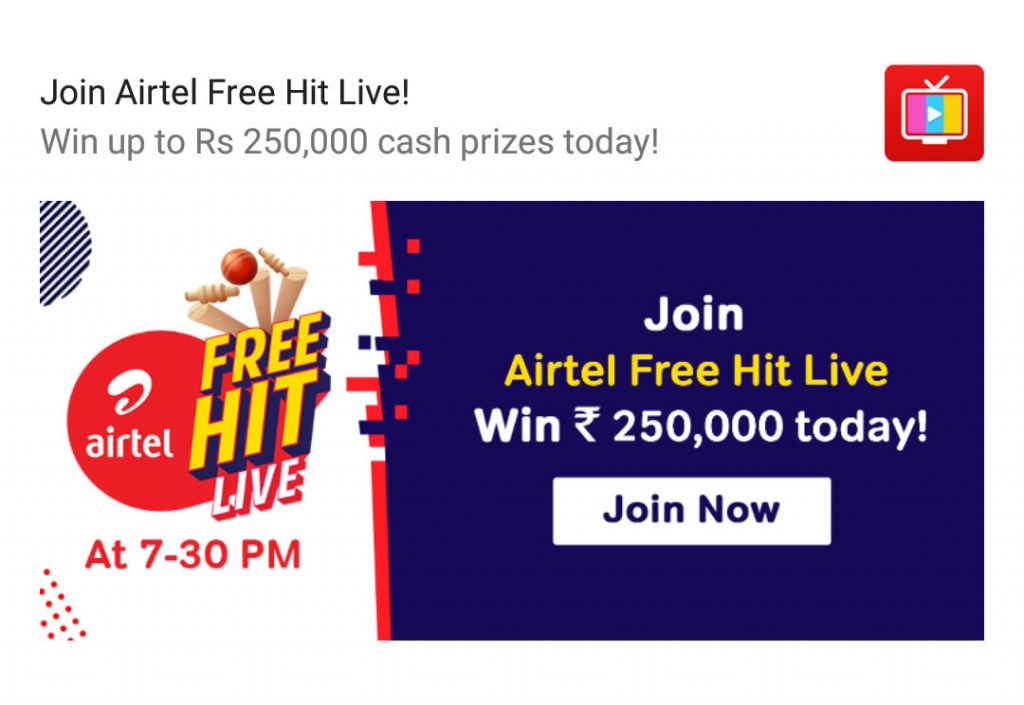 After Reliance Jio, Airtel today has announced the launch of 'Airtel TV Free Hit'interactive gamification experience for its users. It is an in-app quiz based game where users have to answer a set of questions related to the ongoing T20 action. Airtel is also offering daily cash prizes from a total of over two crore rupees.
The Airtel TV Free Hit gaming experience is available to users in two versions; Airtel TV Free Hit LIVE that users can play every day before the T20 match at 7:30 pm and a non-LIVE version that can be played along the with the T20 match telecast. However, users will have to upgrade the app first and register themselves.
For now, Airtel TV FREE Hit is available to Android, and the company didn't mention anything about iOS roll out. The game also offers 'life' which comes in handy evading users from elimination during the course of T20 matches. Airtel will extend the 'lives' upon watching the game until the end and can be utilized for the next/ upcoming match as well.
The Airtel TV FREE hit non-LIVE version gets activated at the beginning of every T20 match, and the company says it is designed for the sit-at-home cricket lovers. The winners will be notified via in-app notification.
Commenting on the launch, Sameer Batra, CEO Content, and Apps, Bharti Airtel said:
The idea behind these contests is to gamify the whole cricketing experience for our users while making it highly engaging. With this new, intuitive platform, we are offering everyone the chance to be a winner during this ongoing T-20 extravaganza. We invite our users to participate in this exciting contest and make their experience more rewarding.
Airtel TV tied up with Times Group's BrainBaazi platform to create this experience for the users.
Commenting on the launch, Gautam Sinha, CEO – Times Internet said:
We are very happy to partner with Airtel and extend BrainBaazi's platform for Airtel's live cricket gaming show. It's a testament to what we have built with BrainBaazi, a live mobile video platform that can engage with millions of people at the same time.