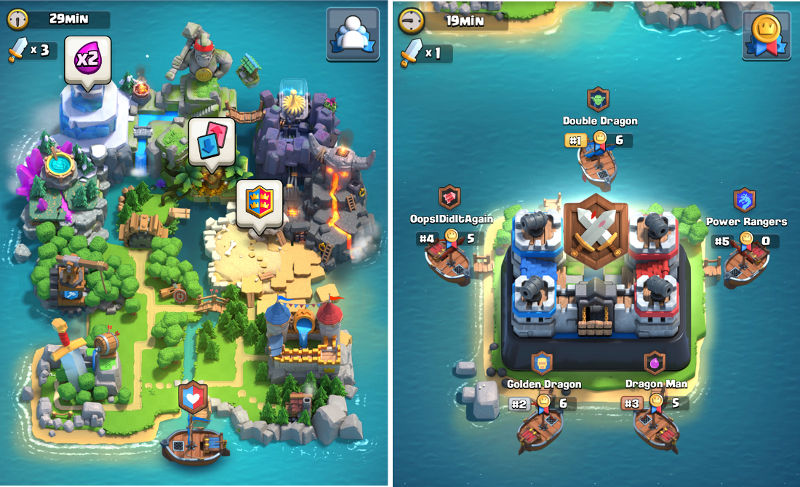 Supercell has released a major update for Clash Royale along with balance update that brings new Clan Wars that lets you battle with your Clan against Clans from around the world that lets you gain clan trophies to climb the clan leagues. A new card is coming to Royal Arena next month. It also brings balance changes for Dark Prince, Spear Goblins, Barbarian Barrel and more.
Download Clash Royale – Android and iPhone and iPad
Clan Wars

Find an active Clan! You need a minimum of 10 Clan members to participate in Clan Wars
All participants need to be King Level 8
Only Clan Leaders or Co-leaders can start a war
Once your Clan has started a war, go to the Social tab and you'll see the map.

Day 1: Collection Day

Battle with your own cards to earn Clan Cards. Clan Cards are used to build your War Deck for War Day!

You get 3 battles on Collection Day
The goal is to collect as many Clan Cards as possible
On the map you'll find various game modes that change after they've been played
Battling on any of the game modes earns Clan Cards, but wins earn the most
The higher your Arena, the more Clan Cards you can earn
Build different decks to suit the different game modes
When Collection Day ends, War Day begins…

Day 2: War Day

Battle with the Clan Cards for all the glory! The Clan with the most War Day victories wins the war!

You get 1 battle on War Day
Your only goal is to win this battle
Everyone in your Clan battles with the same Clan Cards on War Day
Build a War Deck with the Clan Cards and share it to your Clan, or copy a deck from your Clan's best deck builder!
Note: Clan Card levels cannot be higher than your own card levels. Upgrade your own cards to use higher level Clan Cards
Test your War Deck in a Friendly Battle before your Final Battle
Make sure to cheer on your Clanmates when they play their Final Battle
When War Day ends, your Clan will gain Clan Trophies… and then you can start your next war!

Rewards!

Clan Trophies indicate your Clan's success in Clan Wars
Gain more Clan Trophies to progress through the Clan Leagues
At the end of every Clan War Season you'll earn a War Chest
Your War Chest is based on your Clan League and the highest ranked war you participated in during the season
Achieve a better rank or higher league to earn a bigger chest!
Balance Changes

Dark Prince: Shield Hitpoints -25%
Spear Goblins (affects Spear Goblins, Goblin Gang, Goblin Hut): Hit Speed 1.1sec → 1.2sec
Barbarian Barrel: Range 6.5 → 7
Knight: Hitpoints +3%
Dart Goblin: Damage +3%
Ice Spirit: Area Damage -4%; Freeze Duration 1.5sec → 1sec
Skeleton Barrel: Skeleton count 6 → 7
Lightning: Radius 3 → 3.5
Tornado: Duration 2.5sec → 2 sec; Damage per second +21% (this affects Total Damage -3%)
Magic Archer: hits moving targets better
Spells: can now be played on the river

Improvements

Emote muting now persists between battles – i.e. you can toggle it on or off, permanently!
Spectators can now emote also!
Players that leave/quit 2v2 Quick Matches will have to wait before playing again
During a 2v2 Battle, tap on your teammate's name in the bottom right to see their cards (now toggles on or off)
Share your Battle Deck to your Clan
Sort your card collection by "rarity descending"
Supercell ID added to settings

Fixes

Fixed: In rare cases, Cannon Cart was not being targeted after losing its shield
Fixed: Witch would sometimes switch targets (while being locked to a tower), if spawning skeletons pushed her target out of range
Fixed: In rare cases, Sparky's hit would reset if she's knocked out of range while charging
Fixed: Hunter can now hit targets on top of him