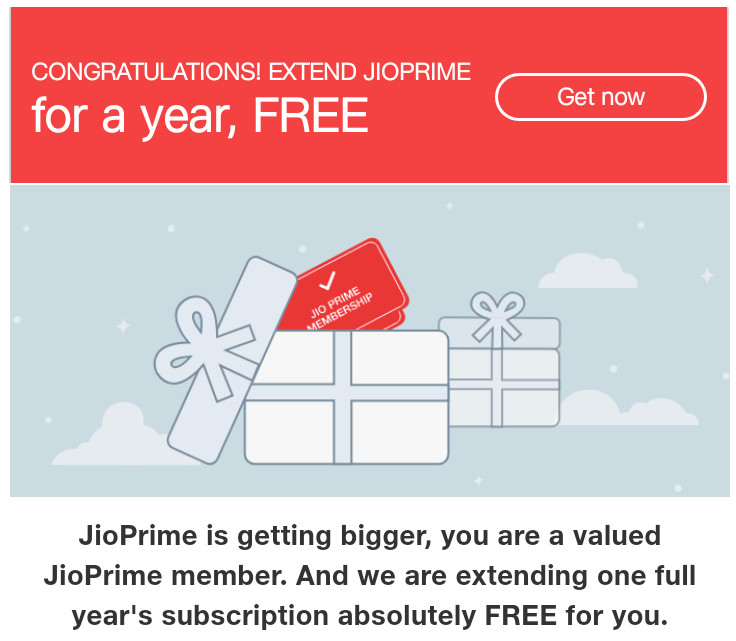 Reliance Jio launched Reliance Jio Prime membership at a one-time payment of Rs. 99 for a year back in March last year, which was supposed to end tomorrow, 31st March 2018. Today the company has officially announced that all Jio Prime members who have subscribed to the exclusive membership benefits till 31st March 2018 will get another year of complimentary Prime benefits at no additional fee, which it calls a limited period offer.
It also said that it deeply values its loyal Prime members and will continue to deliver additional benefits and superior value to these founding members. Jio also said that it is gearing up to bring new and superior experiences with the Prime program and will ensure that Prime members
get substantially better benefits than the counterparts in the industry.
For new Jio users, the Jio Prime Membership continues to be available at an annual membership fees of Rs. 99.
How can existing prime members claim the free one year complimentary Jio Prime membership (Joining date on or before 31st March, 2018)
Download MyJio
Express your interest to get complimentary membership for next 12 months by clicking the banner on the app's home page
Verify your number and the linked accounts and click proceed
Your request to available free JioPrime membership for a year has been registered
 You will get a confirmation by the end of the day or tomorrow
Enjoy Jio Prime benefits
New Jio Prime Members (Joining date on or after 1st April, 2018)
Pay Rs. 99 during on-boarding, for Jio Prime membership for annual subscription.
Earlier this year Reliance Jio said that it has over 160 million customers.  Today it said that it has over 175 million Jio Prime members. Jio Prime members get 20% to 50% more benefits on plans, access to Jio library of  550+ Live TV Channels, 6,000+ movies, Lacs of Videos/TV shows, 1.4+ Cr Songs, 5,000+ magazines, 500+ newspapers and more.