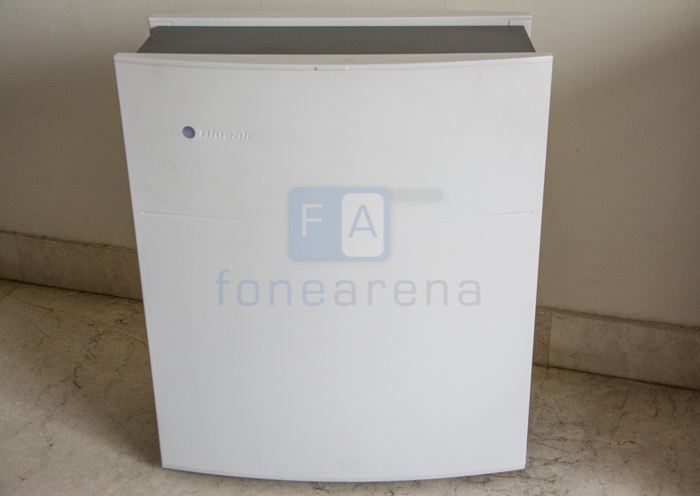 The Blueair Classic 480i is yet another air purifier that enters a crowded market space. Commanding a premium over the competition, the Classic 480i has an imposing size and an almost industrial build. So how much of an improvement is it over the competition? Let's find out in our review.
Design
While the likes of Xiaomi and Dyson have gone for devices that either hide away in your living room or become a statement piece themselves, the Blueair Classic 480i is a big honking device made of galvanized steel with large industrial style vents. The air purifier is anything but compact but the white and grey construction is inconspicuous enough to not be an eyesore.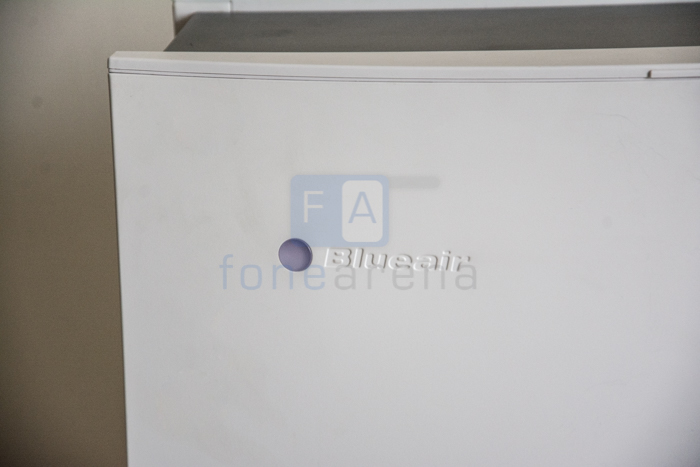 We like the fact that the only visible indication is a light within the Blueair logo. All controls are hidden away under a flap which makes sure that there are no distracting lights. The flap hides away an indicator for WiFi connectivity, a capacitive key that toggles fan speed. There are indicators for filter status, PM2.5 levels and VOCs.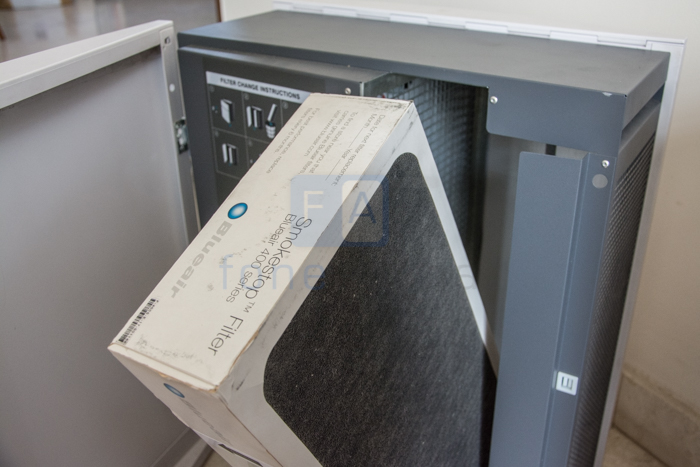 Changing filters on the Blueair Classic 480i is a straightforward process. The side panel opens up easily and the filter simply slides out. Changing the Blueair Smokestop Filter is as easy as slotting a fresh one in. There are no screws involved and this is as zero maintenance as it gets.
Performance
The Blueair Classic 480i is one of the most powerful air purifiers we've tested out. The company claims a clean air delivery rate (CADR) of up to 300 cubic feet per minute (CFM) for dust clearance. According to Blueair, this was tested in a room size of up to 40 square meters. Of course, this is in ideal conditions but it gives us a reasonable idea of how capable the Classic 480i is. The extremely popular and affordable Mi Air Purifier, on the other hand, has a CADR that goes as high as approximately 183 CFM. This has been rated in a room that measures 21 square meters, roughly half the size of the test room for the Classic 480i. So as you can see, going by manufacturer specs, the Blueair Classic 480i handily outpaces one of the most popular air purifiers on the market and competes in a completely different league.
Technical Specs
| | |
| --- | --- |
| Room Size | 40m2 (434 sq ft) |
| CADR (Smoke) | 476m3 per hour (280 cfm) |
| CADR (Dust) | 510m3 per hour (300 cfm) |
| CADR (Pollen) | 510m3 per hour (300 cfm) |
| Air changes per hour | 5 |
The Smokestop filter used in the Blueair Classic 480i is a HEPA filter that also contains activated carbon to reduce volatile organic compounds and is rated to remove 99.7% of the air pollutants.
In a room measuring 14 ft x 16 ft x 9ft, we tested out the efficiency of the Blueair Classic 480i. Artificially inducing smoke and raising PM2.5 levels to 379µg/m3, the air purifier was able to bring down air quality to acceptable levels (under 30µg/m3) in just about 20 minutes when in auto mode.
Smart Connectivity
The Blueair Classic 480i is WiFi enabled and can be controlled remotely using your smartphone. The app is well designed and allows for full control of the purifier.
The main screen displays current ambient conditions as well as a graph of air pollution levels/temperature/humidity that can be sorted by day, week, month and of course, live conditions.
As expected, you can control fan speed using the app. It is also possible to adjust the brightness levels of the Blueair LED light. Other functions include a child lock and a fully programmable night mode.
Conclusion
The Blueair Classic 480i is handily one of the most powerful air purifiers we've tested out. If you have existing health conditions that make you particularly sensitive to allergens and air pollutants, the 480i would be amongst our top recommendations. The Blueair Classic 480i is priced at Rs.53,999.