Olive Telecom, makers of the Olive Pad and mobile handsets such as the FrvrOn has decided to launch it's own online store to cater to the users. Users will be able to purchase all Olive products including mobile handsets, notebooks and tablets on the new website not only from India but from overseas as well.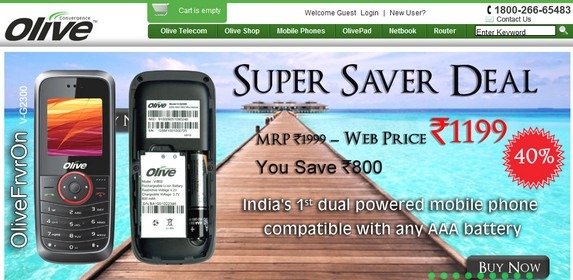 Incase you are not an online person , the company has setup a dedicated phone like to take orders via phone too -1800 266 65483.
Payments can be made via credit cards , bank transfers and by Cheque /Demand Draft.
And here is the surprising part – All products will be delivered to the consumer in State capitals within 5 working days. The company also promises to bring special offers to consumers purchasing online.
That's a pretty bold move from Olive considering the logistics involved and this is the first time a mobile handset maker is doing this in India.
Arun Khanna, Chairman, Olive Telecom said "There is a huge untapped market in the online space. With increasing penetration and steady growth of active users both in metros and tier II and III cities, this presents a huge opportunity for Olive Telecom to reach its consumers. With the convergence of technology & larger reach of web, this web portal is specially designed to reach all its consumers. Our aim is to be a one-stop shop for our entire product range. We will be extending this feature to cover all our International markets too."
You can logon to http://shop.olive.net if you want to buy Olive products directly. what do you think about the move ?  Will you buy a Olive product online ?