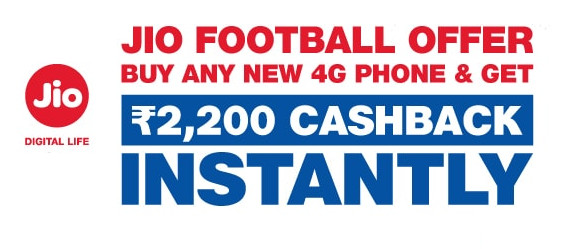 Reliance Jio has launched Jio Football offer that offers Rs. 2,200 instant cashback  for all new smartphones getting added on to Jio's network. When a new smartphone user does a Rs. 198 or Rs. 299 recharge for the first time, starting today until 31st March 2018, the 44 vouchers of Rs. 50 will be credited to the customers MyJio account. These vouchers can be redeemed instantly against subsequent recharges of Rs 198 or Rs. 299 on MyJio.
This is available for both existing and new Jio customers and is valid for all eligible devices, activated on the Jio network for the first time, on or after 15th February, 2018 and if the first recharge of Rs 198 / 299 is done on or before 31st March 2018.
This is available for 22 brands, Check out the list of Eligible devices below.
| | |
| --- | --- |
| Brand Name | Eligible Devices |
| LYF | WATER 2, EARTH 1, WATER 1, WATER F1S, WATER 8, EARTH 2, WATER 10, WATER 11, WATER 7s, WATER F1, WIND 4S, FLAME 8, C 451, FLAME 1, WIND 3, WIND 1, FLAME 7, WIND 7, WIND 7, WATER 5, WATER 4, WATER 6, WATER 7 |
| Samsung | On 8, On 5 Pro, On 7 Pro, On Max, On Nxt, J3 2016 |
| Xiaomi | Mi Max 2, Mi Mix 2, Mi A1, Redmi Note 4, Redmi Y1, Redmi Y1 Lite, Redmi 4, Note 5 |
| Motorola | Moto C+, Moto E4+, Lenovo K8+, Moto G5S, Moto G5S+, Moto Z2 Play |
| Micromax | Vdeo 1, Vdeo 2, Vdeo 3, Bharat 2, Dual 5, Canvas 2 (2017), Dual 4, Selfie 2 Note, Selfie 2, Selfie 3, Canvas 1, Bharat 4, Evok Dual Note, Bharat 2 Plus, Canvas Infinity Pro, Canvas Infinity, Bharat 3, Spark 4G 2017, Bharat 1, Bharat 2 Anniversary, Bharat 5, Bharat 5 Plus |
| Huawei | Honor 9i, Honor 7x, Honor 9 lite |
| Nokia | Nokia 5, Nokia 6 |
| 10.or | D, E, G |
| BlackBerry | KeyOne |
| Asus | Zenfone 2 Laser 5.5, Zenfone 3 5.2, Zenfone 3 5.5, ZenFone 3 Laser, ZenFone 3 MAX 5.2, Zenfone 3 MAX 5.5, Zenfone 3S MAX, Zenfone 4 Selfie Lite(IN), ZenFone 4 Selfie Pro, Zenfone AR, Zenfone Deluxe, Zenfone Go 4.5 LTE, ZenFone Go 5.0 LTE, ZenFone Go 5.5 LTE, ZenFone Live, ZenFone Live(WW), Zenfone Max, Zenfone Selfie, Zenfone Ultra, Zenfone Zoom S |
| Panasonic | Eluga A2, ELUGA A3, ELUGA A3 Pro, ELUGA I2 Activ, P77, ELUGA I5, ELUGA A4, Eluga Ray 500, Eluga Ray 700, ELUGA I9 , Eluga I2, ELUGA Prim, P88, ELUGA Tapp, P71, ELUGA Mark 2, P85, P100, ELUGA Pulse, ELUGA Pulse X, ELUGA Ray X, ELUGA Ray Max, ELUGA Ray, ELUGA I3 Mega, P9, P55 Max, Eluga Note, Eluga Arc 2, P55 Novo 4G, P99, P91, Eluga Mark, P66, Eluga Turbo, P90 4G, ELUGA Ray 550, ELUGA I7, P95, Eluga Icon 2, Eluga Arc, Eluga I3, ELUGA I4 , P90 3G |
| LG | LG V30+, LG G6, LG Q6/Q6+, LG K7i, G4, LG V20, LG G3, LG G4 Stylus, LG G Pro 2, LG F70, LG Magna, LG Spirit, LG K10 2017, LG F60, LG K8, LG G3 Beat, LG G3 Styls, LG L70 Plus, LG L80 Plus, LG K7 LTE, LG K10 LTE, LG Stylus 2, LG X Screen, LG G Flex 2, LG G5, LG G3 Stylus, LG X Power, LG C70, LG Stylus 2 Plus, LG Cam Plus |
| Intex | AQUA ZENITH, AQUA PRIME 4G, AQUA PRO 4G, CLOUD Q11, Aqua Note 5.5, CLOUD Q11 4G , AQUA STRONG 5.1+, CLOUD STYLE 4G, AQUA AMAZE+, ELYT-E1, AQUA CRYSTAL, AQUA LIONS 4G, AQUA SUPREME+, AQUA TREND LITE, AQUA CRYSTAL+, ELYT-E7, Aqua Selfie, Aqua Lions 3, Aqua Power IV, Aqua 5.5 VR+, Aqua Style III, Elyt E6,Aqua Lions X1+, Aqua Lions X1, Aqua Jewel 2, Aqua Lions E1 |
| Alcatel | U5HD, A310,A3 XL, A5 LED, A7,POP 410, TCL 562 |
| Comio | S1, C2, C1, P1, S1 Lite, C2 Lite |
| Jivi | Energy E12 , Energy E3, Prime P300, Revolution TnT3 , Prime P444, Prime P30 |
| Swipe | Konnect Star, Strike, Elite Note , Elite Plus, Elite Max, Elite Star, Elite 2 Plus , Elite 3, Neo 4G, Elite Sense , Elite Power, Razor, Elite VR, Neo Power, Elite 4G, Slate Pro, Elite 3T, Elite dual |
| Zen | Cinemax Click, Admire Thrill, Admire Dragon, Admire Swadesh, Cinemax 4G, Admire Metal, Admire Joy, Sense Plus, Sense Duo, Admire Duo, Admire Strong |
| Ziox | Astra Star, Duopix F1, Astra Blaze, Astra Metal 4G, Astra Force 4G, Astra Colors 4G, Astra Viva 4G, Astra NXT 4G, Astra NXT Pro, Astra Champ+ 4G, Astra Young 4G, Astra Young PRO, Astra Curve 4G, Astra Titan 4G, Duopix R1 |
| Celkon | Mega, Diamond U, UFEEL 4G, CliQ, SMART 4G, Diamond 4G Plus, Diamond 4G Tab 7,Diamond 4G Plus, Diamond 4G Tab 8, Spark, Ace, Pop, Mega, Star 4G, Swift 4G, UniQ, CliQ 2 |
| iVOOMi | Me4, iV Smart 4G, V5, Me3s, i1s, Me1, Me5, Me3, i1 |
| Centric | P1, P1+, L1, G1, A1, L3 |