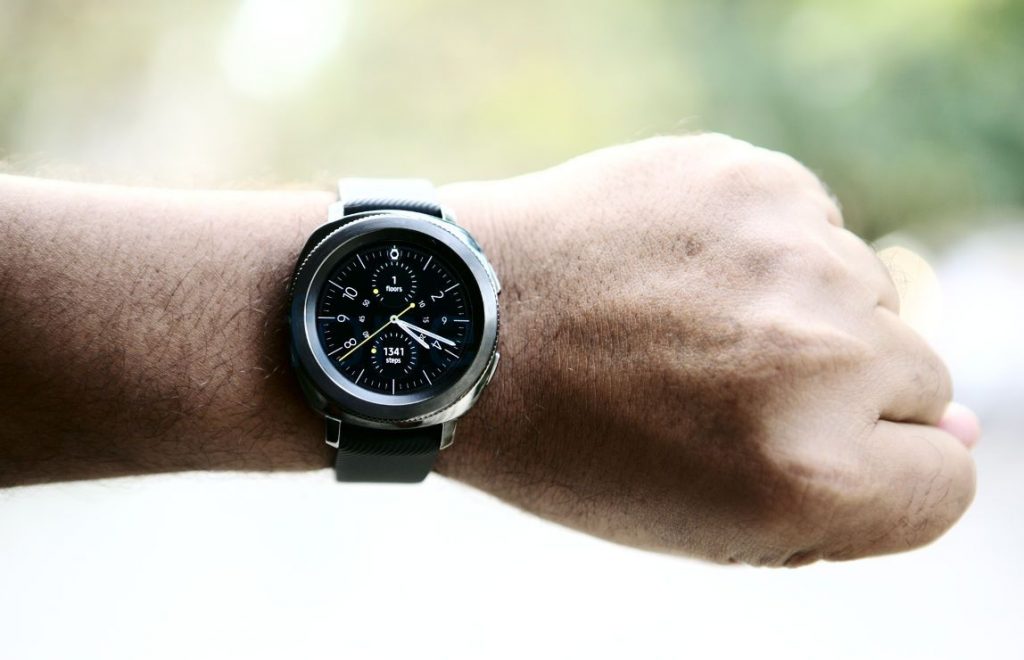 The wearable market in India is progressively gaining momentum owing to its affordability, thanks to Chinese counterparts. These days, the affordable/basic wearable segment offer array of features including phone notifications, steps taken, heart rate, sleep monitor, and others, which in turn attracts the first time buyers. It is indeed safe to say that the tech, which incorporates health and fitness is on the rise among the Indian youths. It's been approximately four years since Samsung made its presence in the wearable market and launched more than 6 to 7 wearables till now.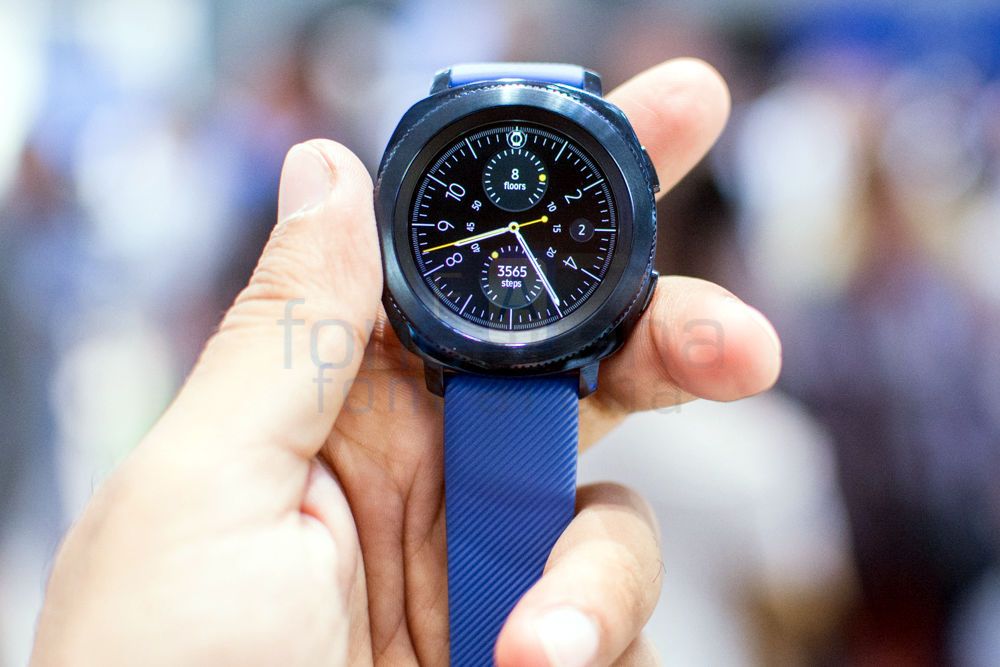 Initially, introduced at the IFA 2017, Samsung launched the Gear Sport smartwatch in India with a changeable standard 20mm strap. With Gear Sport, the company is planning to take it to the whole new level. as it is fully waterproof and can track your swims underwater, recording lap time and much more. We got hold of the Samsung Gear Sport recently. Check out the review below.
Unboxing
Box Contents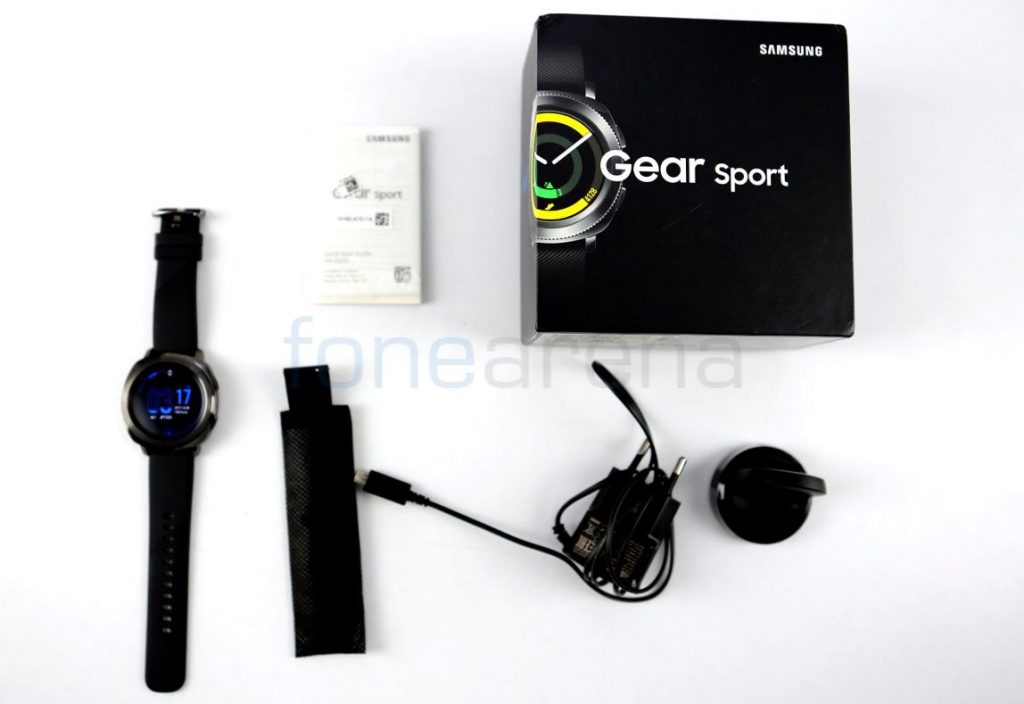 Samsung Gear Sport smartwatch in Black color
2-pin charger (5V-700mA)
Charging Dock
Additional wrist strap in small size
User manual and warranty information
Design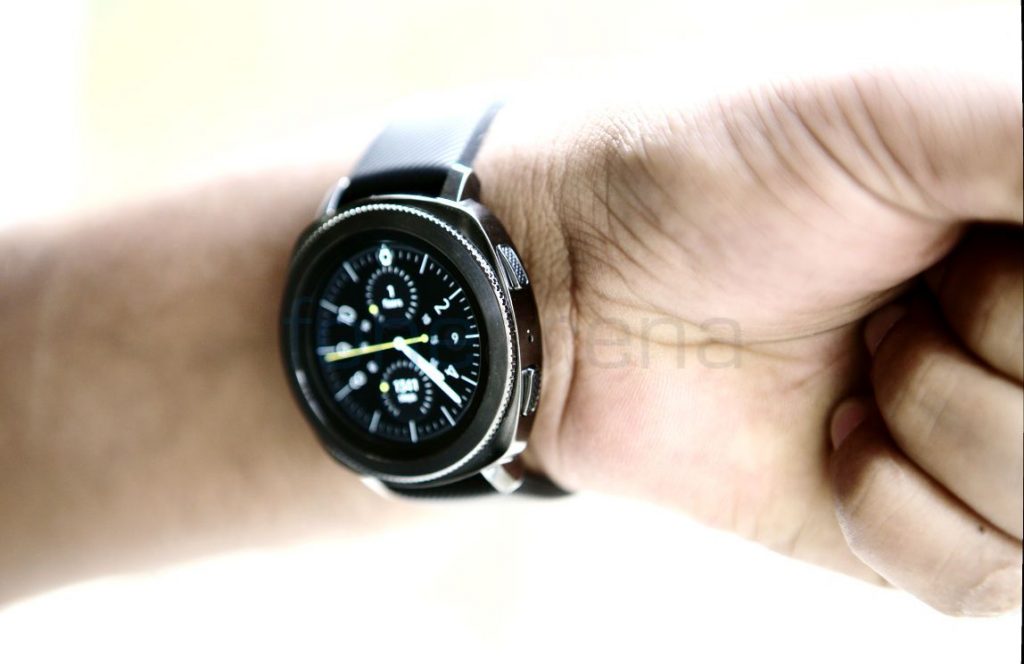 Talking about the design, the Gear Sport looks like any other smartwatch under the Samsung's portfolio. It looks good, premium yet it doesn't look appealing. The Gear Sport comes in two variants —Blue and Black with easily changeable standard 20mm straps. The smartwatch measures 42.9 x 44.6 x 11.6mm and weighs around 50g (without straps). The base of the watch is made of plastic.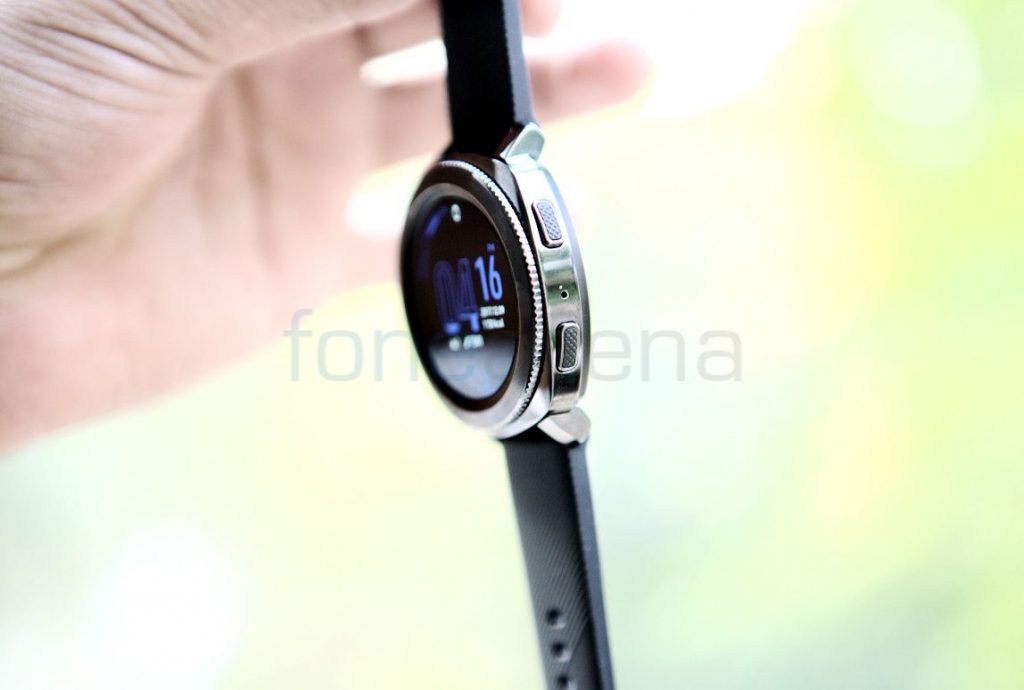 Moving on to the placements, we have two buttons on the right — back button at the top, and home button on the bottom. The home button also opens the installed apps, double-tapping it open S Voice, and holding for a few seconds will shut down the device.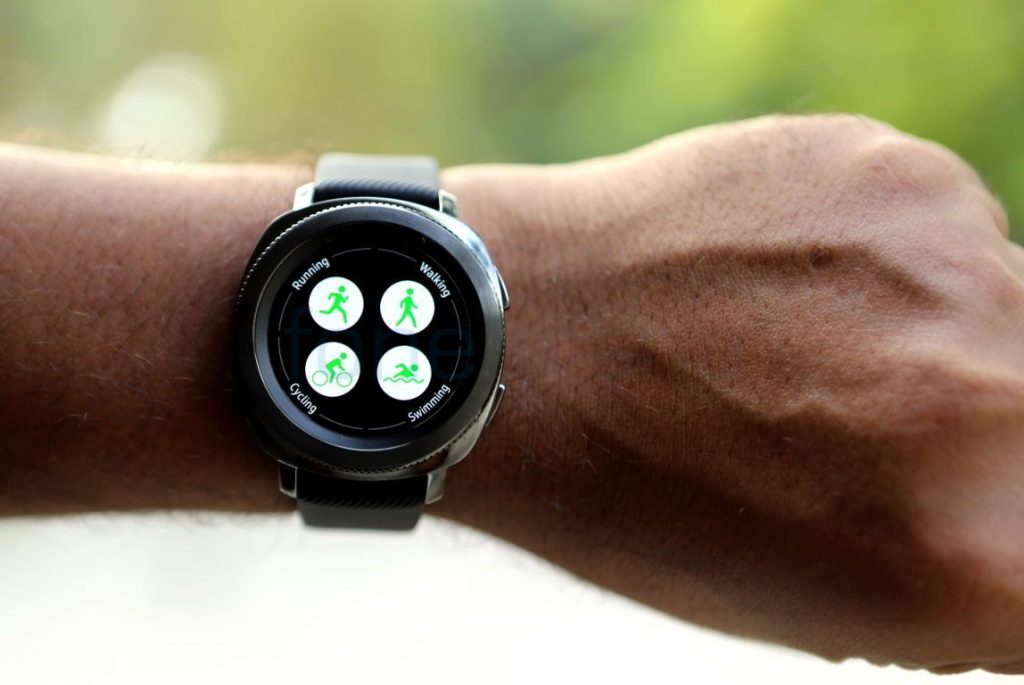 The outer layer of the display has Samsung's traditional rotating bezel, which helps the user to interact with the watch's UI. By rotating it to the right, one can access widgets, whereas rotating it to the left let you see the notifications you've received. I felt nice while rotating the bezels and selecting things. Inside the box, you'll also get large and small straps, where one can easily swap these for a standard 20mm watch strap.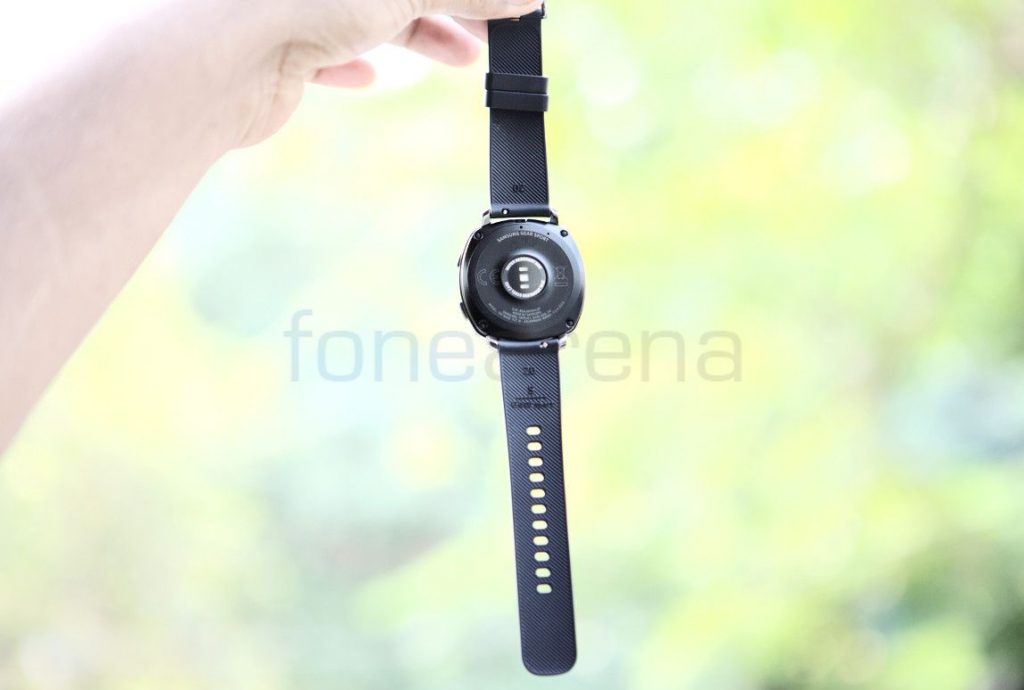 The heart rate sensor is present on the back. You can replace the straps easily. It has military grade durability with MIL-STD-810G standard that can withstand impact, vibration, high temperature, low temperature, thermal shock, and humidity.
Display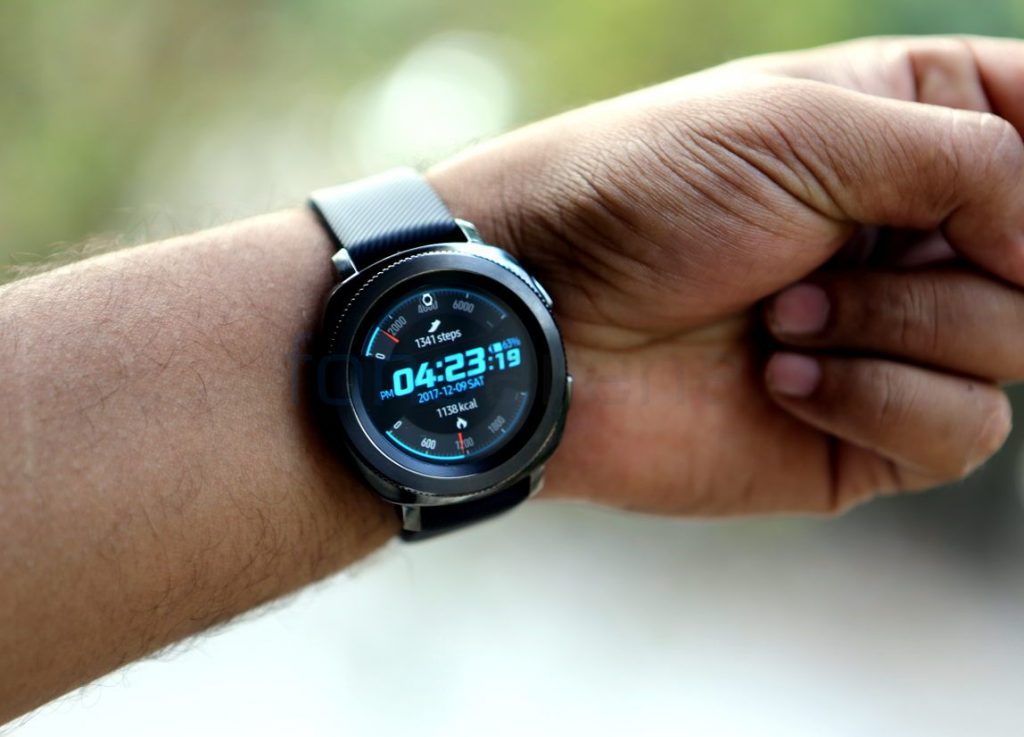 The Gear Sport comes with a 1.2-inch (360×360 pixels) Circular Super AMOLED Always On display with a pixel density of 302ppi and also has Corning Gorilla Glass 3 for protection. You can check out the time, by casually bringing the watch up. Having said that, this gesture ends up successful 75% of the time. At times, we have to forcefully bring the watch up, which is really annoying while driving. The display is bright and crisp, thanks to Super AMOLED display. The viewing angles are good too. The blacks are deep and we find no issues while seeing it under broad daylight.
Performance and software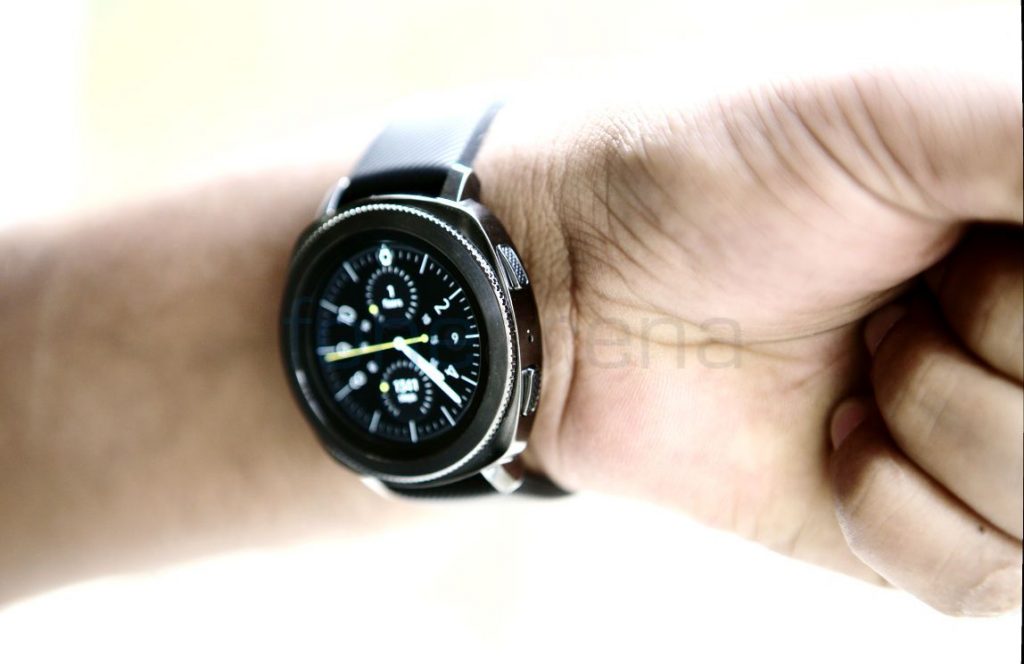 The Samsung Gear Sport is powered by a Dual-Core processor clocked at 1GHz with 768MB under the hood. In general, we found the interaction with the UI is fluid and haven't faced any problem. Both the hardware and software compliments each other giving users a rich and smooth experience. It runs on Tizen OS out of the box, which is compatible with Android phones running Android 4.4 or later iPhone 5 and above with iOS 9.0 or later. We can see a lot of improvement over the Tizen OS this time with lots of refinement.
Another thing worth mentioning here is that it automatically detects workouts like running, cycling and other activity if you've been doing it for at least 10 minutes. However, it is not accurate as such, where, in my case, it triggers the cycling activity, when I ride a bike. It also detects, when you are idle for more than 30 minutes and tells you to stretch your torso three times.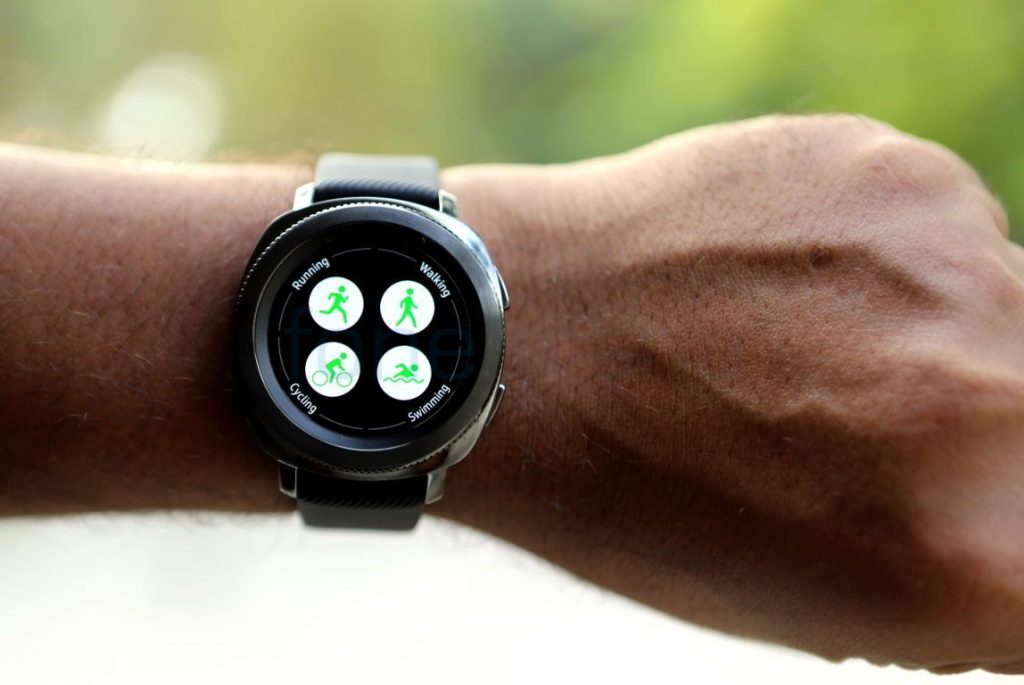 Even though the Galaxy Store is filled with apps, I personally didn't find any worthy apps. For instance, I didn't find the Runtastic app, which I personally use for my running purpose. It also comes with more than 60 workouts available with tutorials across various categories including Weight loss, Muscle training, Running and more.The Gear Sport comes with pre-installed apps like Samsung Health, S-Voice, News briefing and more. Even though it doesn't have any stand-alone, WhatsApp or Telegram app, you can respond to text directly through the watch itself.
This wearable comes with a 4GB of onboard storage, that lets you add songs, where you can stream via Bluetooth-connected headsets or Icon X buds. The audio quality is neither amazing, nor bad. You can also use your voice to reply to a message, scribble or type on the T9 keyboard.
Fitness tracking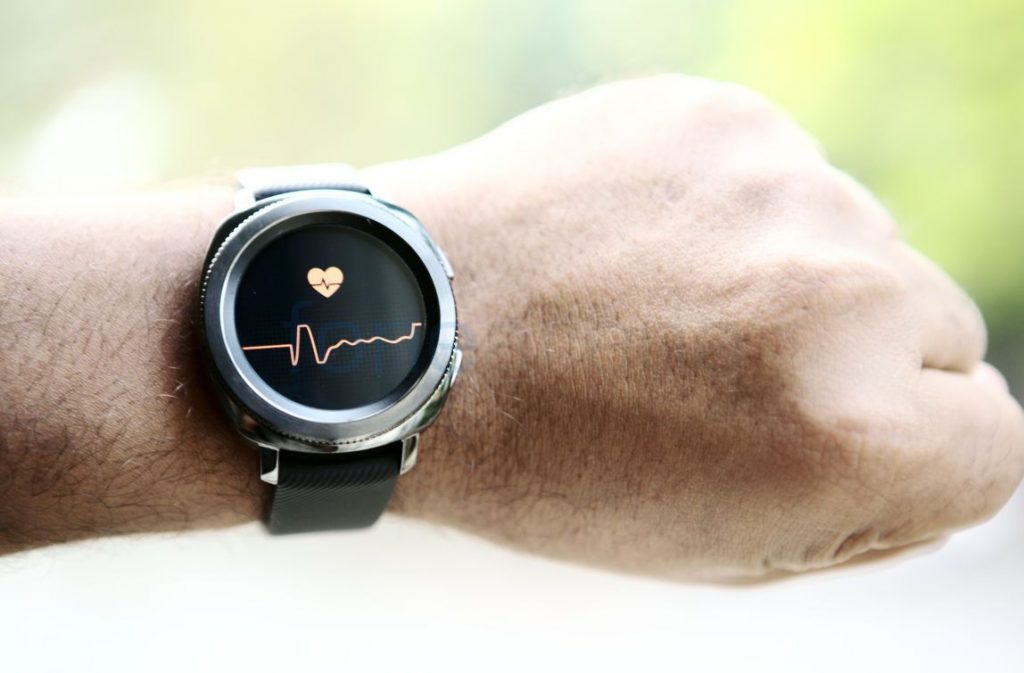 Focussed mainly on sports, this device comes equipped with necessary features including GPS, GLONASS, 5 ATM water resistance, NFC, heart rate monitor, a barometer for elevation, and accelerometer for tracking steps and sleep. You can access the data through Samsung's Health app, once you sign in with your ID.
We found most of the data are pretty accurate most of the time. It also measures your heart rate, which cannot be trusted seriously but it seems to be pretty reliable as well and better than most of its competitors too. The sleep tracker does a good job and tracks sleep patterns as well.
Battery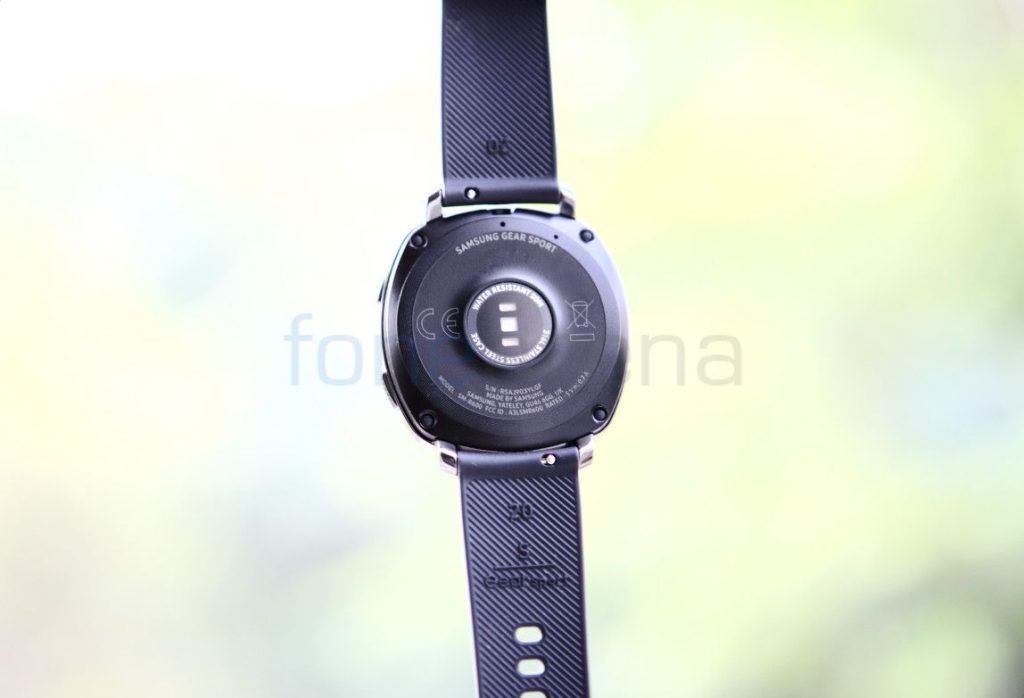 The Samsung Galaxy Gear Sport is powered by a 300mAh Li-ion battery with wireless charging. On an average we got around two and half days that includes activity tracking (running, steps and cycling). In this case, we switched off the "Always-On" display, and GPS as well. It's worth mentioning that, GPS and Always-On affect the battery life and takes a hit. Moreover, it takes around 1 and half hours for charging too. Overall, the battery of the Gear Sport is decent, and of course, a let down when you compared to Galaxy Gear S3.
Conclusion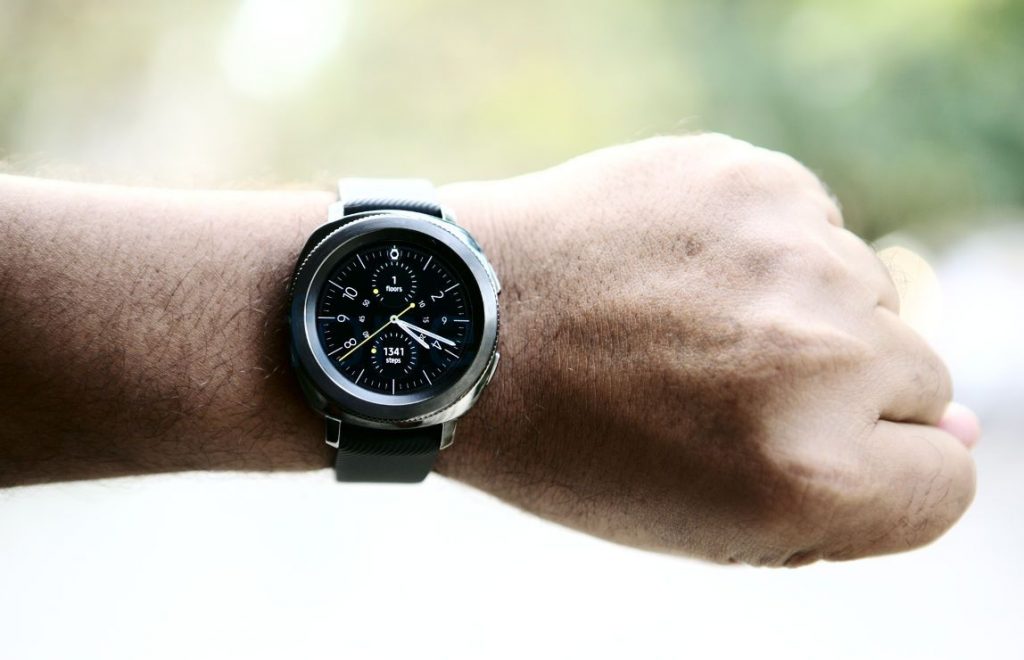 If you are looking out for a sporty smartwatch with a slew of features, Samsung Gear Sport is a right choice. Even though it's not a huge leap forward from its predecessor, it has some good features that do things decently, if not perfectly. The Samsung Gear Sport comes in Black and Blue colors, is priced at Rs. 22,990 and is now available exclusively from Amazon.in.