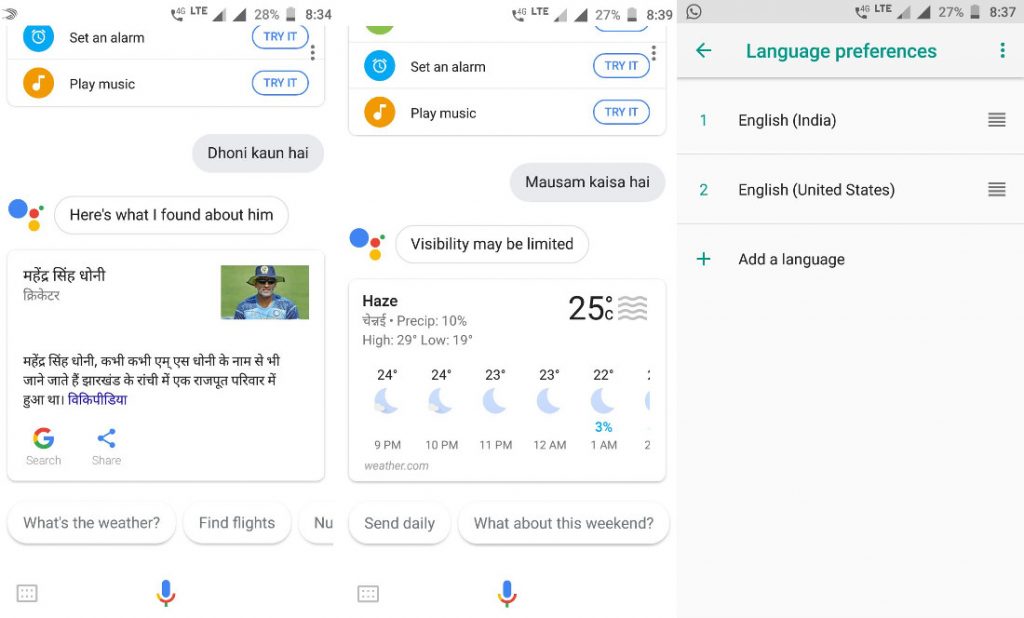 Update: Google India today clarified that Hindi support for the Assistant has not been launched and Hindi support is only available in the Google Assistant as part of Allo. Check out the official statement below.
The Google Assistant on Android phones and iPhones is currently available in English in India, built for English input but supporting a few selected Hindi queries. While we've launched the Hindi Google Assistant on Allo, it's not available on phones yet. We are looking to bring the Assistant experience to more Indian languages over time.
Earlier: Google introduced Hindi support for Google Allo over a year back and Google Assistant for JioPhone that was introduced last month had support for both English and Hindi. Now Google has silently introduced Hindi support for other smartphones as well in India. You can easily enable it by setting your language to English (India) on your Android smartphone.
How to enable Hindi language support in Assistant
Go to Languages & input (System -> Languages & input in Oreo devices) on your phone
Go to Languages -> Add a language ->  Add English (India) from the list and set it as primary language
Press and Hold the home button to open Google Assistant
Press the microphone to ask a question or perform actions in Hindi
The question you ask are transcribed to English, and the reply you get is also in English, but final answer you get are read out in Hindi. Till now, Google understood Hindi, but the answer you get was in English or Hinglish. It doesn't work if you change the primary language to some other language. It currently works only for voice commands, and not for text input.
We tried it on Android Nougat and Oreo devices, and it worked without any issues, but it should also work on older devices since Assistant now works on Android 5.0 smartphones or later, but it might not work on tablets.