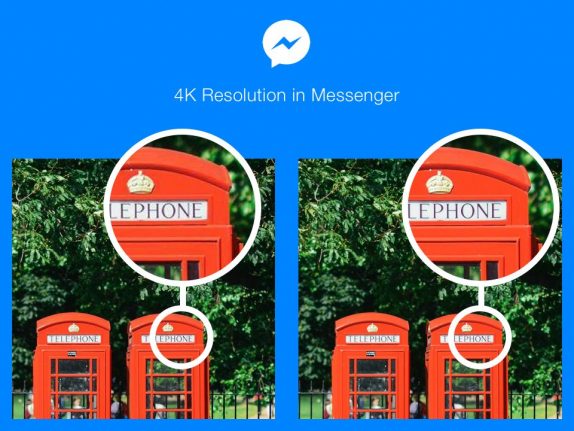 Facebook today has rolled out yet another exciting feature to the messenger which lets you send and receive images in messenger app at 4K resolution in addition to the features like PayPal support, new filters, stickers and more. The company says that text is no longer the only means of communication as people started exchanges images for better visual experience.
With the latest update, send and receive photos in Messenger at 4K resolution or up to 4,096 x 4,096 pixels per image which is the highest quality many smartphones support. Facebook says that more than 17 billion photos through Messenger every month and with the new update, we expect the number to grow.
Even with 4K resolution, the images are sent as quickly as it was before automatically. It maintains the same speed as your regular photos even with 4K images. The 4K images even after zooming look sharp and clearer allowing you to see every detail.
However, in order to send or receive photos in 4K resolution, you need to first update your Messenger app to make sure you have the latest version and sending the 4K image is same as before. The update is available for both iPhone and Android to people in the US, Canada, France, Australia, the UK, Singapore, Hong Kong, Japan, and South Korea.
However, Facebook says that in the coming weeks it is planning to roll out the feature to more countries.