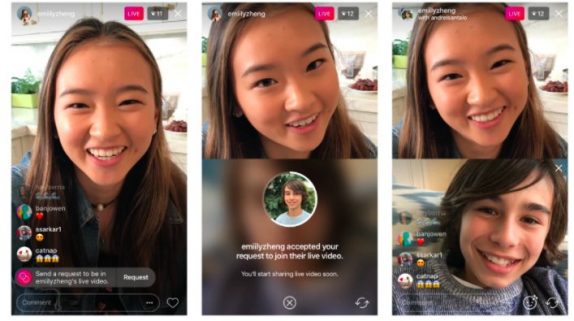 Instagram has rolled out an update that makes it easier to join your friend's live just by sending a request. When watching friends live video, you can simply tap the "Request" button in the comments section, and once you send a request, you shall get a confirmation once he accepts the request. 
Once the request is accepted, you will have a moment to prepare for the live and once the live starts, the screen will split into half and you can also leave your friend's live video at any time, thus making it easy to join for a quick hello or a longer chat. If you are the host of the live video, you will receive notifications of requests from friends, and once you tap the "View" button, you can choose to add your friend or cancel the request.
A new icon with two smiley faces will show you the number of requests you have in red color. Tapping the button will show you the requests and current viewers, and you can invite any user to join the live. Like always, you can add or remove any guest at any time, and you can share the live as a story or just discard it.
The new updates with version number 24 are available for iOS and Android.