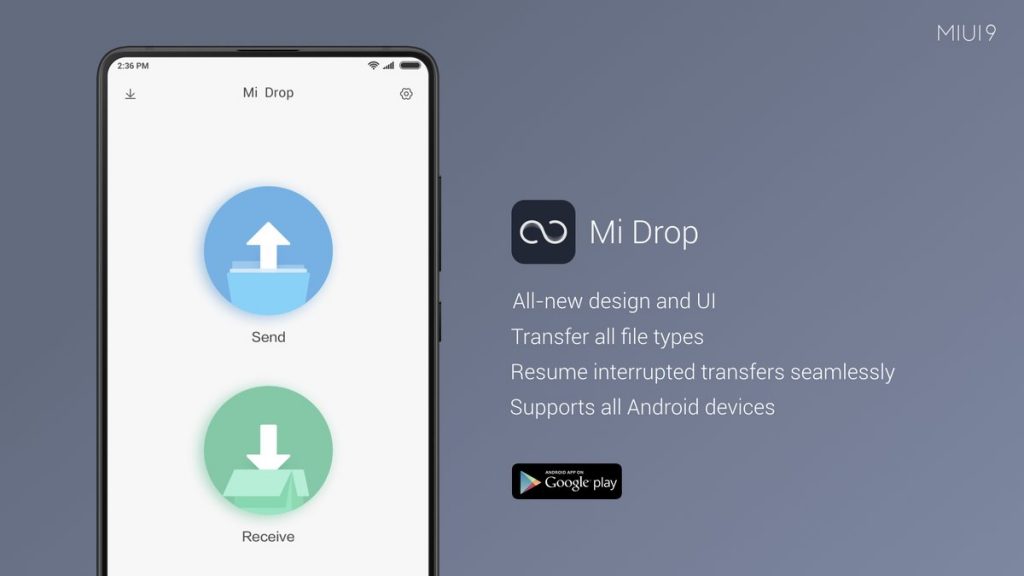 Xiaomi's MIUI focuses towards providing a complete user experience and to achieve this MIUI is loaded with many system apps like Explorer, Recorder, Compass, Scanner and many more. A couple of days back Xiaomi announced the lightning fast MIUI 9 Global with many changes including Split Screen, Interactive and Fresh UI changes, New Notification Shade, App Vault, New Gallery App, Calendar Cards, Mi Video App and Mi Drop. In this post we will cover the all new Mi Drop app which comes with a simple UI and is capable of transferring all types of file.
The app has a very clean interface with Send and Receive prominently visible on the home page along with a received files option on left top and settings icon on right top.  In the screenshots below, the phone in the left is sender (running stock android) and phone on the right is receiver (running MIUI). The stock android device has an older version of Mi Drop which we installed from here. Latest version is available on Google Play.
The app lists out files in the Images, Videos, Music, Apps, Files categories, Mi Drop is also capable of transferring apps from one phone to another.
After selecting the apps option, Mi Drop lists all the downloaded apps on phone. The phone starts searching for available receivers as soon as we press the send icon post selection of apps.
A message pops-up on receivers phone to accept/reject the file from sender, transferring of the file starts as soon as users clicks on accept button.
A notification arrives on sender phone as well as the receiver phone after the transfer is complete.
Receiver can go back to the home page and check out the files received via Mi Drop app.
In our time we had no issues with the app, Xiaomi also claims that this app can resume the interrupted transfers to provide a seamless experience. In case you are using Xender or Share It and get annoyed by ads, this might be the app for you.