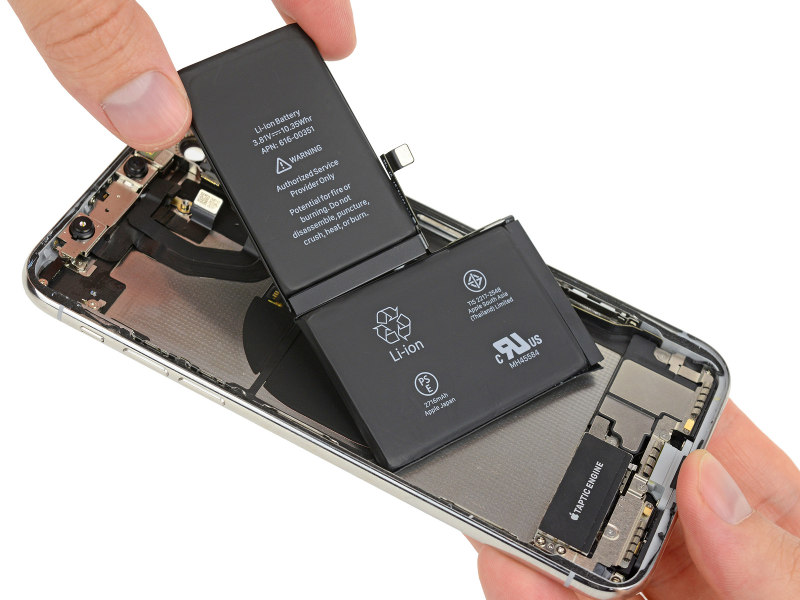 Apple iPhone 8 and iPhone 8 Plus smartphones went on sale today in over 55 countries and territories globally. As usual, folks at iFixit have already managed to grab the iPhone X both the iPhone 8 and iPhone 8 Plus from Australia and have given at a teardown treatment as usual. TechInsights (previously Chipworks) have got hold of the Intel version of the phone. Teardown reveals new dual-cell battery for the first time in an iPhone, and an ultra-small logic.
The miniaturized logic board has been folded in half and the layer have been soldered together to make it incredibly space efficient and is about 70% of the area of the iPhone 8 Plus board, making more space for battery.  "Separated and spread out, the X's board is actually 35% bigger than the one in the 8 Plus—which leaves plenty of room for new goodies, like hardware to power FaceID," reveals the teardown.
The dual rear camera has a new beefy bracket to protect delicate components and the cameras are additionally secured to the rear case with adhesive.
This confirms 2716mAh battery for the iPhone X, slightly bigger one compared to the 2691mAh battery on the iPhone 8 Plus, as revealed through certification earlier. The iPhone X has SK Hynix 3GB LPDDR4x RAM with Toshiba 64GB NAND Flash (TSB3234X68354TWNA1).
Like the iPhone 8 and 8 Plus, the iPhone X teardown also confirms the presence of Intel's LTE modem in some units. iFixit's iPhone X (A1865) has Qualcomm modem and supports CDMA networks. It has Qualcomm MDM9655 Snapdragon X16 LTE Cat. 16 Modem that that has support for up to 1 Gbps and upload speed of up to 150 Mbps. It also has Qualcomm WTR5975 Gigabit LTE RF transceiver and PMD9655 PMIC.
The iPhone X (A1901) from TechInsights supports GSM networks. This has PMB9948 Baseband Processor (Modem) and Intel PMIC (PMB6848). It is Intel's XMM7480 modem, which is the company's fourth-generation LTE modem that offers download speed of up to 600 Mbps download and 150 Mbps upload speed.
iFixit has given the iPhone X a 6/10 rating, same as the iPhone 8 and 8 Plus saying that the back glass is breakable and next to impossible to replace when cracked and the fussy cables tie unrelated components together into complex assemblies, making it expensive and troublesome to replace.