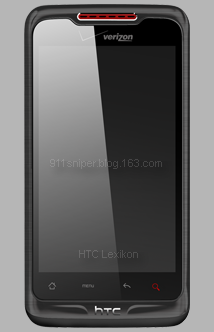 The image above is the new upcoming HTC Lexikon, which will hit Verizon in early 2011. HTC Lexikon is an Android powered device, and it's going to be a part of Verizon Droid family. What I think is that this phone is going to be Verizon's first LTE 4G World phone. Because if you concentrate on the image above, you will see that the design of the phone is similar to the device we saw passing FCC a few days ago. Verizon branding on the top, HTC branding on the bottom, same buttons, I think this is the same device. But this time the specs are different. Have a look on leaked rumored specs after the break: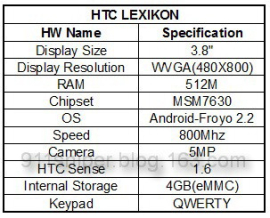 As we can see it comes with QWERTY keypad, so I think it's clear now that this device is the same we saw passing FCC. One confusion is that FCC said that the device features 4″inch screen, and FCC couldn't be wrong. So lets wait for some official words folks, if the device is coming out in 2011, then we have a long time to go and I hope we'll hear more about this device in upcoming days, so stay tuned !
You can download the RUU File of the device Froyo ROM if you want to know more about the Lexikon.
via Phandroid