Olli-Pekka Kallasvuo who is currently the CEO of Nokia will quit from his position and exit the Nokia board on Sept 20 this year. Stephen Elop who is currently heading the Business Division of Microsoft will take up the role of President and CEO of Nokia on Sept 21.It's kinda shocking to see that OPK is not even in the Nokia board anymore. He only has a non-executive capacity in the board of Nokia Siemens Networks. Looks like he was forced to quit to keep the shareholders happy. We were expecting a new Nokia CEO to be announced at Nokia World but it came in a bit early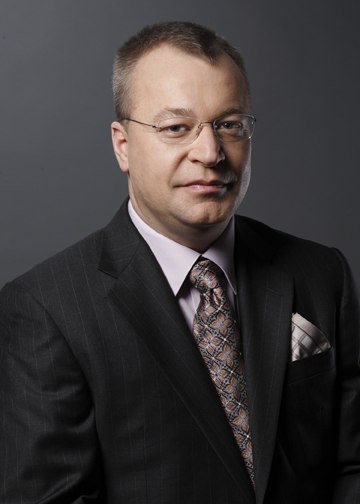 Press Release

Espoo, Finland -Nokia's Board of Directors has appointed Stephen Elop President and Chief Executive Officer of Nokia as of September 21. Elop currently heads Microsoft's Business Division. Before joining Microsoft, Elop held senior executive positions in a number of US-based public companies, including Juniper Networks, Adobe Systems Inc. and Macromedia Inc. He holds a degree in computer engineering and management from McMaster University in Hamilton, Canada, which is his home country.

"The time is right to accelerate the company's renewal; to bring in new executive leadership with different skills and strengths in order to drive company success. The Nokia Board believes that Stephen has the right industry experience and leadership skills to realize the full potential of Nokia. His strong software background and proven record in change management will be valuable assets as we press harder to complete the transformation of the company. We believe that Stephen will be able to drive both innovation and efficient execution of the company strategy in order to deliver increased value to our shareholders," said Jorma Ollila, Chairman of the Nokia Board of Directors.

Elop commented on his new Nokia position: "I am extremely excited to become part of a team dedicated to strengthening Nokia's position as the undisputed leader of the mobile communications industry, with a relentless focus on meeting the needs and expectations of customers. Nokia has a unique global position as well as a great brand upon which we can build. The company has deeply talented and dedicated people, and I am confident that together we can continue to deliver innovative products that meet the needs of consumers. The Nokia slogan clearly states our key mission: Connecting People, which will acquire new dimensions as we build our portfolio of products, solutions and services."

Olli-Pekka Kallasvuo will leave his current position as President and CEO of Nokia on September 20, 2010 and his position on the Nokia Board of Directors with immediate effect. He will continue to chair the Board of Nokia Siemens Networks in a non-executive capacity.

"The whole Board of Directors joins me in thanking Olli-Pekka for his thirty years at Nokia, during which he has been deeply involved in developing the company and its operations. His dedication and contribution throughout the years has been exceptional. The Board wishes him every success in his future pursuits," says Jorma Ollila.

In accordance with the terms and conditions of his service contract, Kallasvuo is entitled to a severance payment consisting of 18 months gross base salary and target incentive which totals approximately 4.6 million euro. He will also receive as compensation the fair market value of the 100 000 restricted Nokia shares granted to him in 2007, which vest on October 1, 2010.

As of September 10, 2010, the Nokia Board will consist of the following members:  Jorma Ollila (Chairman),  Dame Marjorie Scardino (Vice Chairman), Lalita D. Gupte, Bengt Holmström, Dr. Henning Kagermann, Per Karlsson, Isabel Marey-Semper, Risto Siilasmaa, Keijo Suila.