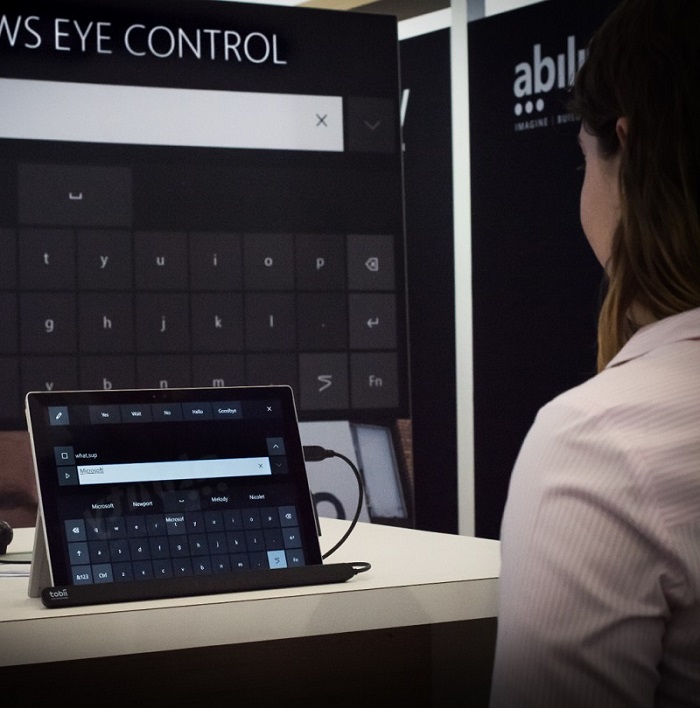 Windows 10 will soon include built-in eye tracking support and an experience called Eye Control. Already present in the latest Windows 10 Insider test builds, Eye Control feature works using the Tobii Eye Tracker 4C, which can track where a person is looking on a screen.
Eye Control was initially developed as part of One Week hackathon in 2014 as a way for people with ALS to drive a wheelchair using the movement of their eyes and controls on a Surface. It enables users to operate an on-screen mouse and keyboard and text-to-speech using only their eyes. Tobii has released updates to its eye-tracking software to enable support for Eye Control in Windows 10, and the company has even provided a how-to guide which will help users get started with the new feature in Windows 10. The software already allows certain actions, like switching between apps or dismissing notifications with a gaze
Henrik Eskilsson, CEO of Tobii said,
Adding native eye tracking support to Windows 10 is a key milestone in our mission to make this technology part of our everyday devices. Through integration with Microsoft's operating system, it becomes possible over time to realize robust eye tracking implementations that add a range of user benefits. This collaboration clearly shows the value of eye gaze input and is a big step forward on the long-term journey to drive high-volume adoption of eye tracking.