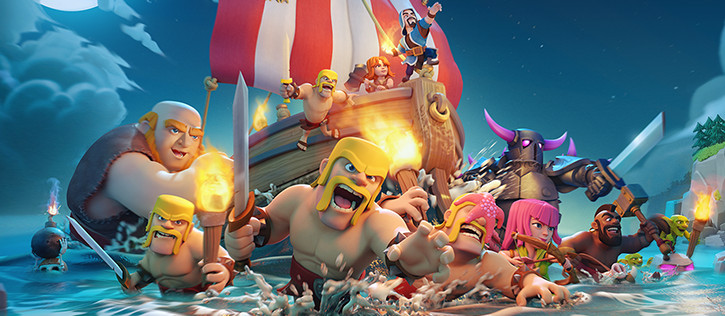 Supercell has released a major update for Clash of Clans that brings several new features new Clash world to build and battle in. You can build a completely new base: the Builder Base. Defend with Crusher, Multi Mortar, Push Trap, use new troops Sneaky Archer, Cannon Cart and new VS Battle mode, Gem Mine. Check out the complete changelog below.
New Features

Interesting twists on familiar buildings with Master Builder's talented touch, such as:

The Archer Tower's switch toggles between fast attack or long range.
The Multi Mortar's multi-barreled attack is tough for troops to dodge

New Buildings

Crusher: A powerful new defense that does exactly what it sounds like— crush enemies!
Push Trap: Scatter attacking armies by tossing troops in a direction of your choosing.
Gem Mine: Collect gems over time! Upgrade it to increase its output.
Clock Tower: Boost the speed of everything in the Builder Base, from build time to resource mining!

New Abilities

The crystallized elixir found on this side has given familiar faces a new look with new tricks that they can use in combat! Upgraded troops gain powerful special abilities, such as:

Sneaky Archer: "Cloak" makes her invisible to enemy defenses for a short period of time.
Boxer Giant: "Power Punch" makes his first attack do huge damage!

New Troops

The Master Builder has harnessed the power of this new resource to train up new troops. For example:

Bomber: Tosses big bombs that can blow up several buildings at once.
Cannon Cart: A four-wheeling fortification brought to the front line.

New Hero

Some heroes are born, others are built. Once unlocked at Builder Hall 5, the Master Builder will join the fight in his Battle Machine! Upgrade this mechanical monster to level 5 to unlock its "Electric Hammer" ability.

New Battle Mode: Versus Battle

A brand new way to fight: Versus Battle! This new battle style lets you take on opponents in a head-to-head attacking competition! Similar to Clan Wars, both competitors attack one another and the best attack wins the prize. Resources won't be lost on defense.

Win three Versus Battles per day to get the biggest loot payout, then continue battling for new Versus Trophies. Follow the competition on the new leaderboard!

New Game Mechanics

The Builder Base's setup has ease of management top of mind. Over here troops train automatically, Walls come in segments and you cannot be attacked while away.

Troops are trained in groups and each Army Camp holds one group at a time. Upgrade troops to fit more units per camp and build more camps to diversify your ranks.

Where Old Meets New

Leverage the Master Builder's expertise to enhance your home village. Once your Cannon is at a high enough level, you'll see a "Gear Up" option when you tap on it. Gearing Up this defense will give it the same awesome abilities as its Builder Base counterpart: the Double Cannon!

"Gear Up" is only available when the Master Builder isn't busy in the Builder Base. It's a long trip, so make sure he's free. Keep an eye out for more Gear Up options in the future, too!
Download Clash of Clans (Free with in-app purchases) – Android | iPhone and iPad