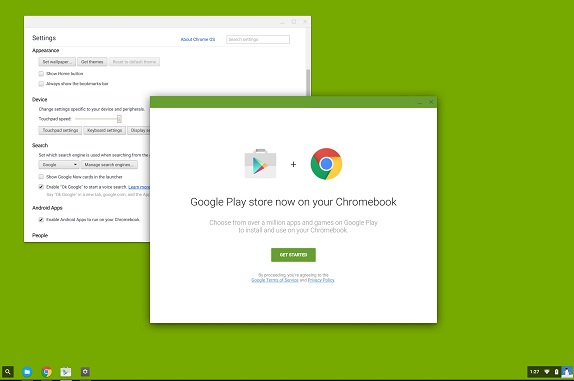 Google started rolling out Play Store and Android apps for Chromebooks back in June last year. Later it expanded to more Chromebooks – Dell Chromebook 13, HP 13, Samsung Chromebook 3, and ASUS C301SA. Now it has listed Acer Chromebook R11 (CB5-132T, C738T), AOpen Chromebox Mini, AOpen Chromebase Mini, Asus Chromebook Flip C100PA, Google Chromebook Pixel (2015) and Samsung Chromebook Plus supports Android apps in stable channel.
Acer Chromebook R13 (CB5-312T) and Asus Chromebook Flip C302 adds support for Android apps in Beta channel. Google has also listed 83 Chromebooks that are planned to get Android apps.
Since Google says that devices that are marked as Beta doesn't mean that it will get Android app support in the Stable channel on the next release of Chrome OS, devices that are in 'Planned' stage doesn't confirm these devices will get them. We should know more details about Google's plans for Chromebooks at the company's annual developer conference Google I/O next month. Check out the list below.
Acer

Chromebook R11 (CB5-132T, C738T)

Chromebook R13 (CB5-312T)

Chromebook 11 (C740)

Chromebook 11 (C730 / CB3-111 / C730E / CB3-131)

Chromebook 14 (CB3-431)

Chromebook 14 for Work (CB5-471)

Chromebook 15 (CB5-571 / C910)

Chromebook 15 (CB3-531)

Chromebook 15 (CB3-532)

Chromebook Spin 11 (R751T)

Chromebox CXI2

Chromebase 24

AOpen

Chromebox Mini

Chromebase Mini

Chromebox Commercial

Chromebase Commercial

Asus

Chromebook Flip C100PA

Chromebook Flip C302

Chromebit CS10

Chromebook C200

Chromebook C201PA

Chromebook C202SA

Chromebook C300

Chromebook C300SA / C301SA

Chromebook Flip C213

Chromebox CN62

Bobicus

Chromebook 11

CTL

J2 / J4 Chromebook

N6 Education Chromebook

J5 Convertible Chromebook

NL61 Chromebook

Dell

Chromebook 11 (3120)

Chromebook 11 (3180)

Chromebook 11 Convertible (3189)

Chromebook 13 (7310)

Chromebook 13 (3380)

eduGear

Chromebook R Series

Chromebook K Series

Chromebook M Series

CMT Chromebook

Edxis

Chromebook

Education Chromebook

Google

Chromebook Pixel (2015)

Haier

Chromebook 11

Chromebook 11e

Chromebook 11 G2

Chromebook 11 C

Hexa

Chromebook Pi

HiSense

Chromebook 11

Lava

Xolo Chromebook

HP

Chromebook 11 G3

Chromebook 11 G4 / G4 EE

Chromebook 11 G5

Chromebook 11 G5 EE

Chromebook 14 G4

Chromebook 13 G1

Chromebook x360 11 G1 EE

Lenovo

100S Chromebook

N20 / N20P Chromebook

N21 Chromebook

N22 Chromebook

N23 Chromebook

N23 Yoga Chromebook

N42 Chromebook

ThinkPad 11e Chromebook

ThinkPad 11e Yoga Chromebook

Thinkpad 11e Chromebook (Gen 3)

ThinkPad 11e Yoga Chromebook (Gen 3)

ThinkPad 11e Chromebook (Gen 4)

Thinkpad 11e Yoga Chromebook (Gen 4)

Thinkpad 13 Chromebook

ThinkCentre Chromebox

Medion

Chromebook Akoya S2013

Chromebook S2015

M&A

Chromebook

NComputing

Chromebook CX100

Nexian

Chromebook 11.6″

PCMerge

Chromebook PCM-116E

Chromebook PCM-116T-432B

Poin2

Chromebook 11

Samsung

Chromebook Plus

Chromebook Pro

Chromebook 2 11″ – XE500C12

Chromebook 3

Sector 5

E1 Rugged Chromebook

Senkatel

C1101 Chromebook

Toshiba

Chromebook 2

Chromebook 2 (2015)

True IDC

Chromebook 11

Viglen

Chromebook 11

Chromebook 360